MUST HAVE Beach Essentials For Home & Vacation
Whether you are soaking up the rays at home or planning your next vacation, we've got all the beach essentials that are a MUST HAVE for your next trip to the beach!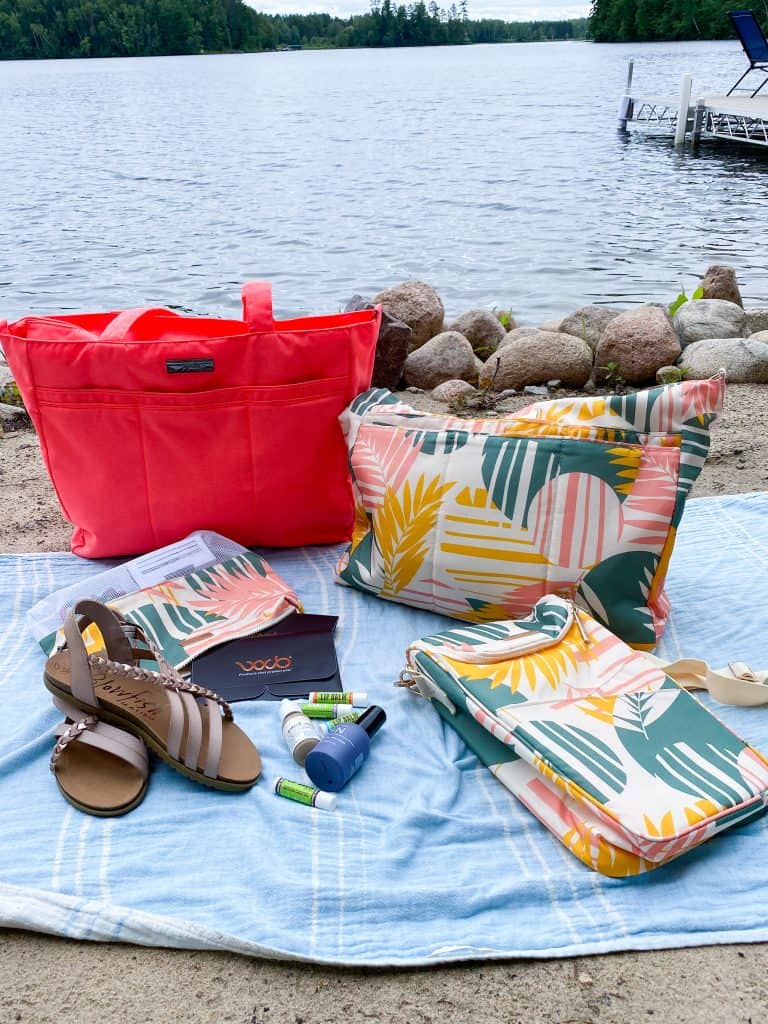 I absolutely LOVE the beach. Feet in the sand, sun on my face. It's heaven. We didn't get much of a summer here in Minnesota so I am already busy planning our winter vacay to Florida. Here are all the absolute MUST HAVES for the beach. We tested them all and only included our favorites! 
Beach Must Haves
We tested a ton of beach products which all claimed to be essential. Ready to see the ones that made the cut? You just may find your next "can't live without it" product here for your next trip to the beach! Let's get started!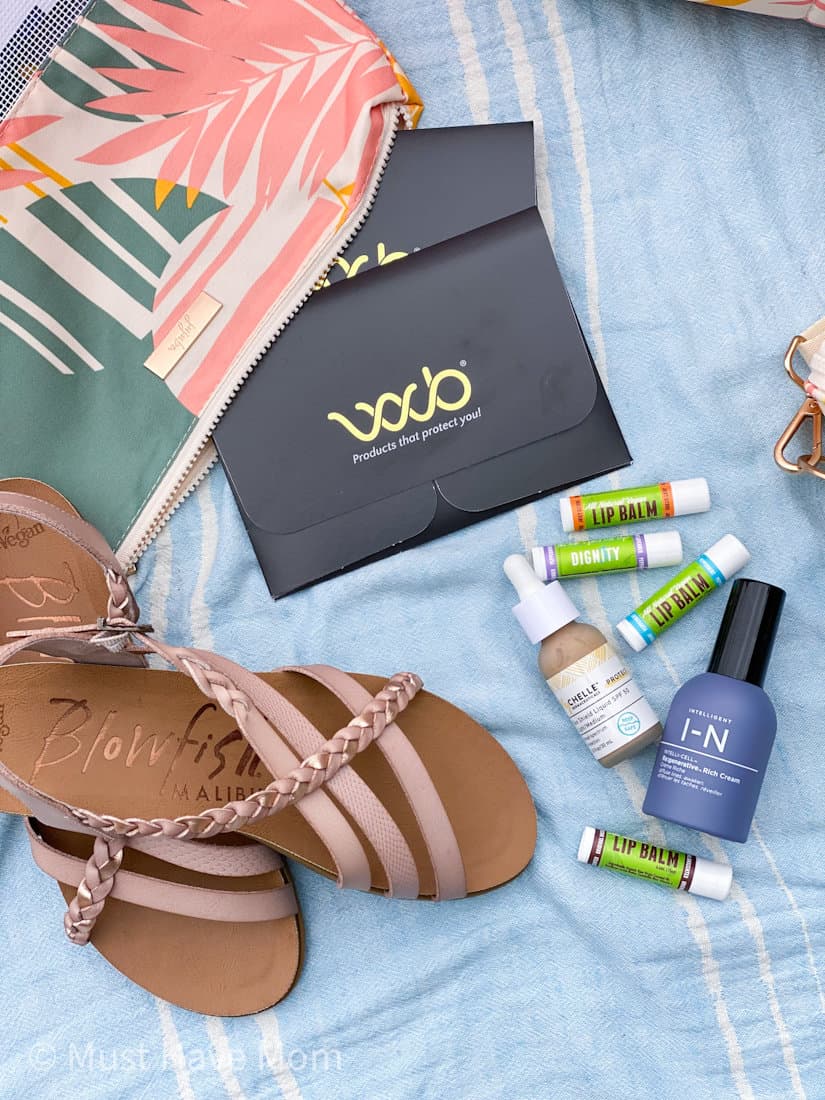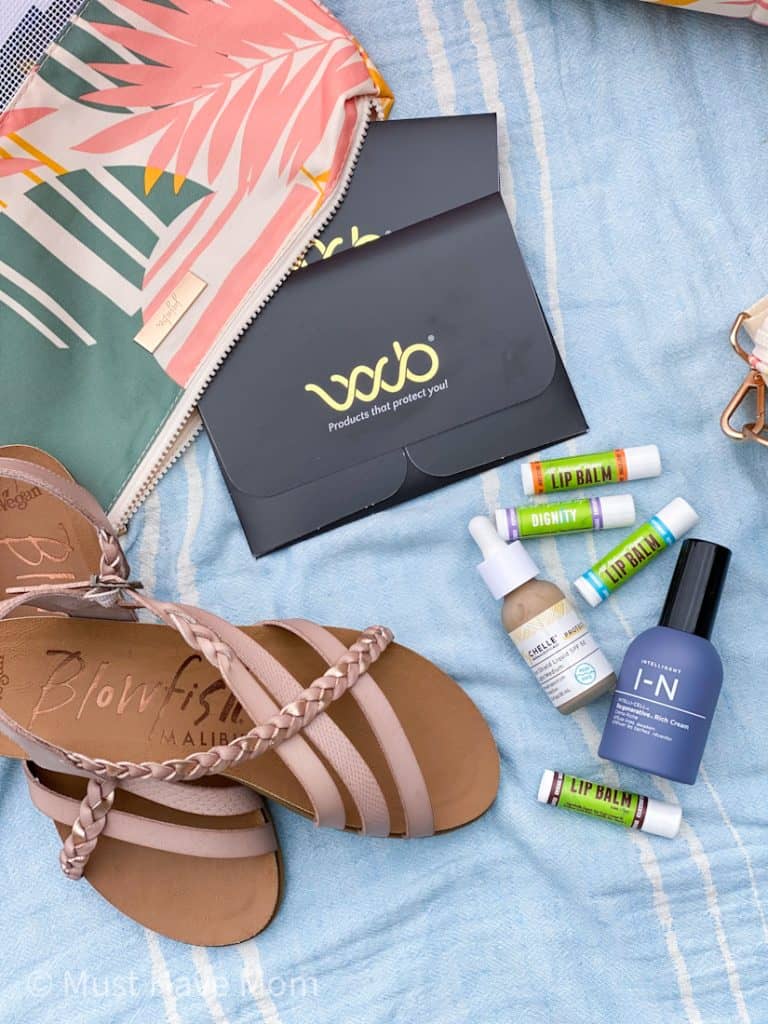 1. JuJuBe Be Sunny – Endless Palms The perfect accessory sized pouch for the beach, pool, or park. Cute print on the top and see-thru mesh on the bottom … you'll never have to search the bottom of your bag again. Find your sunscreen and important thingies at a glance. Machine washable with a zippered opening, the Be Sunny keeps you organized so you only have to worry about having fun!
2. WaveBlock It may not just be stress causing your headache, it could actually be from the EMF radiation given off by their wireless earbuds and iPhones you use. WaveBlock™ is the only sticker tested and proven by multiple FCC accredited labs to lessen the effects of radiation caused by EMF exposure though our wireless devices. Several happy customers have reported a noticeable reduction in common symptoms linked to EMF sensitivity, such as frequent headaches, fatigue, ear ringing, and brain fog. A must for listening to tunes at the beach!
3. Blowfish Malibu Sandals These incredibly comfortable, real leather sandals are an absolute must for your beach wardrobe. Not only are they super soft and very comfortable, but they are so trendy and cute! Dress them up or wear them with a suit. They are so versatile! These fit true to size. I love the buttery soft material. You simply can't go wrong! 
4. Dignity Coconuts A day at the beach can wreak havoc on your lips.  These lip balms provide excellent protection and healing properties without any of the toxic chemicals found in most lip balms.  Enjoy essential oils and subtle hints of natural ingredients.  Completely vegan with no animal-derived products like beeswax or lanolin.  Feel good about supporting this brand.  Dignity Coconuts was born in 2012 out of a conviction to stop sex trafficking and modern-day slavery.  
5.MyChelle Sun Shield Liquid SPF 50 Light For THE BEST Tinted SPF Moisturizers, look no further than MY FAVORITE ONE EVER — the OG in natural, vegan, mineral, reef-safe sun care —MyCHELLE Sun Shield Liquid SPF 50! This awesome tint comes in 5 shades (Non-Tinted, Light,  Light/Medium, Medium/Dark & Dark).  The liquid tints offer UVA/UVB broad spectrum protection while simultaneously performing as an amazing foundation for makeup with their matte finish (due to the inclusion of bentonite clay which absorbs excess oil to reduce surface shine).6. I-N Beauty's Re:generative™ Rich CreamThis truly rich, multi-tasking moisturizer is powered by Intelli-Cell™ science. Gardenia plant stem cells actively help smooth and firm the appearance of skin while glasswort and golden algae diffuse the visible appearance of fine lines, replenish the moisture barrier and even tone. This plush, antioxidant-rich cream will restore your skin to its plump, well-hydrated glory.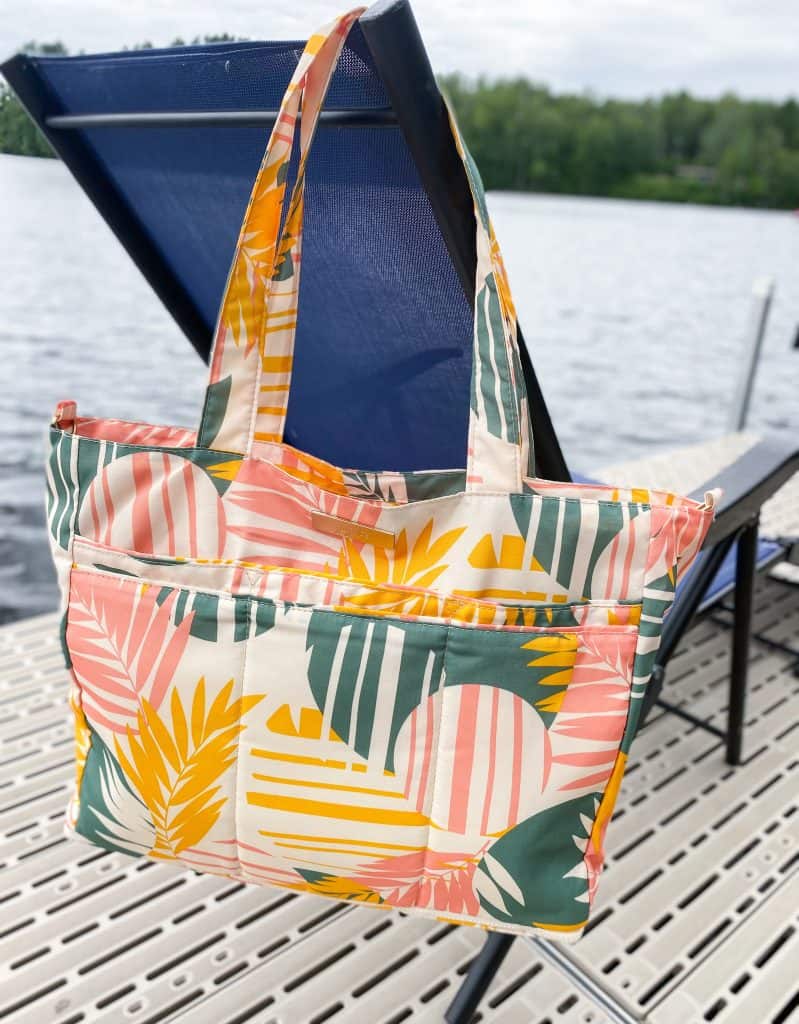 7. JuJuBe BE BEACHY – ENDLESS PALMS Beach Bag It's vacation time with the Be Beachy tote! Similar to the SuperBe but designed for the beach. Lightweight yet roomy with tons of pockets, this machine washable bag holds everything you need and gets rid of what you don't need. Carry this bag as a tote or attach your favorite woven strap to the d-rings to carry as a messenger bag. A quick unzip allows sand to easily escape through the mesh bottom. How's that for convenient? Meet you at the beach, park, or pool!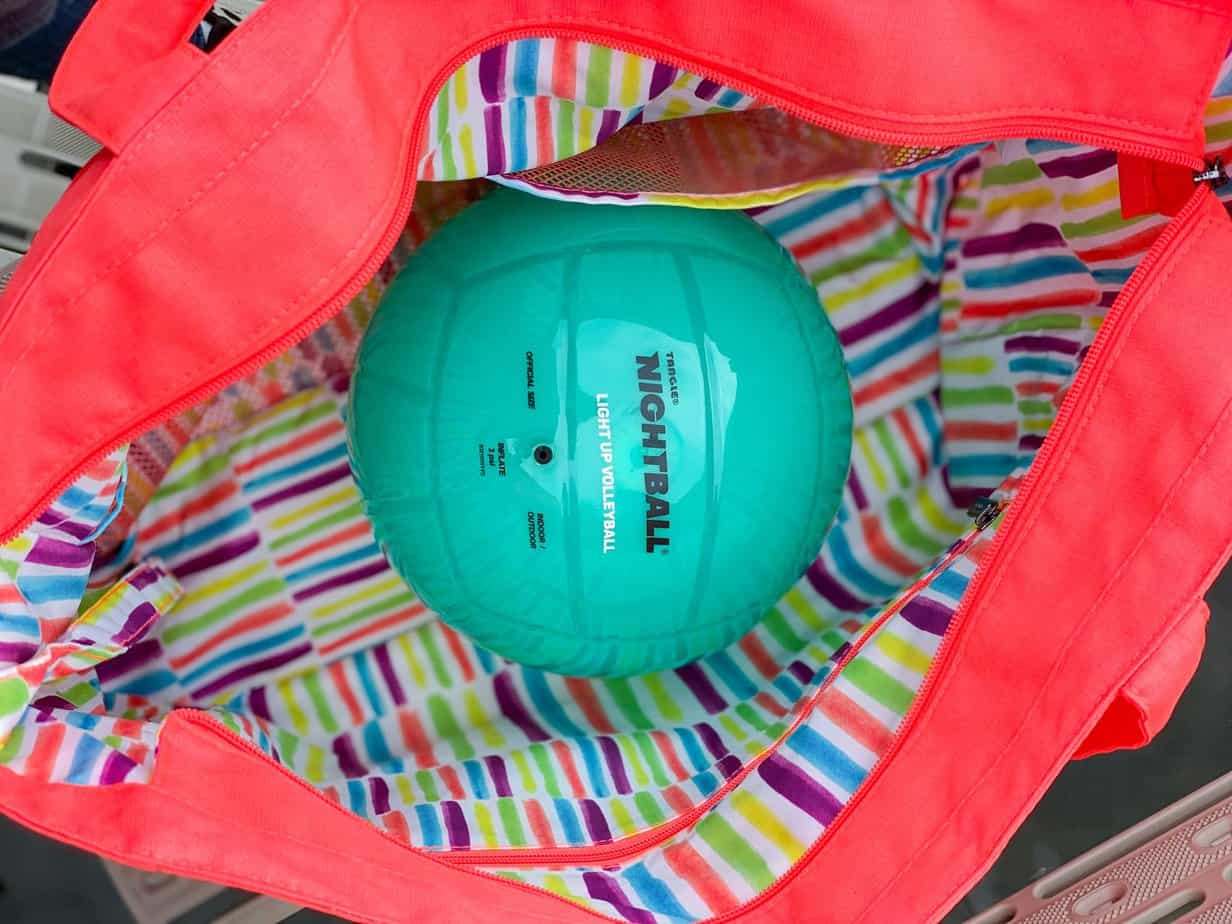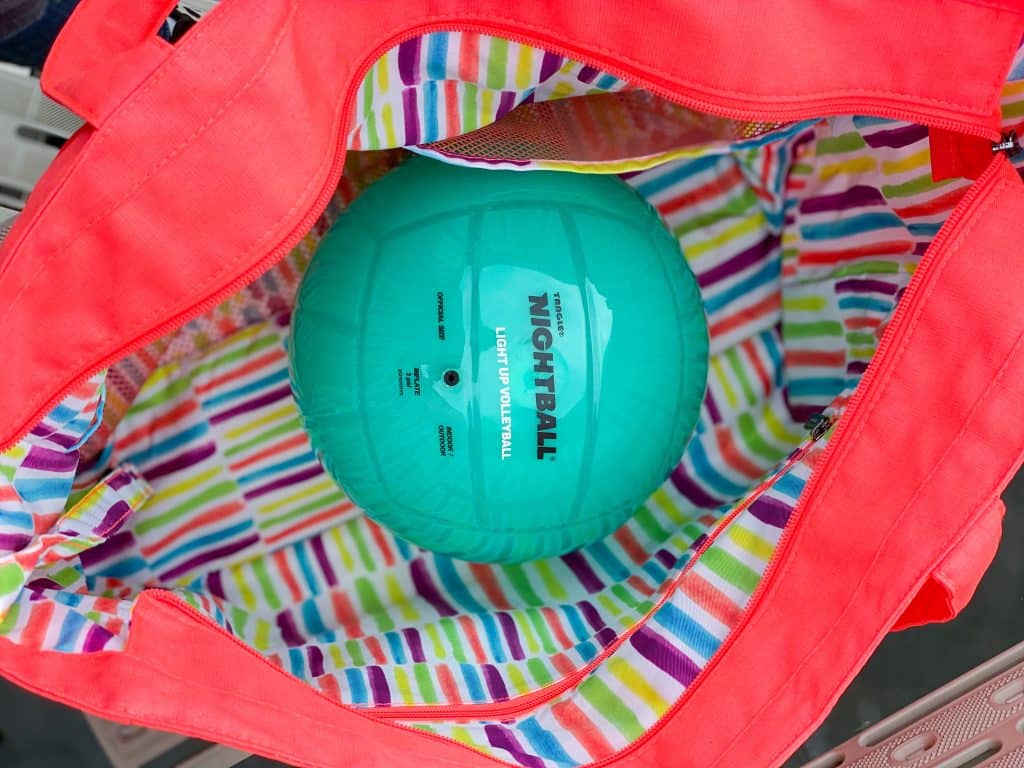 8. JuJuBe SUPERBE – NEON CORAL Beach Bag I am in LOVE with this bag! It will forever be my vacay bag! This ultralight tote is the perfect choice for the mom-about-town. Roomy and spacious, this bag can accommodate large laptops, notebooks and anything else you want to stow inside. The top is zippered, so there is no need to worry about your things falling out if your bag topples over in transit. Multiple storage pockets make it easy to get organized so that nothing gets lost in the bottom of the bag. This lightweight tote is comfortable and easy to carry, wherever the day takes you.
9. Tangle® NightBall® Volleyball Extend your summer hours with the new NightBall® Volleyball. Incredibly bright and water resistant, you can hit the beach well after sundown! With two super-bright LEDs the NightBall® Volleyball gives you twice the brightness at all hours of the day and night! That means more passing, setting and spiking for volleyball lovers everywhere! If you have teenagers – you need this ball! I am the coolest mom around for providing this for nighttime fun!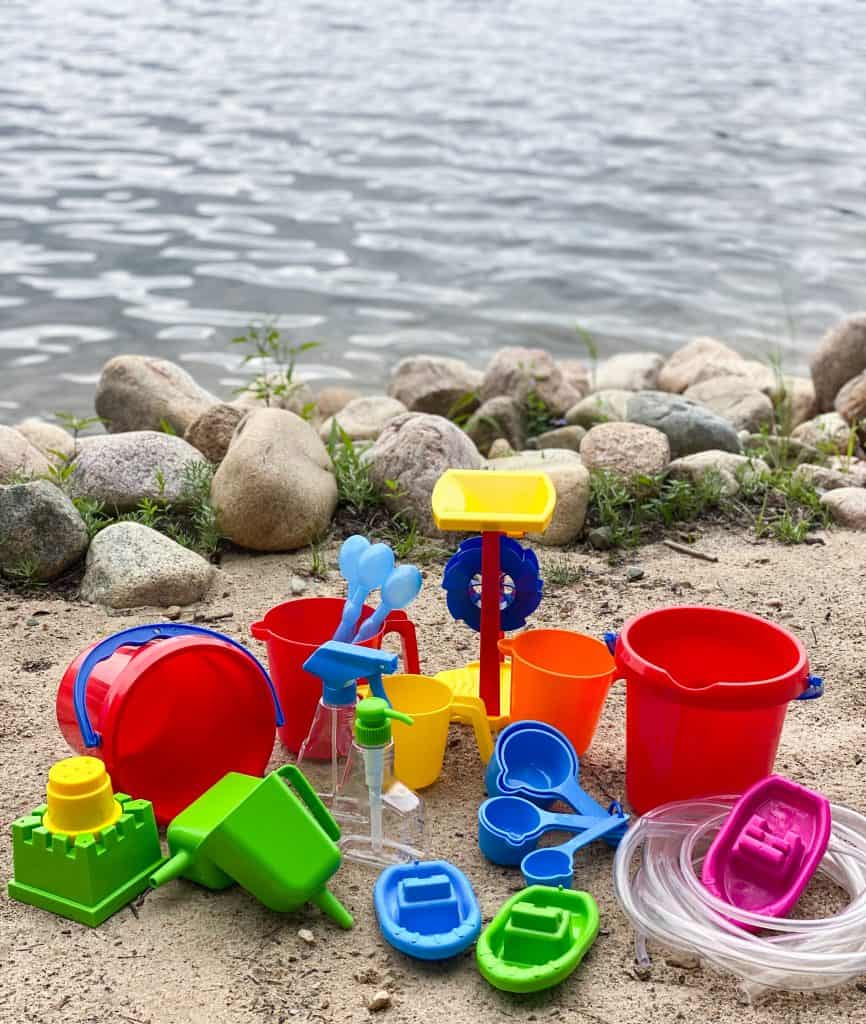 10. edx Education Water Play Tool Set This set of 27 outdoor toys is packed with Buckets, Funnels, Spray Bottles, Cups and More! This set has kept my kids busy for hours on end. The tubes are about the coolest thing ever! These toys help develop emotional, social, physical/sensory, and cognitive skills. I have never seen a more engaging sand toy set. This is a GREAT staple for sand toys on the beach!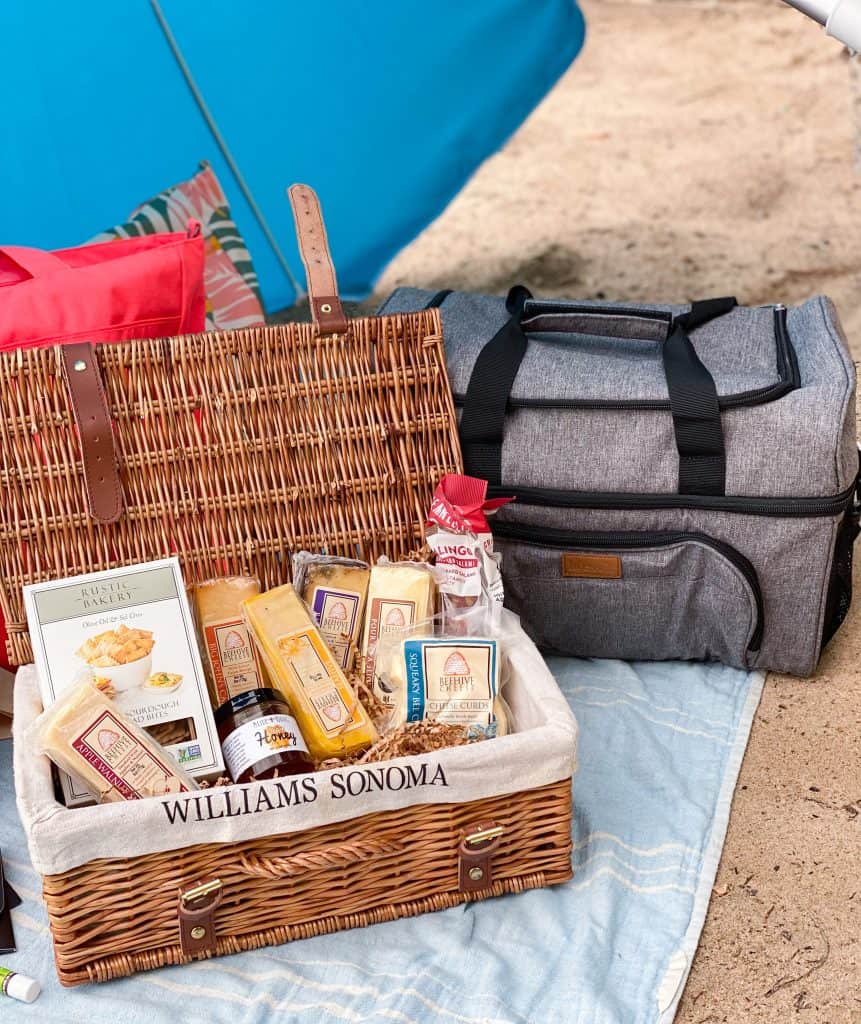 11. Williams Sonoma Best of Beehive Cheese Hamper This premium selection of signature cheese from the Utah-based Beehive Creamery – a family-owned-and-operated creamery – is perfect for a day at the beach! It comes in the perfect take along basket and doesn't require refrigeration. Every cheese is handcrafted in small batches using local milk from a fourth-generation family dairy. This sampler includes five of the best-selling varieties, along with cheese curds, crackers, salami and a tart fruit spread.
12. Lifewit Large Cooler Bag This modern cooler bag has quickly become one of my favorites! I use it for toting groceries home from the store, a day on the boat, the beach and so much more. The large size can fit up to 27 cans of your favorite beverage plus ice! It's the perfect size for our family of six to have enough drinks and snacks for the day without being cumbersome to bring along.
These top 12 must have beach picks are a must for home and vacay! Don't be caught without them!