Affordable Interior Design Online With Modsy!
I LOVE designing my home and doing makeovers on it. I've shared many of those here and so many of you have said you wish you could hire me to design your home. Well, I've found the next best thing with Modsy! You get affordable interior design online for any room in your home. I tried it out and I'll show you the room they designed for me!! Plus, use Modsy coupon code MUSTHAVE to save 20% off any design package except the basic package.
Interior Design Online With Modsy
I know that so many of you have enjoyed coming along as I do makeovers on my home and RV. From my small bathroom remodel to my farmhouse master bedroom and my modern mountain RV makeover, the feedback has been so great. Now I am working on a huge project, my kitchen and dining room! I had a really clear picture of what I wanted in the kitchen but I got stuck on the dining room area. I had multiple ideas and wasn't really clear on what would fit best. This is where Modsy came in and helped me with all of that!
Modsy
So many of you have told me that you wish I could come to your home and design your makeovers for you. Well, I am just one person and I can't do that, but I found a service that can! Modsy is a personalized home design solution that utilizes 3D visualization technology to let you try on furniture before you buy AND they have designers that will help you design the room you are dreaming of! Not sure what you want? They'll help create a look based on your preferences and taste. 
How Does Modsy Work?
Modsy can help you design any room in your home. I needed help with my dining room design. I started by taking Modsy's quiz so that they could get a feel for my style. I have to say they really got my style based off the quiz.
Next, you'll submit photos of your room from all angles. Then you can specify if any pieces will be used in the new room and anything you want worked into the design. Then just sit back and wait a few days for your interior design to be delivered to you.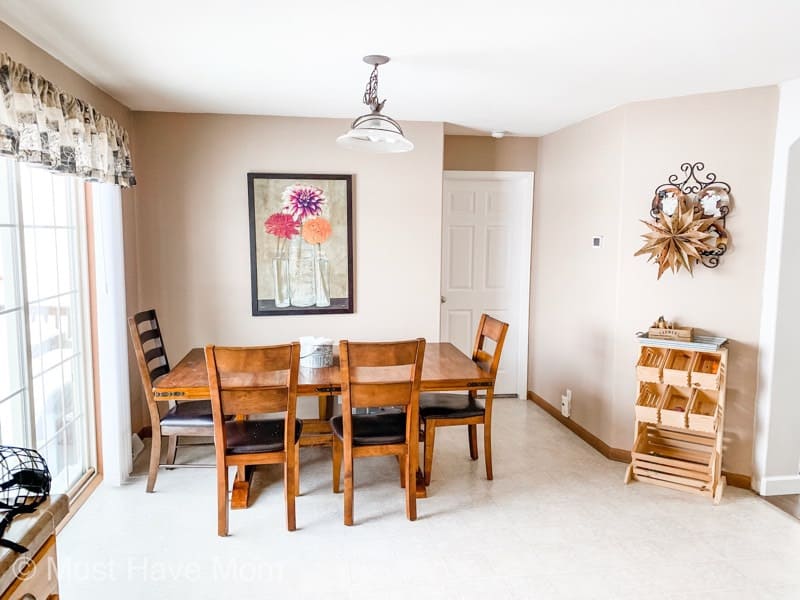 This is my before photo of my dining room. From here they worked with me to design two different variations of my dining room. Since I am redoing my kitchen as well, the layout of the room will change and I needed ideas for a dining table and layout.
Modsy Design #1
This is the first design that Modsy delivered to me.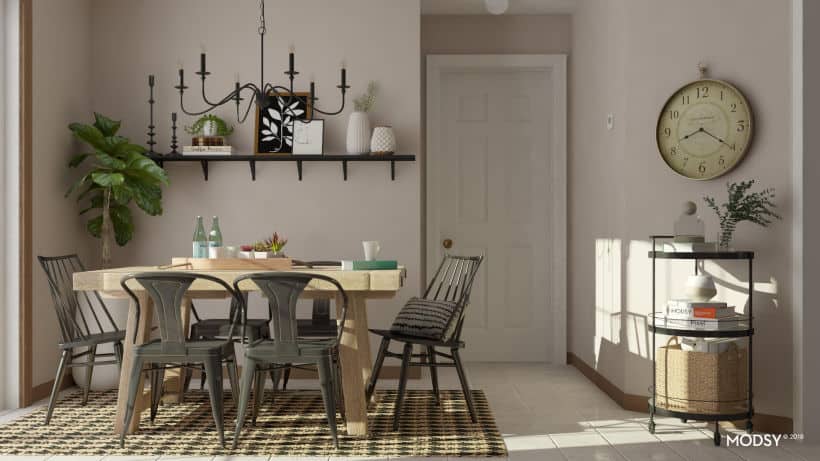 The design comes with multiple views from every angle so you can really see everything. It also is linked to the products so you can easily buy any or all of the products in the design if you like them! Not only does Modsy price-match but you can also earn exclusive discounts when you shop through them!
I love the rustic table in this design and the black chairs.
Modsy Design #2
Modsy also delivered this alternate design along with design number one.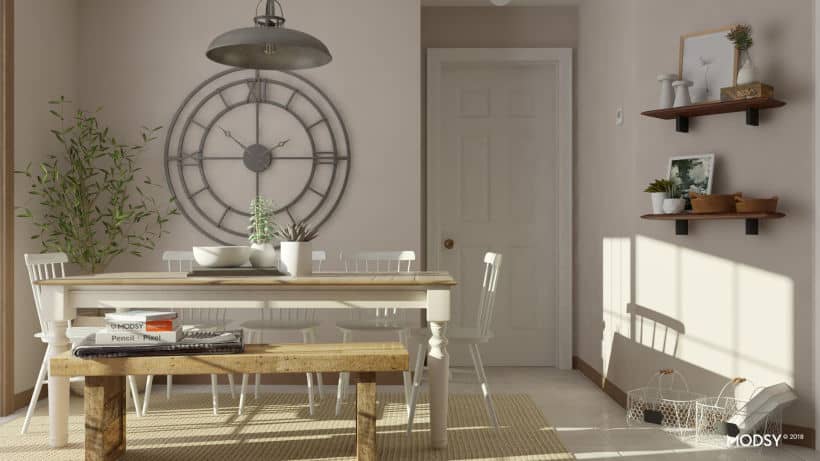 I love the table with the white and wood, along with the rustic bench. The light fixture is beautiful as well. I love that both designs are within the same aesthetic but offer different ideas. The large clock on the wall works better for our large family than a shelf would. I can see the kids and adults bumping heads on the shelf! I like the shelves on the opposite wall here instead. Having both Modsy designs gives me multiple ideas so I can get a feel for what I like.
Modsy Design #3
One thing that wasn't in the design was the changed layout of my kitchen which is in progress. I was able to send over our 3D renderings that we created with our kitchen cabinet company and Modsy worked that into the dining room layout and delivered this alternate design. I also wanted to try a square table in the space to see if I liked that better. Modsy was able to change both of these things and delivered this final design that included all of my requests.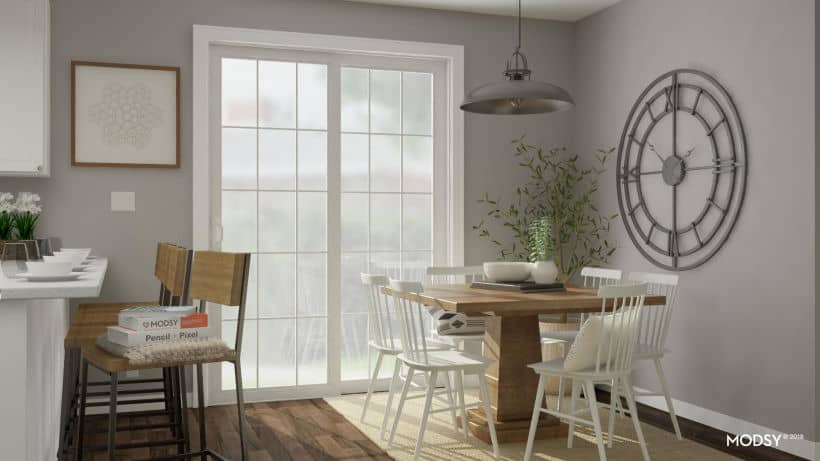 I absolutely love being able to visualize the bar seating that we are going to be adding to our kitchen. I also like being able to see the square table in this space. It would still seat our entire family at it, but takes up a smaller footprint in the room which I like.
Modsy will work with you on your design until you are happy with it. I love being able to visualize my different ideas in the actual space they will be in! It's SO helpful.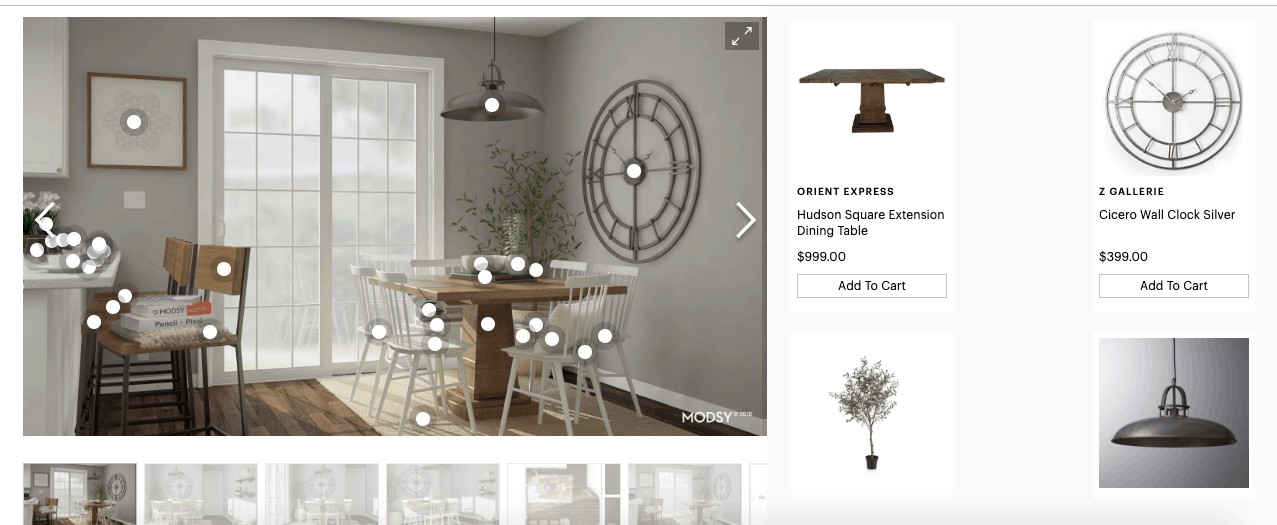 When you login to your Modsy account you will be able to see your designs and all the photos from various angles. You'll notice the white dots on the photo which link to each product so you are able to easily shop the room and buy the pieces you love.
Modsy also alerts you to sales on the items in your room and offers discounts on your purchase! This is a great way to shop multiple retailers all in one place.
How Much Does Modsy Cost?
While hiring your own personal interior designer would set you back a pretty penny, Modsy is really affordable! It makes having your own personal interior designer affordable for anyone. Packages start at just $69 for a room and go up from there depending on what you need done.
Modsy Coupon Code
You can use Modsy coupon code MUSTHAVE to save 20% off any design package except the basic package. Modsy also has coupon codes they send out at various times to save on the items you buy in your room!
Pin Modsy