DIY Front Door Decor Using Cricut Joy
This is a sponsored post written by me on behalf of Cricut. All opinions are 100% mine.
I have been seeing the cutest front door decor all over social media lately so I decided to Cricut my own front door hanger using dollar store pizza pans and my Cricut Joy to embellish it with vinyl. The end result is an easy way to spruce up your front door and greet your guests!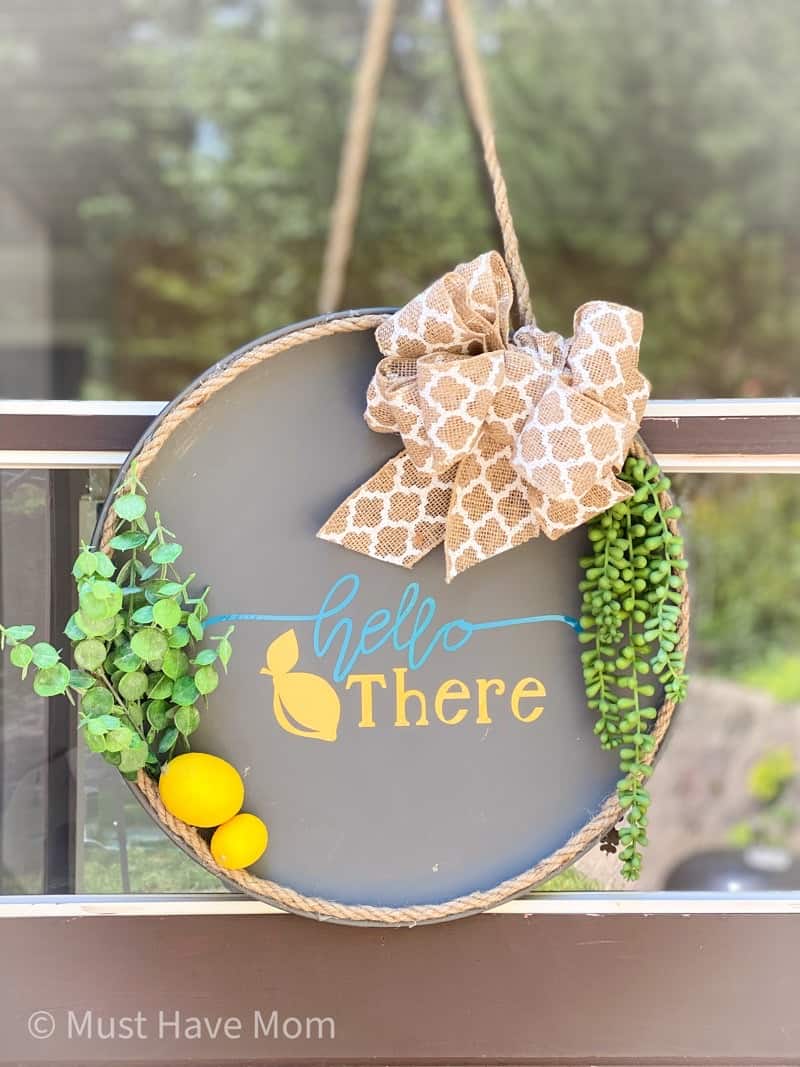 I love my Cricut Joy which is Cricut's newest machine which fits in the palm of your hand! I did these 5 Cricut Joy projects to organize my home and now I've moved on to Cricut home decor! I'll show you how you can use the Cricut Joy to easily make a front door hanger in no time and with little money into supplies.
Front Door Decor
I love creating unique front door decor to make my home feel warm and inviting to guests. I also love finding inexpensive supplies at the dollar store and turning them into gorgeous home decor. You can see some other dollar store craft ideas here. It is easy to take an inexpensive item and transform it into expensive-looking home decor using your Cricut Joy.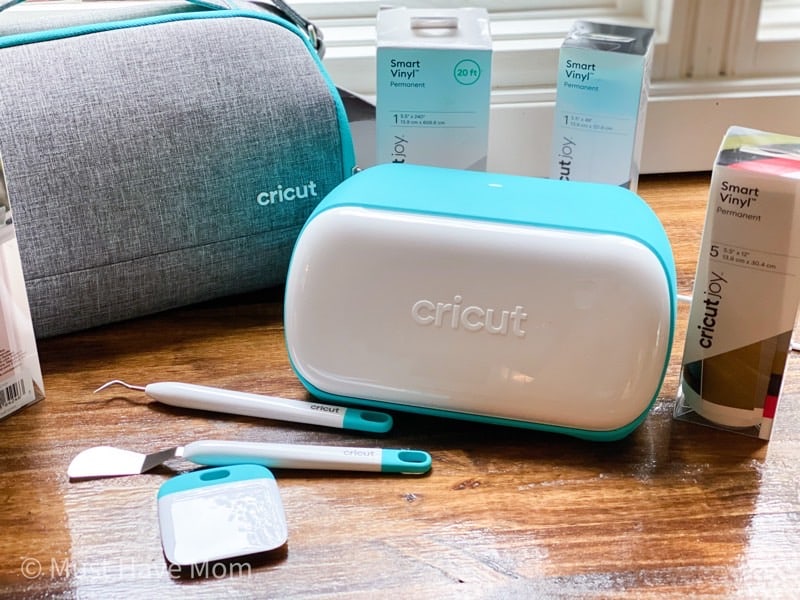 Cricut Joy
The Cricut Joy is the perfect companion to quickly and easily personalize anything with one cut and one color, in 15 minutes or less. It is fun, functional, and simple to use. Practical, everyday projects have never been more accessible or easier!  I love the super small size of the Cricut Joy which means I can have it with me at the cabin or anywhere because I don't need a dedicated space or craft room in order to use it. Cricut Joy packs away easily and setting it up takes just a moment.
I've been busy crafting at my cabin and using the Cricut Joy which I store in a tote under our bed. It's so small that it takes up hardly any space. Because of its design, Cricut Joy uses Cricut Smart Materials, which are different from other vinyl and paper. These materials are designed to work without a cutting mat, so there's less to buy and transport.
Now that you know why the Cricut Joy is the perfect little crafting machine for anyone, let's make a front door hanger with it!

DIY Front Door Hanger Instructions
For this project, you can choose any theme and color scheme. I chose to go with a lemon theme for my cabin's front door and my daughter made a flamingo door hanger for their bunkhouse. Here's what you'll need to make the project (no matter the theme):
pizza pan (we used one from Dollar Tree and a larger one from Walmart)
nautical rope
burlap ribbon or ribbon of your choice theme
embellishments (lemons, flamingoes, greenery, flowers, etc)
chalk paint
foam paint brush
Cricut Joy Smart Vinyl (your choice color)
hot glue gun and glue
Start by chalk painting your pizza pan. You can use any size pizza pan. We used a small $1 pizza pan from Dollar Tree and a larger $5 pizza pan from Walmart so you can see the size difference. Both sizes work well! You could also upcycle an old one as long as it was clean and free of residue. Use a foam brush to chalk paint the front (top side) of the pizza pan. Allow to fully dry.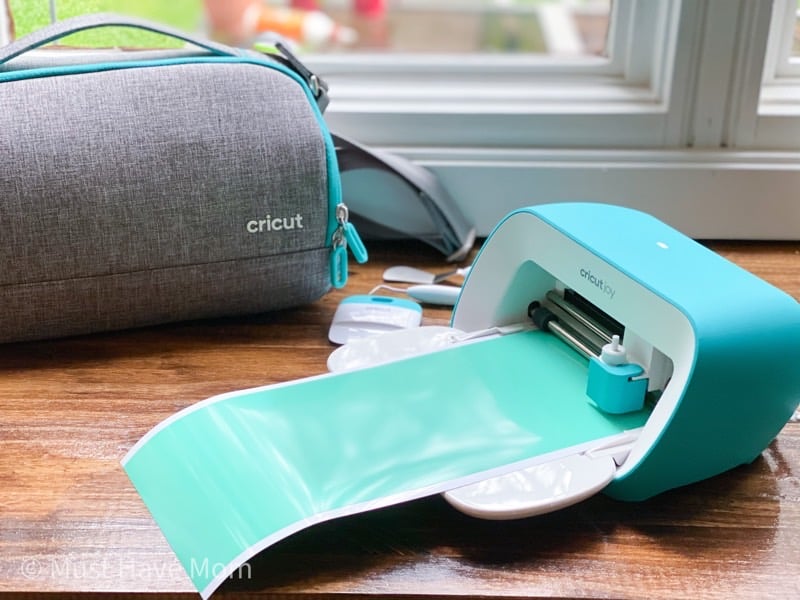 Create your vinyl design in Design Space and cut it on Cricut Joy Smart Vinyl. With the Cricut Joy you can cut without a mat and up to 20′ long! We won't need it that long for this project but the ability to cut a continuous design like that is exciting! Click here to see the cut files we used, plus a few more ideas!
Weed your design and then use Cricut Joy Transfer Tape to apply the vinyl to the pizza pan.
After applying your vinyl to the center of the pizza pan, it's time to start adding the decor! I used dollar store nautical rope to go all the way around each circle. Attach it using hot glue.
Next, use a ribbon with a wire edge to create a bow. I used the bow making tutorial found here to make my bows. It was really easy! Then hot glue the bow to the top center or off-center (like the lemon door hanger bow). Trim the tails with a slanted edge so they don't cover up your vinyl.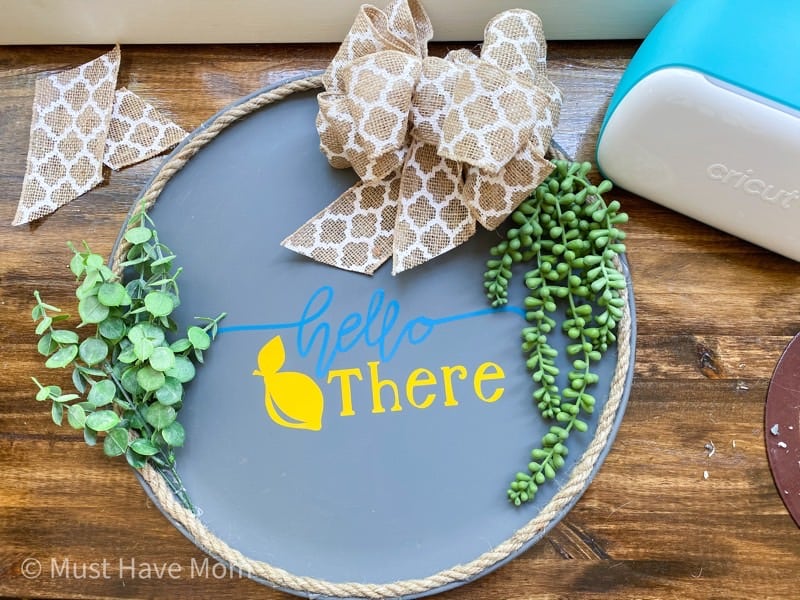 Add your embellishments next. Get creative and play around with placement. You can hot glue the embellishments onto the pizza pan, surrounding your vinyl.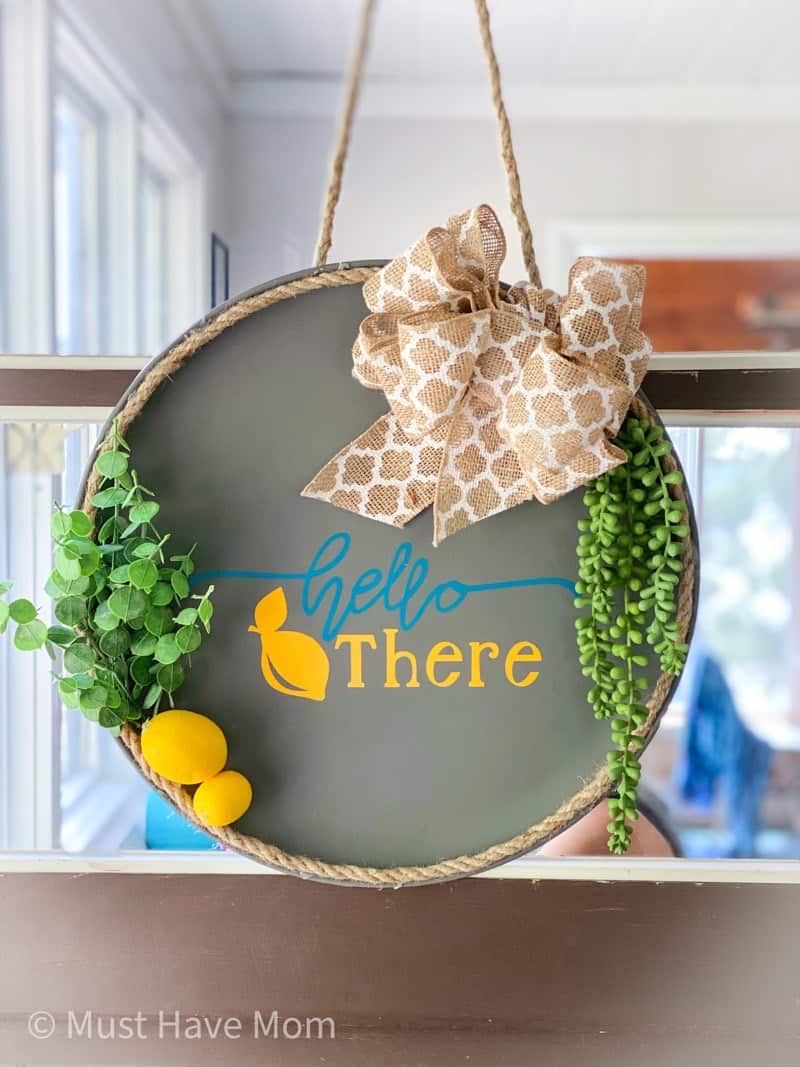 Use nautical rope or ribbon (they have nautical rope at Dollar Tree for just $1!) and glue a hanger to the top of your pizza pan, on the backside.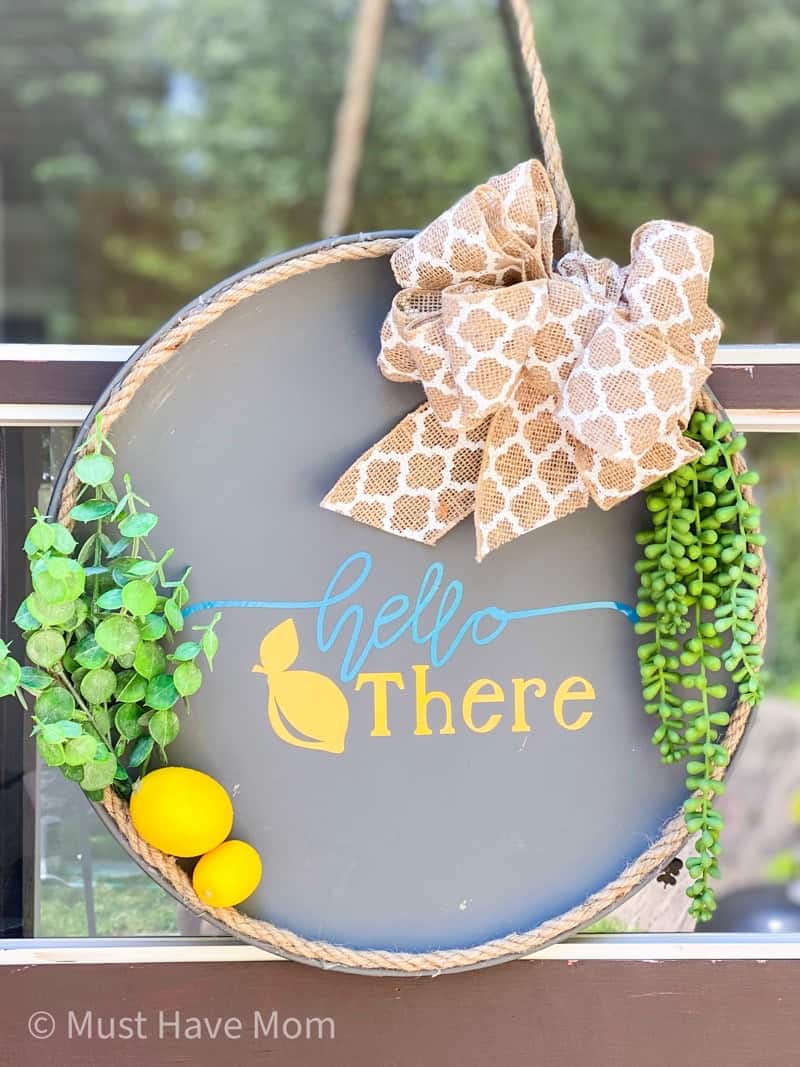 Hang the front door hanger with a wreath hanger or command hook on your front door.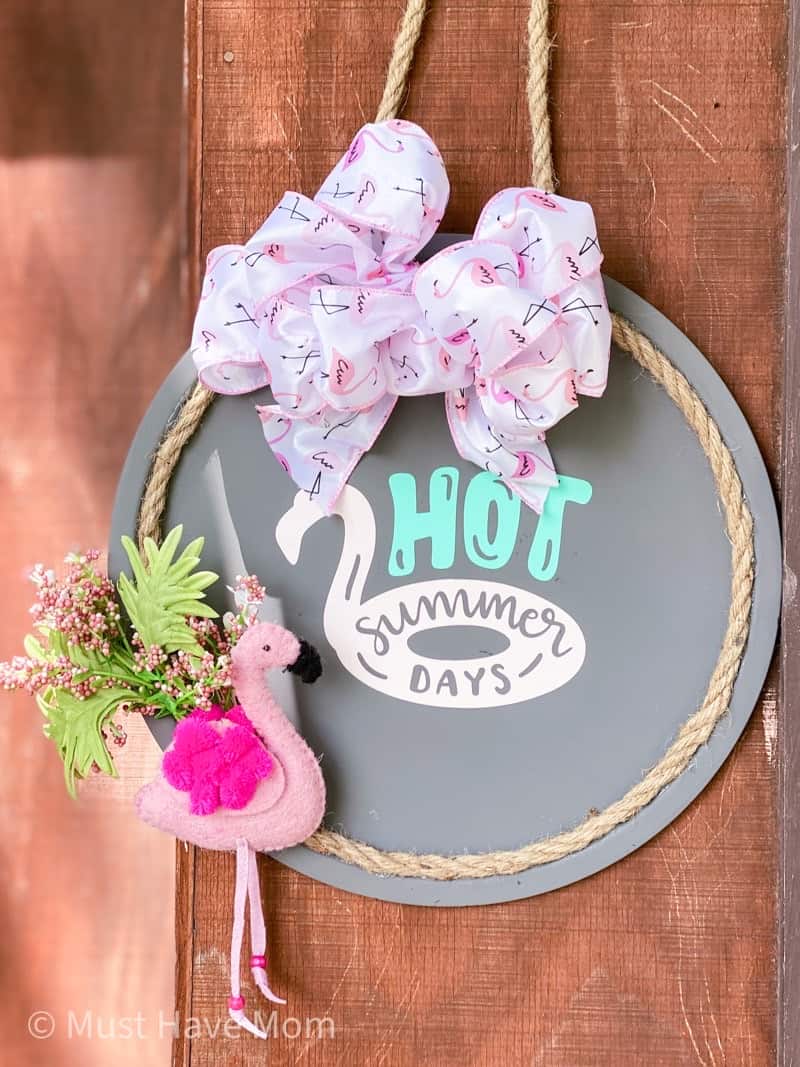 This was a really fun mommy/daughter project to do! I created the lemon hanger and my daughter created the flamingo hanger. They were a ton of fun to make and my daughter kept saying how much fun she had making them. They are the perfect inexpensive DIY home decor using your Cricut Joy!
Want a steady stream of Cricut project ideas? Check out the Cricut blog for weekly home renovation project inspiration and tutorials. 
Pin DIY Front Door Decor