Delicious Summer Raspberry Bread Recipe
This raspberry bread recipe is the most amazing, flavorful recipe ever to accent those mouthwatering summer raspberries! If you are wondering what to do with all of the raspberries you picked then look no further. As far as raspberry recipes go this one is a keeper!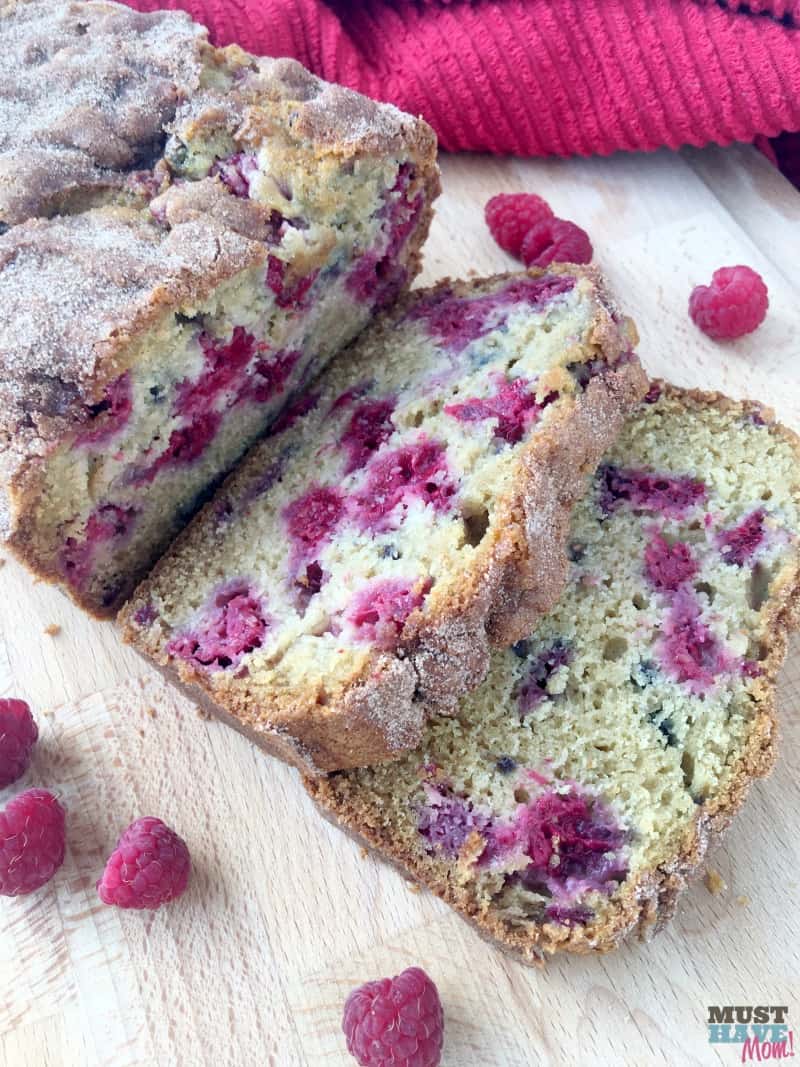 This year is the first year ever that our raspberry plants we planted four years ago have produced berries! I couldn't be more excited and of course that has left me experimenting in the kitchen trying to find the BEST raspberry recipes to use my precious berries in. This raspberry bread is a burst of flavor in your mouth and truly accents the juicy berries inside! It makes one loaf of bread in a regular loaf pan.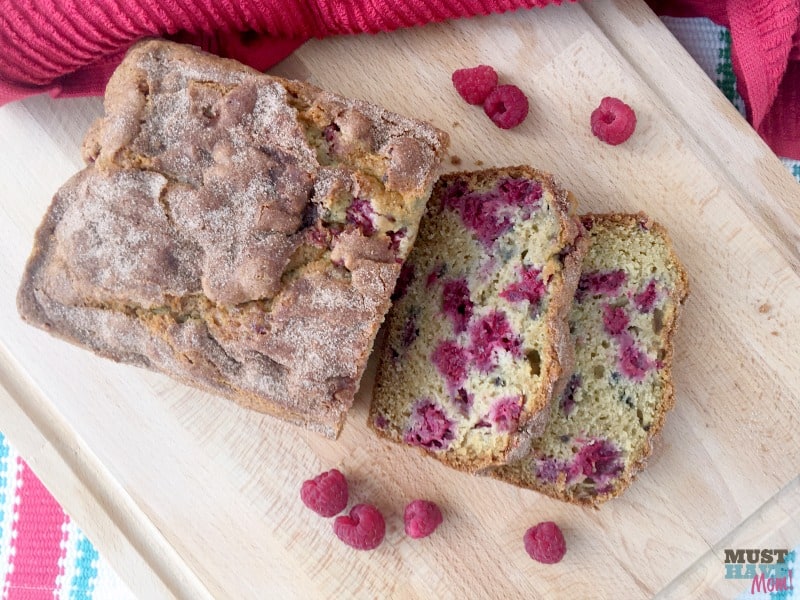 Up until now I had never seen a raspberry bread recipe. I had made raspberry banana muffins before but never a bread dedicated to highlighting the amazing juicy raspberries. I've experimented and gotten this recipe just right so your bread will be bursting with flavor inside your mouth!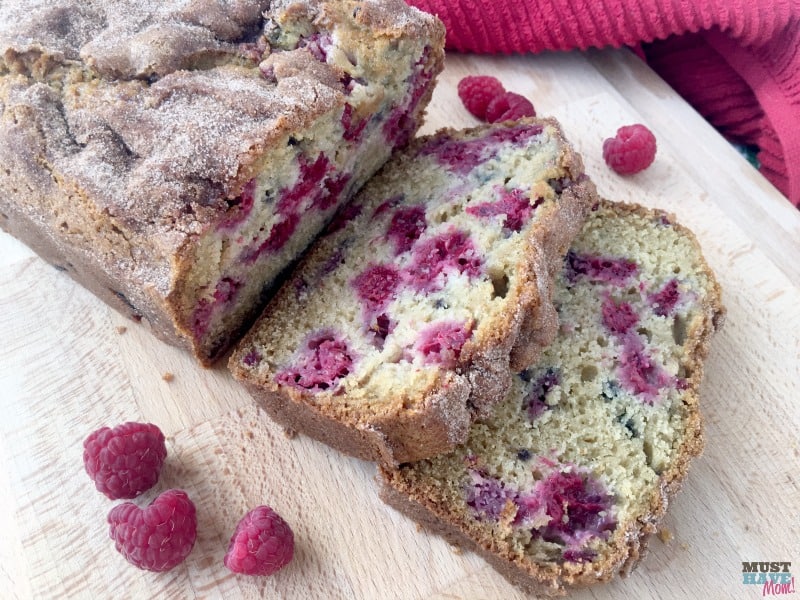 Top all of that moist deliciousness with a crunchy cinnamon sugar topping and you've got a slice of heaven.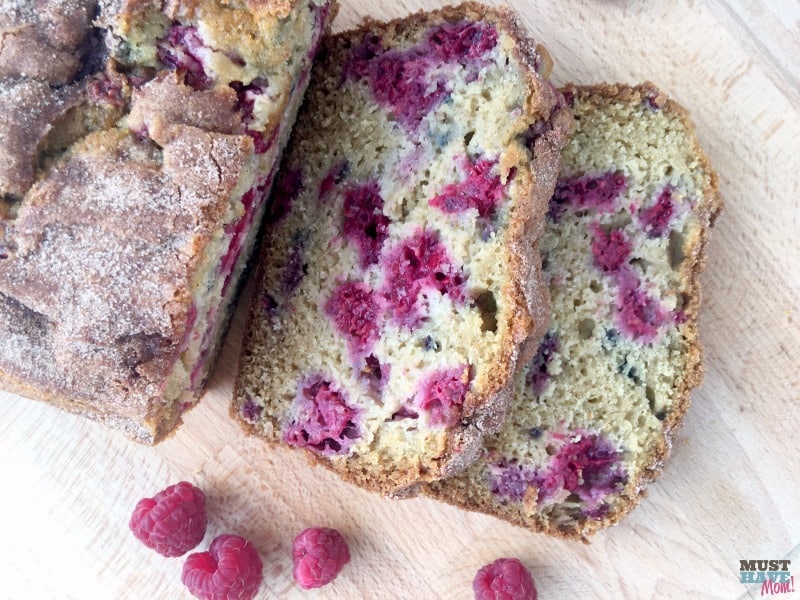 Slice it and serve warm or let it cool and serve it later. It's amazing either way! It needs nothing thanks to the moist bread and bursting-with-flavor raspberries!
Print the recipe off below! Be sure to also share on FACEBOOK and PIN it for later!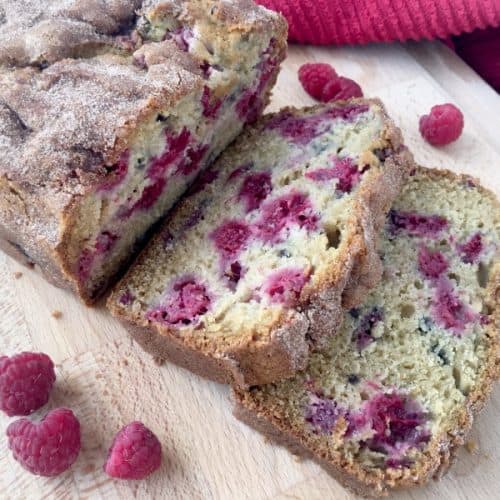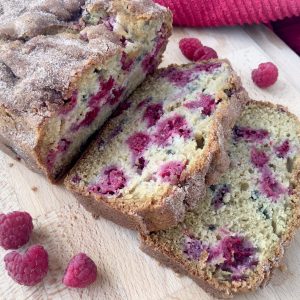 Delicious Summer Raspberry Bread Recipe
Delicious, moist bread bursting with raspberries throughout the bread. Topped with a crunchy cinnamon sugar coating. This bread is a crowd pleaser and the perfect way to use those summer berries.
Ingredients
2

cups

plus 2 tablespoons all-purpose flour

3/4

cup

light brown sugar

packed

1/4

cup

granulated sugar

1

tsp

baking soda

1/4

cup

unsalted butter

melted

1

egg

3/4

cup

milk

1/4

cup

vegetable oil

2

tsp

vanilla extract

1/2

tsp

almond extract

2

cups

fresh raspberries

Additional 2 Tbsp all-purpose flour

cinnamon sugar for topping
Instructions
Preheat oven to 350 degrees F. Grease and flour a 9x5 loaf pan and set aside.

In a large bowl add 2 cups plus 2 tbsp flour, brown sugar, granulated sugar, and baking soda and whisk to combine.

Add melted butter, egg, milk, oil, vanilla, and almond extract and stir to combine. Don't over mix it. Batter should be a bit lumpy. Don't over-stir to remove lumps or bread will be dry.

In a separate bowl add 2 cups raspberries and 2 tbsp flour. Toss to coat the berries. Coating the berries in flour helps prevent them from sinking while baking.

Add raspberries to the batter and fold in gently.

Pour batter into prepared load pan. Smooth the top and make sure corners are filled with batter. Sprinkle cinnamon sugar (just a mixture of sugar and cinnamon) over the top of the loaf. You can do as much or as little as you like (to your taste).

Bake 1 hour or until toothpick inserted in center comes out clean. Allow to cool 15 minutes then turn bread out onto a wire rack to cool. Once cooled, slice and serve.

Bread freezes well too!