Rocky Road Hot Chocolate Recipe + Snow Paint Sensory Bin!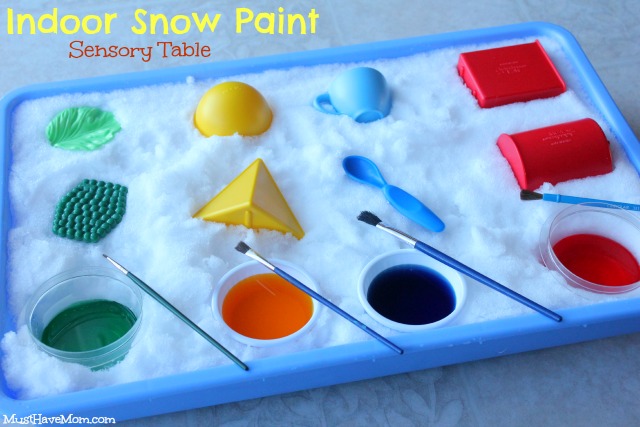 As the Winter days get colder we tend to stay indoors more often than we go outdoors. I'll admit that while my 3 and 5 year old love to go out and play in the snow, I don't always relish the thought of dressing up my 1 year old, 3 year old and 5 year old only to trek outdoors and have them last all of twenty minutes before asking to go back inside. It usually takes longer to get ready than the amount of time we spend outside. So as a mom that likes to stay inside and be warm this indoor snow paint sensory table is perfect! The kids get to play with the snow and my baby and I get to stay inside and be warm!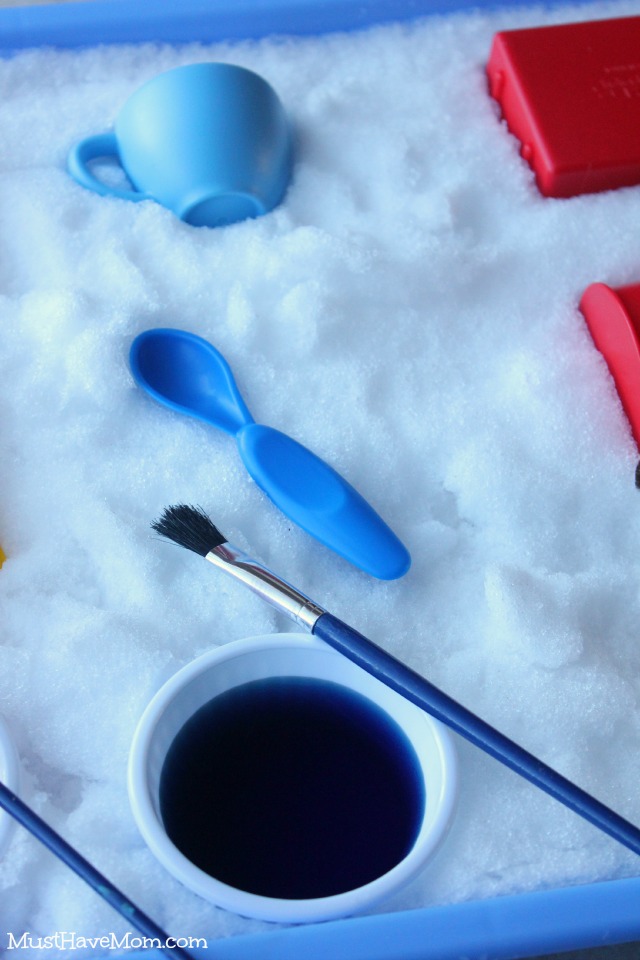 To make the snow sensory table I simply filled up the tray with snow first. Then I grabbed four condiment cups and mixed up warm water and food coloring in blue, red, green and yellow. Then I dug through the kids toys to find 2 "snow tools" in each color. Add paintbrushes and you are ready to go!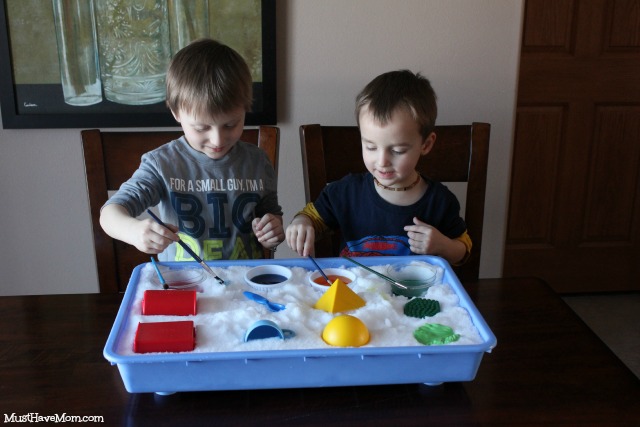 The boys LOVED this activity. The larger paintbrushes worked the best. This was a fantastic way to learn colors and talk about temperature. The snow was cold!! The snow paint was warm. What happens when we paint with it?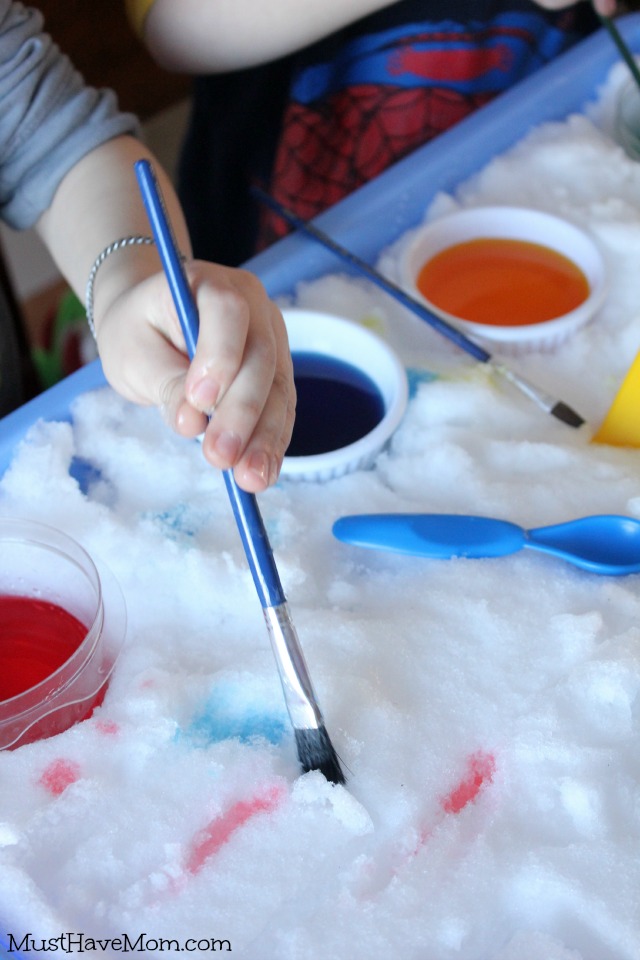 The snow turns fun colors! They built mini igloos and snowmen and painted them. They had so much fun playing in the snow and this is something that they could't do very well outdoors because their mittens become to cumbersome. This was the perfect indoor snow play!
Did you know watching movies tops the list of Americans' favorite indoor winter activities, followed by reading books and playing games? The top outdoor wintertime activity for Americans is building a snowman, followed by starting a snowball fight and sledding. Nearly 70 percent of Americans agree that hot chocolate is the drink that reminds them most of their childhood. I have to say I'm definitely in that 70 percent!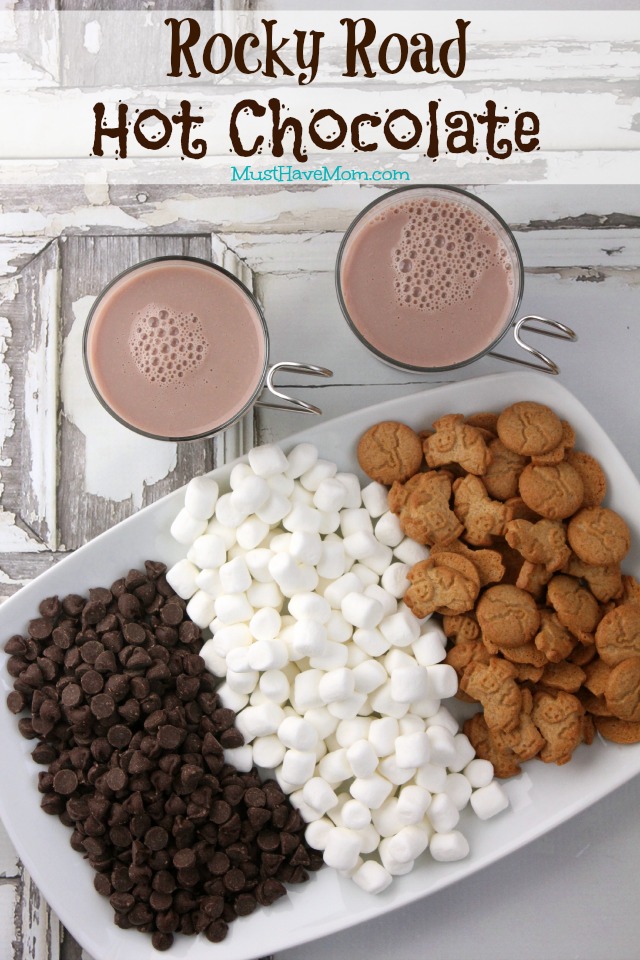 We always have a tradition of following our snow play with hot chocolate! Today we made our very own "hot chocolate bar" where the kids could add their desired toppings to their hot chocolate. I included chocolate chips, mini marshmallows and organic graham crackers.
We also made a fun Rocky Road Hot Chocolate recipe using TruMoo Chocolate Marshmallow! TruMoo is made with wholesome low-fat white milk, no artificial growth hormones or high fructose corn syrup, and is brought to you by your trusted local dairy. Whether it's served cold or hot, garnished with your favorite winter spices and treats, TruMoo Chocolate Marshmallow milk is the perfect drink to enjoy while partaking in your favorite winter activities.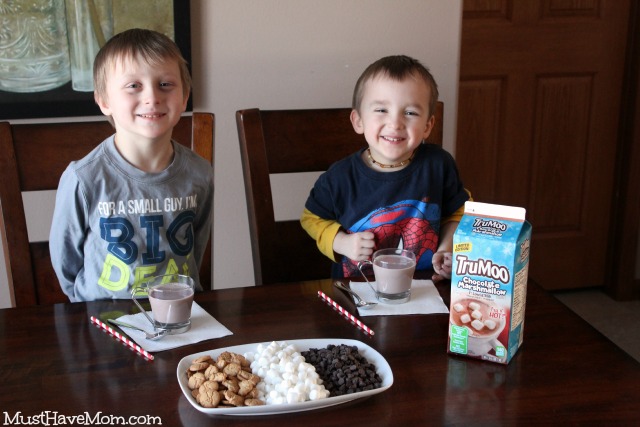 To make the Rocky Road Hot Chocolate I combined TruMoo Chocolate Marshmallow milk, graham crackers and vanilla in a small saucepan and cooked over medium heat until the milk was hot. Then I made sure to let it cool enough for the kids to drink (I like mine hot!) and then let them each have a fancy glass to drink it from (that's their favorite part about our hot chocolate tradition).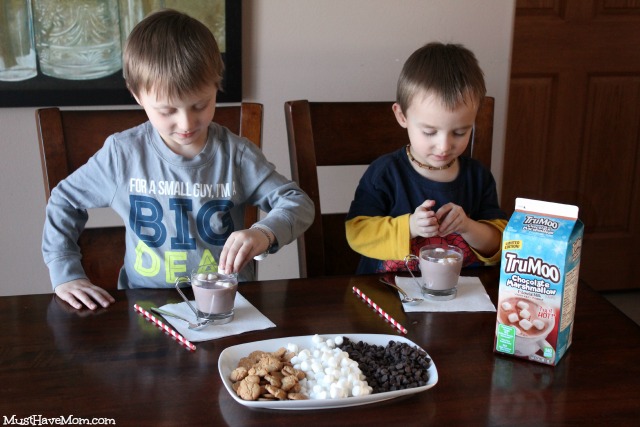 Next they each got to add whatever they wanted to their hot chocolate! They thought that was VERY cool!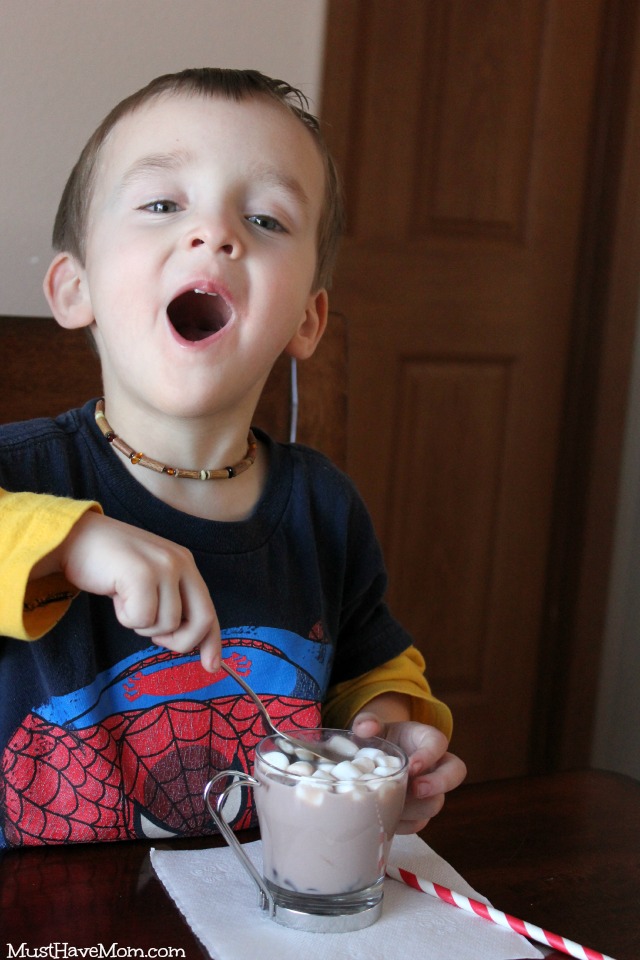 Carson thought it was the "best hot chocolate ever!". I had to agree with him! It's amazing hot or cold!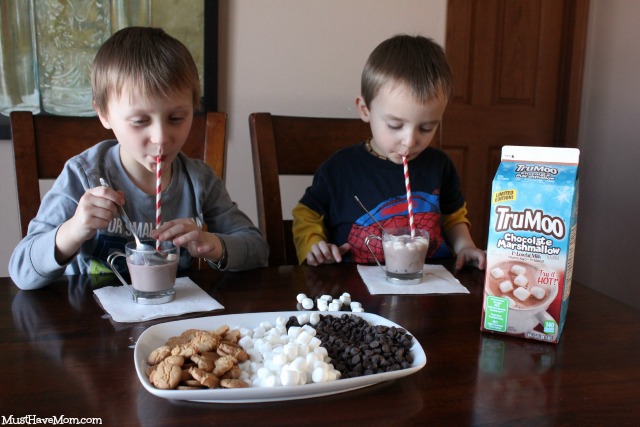 You can find TruMoo Chocolate Marshmallow milk in the dairy case at grocery stores now through the end of February 2015! Give it a try before it disappears! It's a special edition so you've only got until the end of this month to get it!
Print off the Rocky Road Hot Chocolate Recipe below or pin these ideas for later!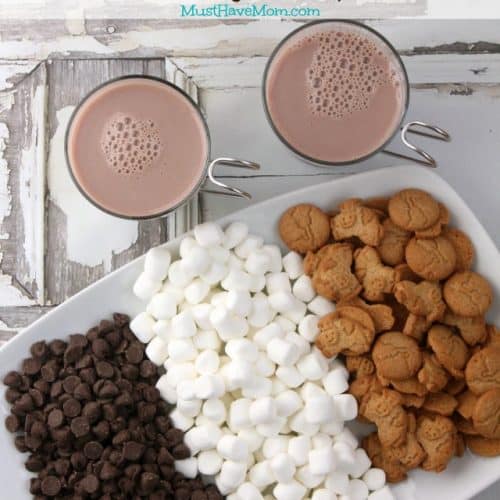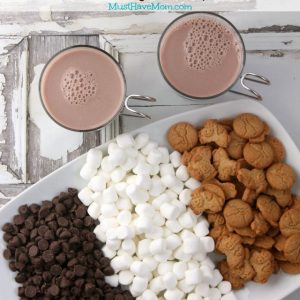 Rocky Road Hot Chocolate Recipe
Kid friendly hot chocolate recipe!
Ingredients
2

cups

TruMoo Chocolate Marshmallow milk

1/4

cup

coarsely broken graham crackers

2

teaspoons

vanilla extract

Garnish: chocolate chips

graham cracker pieces, mini marshmallows, toasted almonds
Instructions
In small saucepan over medium heat, heat TruMoo Chocolate Marshmallow milk, graham crackers and vanilla until milk is hot.

Pour into mugs.

Garnish with chocolate chips, graham crackers, toasted almonds and mini marshmallows* if desired. *If desired, broil mini marshmallows until lightly browned before garnishing.

To heat in microwave oven, combine milk, graham crackers and vanilla in large glass measure. Heat on High 1 minute or until warmed through. Garnish as above.
What is your favorite Winter activity? Do you have a tradition of warming up with a cup of hot chocolate?