Creative Gift Wrapping For Large Gifts! See My Cute Idea!
This year for my 4 year old daughter Danika's Christmas gift I went with the Disney Princess Dream Castle! She is going to be so excited come Christmas morning. Last year for Christmas she received the whole set of Disney Princess dolls so this castle will be the perfect new home for them! My only dilemma was how to wrap it. I wanted a creative way to wrap it so I started wracking my brain for creative gift wrapping for large gifts. I thought of using a plastic tablecloth but feared it would be too see through. Then it occurred to me that a large blanket or comforter would be perfect. It would have to be Disney Princess of course! I also picked up some ribbon and hair bows to use in my gift wrapping.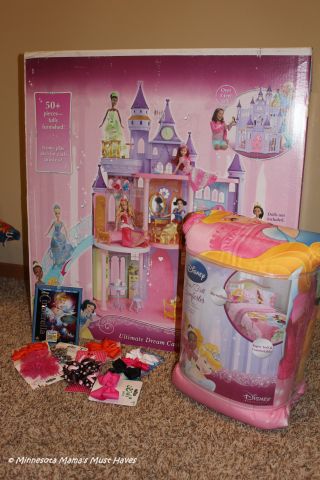 I went with a twin size Disney Princess Comforter and it fit perfectly around the large box of the Dream Castle. I laid it out on the floor and placed the box in the center and wrapped it up like a gift, folding the excess to the back. I then used my ribbon to secure the comforter around the box, tying it around the back.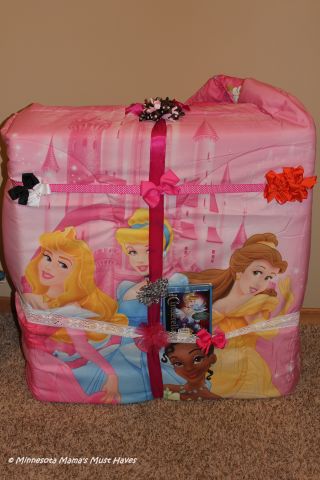 I tucked a copy of Cinderella into the ribbon in the front of the wrapping.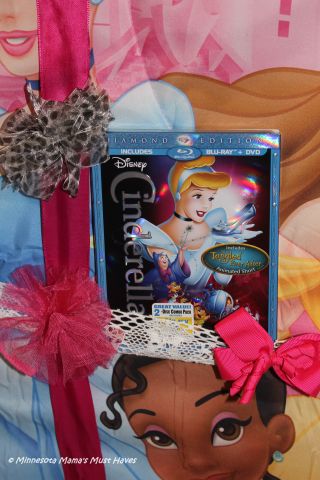 I then used the hair bows to decorate the package, perfect for any princess. I used them on top to create the perfect bow to top the gift!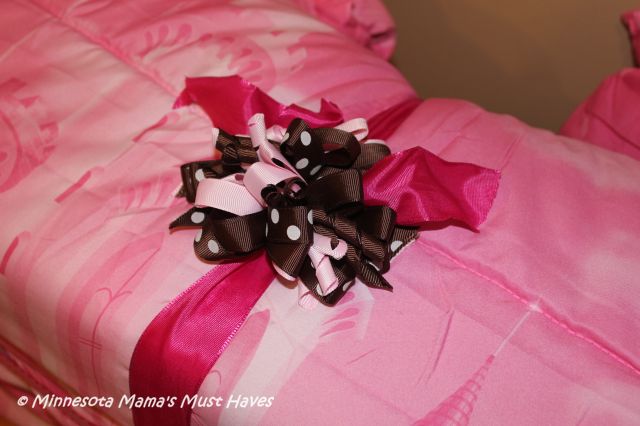 Just clip the hair bow onto the ribbon to create your bow. It's quick and easy!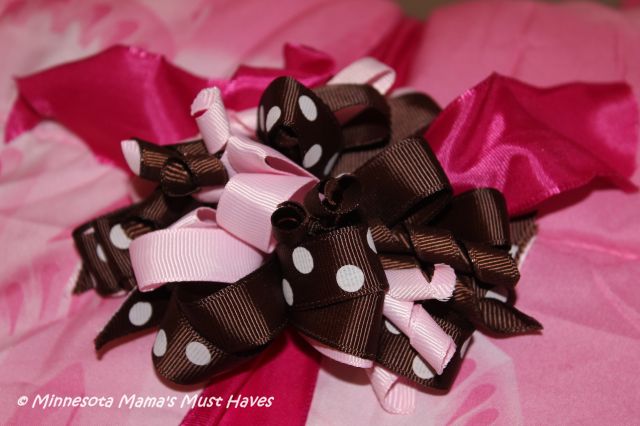 Then attach your remaining bows to the ribbon around the package to decorate it and make it fitting for your princess.
I think half the fun of a large gift is the anticipation of opening it and what could be inside. The comforter makes for such a fun gift and is a lot more fun and practical than wrapping the large gift. Then once they open it they have two gifts in one and can snuggle up with their new comforter on Christmas morning! I love the finished product and how adorable it turned out.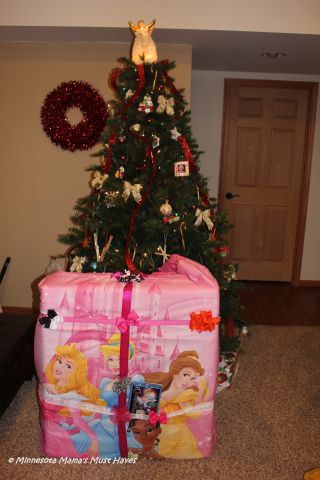 I cannot wait to see my daughter's face on Christmas morning when she wakes up to this princess package!
What kind of creative gift wrapping for large gifts do you use? I'd love hear your ideas!