Best Dog Toothpaste That Doesn't Require Brushing!
Do you brush your dog's teeth? If you struggle to find the time to brush your dog's teeth or your dog just won't tolerate it then you need the best dog toothpaste that doesn't require any brushing.
This post was created in partnership with Espree® Oral Care Gel. I received complimentary products and compensation to facilitate my review, but all opinions within are my own.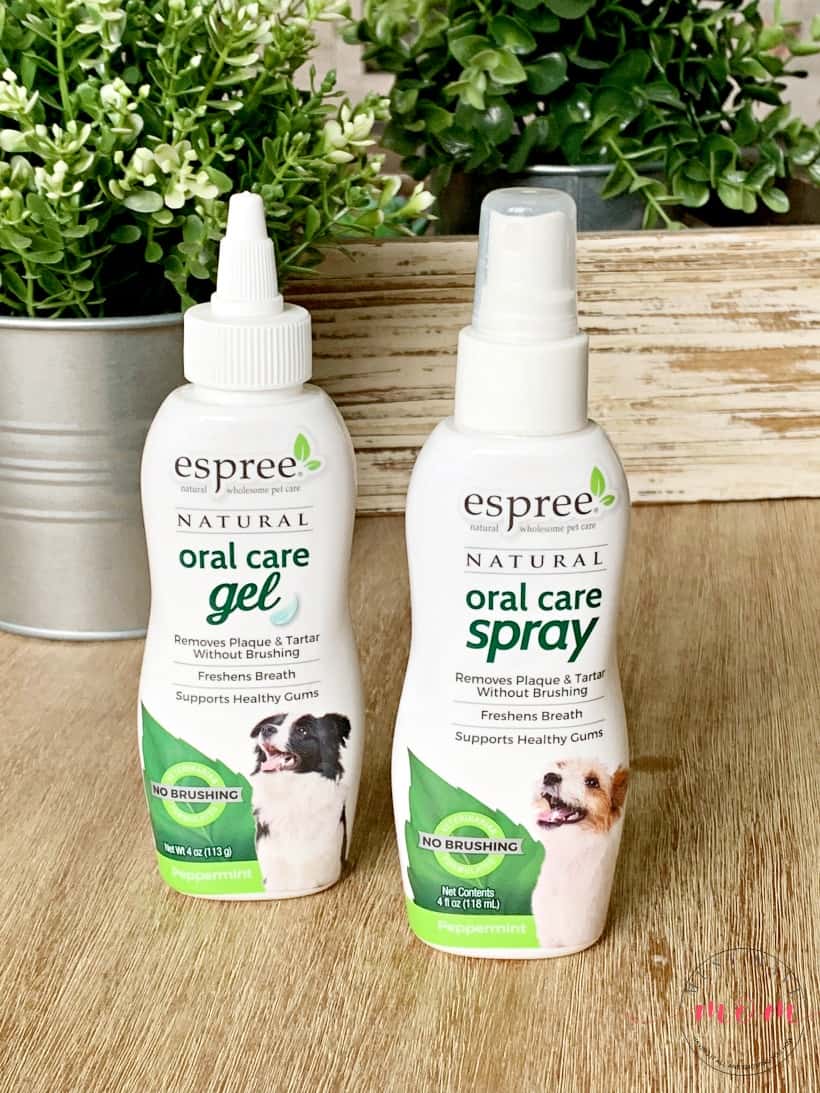 Best Dog Toothpaste
After a recent visit to the vet with my two dogs I was told they needed dental cleanings. My older dog Max would require anesthesia and a dental cleaning which would have cost me nearly $1,000 just to have his teeth cleaned! I was shocked. It was also recommended that I begin cleaning my 2-year-old dog Maddie's teeth as well. I decided to look into at home products I could use that would be effective and save my family's budget as well.
Espree Natural Oral Care Spray and Gel
Taking care of your dog's teeth is so important because it plays a big role in their overall health. Taking care of your dog's teeth will help your dog live a longer, healthier and happier life. I was determined to take care of my dog's teeth without going broke at the same time.
I discovered Espree Natural Oral Care Spray and Gel. Espree's natural blend of peppermint oil, grapefruit seed extract, grape seed extract, thyme oil and neem oil freshens breath instantly, removes plaque and tartar, and supports healthy gums. The best part? You don't have to brush your dog's teeth! Just spray or apply the gel and that's it! You don't even have to get inside your dog's mouth if they won't let you open their mouth. You can apply it to the outside of their mouth and they will lick it off. It's so easy and quick!
I found that my dog Maddie hated the peppermint flavor but it worked really well to freshen her breath and clean her teeth. Espree is also available in a peanut butter flavor and I plan on trying that flavor next! I think my dogs will like that better. My older dog, Max, didn't mind the spray at all. Perhaps Maddie is just a little more dramatic. That fits her small dog personality! I prefer the spray over the gel as it's quick and easy to spritz into her mouth. I have used the gel with a toothbrush as well to speed along the results, however, Maddie didn't tolerate brushing so I'm glad Espree doesn't require brushing.

Espree Before and After Photos
I took a photo of Maddie's teeth before we started using Espree (photo above) and a photo after using Espree for a month (photo below). I did not always remember to use the Espree spray every day so I believe my results would have been even more incredible if I hadn't forgotten. Now that I see how well it works I will make sure to use it daily! One thing I really noticed after using this was that in the before photo her gums are really red and inflamed and after using Espree for a month her gums are no longer that angry red color.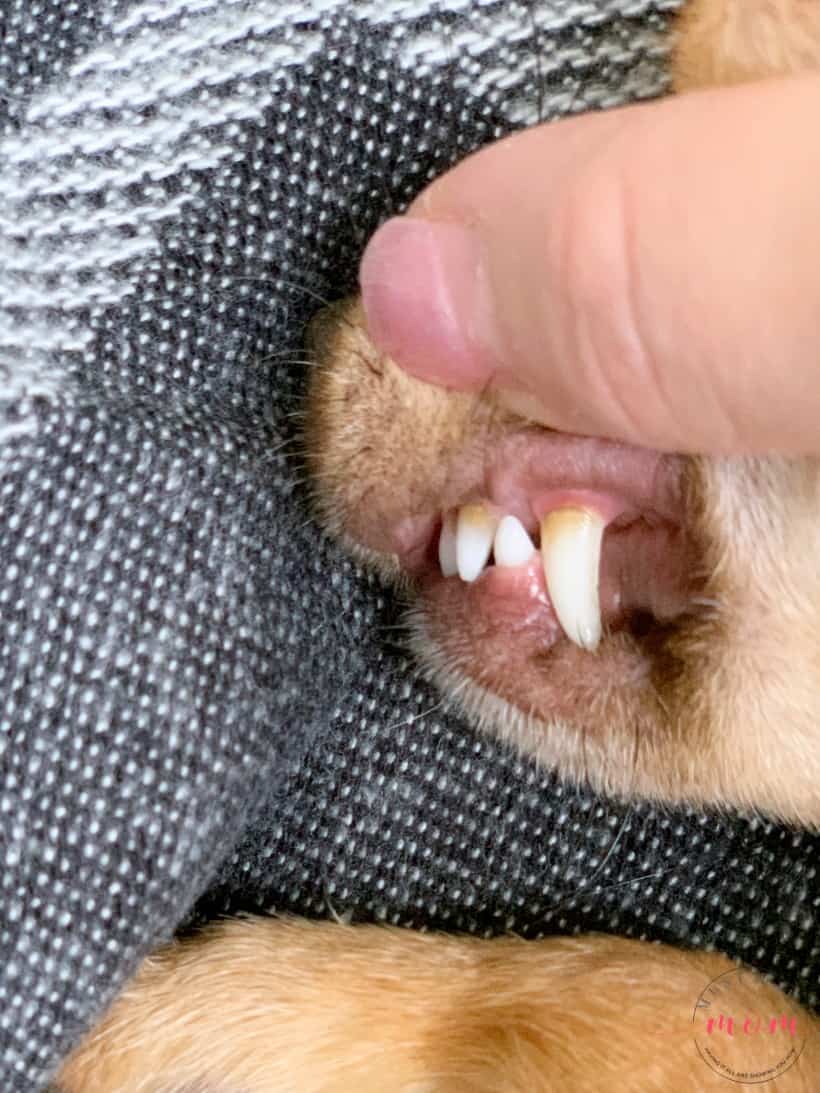 After seeing these results I am sold on how well Espree works. It has saved me from having to pay a hefty vet bill for a professional dental cleaning for each of my dogs. My dogs now have clean teeth and better breath too. After seeing how easy it is to use I am sold on both the results and the ease of application.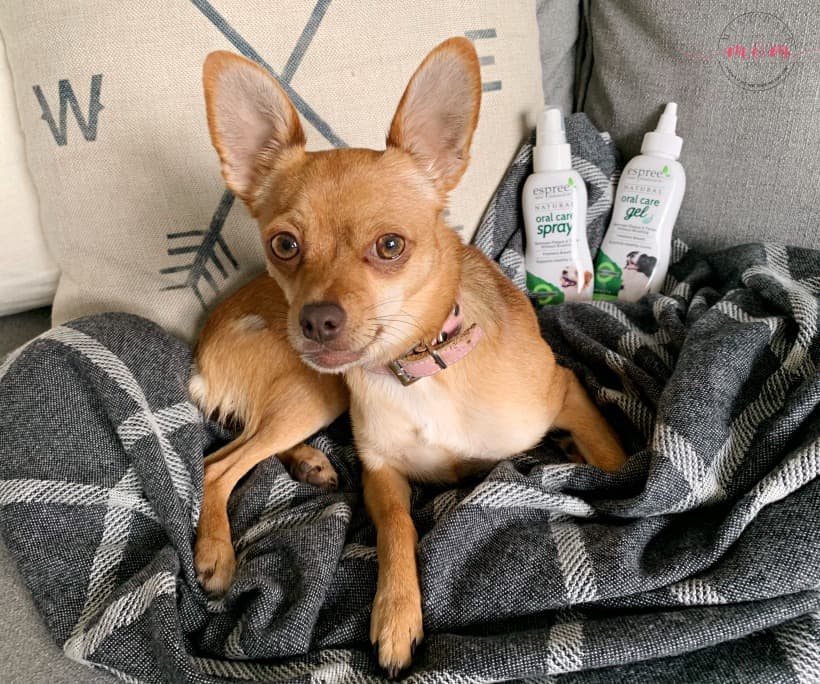 You can find Espree at PetCo you can grab a $1 off coupon here. Espree is veterinarian formulated and guaranteed to provide results in 14-30 days! Get on the road to removing plaque and tartar without any brushing required.
Pin Best Dog Toothpaste