My 23andMe Results + Surprising Results A DNA Test Can Reveal
Have you heard of 23andMe? It's the latest trend to catch fire around here and ironically right after having a family discussion centering around the desire to try a 23andMe DNA kit, they contacted me and asked if I'd be interested in trying it out. Of course I jumped all over that because I was extremely interested in trying it, if for no other reason than to come back and share what the process was like and what 23andMe results look like with family. Of course I have to share my 23andMe results with you too so you can get a look at what the results reveal and what you might benefit from by doing it yourself!

First of all let's start with what 23andMe is. 23andMe DNA kits come with everything you need to easily collect your saliva and mail it back to them. Once they process your DNA they are able to provide you with reports containing your ancestry, carrier status for certain diseases, wellness reports, traits, DNA relatives and research insight.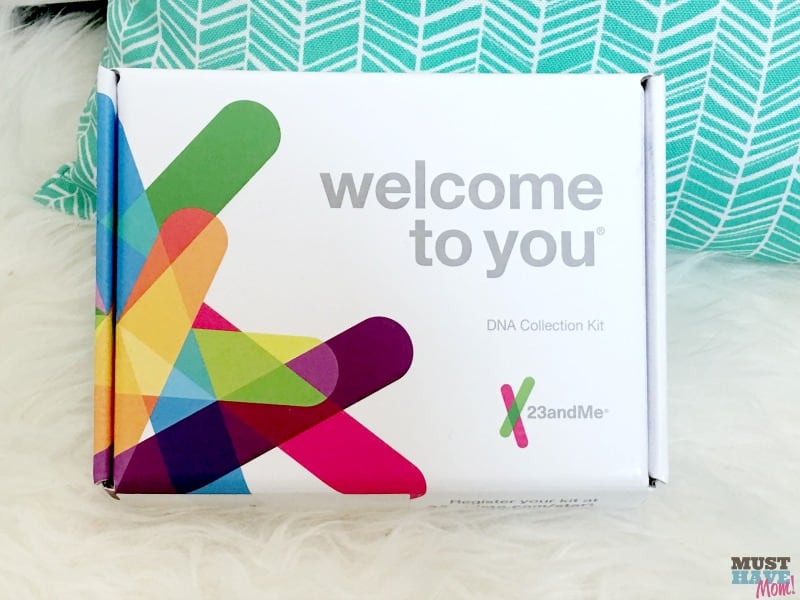 Doing the 23andMe DNA test is very easy. Get started by ordering your 23andMe kit from their website. You have the option of choosing either the Ancestry only kit or doing the health and ancestry kit for a higher price. You can also decide to upgrade your ancestry kit to include health information for an increased price later.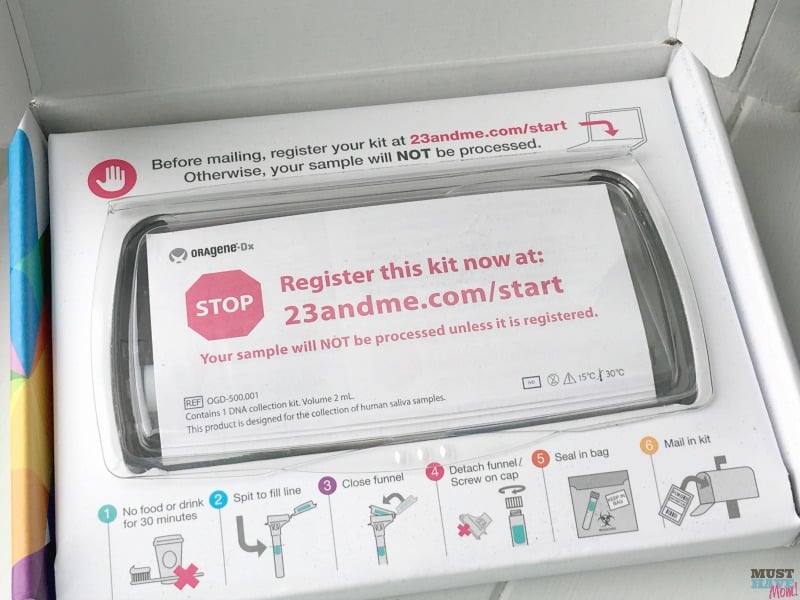 When your kit comes in the mail it will include everything you need in order to obtain your DNA sample and send it back in. Detailed instructions are included on the box as well.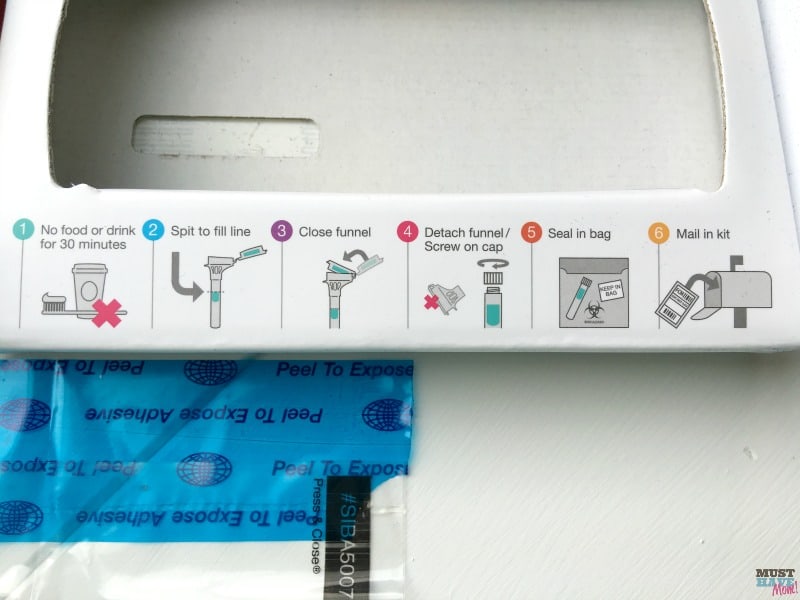 Simply follow the directions on the box. Don't have any food or drink for 30 minutes prior to the test. Then spit to the fill line in the vial. Close the funnel, detach it and screw on the cap. Seal it in the included bag and mail it back in the included postage paid box. That's it! It's quick, easy and painless.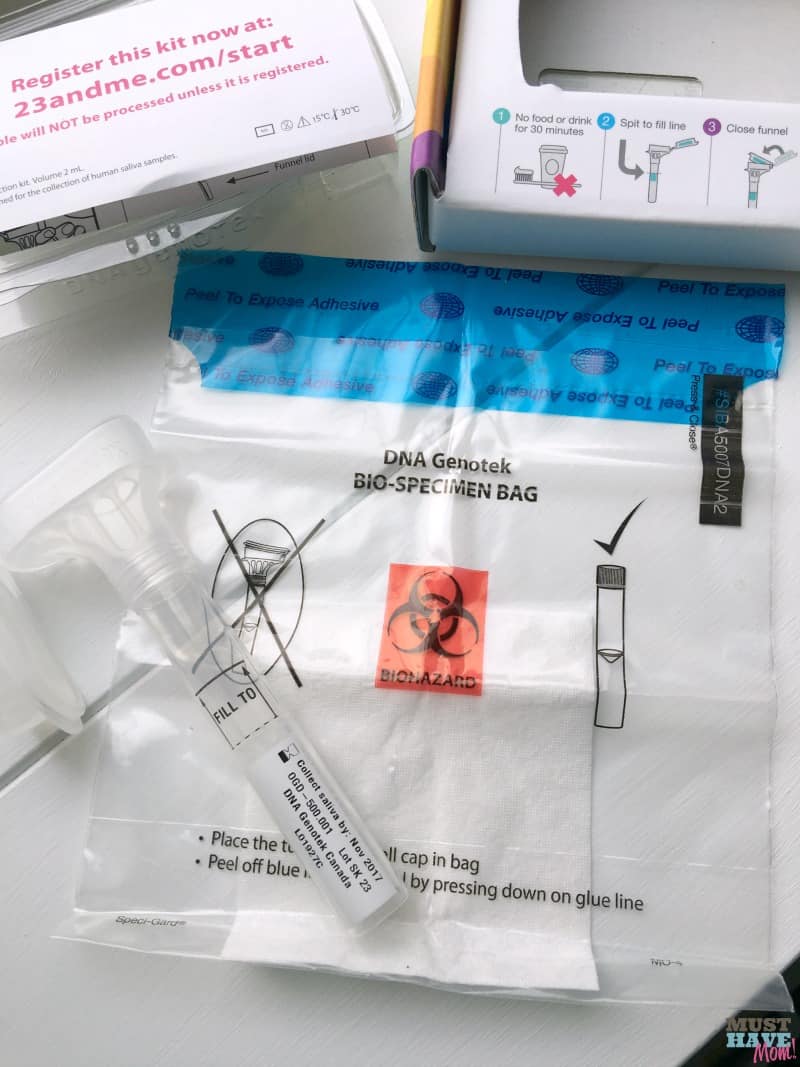 After sending in your DNA saliva sample you just sit back and wait. Before you send the kit you go to their website and enter your kit number and information so they can match the DNA kit to you. Once the results are ready you'll receive an email announcing that your reports are ready. Then you can hop over to their site and view all of your reports. There are a LOT and it's SO MUCH FUN to go through them all!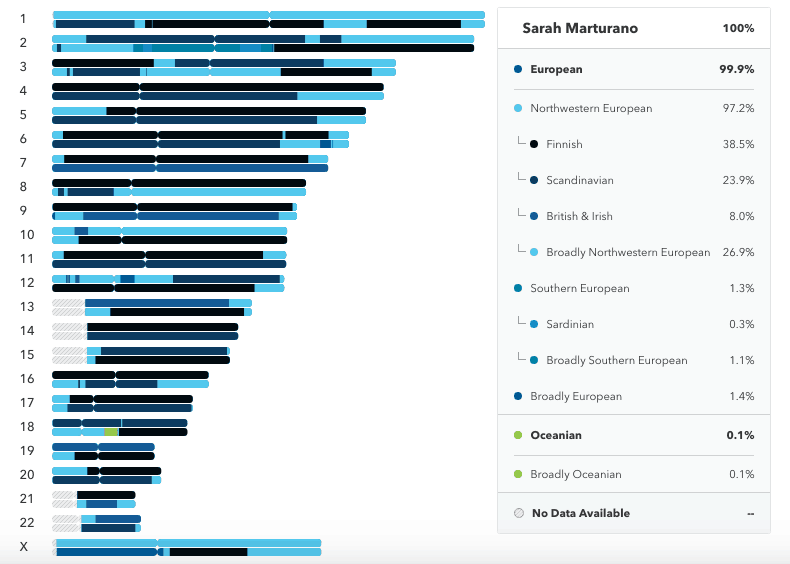 I was most excited to view my ancestry composition. I grew up knowing that my mom was 100% Finnish, but didn't have a clear idea of what my dad's side was composed of. He always just told me he was a mutt of all sorts of combinations. I couldn't wait to see what the 23andMe ancestry report revealed!
It turns out I am 99.9% European comprised of 38.5% Finnish, 23.9% Scandinavian, 8% British and Irish and a mix of other regions.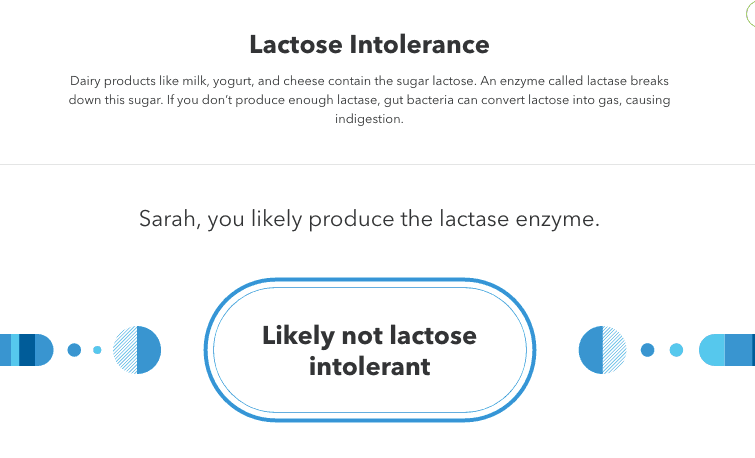 There are a ton of really fun reports that indicate how likely you are to have certain traits. I discovered the report indicated I was like not lactose intolerant which is true. It also indicated that I have the gene to smell the unique smell in urine after eating asparagus. How weird is that?!
I also discovered the reports indicated that I am not likely to be a deep sleeper which I find to be true as I wake easily for my kids when they get up in the middle of the night. Interestingly it indicated that I am more likely to taste bitter and sweet foods more intensely which may be an indication of why I struggle to enjoy some vegetables because they taste bitter. I also love sweets! I'm so intrigued by how accurate these reports have been! It's seriously cool.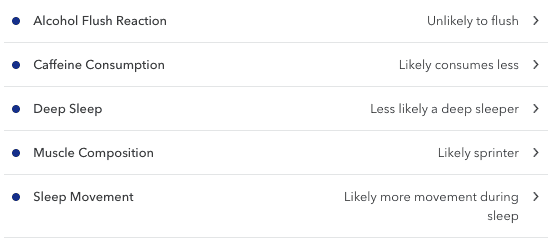 There are many, many detailed reports to view. You can also view them in a summary style, printable report. Above and below you can see some of my summarized reports. They are right on in their indication that I am unlikely to flush from alcohol, consume less caffeine and have more movement during sleep.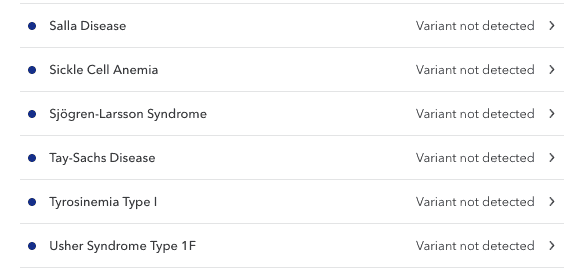 23andMe results also indicate if you are a genetic carrier for several different diseases. I was happy to see that I am not a carrier for any of the diseases they screen for.
23andMe also gives the option to connect with relatives  you may not know you have. You can decide whether you want to reveal your identity and full name or remain anonymous. You can choose to connect with relatives and the report reveals the likely relation to you. I had a huge list of 3rd or 4th cousins that I could connect with if I want to.
You can also choose to participate in research to help them identify more common traits among people with your similar DNA traits. By participating you'll unlock additional reports as well!
Get started and find out what your DNA reveals about you! Do you have wet or dry earwax? Do you sneeze when suddenly exposed to bright sunlight? Find out these and many more surprising things revealed by your DNA! Get your DNA kit at 23andMe!