This herb-roasted chicken sheet pan dinner is bursting with the flavors of fresh lemon and herbs. With just 10 minutes of prep time, you can have a full chicken dinner on the table in under an hour. Not only is it perfect for those busy weeknight dinners, but it also makes a wonderful Sunday dinner. Tender chicken, roasted potatoes, and perfectly seasoned vegetables hint to Sunday dinners around the table with family.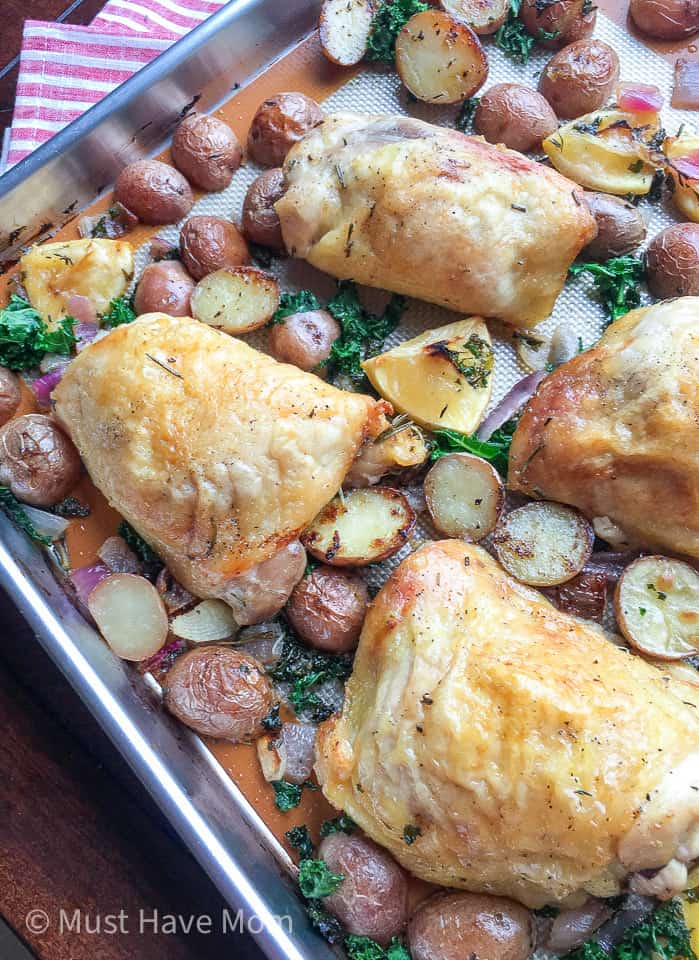 Sheet pan dinners are such a great way to get a healthy dinner on the table in minimal time. I love that by only using a sheet pan to cook it on, there is minimal clean up involved. I have a full rotation of sheet pan dinners like Sheet Pan Pork Chops, roasted pork tenderloin, and sheet pan sausage and veggies for those nights I need a quick but healthy dinner. Now, this chicken is another amazing recipe I can add to my meal plan.
Chicken Sheet Pan Dinner
For best results, use a larger three-quarter sized sheet pan instead of the more common 13" x 18" half sheet pan for this recipe. This will allow the vegetables enough room to be spread into a single layer without overcrowding while keeping all ingredients to one single pan. You can also add a piece of parchment paper or a Silpat® baking mat to the pan to make clean up even easier.
Loaded with fresh garlic, thyme, rosemary, and lemon, this chicken sheet pan dinner ends up being so flavorful everyone will want seconds. Roasting vegetables in a hot oven are one of the best ways to enhance their natural flavor and sweetness. It is also a great way to use up leftover vegetables hiding out in the refrigerator. Most sturdy vegetables are good candidates for roasting, including broccoli, red onion, Brussels sprouts, potatoes, carrots, fennel, eggplant, kale, peppers, and many others. Feel free to add more vegetables to this chicken sheet pan dinner or sub the kale for something else you have on hand.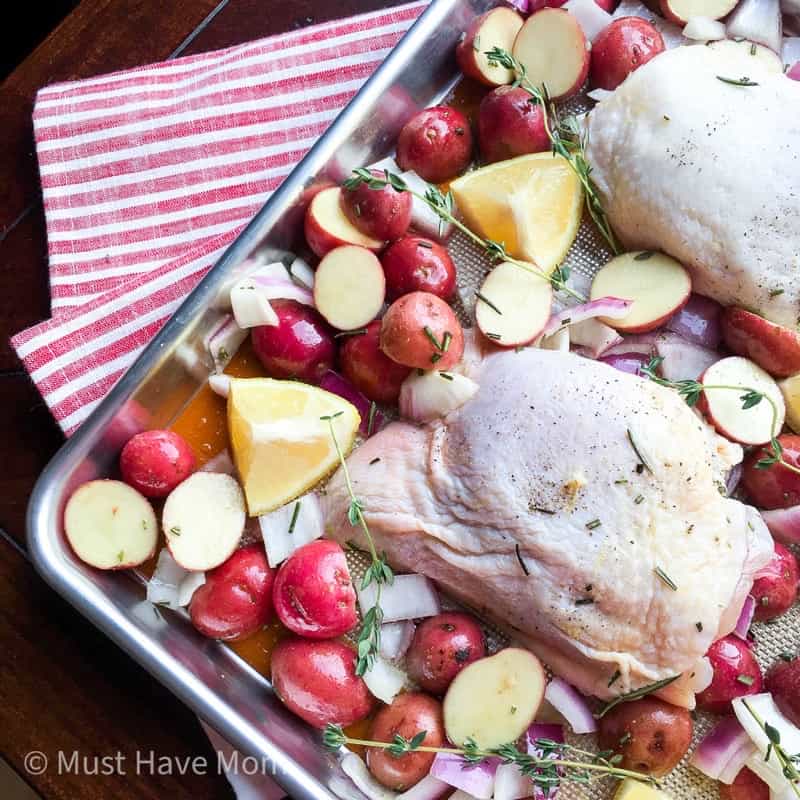 Sheet Pan Chicken Thighs
Chicken thighs are sold both bone-in and skin on, or boneless and skinless. They are dark meat making them extra flavorful, and they contain more fat which ensures they bake up succulent and tasty. I love using thighs as they are more forgiving than Chicken Breasts which can more easily be overcooked. For this recipe, I use skin-on and bone-in chicken thighs.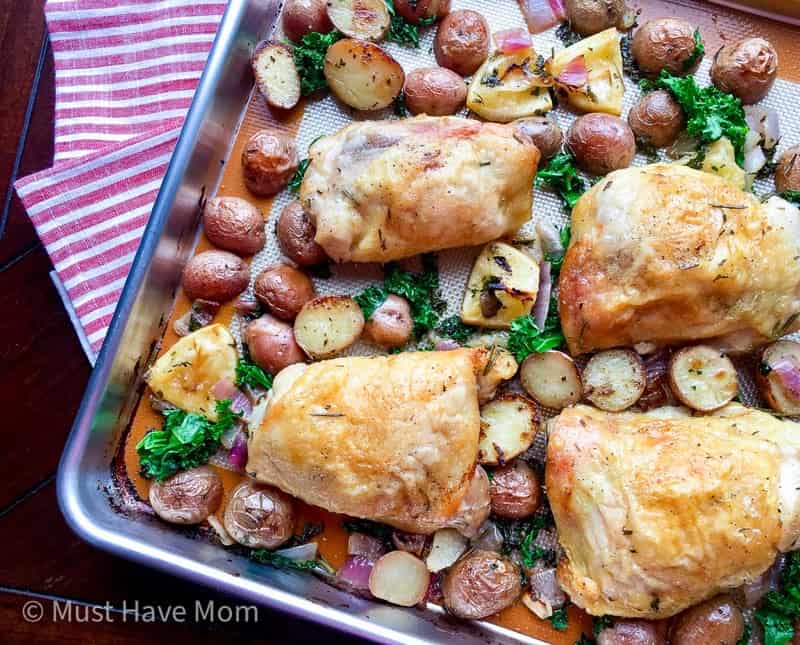 Herb-Roasted Chicken
Keeping all ingredients on a single sheet pan is important in this case because the juice from the chicken and lemon wedges will mingle with the fresh herbs to infuse the potatoes, onion, and kale with incredible flavor while cooking.
*Note: Always cook meat to temperature, not by time. Actual cooking time will vary based on a number of factors, including internal starting temperature, individual oven variations, size and thickness of the meat, what else is in the oven while cooking, etc…  The minimum safe recommended cooking temperature for chicken thighs is 165°F (74°C).  I use an instant-read thermometer to ensure the chicken is cooked thoroughly.
Print Chicken Sheet Pan Dinner Recipe
Print the recipe below and add it to a binder to create your very own personal cookbook!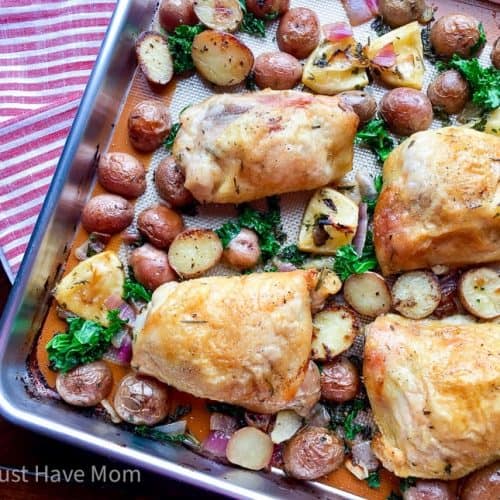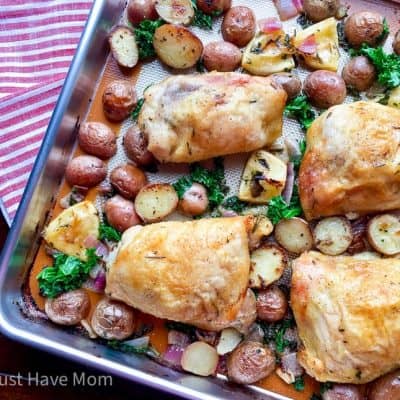 Chicken Sheet Pan Dinner
Ingredients
1.5

lbs

red potatoes

cleaned and halved

1

large

red onion

roughly chopped

6-8

cloves

garlic

finely minced

3

tbsp

olive oil

extra virgin

2

tbsp

fresh rosemary

minced

6

chicken thighs

bone-in, skin-on

10-12

sprigs

thyme

fresh

1

large

lemon

cut into 8 wedges

2

cups

fresh kale

washed, tough stems removed, and thinly sliced

sea salt and black pepper

to taste
Instructions
Preheat oven to 400°F and line a large, rimmed baking sheet with parchment paper or a Silpat® baking mat. Set aside.

In a large mixing bowl, combine potatoes, red onions, minced garlic, olive oil, and fresh rosemary. Generously season with salt and black pepper, to taste, and arrange the veggies on the prepared baking sheet in a single layer.

Add the chicken thighs to the bowl and coat with any remaining rosemary and olive oil mixture. Season the chicken with additional salt and black pepper, if desired, and nestle in between the veggies along with the lemon wedges and sprigs of fresh thyme. 

Roast in the preheated oven for 30-35 minutes, or until the veggies develop nice color and the chicken is nearly done. Remove the baking sheet from the oven and stir in the fresh kale.

Return the sheet pan to the oven and roast for another 10-12 minutes, or until the chicken is completely cooked* and the kale is wilted. Remove from oven and transfer chicken and potatoes to a serving platter and loosely cover with foil. Let chicken rest for 5 minutes before serving.
Pin Chicken Sheet Pan Dinner Recipe
We love it when you pin our recipes and it also helps you easily find them later!