Have you heard of sheet pan dinners? They are essentially a one pan meal that is made on a single sheet pan, which is lined with foil, meaning easy clean up and a tasty dish! I've been LOVING sheet pan dinners and this easy sausage and veggie recipe is sure to please your entire family!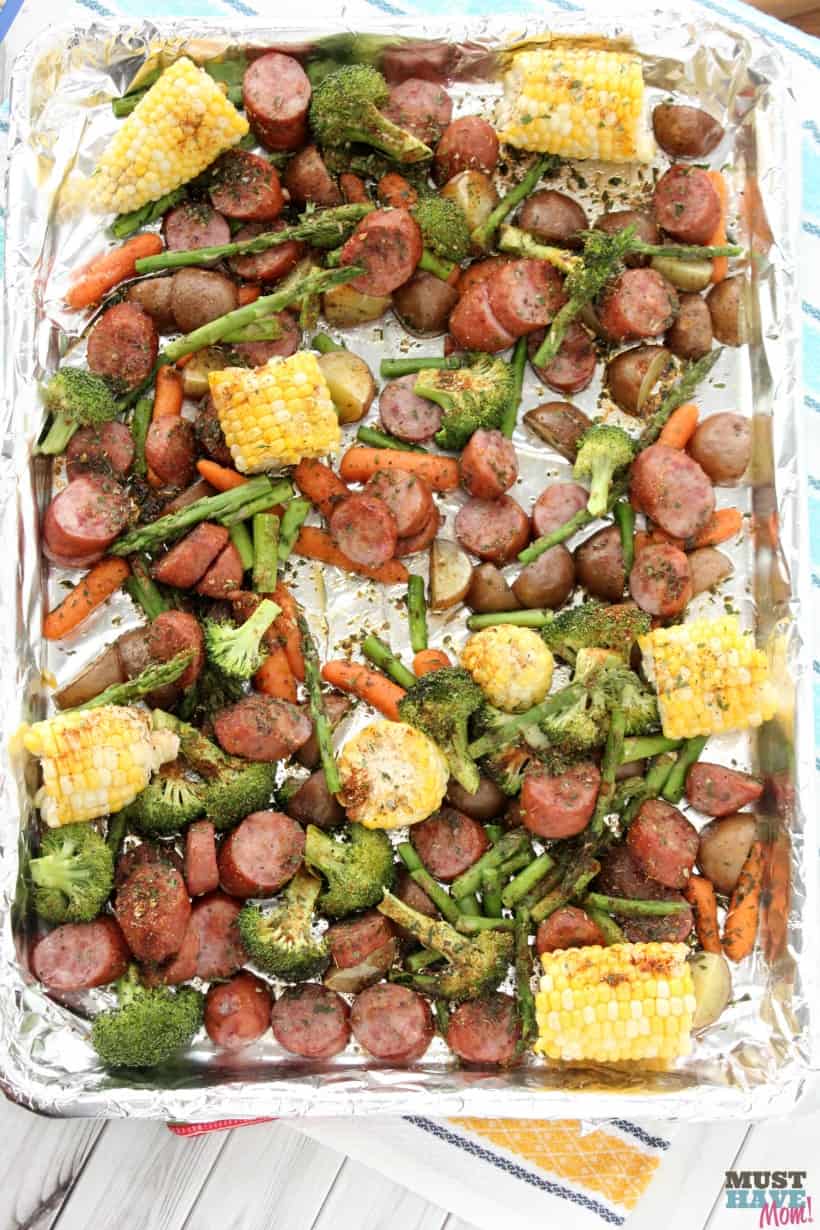 MY LATEST VIDEOS
Sheet Pan Dinners
Weeknights get SO busy. By the time homework is completed, chores are done and bath time accomplished, that leaves little time for dinner. I want to make sure my family always has a healthy, tasty meal on the table by dinnertime and sheet pan dinners mean minimal prep and virtually no cleanup. That leaves me more time for quality family time. This sausage and veggies sheet pan supper is amazing and bursting with flavor.
Sheet pan dinners are also a great way to celebrate loved ones without a lot of work or clean up afterwards. My little sister just graduated from nursing school and I was so proud of her hard work! This sausage and veggie sheet pan recipe was perfect for celebrating her accomplishments, while still allowing me to visit with her. I wasn't stuck in the kitchen cooking and doing dishes! Being able to visit with her and make a special meal for her was the best!
You can also use sheet pan dinners as a great way to meal prep for the week. Make a sheet pan supper on Sunday night and then package it up in individual servings for the week. Serve it over rice, quinoa or zucchini noodles for a healthy lunch idea at work!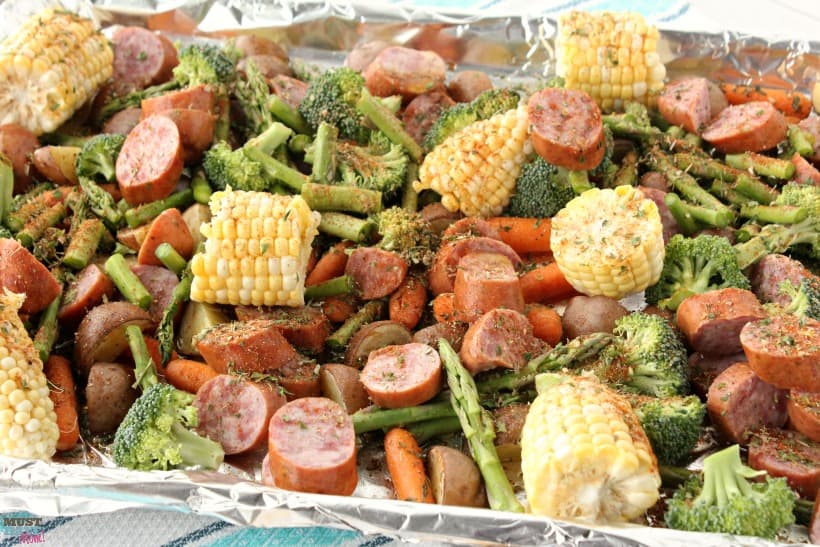 Supplies For Sheet Pan Suppers:
You need very little for a sheet pan supper! A sheet pan (I use the half sheet size), aluminum foil (not necessary but so helpful for easy cleanup) and optionally a quality Parmesan cheese grater is great! As long as you have a sheet pan, you're set!
Nordic Ware Natural Aluminum Commercial Baker's Half Sheet
Reynolds Wrap Aluminum Foil (200 Square Foot Roll)
ZYLISS Classic Rotary Cheese Grater – NSF Restaurant Certified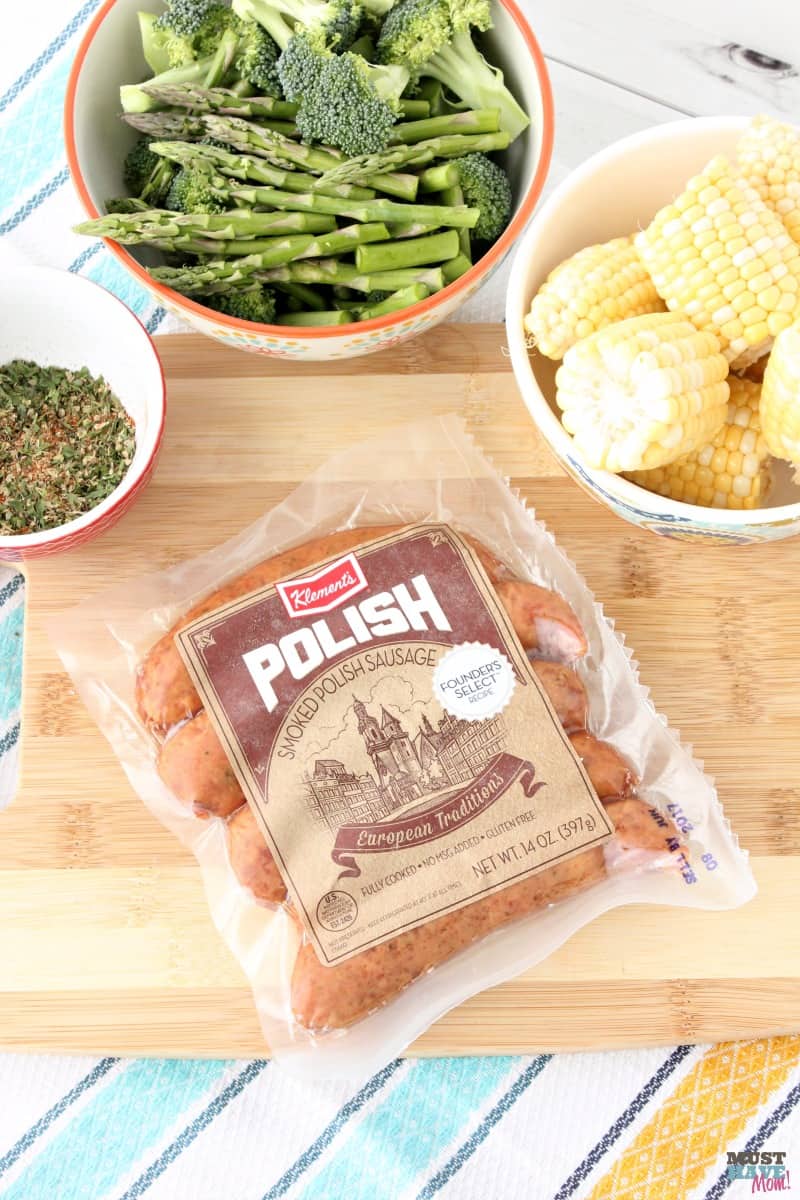 You'll also need a quality artisan sausage. We used Klement's Polish sausage which is a blend of pork and beef, mixed with a blend of spices and it is fully cooked. The authentic taste comes from a recipe from the Old World that Klement's has been using for over 60 years.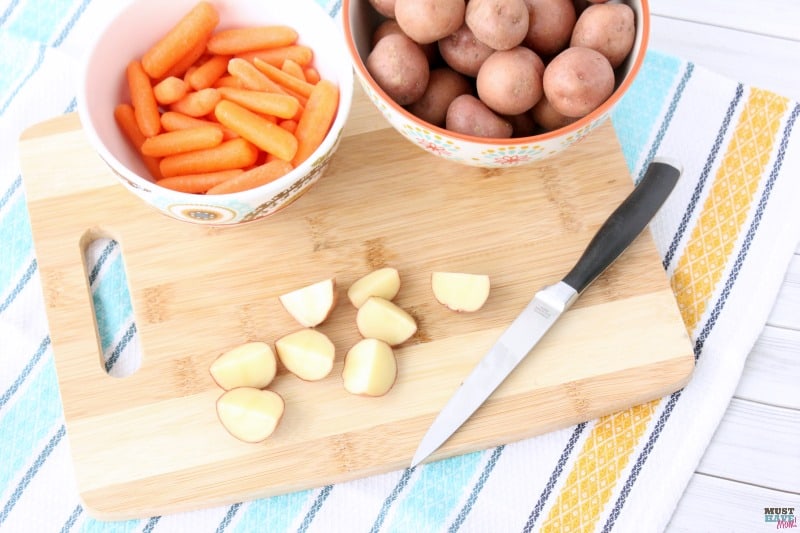 For this recipe we used carrots, broccoli, asparagus and baby red potatoes. You can use whatever vegetables you have on hand. Other veggies that work great are bell peppers, zucchini and green beans.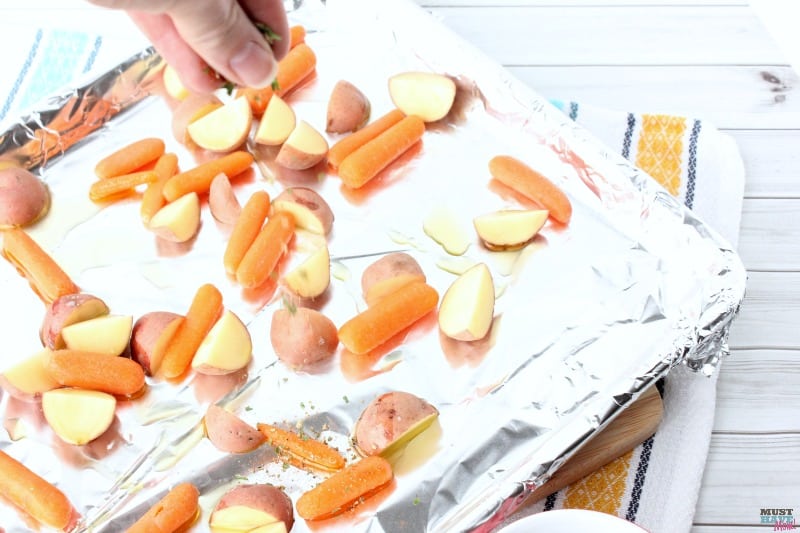 Preheat your oven to 400 degrees F. Line your sheet pan with aluminum foil for easy clean up. Chop your baby red potatoes into quarters. Mix together the spices in a bowl. Then, place your baby red potatoes and baby carrots on the sheet pan. Pour 2 tablespoons of olive oil over them and sprinkle with half your spice mix. Toss to coat. Bake for 20 minutes.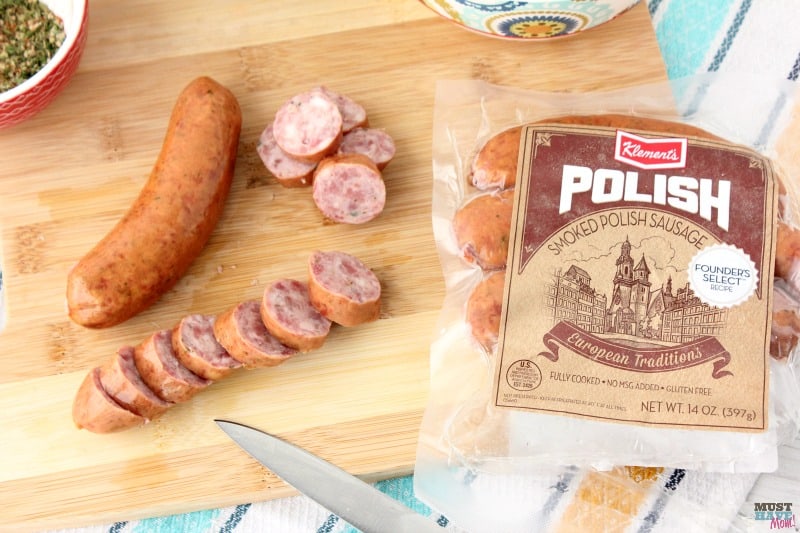 While your potatoes and carrots are roasting in the oven, prepare the rest of your veggies and Klement's Polish.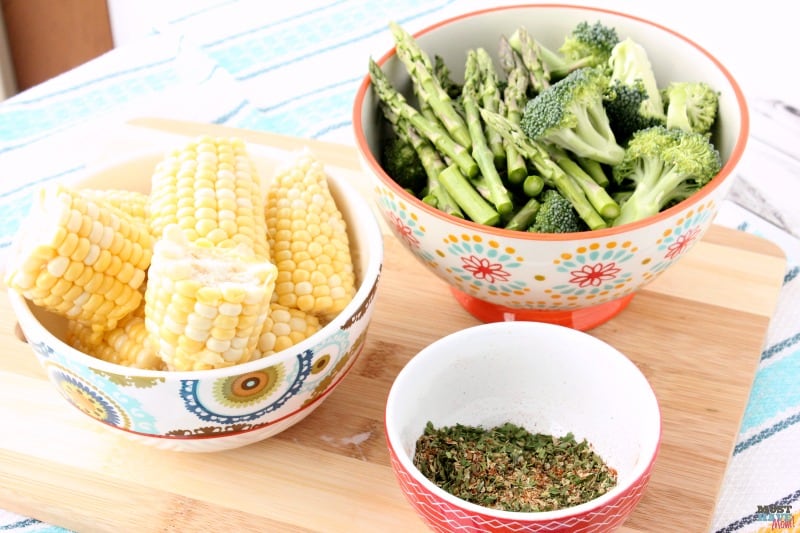 Cut up the broccoli, trim the asparagus and coin the sausage.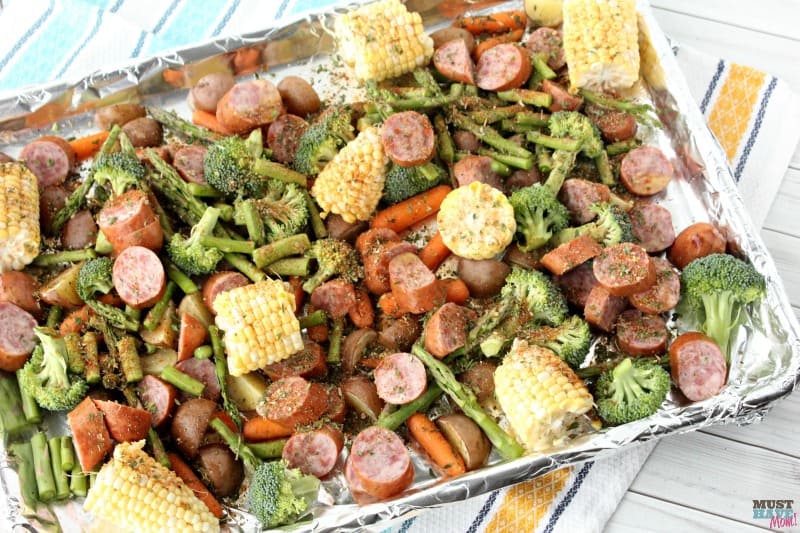 Once the potatoes and carrots have finished baking for 20 minutes, remove from oven and add the rest of the veggies and Klement's Polish to the pan. Add the remaining 2 tablespoons of olive oil and spices to the pan and toss to coat evenly. Bake for 15 minutes, or until veggies are roasted to your liking.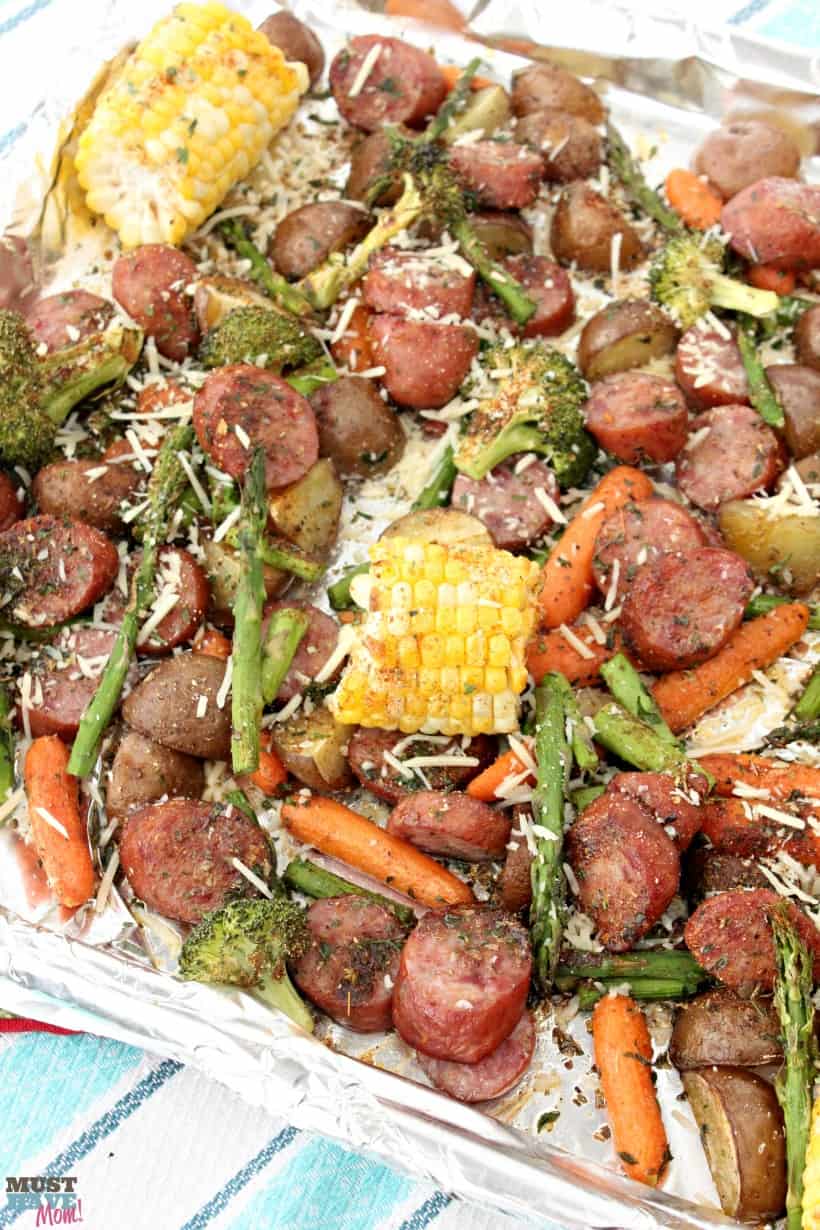 Remove and sprinkle with freshly grated Parmesan cheese. Serve alone or over rice, quinoa or zoodles (zucchini noodles)!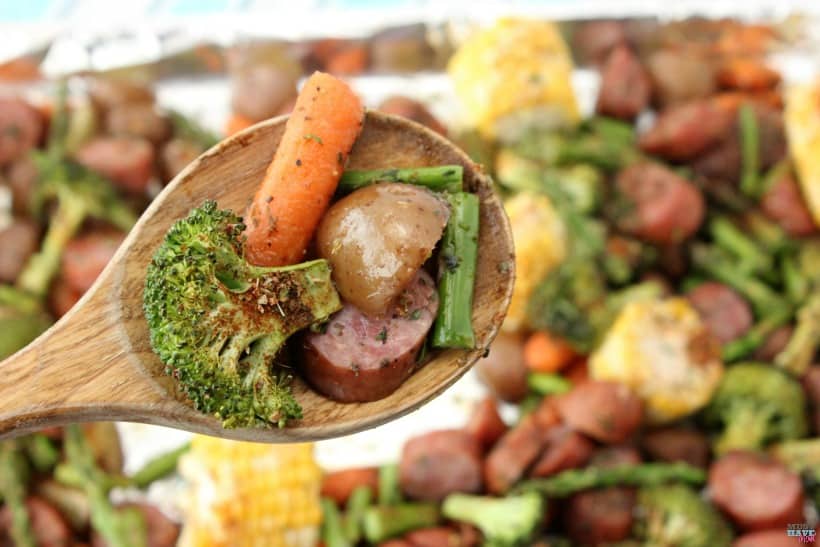 Want more easy dinner recipes? Check out What's Cooking Wednesday!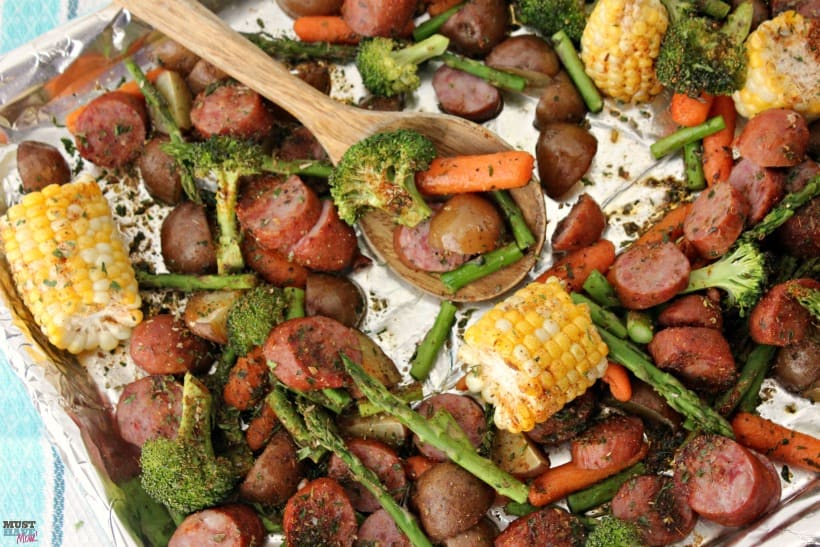 Print the Sheet Pan Dinner Recipe:
Sarah | Must Have Mom
Yields 4
Sheet Pan Dinners Easy Sausage & Veggie Recipe!
Quick and easy sheet pan dinners make for easy cleanup and prep! This sausage and veggie sheet pan dinner recipe is bursting with flavor and SO simple to make.
10 minPrep Time
40 minCook Time
50 minTotal Time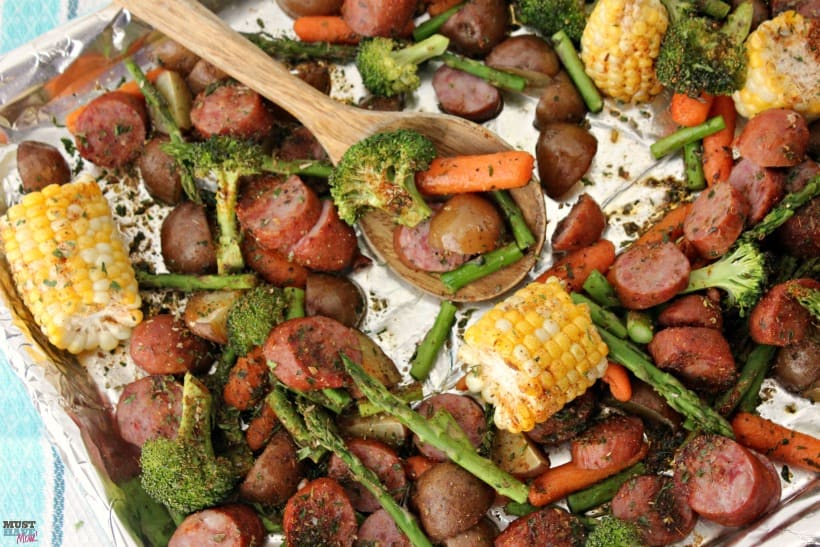 Ingredients
2 cups quartered baby red potatoes
1 cup baby carrots
4 tablespoons olive oil, divided
1 teaspoon paprika
1/2 teaspoon garlic powder
1 tablespoon dried oregano
1 tablespoon dried parsley
1/4 teaspoon salt
1/4 teaspoon pepper
1 package Klement's Polish Sausage
2 ears corn, cut in 2" pieces
1 cup broccoli
1/2 bunch asparagus
parmesan, optional
Instructions
Preheat oven to 400 degrees F.
Line a sheet pan with aluminum foil for easy clean up.
Quarter the baby red potatoes. Place potatoes and baby carrots on the sheet pan. Drizzle with 2 tablespoons olive oil. Mix together paprika, garlic powder, dried oregano, dried parsley, salt and pepper. Sprinkle some of the spices over the potatoes and carrots. Toss to coat. Bake for 15-20 minutes while you prep the remaining ingredients.
Chop the broccoli into small broccoli trees, trim the ends off the asparagus and cut into smaller pieces, coin the sausage, and cut the ears of corn into 4 pieces each.
Once carrots and potatoes finish baking, remove from oven and add remaining veggies, sausage, 2 tablespoons olive oil and spice mixture. Toss to coat. Return to oven and bake for an additional 20 minutes or until veggies are roasted to your liking.
Sprinkle freshly grated Parmesan over the sheet pan meal and serve immediately. You may serve alone or with rice, quinoa or zoodles!
7.6.7
363
https://musthavemom.com/sheet-pan-dinners-easy-sausage-veggie-recipe/
Pin the Sheet Pan Dinners Picture Below: