Causebox Review: What's inside Causebox Fall 2019 Box
If you love to get surprises shipped to you then you will love Causebox! This subscription box is packed full of amazing, high-value products from socially conscious companies that value where they source their products from. I LOVED my first Causebox so I had to share about it with you.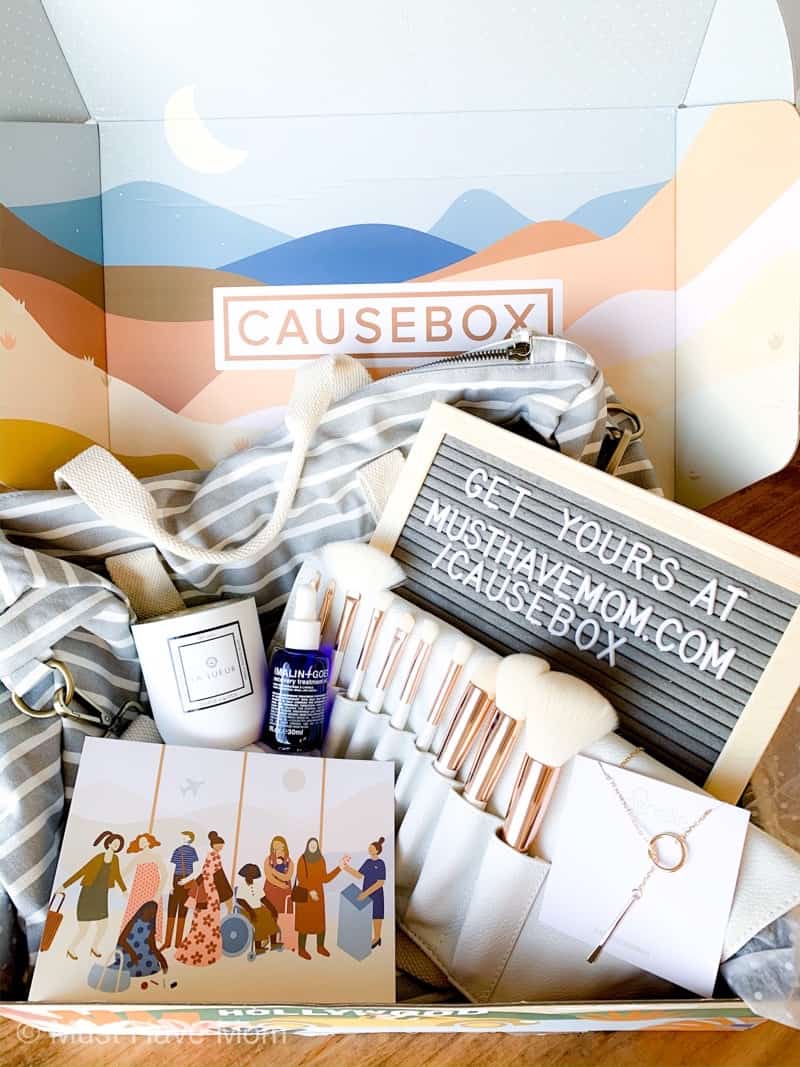 A few days back, I saw a very nice surprise sitting on my doorstep- My very first Causebox Fall 2019 box! I had ordered it previously when looking for a subscription box to pamper myself (we all need a little bit of pampering at least four times a year). I had been debating between FabFitFun and other subscription boxes and I kept seeing that people weren't happy with their FabFitFun boxes lately. Then I saw an ad for Causebox and all of the comments on it were full of people saying how much they loved their Causeboxes. I decided to take the plunge and buy an annual subscription! (My money – this isn't sponsored by the company)
What is Causebox?
Causebox is a subscription box delivered to your doorstep every season, so there are four boxes per season. In each box, there are 6-8 products from socially conscious companies. Each box contains over $200 of ethically sourced products for just $49.95! It's like getting a special gift on your doorstep packed full of amazing surprises!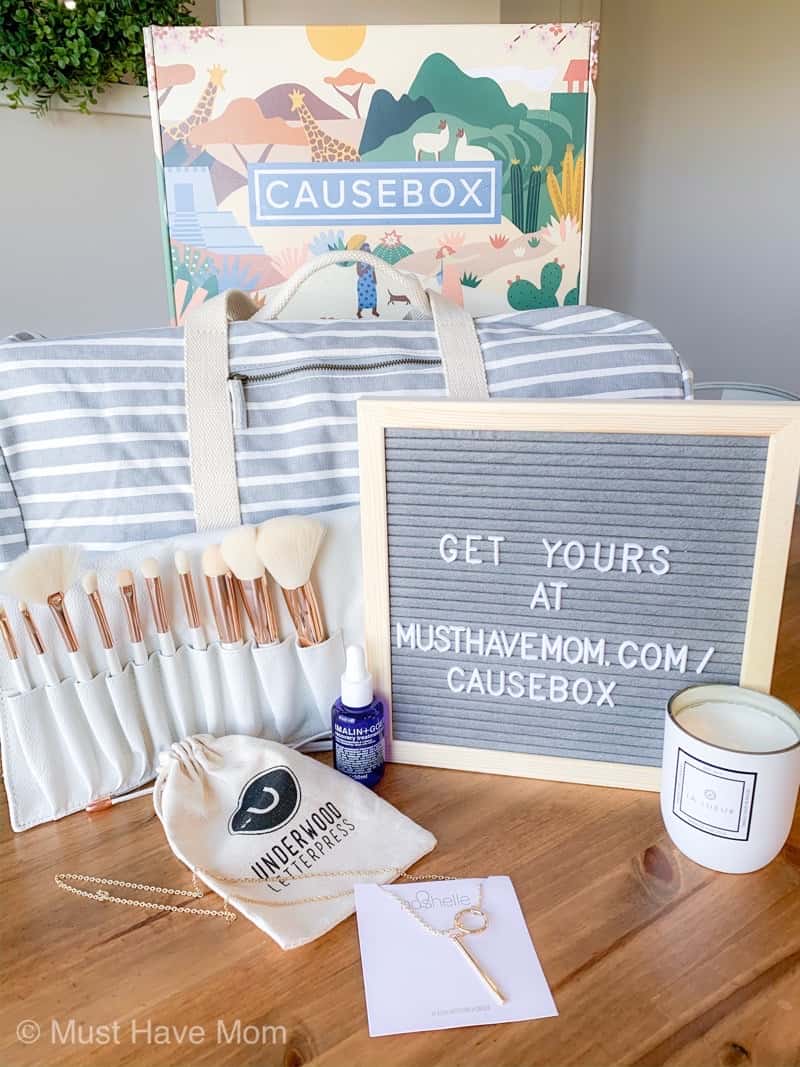 You can buy an annual membership for $199.98 ($49.95 for one box) or start with getting one box at $54.95.
So, essentially you save around $5 per box if you pay the entire amount together. You can also cancel the membership any time you want, and they will reimburse the amount for the boxes you haven't received. I haven't canceled my membership, so I can't comment on how that works out.
Also, when you buy the annual membership you get to pick colors of the products. For example, the weekender duffel bag in Causebox Fall 2019 box comes in three colors: Forest Green, Stone Gray, and Lake Blue. If you have the annual membership, you can choose your color.
In my unboxing video, someone asked me how Causebox different from Fabfitfun subscription boxes. So, when I talk about Causebox vs Fabfitfun, I'd say the biggest difference is that Causebox partners with brands that are helping the world in some way. Causebox also partners with charities to raise funds through their boxes.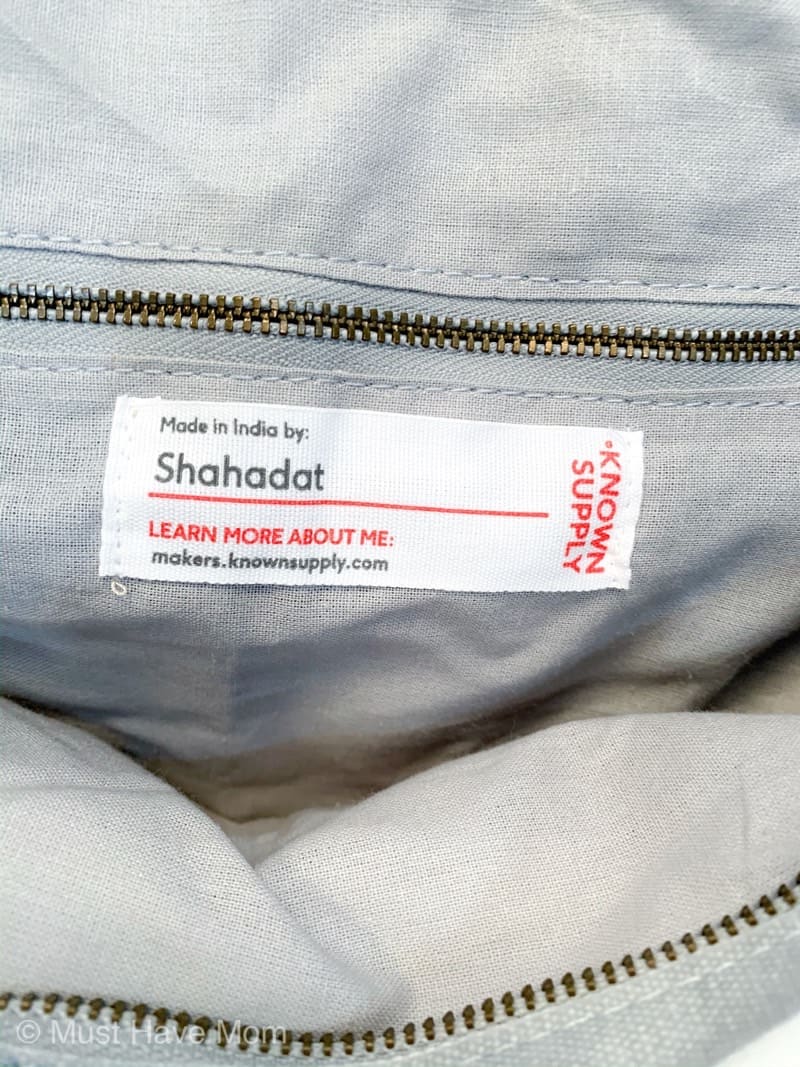 The idea is to bring people closer to companies that are doing good to the world, both new and established. This means you will also find fresh brands in your box, so you can try them out before the world catches on.
What's inside the Causebox Fall 2019 Box?
Inside the Causbox Fall 2019 box, you will find:
Weekend Duffel Bag by (Forest Green/ Stone Gray / Lake Blue) (valued at $108)
Recovery Treatment Oil by Malin+Goetz (valued at $82)
10-Piece Makeup Brush Collection by La Beaute' Soi (valued at $24)
White Cactus Coconut Wax Candle by La Luer Candles (valued at $35)
Drop Lariat Necklace by Nashelle Heather (Gold/Silver) (valued at $38)
Felt Letter Board by Underwood Letterpress (valued at $30), or Travel Wallet by Glass Ladder & Co. Terrazo
With each box, you get a magazine. This magazine tells you the story behind every brand that's inside the box. It tells you how the brand is helping the community, how their products are made and what makes them a socially conscious brand.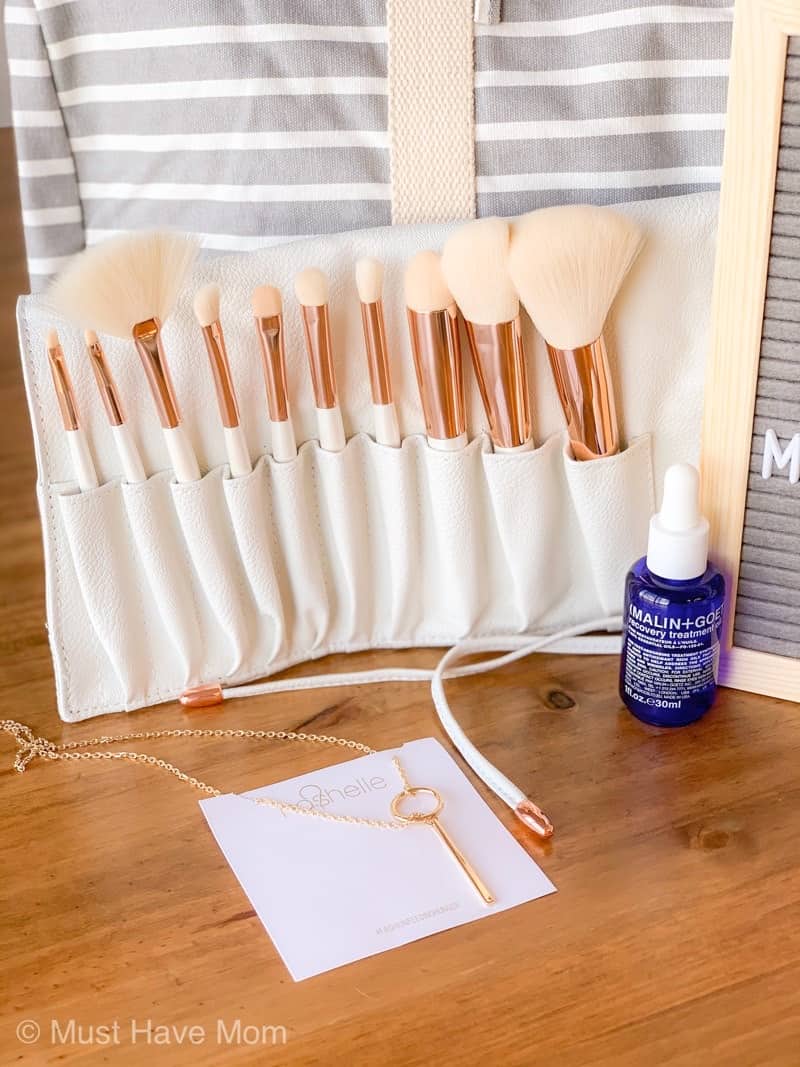 The Causebox Fall 2019 box has an interesting mix of products, and surprisingly I loved them ALL:
For instance, I loved the makeup brushes. These brushes are vegan and cruelty-free. Makeup brushes are something I would probably not think of buying when I go shopping. So, this was a nice surprise.
Also, the (MALIN+GOETZ) Recovery Treatment Oil is a nice addition to my skincare routine and every woman who has crossed her 30s. This oil improves the appearance of wrinkles and fine lines. Plus, it also hydrates your skin and improves tone. So, this oil is suitable for all skin types, so everyone including people with sensitive skin can use it.
The Coconut Wax Candle by La Luer Candles gives your home a nice, coconutty smell. It smells SO amazing!
The weekend duffel bag is made from 100% cotton canvas, with an adjustable strap. I love all the colors it comes in, though Stone Gray was my preferred choice.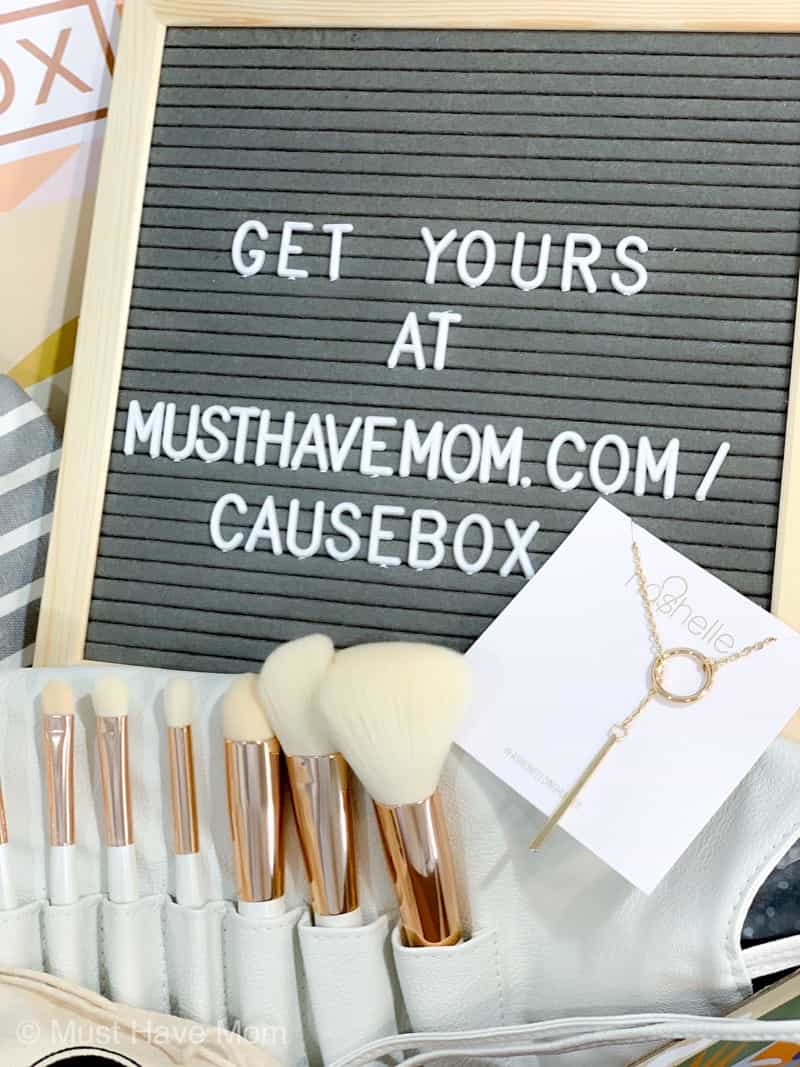 Between the travel wallet and the felt letter board, I chose the letter board because I didn't need another wallet. It's a pretty addition to your home. You can expect some cool pictures with some great quotes in the future on my Instagram.
You can see me unboxing all the stuff on my Facebook here.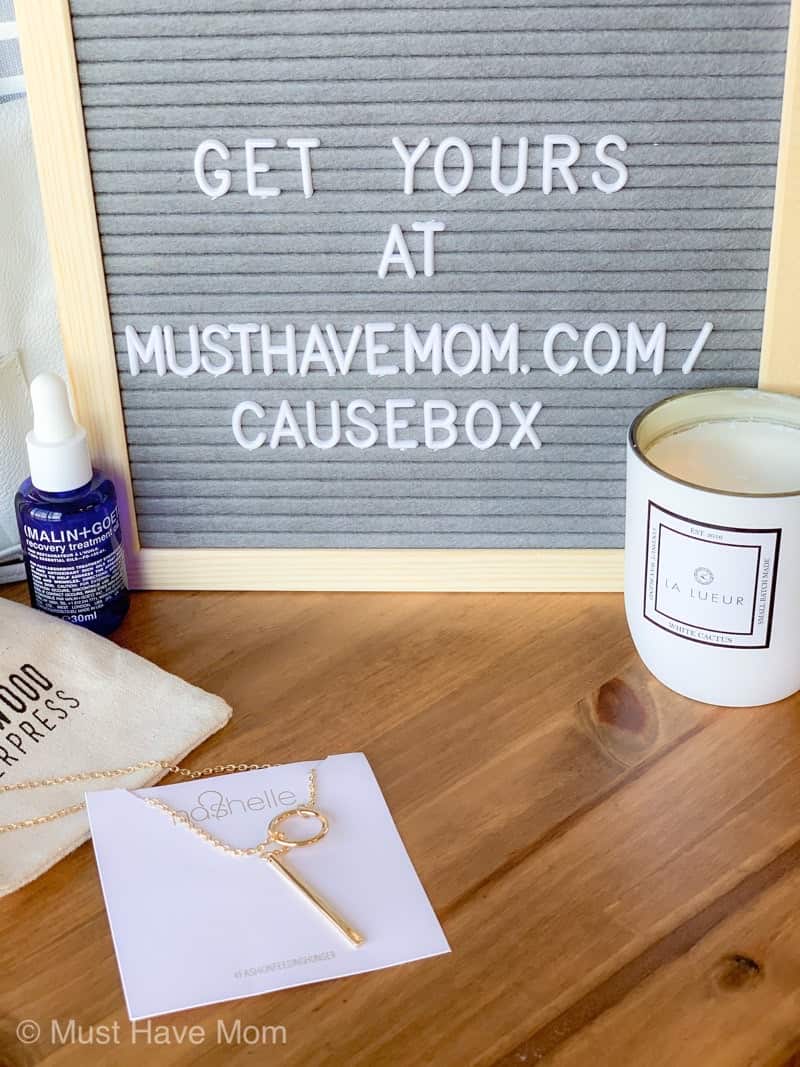 Causebox Review
What do I think of Causebox?
Well, to start with, I love the idea and the whole concept behind it. And the products are amazing, and one of the best quality out there. And I'm getting the products at less than a quarter of their actual price. The total actual value of the product in the box is over $300, but I got it for less than $50!
I liked that the Causebox Fall 2019 contains a mix of products- from skincare to home improvement. This time there weren't any products I didn't like, but in the future, if there are I can easily gift them to others.
Causebox Coupon
If you ready to get Causebox, use my coupon, FALL20 at checkout. This will get you a 20% discount!
Causebox is already sharing spoilers from their next box the Winter Causebox 2019 on Instagram! Go check out that gorgeous blanket and travel jewelry box!
Ready to join me in receiving these super fun surprises? Click here to see which box is their current box! I recommend doing the annual subscription so you can customize your box with your own choices and save money.
Pin Causebox