Every year I gift each of my children a new board game. We also play a board game on Christmas Eve and New Years Eve. It is such a fun holiday tradition! I've rounded up our favorite board game picks for this year so you can gift the most fun board games to the people on your list!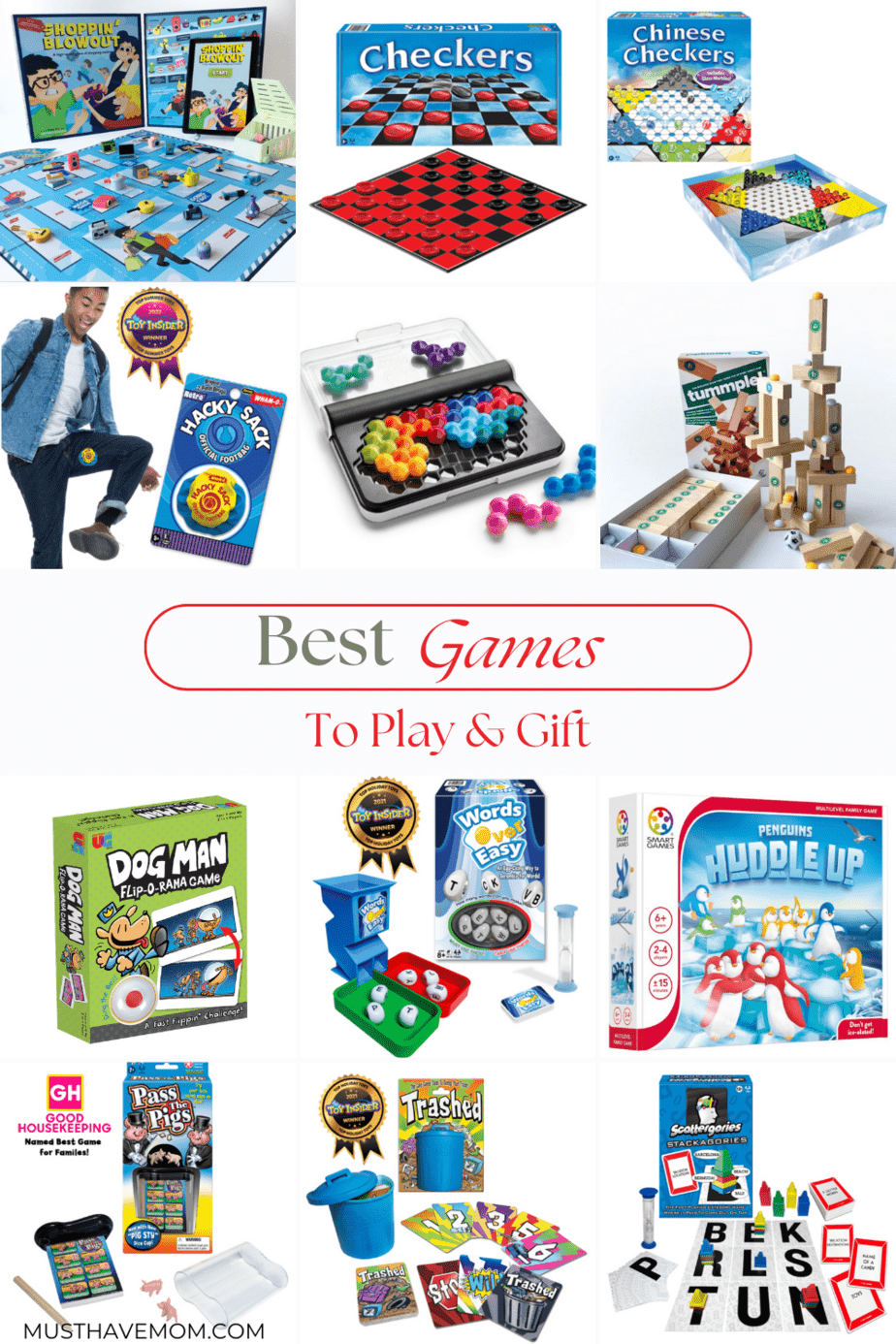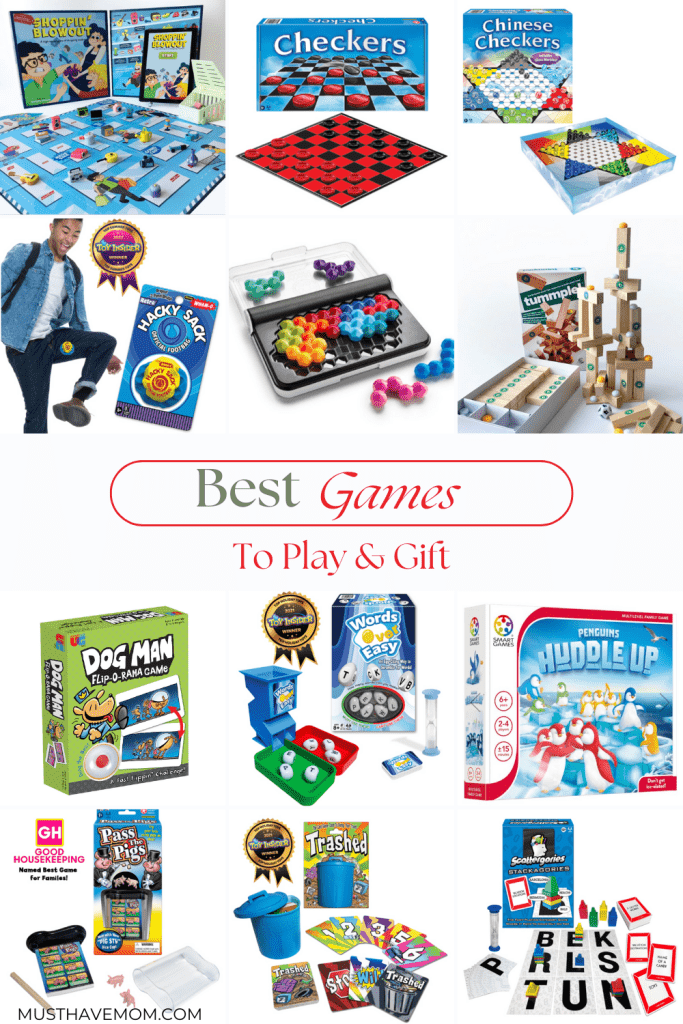 Best Board Games
Not sure which board games are still classics and which new games on the scene are worth playing? No problem. We have rounded up all the best picks this year so you can gift fun classics and new favorites!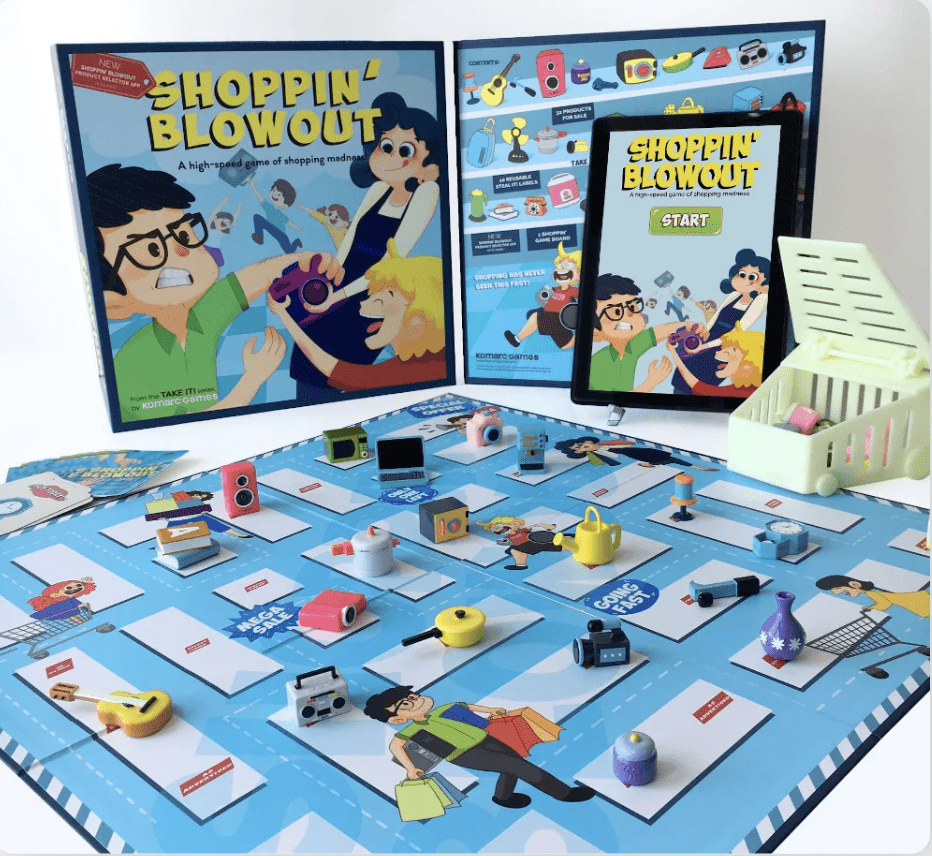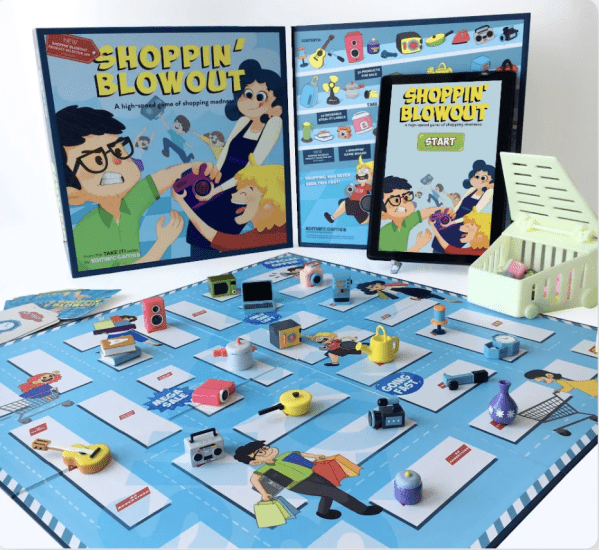 SHOPPIN' BLOWOUT
Welcome to a new game series from Komarc, called Take It!
In the first game of the Take It series, Shoppin' Blowout, players stand head to head, and try to grab the ITEM in the store faster than anybody else! After the new Shoppin' Product Selector app indicates the item to take, visually scour the board, find the item and grab it as quick as possible… before any other player! Once you see it, take it!!!! Then drop it in your cart.
When there are no items remaining, the game is over. Calculate the point total from the items in your cart, and the player with the highest amount is the winner!!!
Think your favorite supermarket game show meets board games. It's totally fun!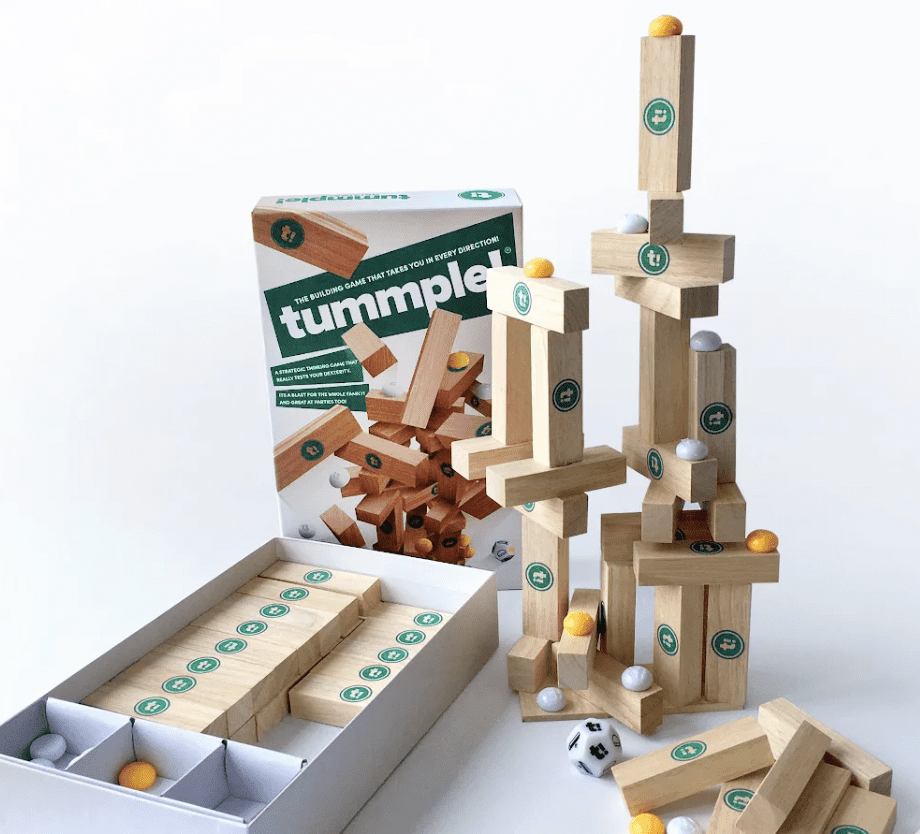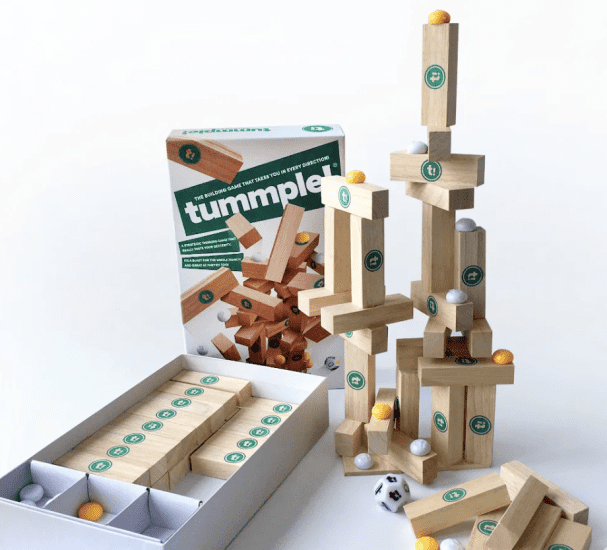 tummple!
tummple! is an award-winning game, that has received accolades from around the world. Another Komarc product with lots of educational value, testing players dexterity and spatial reasoning. It's a blast for the whole family, and great at parties too.
Strategically place wood bricks and obstacles, called 'tumps'… watching the structure form… up, down, sideways and every way. Build it, name it, love it, memorialize it!
The wood is branded, and made of beautiful high-grade rubberwood, native to South Vietnam. The yellow and white tumps are also branded, and made of durable, polished acrylic.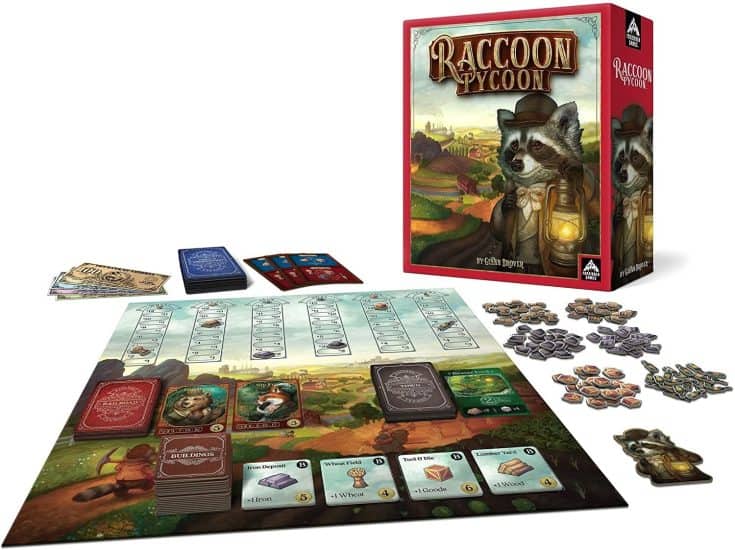 Raccoon Tycoon
Astoria is a land bustling with productivity and growth! New towns, factories, and railroads are springing up across the land. A few savvy business tycoons (you and your opponents) are determined to make their fortunes on the crest of this wave. These Tycoons start out as the producers of the key commodities: wheat to feed the growing towns and factories, wood and iron to build them, coal to fuel the trains and factories, and manufactured goods and luxuries to fill the insatiable demand of the animals of Astoria. Cornering the market for the most valuable commodities can create small fortunes that can be invested in the new businesses, turning them into huge fortunes. The sky is the limit during this Gilded Age!
In Racoon Tycoon, players try to produce the most valuable commodities in an ever changing marketplace. They then use those commodities to build towns, or sell them at the best price to secure great profits that can be used to win auctions for the all-important railroads. The profits may also be used to buy powerful buildings that give the players power-ups or bonuses in production. Owning the best towns and railroads determines victory.
There can be only one 'top dog' in Astoria. Is it you?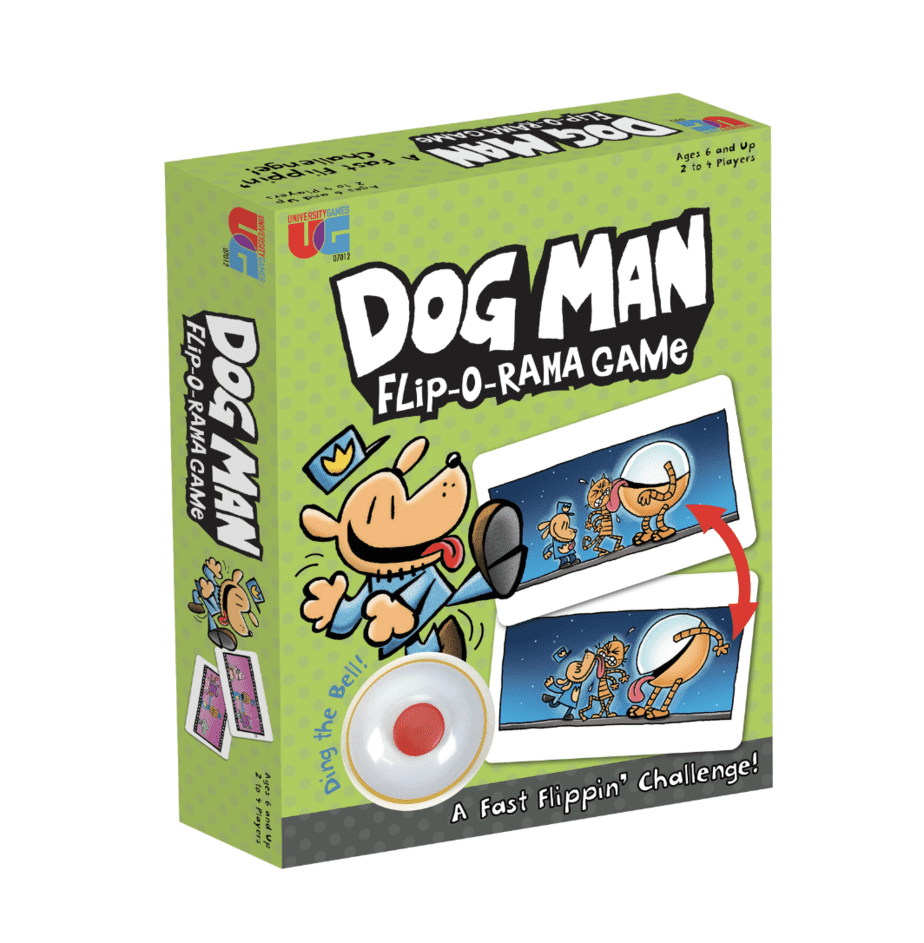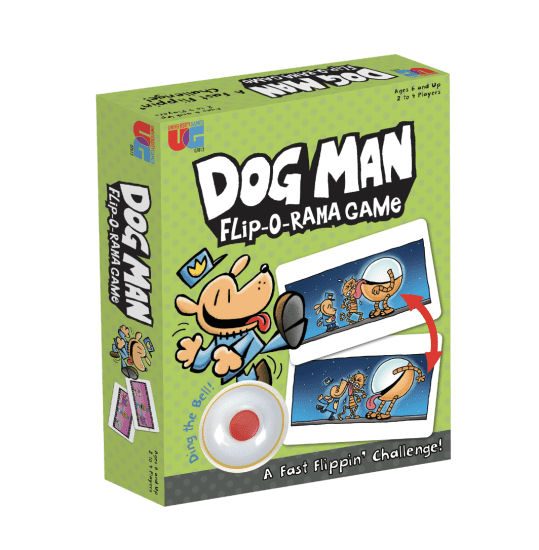 Dog Man Flip-O-Rama Game
Everyone loves Flip-o-Ramas from Dav Pilkey's bestselling books! In this game, players stack Flip-o-Rama Cards in the middle of the play area and take turns flipping them over. The first player to spot a Flip-o-Rama match dings the Bell. The player to collect the most Flip-o-Rama Cards wins! Perfect for ages 6 and up. 2-4 players can play!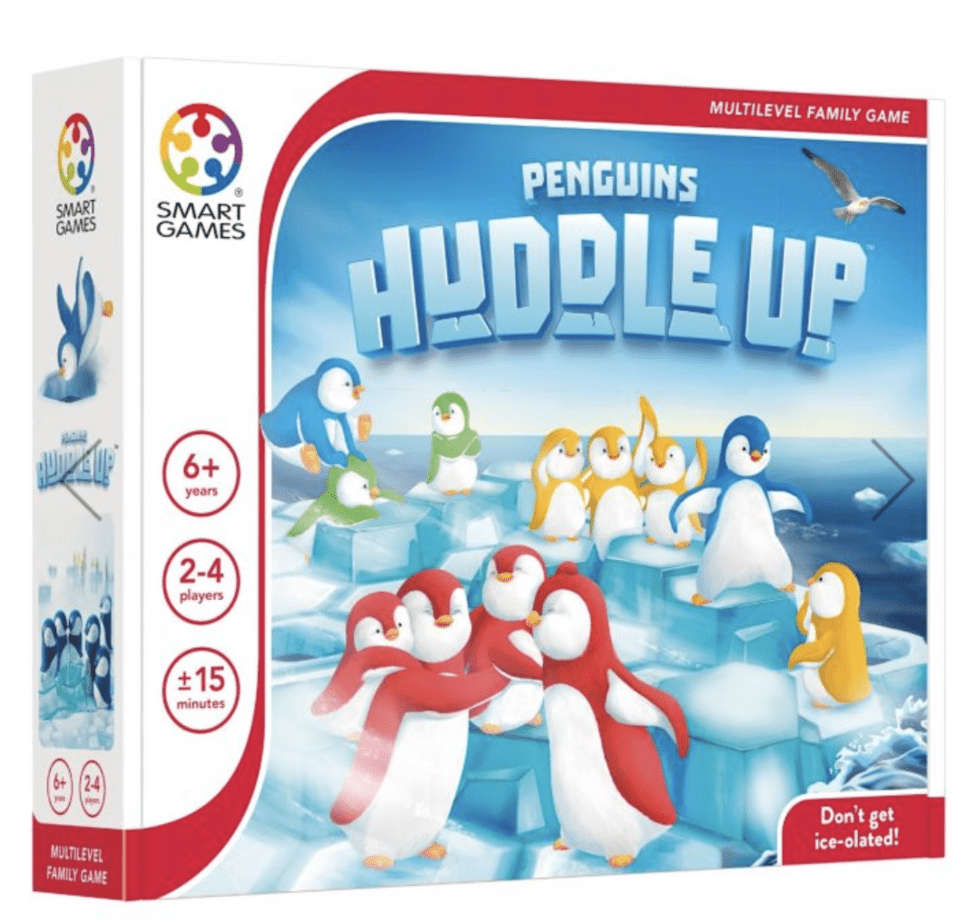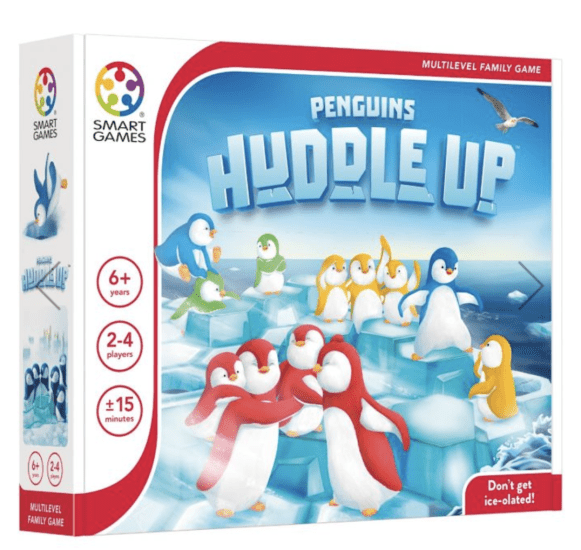 Huddle Up
Penguins are scattered across the ice and it's starting to get cold! Move your penguins together into a huddle… while blocking your opponents from doing the same. The first player to bring their entire penguin family together wins the game. This Huddle Up game is ideal for ages 6 and up. 2-4 players can play! My penguin-loving son adores this game!!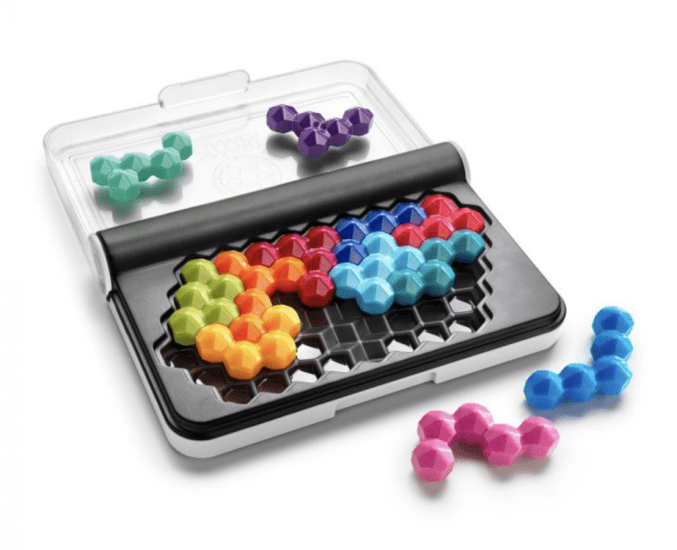 IQ Six Pro
IQ Six Pro includes 120 challenges. The top of the game board has a grid for 2D challenges and a grid for 3D pyramid challenges, while on the bottom of the board you can make colorful butterflies on the 2D challenge grid. All in the same compact, portable travel case! This one is GREAT for traveling!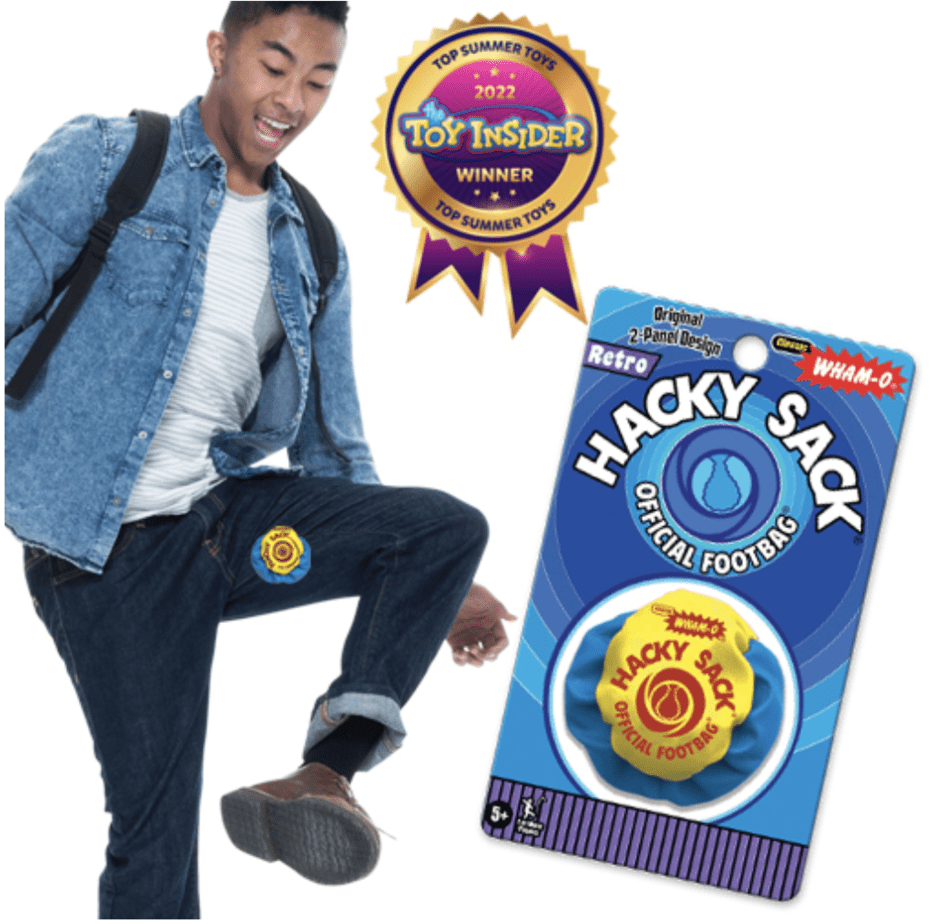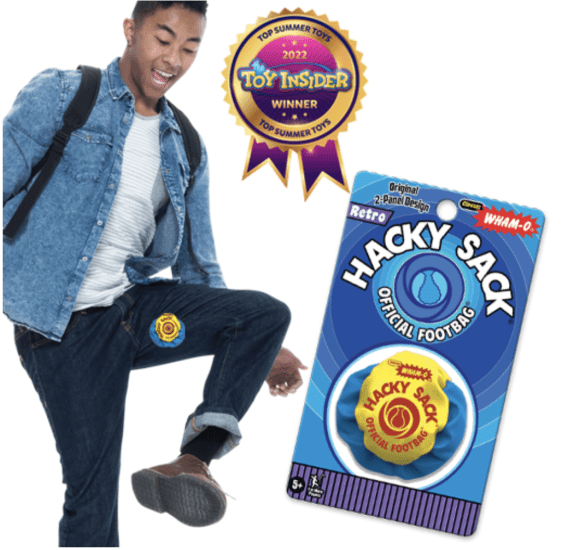 CLASSIC WHAM-O® HACKY SACK®
Players have been getting a kick out of the Hacky Sack since the 1970's. Now, with the Retro Hacky Sack in its original 2-panel design, you can experience it in the same way! While this isn't a board game, we felt it was worthy of a mention here! Get the kids up and moving with this portable game!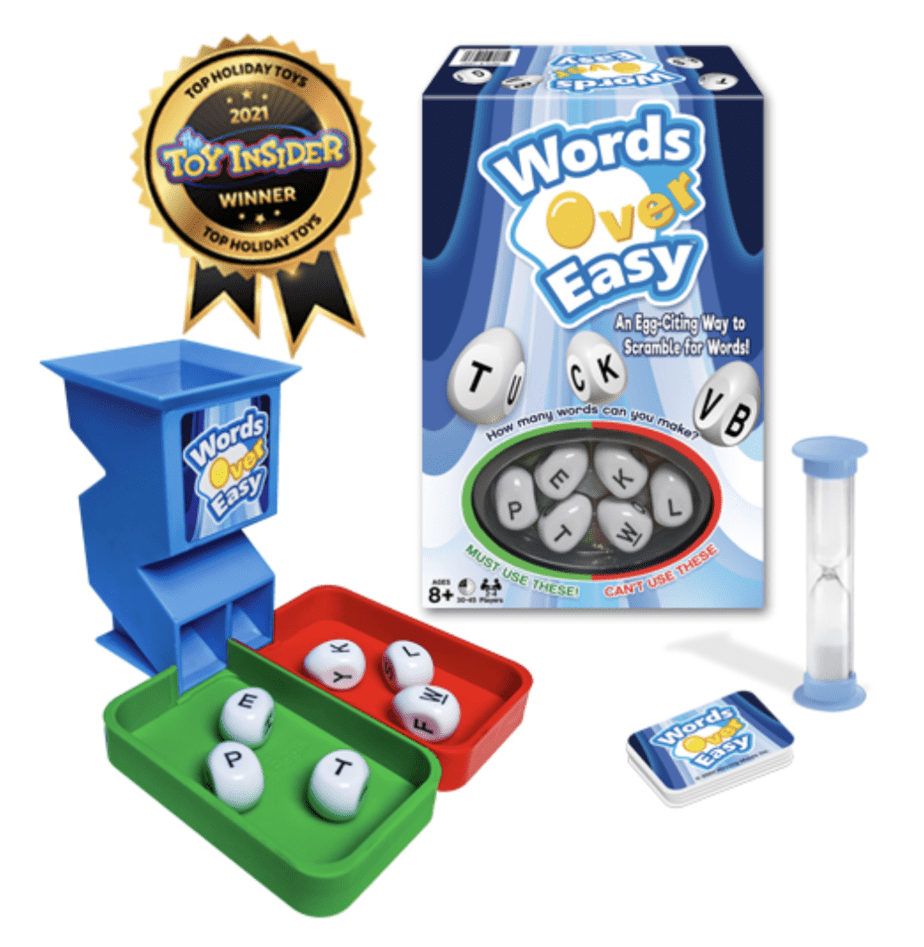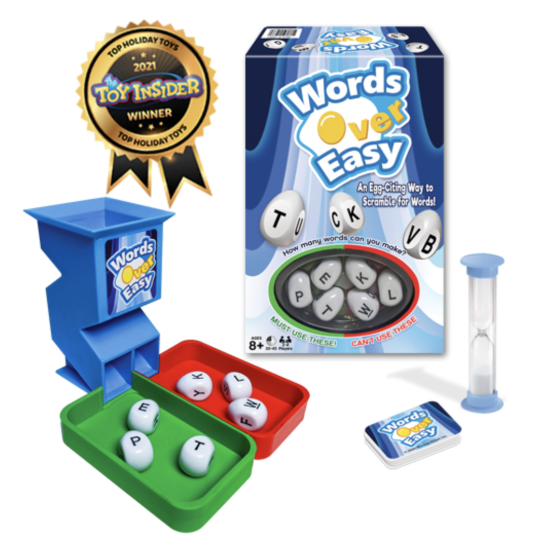 WORDS OVER EASY™
How do you like your words? Over easy, of course! Pop the Letter Eggs into the Egg Sorter to see which letters you can use to spell words. Letter Eggs that fall into the green side are good, while Letter Eggs that land on the red side are rotten. Players scramble to come up with words using all the letters, face-up, on the "good eggs" and none of the letters from the "rotten eggs". Great for word game players of all ages, so get cracking! Words Over Easy doubles as educational fun!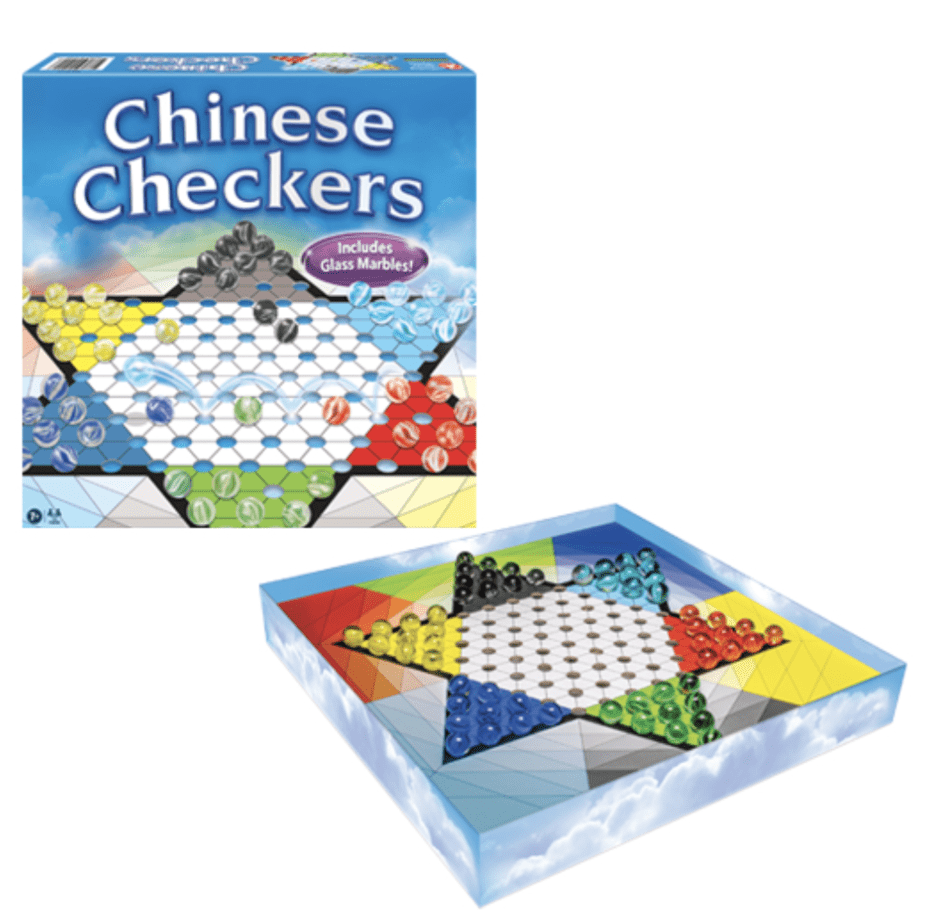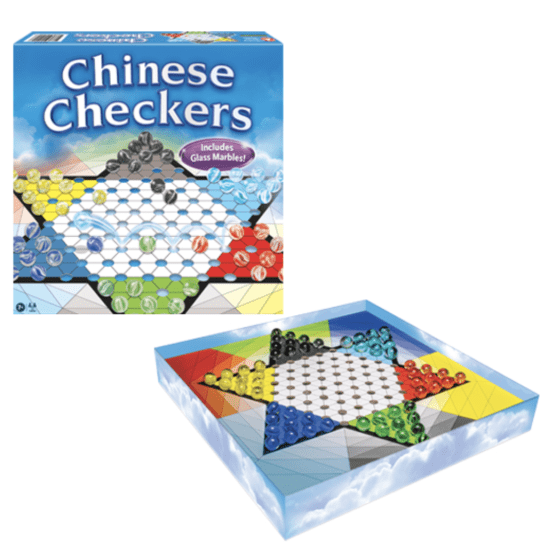 CHINESE CHECKERS
Chinese Checkers is a great, light-strategy game for as few as two players or as many as six. The game is easy-to-learn and – with practice and determination – players will become more skilled in their gameplay. The key to Chinese Checkers is to always be thinking ahead to your next move. The first player to move and hop all of their marbles to the triangle opposite them is the winner. With beautiful glass marbles and a sturdy playing platform board, this Chinese Checkers game will be a great addition to your game collection.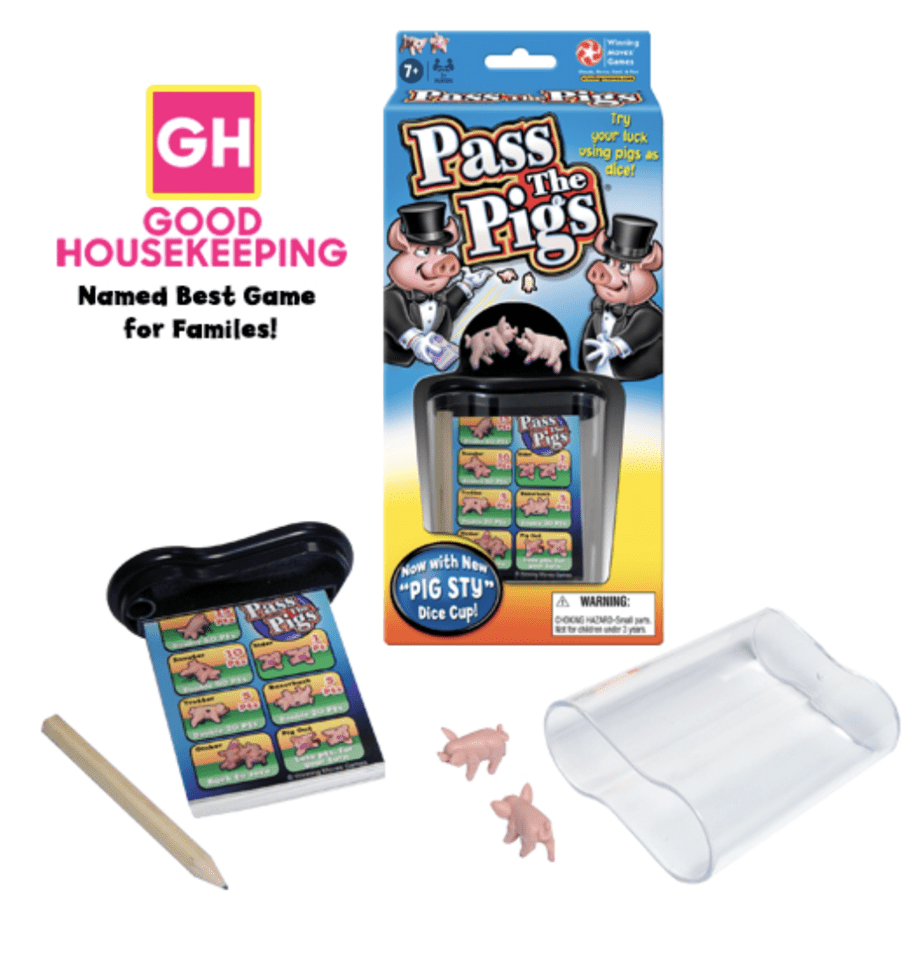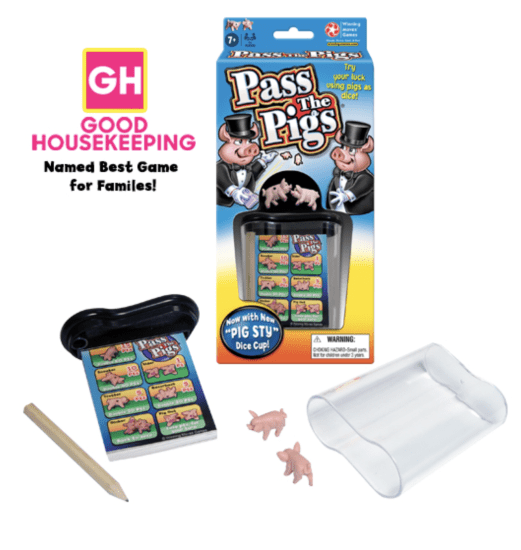 PASS THE PIGS®
Picked as Good Housekeeping's best games for Families! Celebrating more than 30 years of Pig-tastic fun! Rack up points by rolling the pig-dice but be careful not to "Pig Out." A classic party game enjoyed by Oscar nominated star Jeff Bridges! Pass the Pigs is a fun pick!!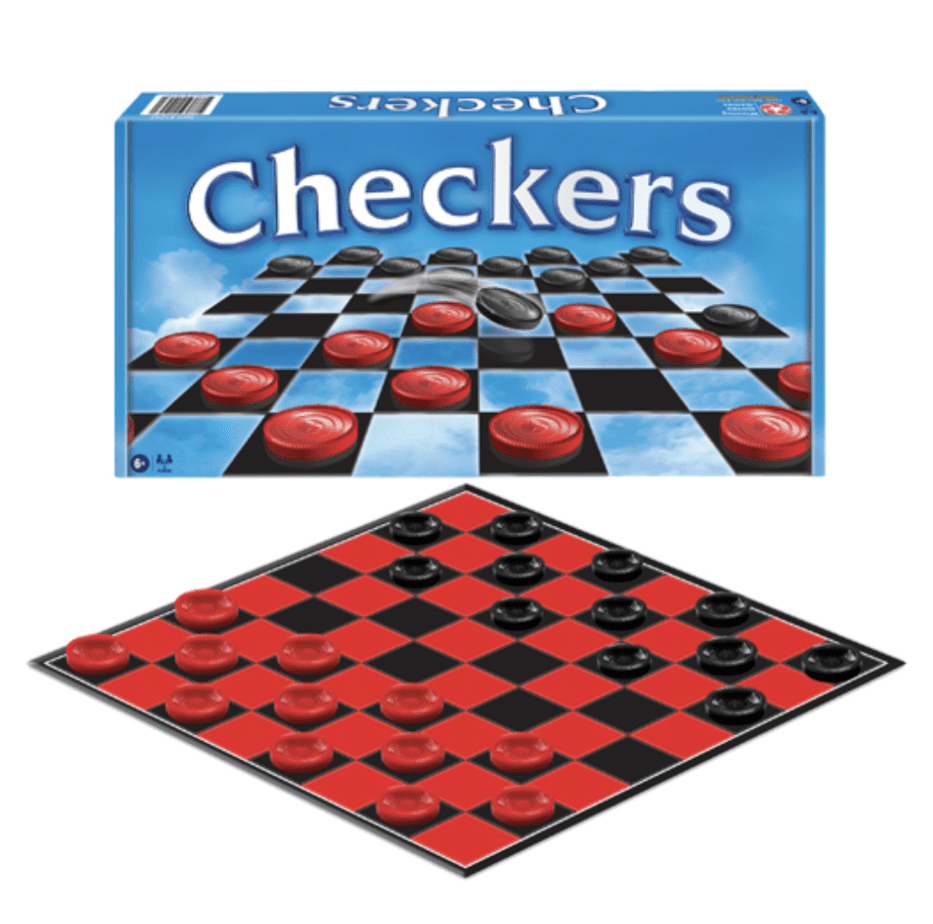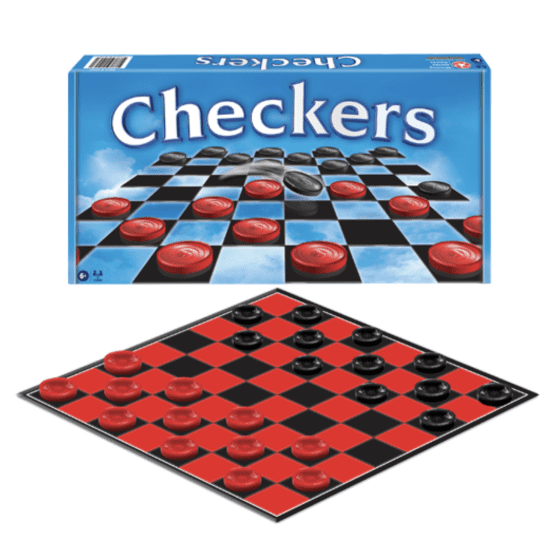 CHECKERS
Every game collection needs a Checkers set. It's one of the first games most people learn to play and one of the games they'll continue to play forever. A fun, head-to-head, light strategy game that the whole family will love. Move, jump, capture and be crowned a king in your quest to win the game of Checkers!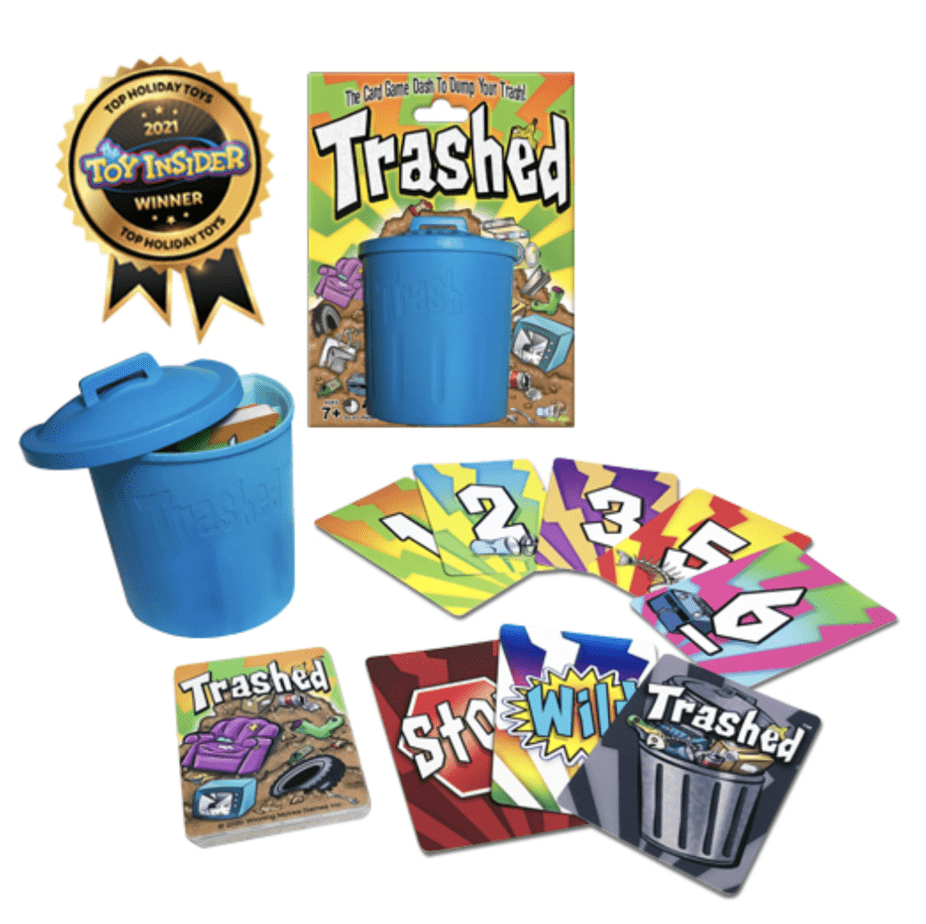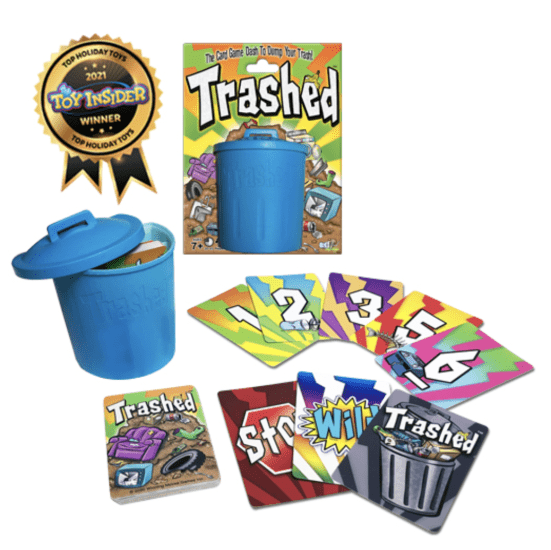 TRASHED™
Trashed was inspired by the old-time favorite card game Garbage. With custom cards and unique twists to gameplay, Trashed takes the classic game to a whole new level. Your goal is to get your cards lined up in the right order, from 1 to 10. But, look out for the terrible Trashed card! Wild cards allow for excitingly big turns, while Stop cards will stop you in your tracks!