29 Snow Day Treats To Make & Eat On Your Next Day Stuck Inside!

Check out Snow Day Treats to Make & Eat!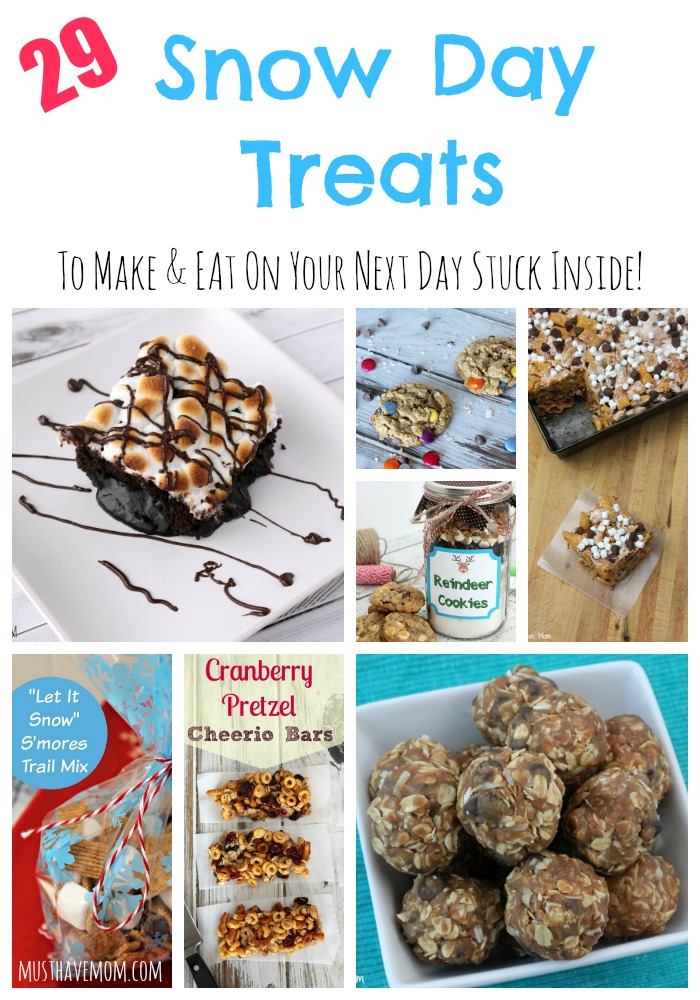 With all of the snow flying these days I have to say that Minnesota has been lacking in the snow department! I see all these cities getting several inches of snow dropped on them and my yard is surprisingly empty! Sure, we have the cold temps, but sadly none of the fluffy white stuff to play in! We may not have had many snow days this year, but we have had a few days cancelled for cold temperatures. Next time you are stuck indoors on a snow day grab one of these fun snow day recipes to make with your kids! It is the perfect activity to entertain them and beat the boredom!
Get all 29 snow day treats recipes in my Foodie collage at the top of this post! Just scroll through to see pictures of each recipe and click to get the full recipe! I can't wait to make the Let It Snow S'mores Trail Mix with my kids. It sounds like the perfect recipe that even my littles can do on their own! The Cranberry Pretzel Cheerio Bars are a personal favorite of mine. My plan is to let my kids pick their favorite recipe to make though! What's better than scrolling through all these treats and getting to pick which one you want to make? My kids will freak out! I can't wait to get in the kitchen!
Do you let your kids help in the kitchen? Toddlers can help with things like dumping measuring cups into a bowl and older kids can help with filling the measuring cups, stirring and following a recipe. These are life skills they are learning!
When you are done making and eating your treats you can move on to crafts! 🙂 Keep them busy and you'll keep your sanity!
What are your favorite snow day activities?