10 Amazing No Heat Hairstyles You Need To Know
Not only do these no heat hairstyles save our hair from the scorching damage of heat styling tools which takes its toll on our tresses on a daily basis, but they also save a load of time spent drying, curling or straightening hair down to the last lock. Don't worry; you don't have to be John Frieda to style your hair without heat either, it actually couldn't be easier! If your hair is naturally thin, thick, straight or curly, we've got a no-heat style that will your hair looking like you've just stepped out of the salon- or at the very least, as though you've used some heat stylers.

1.) Waves
Need to wash your hair but don't have time to style it before bed? Then this style is for you! Sleep while you style: it really couldn't be easier to get beachy waves. Simply part your hair down the middle and twirl each section towards the front of your head. Secure with clamps across your head (it'll look a little like a milkmaid braid) and then get some sleep! In the morning your hair should be dry, separate the twists with your fingers and you're good to go. Get the full step by step tutorial at Pretty Gossip.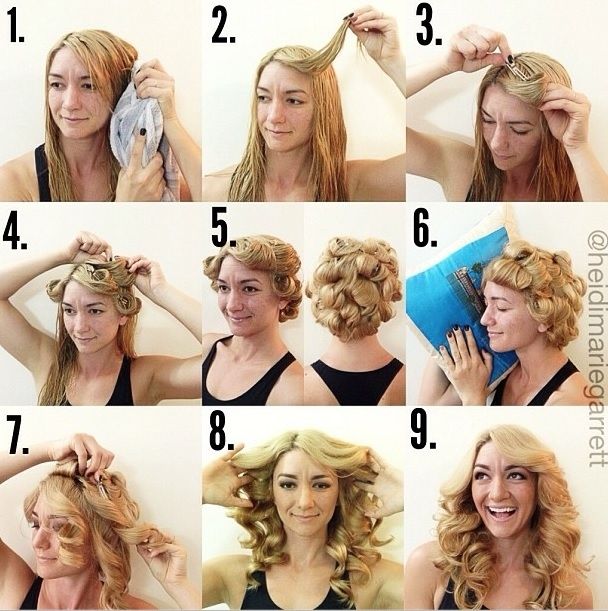 Photo Credit: @HeidiMarieGarrett
2.) Curls
This is another great style for sleepy girls who want to protect their locks from too much heat, or simply don't have the time to do their 'do. For picture perfect curls when you wake up in the morning, go for this technique of pin curling towel dried hair and sleeping on it. Simply section the hair in roughly equal sized segments and curl around two fingers, then secure in place with a slide clip or two. Repeat this all over the head until there is no hair left, and when you wake up in the morning your hair should be full of volume and definitely look as though you've just stepped out of the hairdressers after an early morning appointment.

Yetanotherbeautysite.com for full tutorial!
3.) Sock Curls
For those of us who've tried it, trying to sleep with a head full of rollers is
not
fun or remotely comfortable. But how about sleeping with some comfy squashy socks in your hair and waking up with gorgeous hair, not so bad eh! Socks are great for a neat and not too complicated way to create overnight curls/waves. Just separate damp hair into a few equally sized sections and curl around an outstretched sock. Once all the hair is curled around, tie the two ends of the sock together to secure at the back of your head. Repeat until there is no hair left, and then leave for a several hours or go to bed. When you take the socks out, your hair should be styled in a soft curl that will last all day long!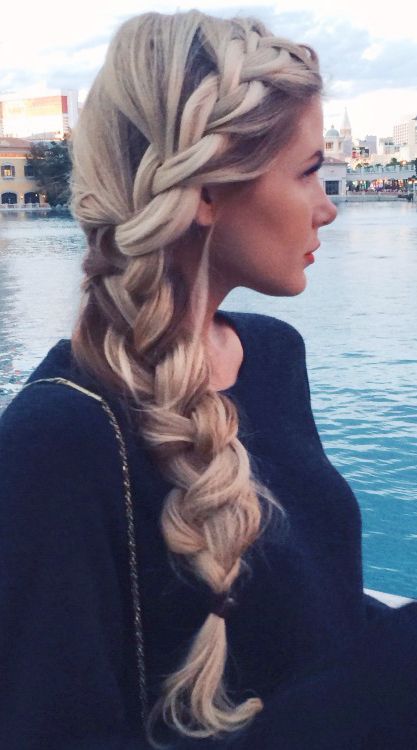 4.) Plaits
If your hair takes a little more taming and you want to give it a break from heat styling tools, or if you'd like it off your face for the day, why not try a side plait? We like to begin the plait a bit higher up as a loose braid to give an extra detailed look, and then bring it down into a chunky side plait. The great thing about this look is that, even if your hair is a complete mess out of the braid, the plaited style will make any unruly hair look neat and pretty. This is also a perfect hairstyle if you'd like to add some argan oil to your locks for an extra kick of moisture, as ends won't look greasy- just smooth.

Yetanotherbeautysite.com for full tutorial!
5.) Braids
Okay, this isn't necessarily a braid, but it is much easier than a braid and still looks gorgeous. Again, a great way to keep hair back and looking sleek without the need for straighteners. All you need to do is twist the two front sections of hair back and secure with a thin (see through is better) hair tie and then grab the sections and tuck them under in the same direction another time, pulling the ponytail through. Then continue this technique, eventually reaching the back of the head and down until you have a faux-fishplait!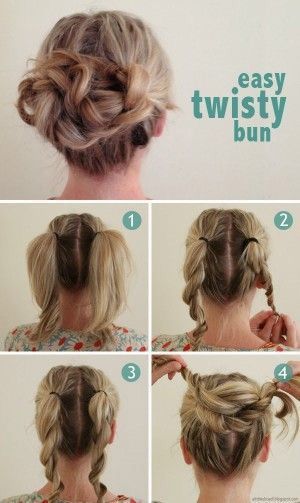 6.) Buns
This is a great hairstyle for shorter hair, and also looks super cute. All you need to do is split hair into two equal sections and then put into two ponytails. Split each pony into two parts and twist together loosely. Secure the ends of each twist and then cross over each twist to the other, wrapping them together to make this pretty little bun that looks like it took way more effort than it actually did.

7.) Updos
If you're headed for a more formal occasion and need a slightly dressier hairstyle than the previously mentioned, then try this gorgeous ballerina bun! No heat required, of course. Smooth some mousse through the ends of your hair and then towel dry them with your hair upside down. Then smooth your hair into a high pony, securing with a strong bobble so that this look lasts through your evening. Grab sections of hair and twist together, pulling some strands so that it gives the twist a little volume and detail. Then wrap each twist around the base of your pony tail until there is no hair left and all that remains is a beautiful twisted ballerina bun. Spray with hairspray and put on your best dress (we are in love with some of the evening dresses from Mary Jane Fashion, fyi); you're ready for a night on the town.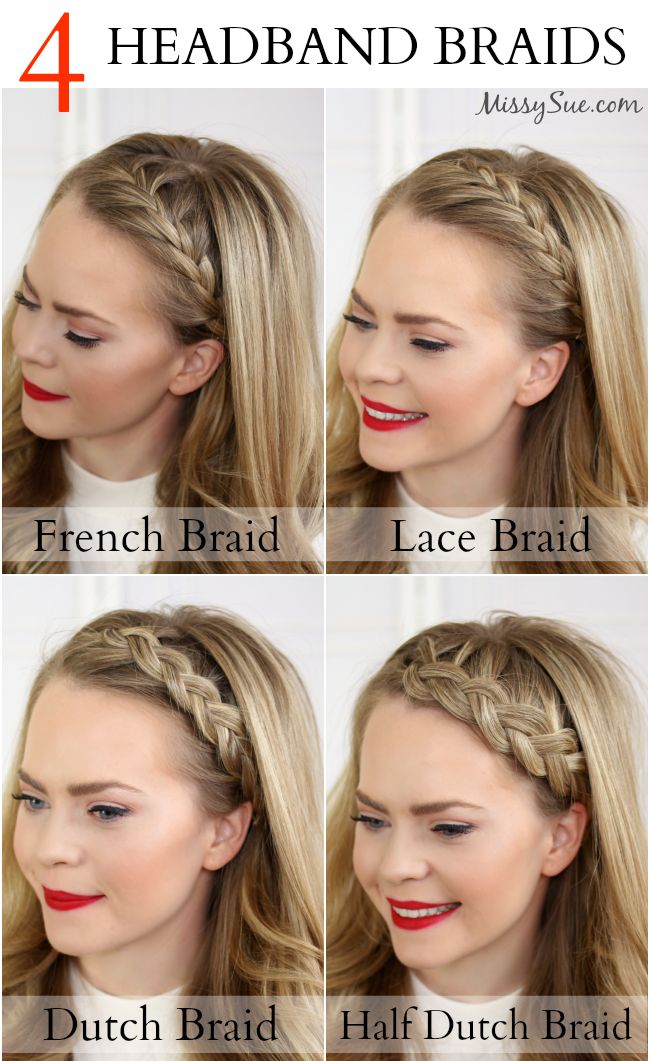 MissySue.com for full tutorial!
8.) Bangs/Fringe
If you've got bangs/ a fringe and don't know how to tame that bad boy without the use of a hairdryer or heat tools, then why not braid it back. This is the technique that Lauren Conrad used when she was growing out her bangs, and we think it looks so pretty. If you struggle with fiddly braids, just grab your entire fringe and plait to the side, securing with a clip. This gives the illusion of a Dutch braid without the effort of actually knowing how to do one.
You could do a side part braid like the ones pictured above, or try two boho braids from a centre part.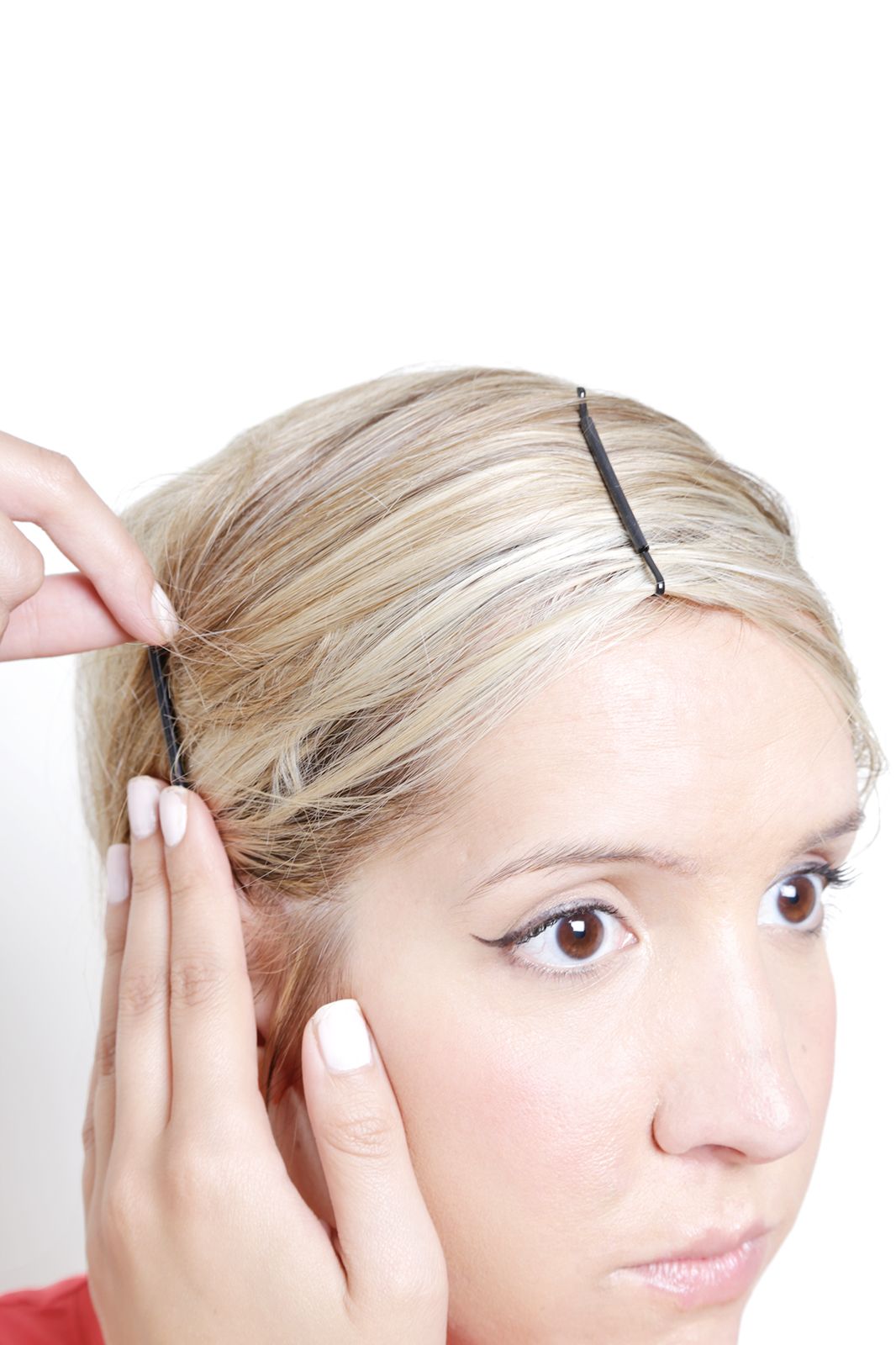 9.) Straight
Don't worry curly girls, we haven't forgotten about you! If you want to tame your tresses but are worried about the damage from straighteners, then try smoothing your hair down and flattening it onto your head with no-crease Bobbi pins on wet hair. Simply wrap hair around your head and leave it to dry for a no-heat solution to straighteners.

10.) Wet
Now if you're really strapped for time and want a chic hairdo, then how about this wet hair style!? Section your hair from the top of your head, twist the underneath section and pin into a sort of bun at the base of your head. Then twist the top section together and secure above the bottom bun for a chignon-type hairstyle that looks really elegant. This style is great for summer, and the twisted hair should dry into gorgeous waves, too!
Hating that your hair doesn't work with many of these styles? Look into getting a new hair cut  entirely or growing it out!