Crazy Hair Day Ideas Girls Cupcake Hairdo
Crazy Hair Day Ideas Girls
If you are searching for crazy hair day ideas girls styles then chances are your child has crazy hair day at school. I will admit that I wish I were better at creative hairstyles for my daughter because she has this crazy beautiful uber long hair that is dying to be made into cutesy hairstyles. I just don't have time! So when I tell you that these cupcake buns are quick and easy I mean it. I literally whipped these out in ten minutes, completely last minute, on the way out the door to catch the bus. They are EASY.
Supplies you need for this hairstyle:
Save yourself time and hassle driving around with a whining child who hates shopping and order these items NOW from Amazon and have them shipped to your door at the best prices. No need to drive around to multiple stores to find what you need! Here are the supplies you need at the best prices:
Scunci No-slip Grip Bobby Pins, 48 Count

Wilton Baking Cups Standard Dots Red 75 Piece

Snazaroo Hair Color Spray, Red

Pepperell Pom-Poms, Assorted, 100-Pack

Tresemme Tres Two Extra Hold Hair Spray 11 Oz (3 Pack)

No Damage Elastic Hair Bands, Multi-Colored

Once you have all of these supplies delivered to your door FOR FREE (don't have prime? Get free shipping on all of these items with a free prime trial! Click on my PRIME link to get a free 30 day trial and free shipping on all these items) you'll be ready for crazy hair day at school! Now read on to see how easy these cupcake buns are!
I'll show you step by step how to make these easy crazy hair day ideas girls cupcake buns in a few easy steps. For this hairdo you will need:
4 hair ties
paper cupcake liners (I used these-they are a little thicker and don't easily split apart when you cut a slit in them)
hair spray
2 pom poms (red to look like a cherry is best but like I said this was a last minute throw it together crazy hair day so we used blue and yellow because that's what I had on hand)
2 bobby pins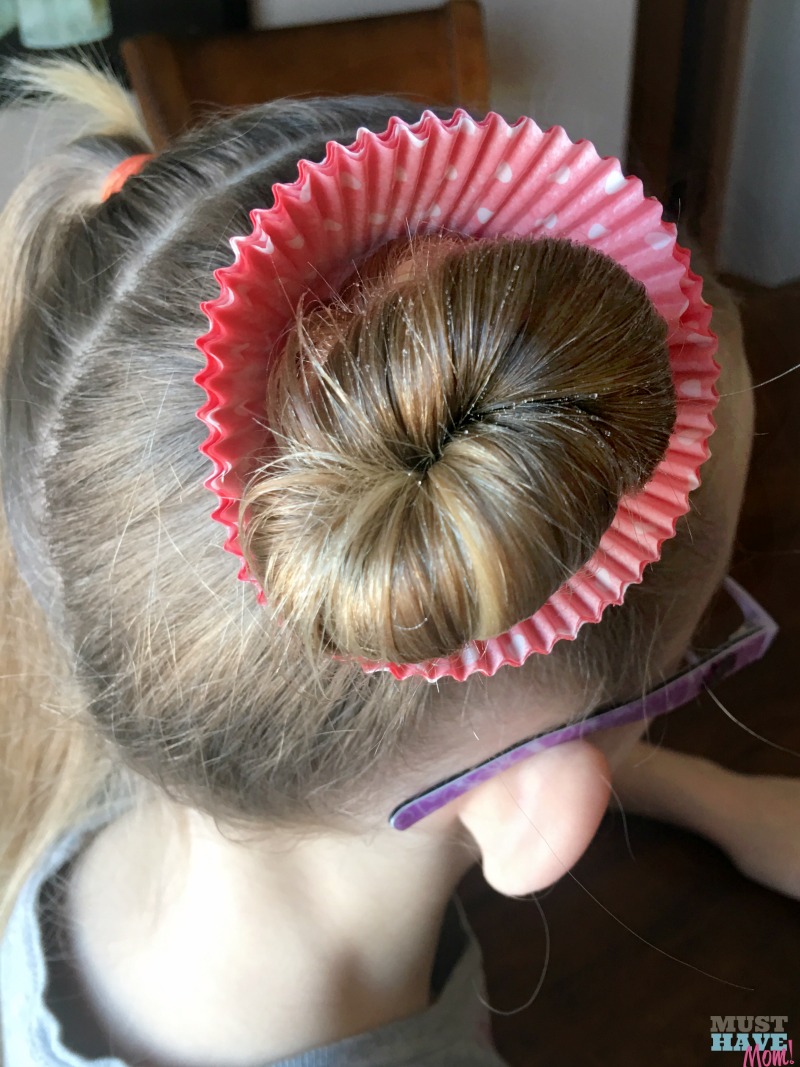 Begin by cutting a slit in your cupcake liners. To do this I grouped together 5-7 cupcake liners to make it more sturdy. I then cut a slit and then a second slit to create an "X" in the center of the bottom of the cupcake liner. Do this twice so you have one for each bun.
Next put 2 pig tails in your child's hair. Then thread the cupcake liner onto the pig tail by pulling the hair through the bottom of the X in the cupcake liner. Push it all the way to the base of the pig tail. Now twist the pig tail into a bun and secure it with a hair tie.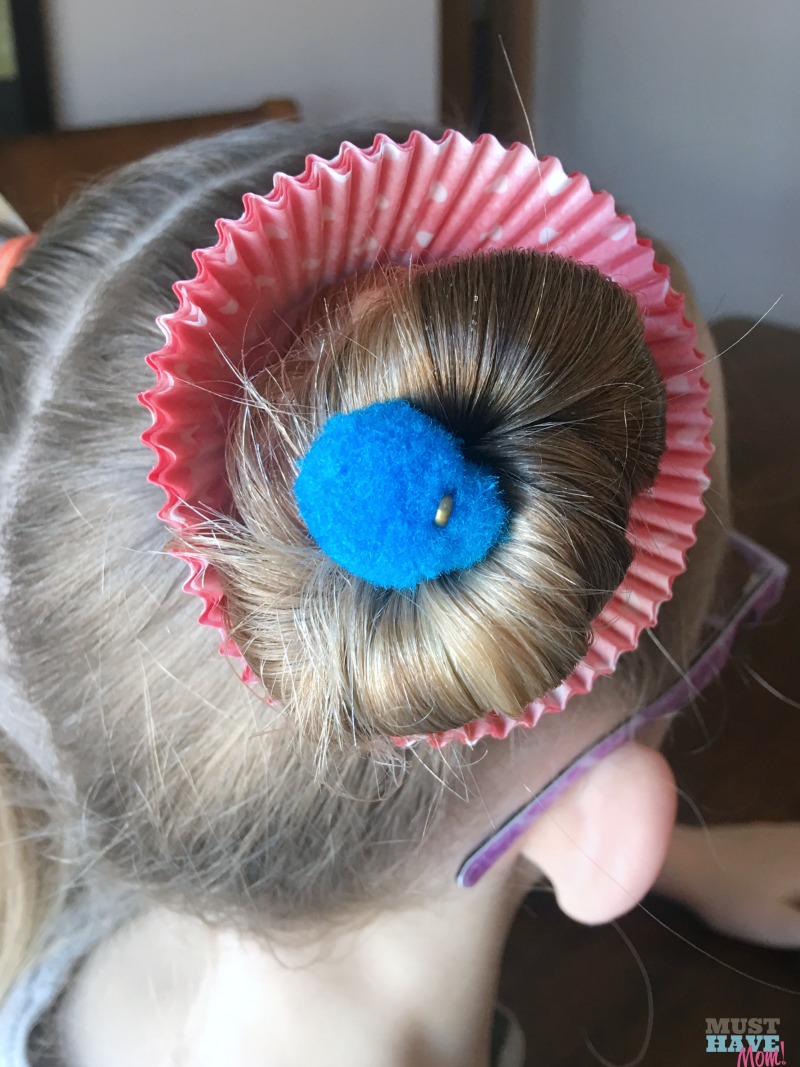 Now hair spray the bun to help it stay in place and flatten any stray hairs. Then put a bobby pin through the pom pom and secure it to the center of the bun.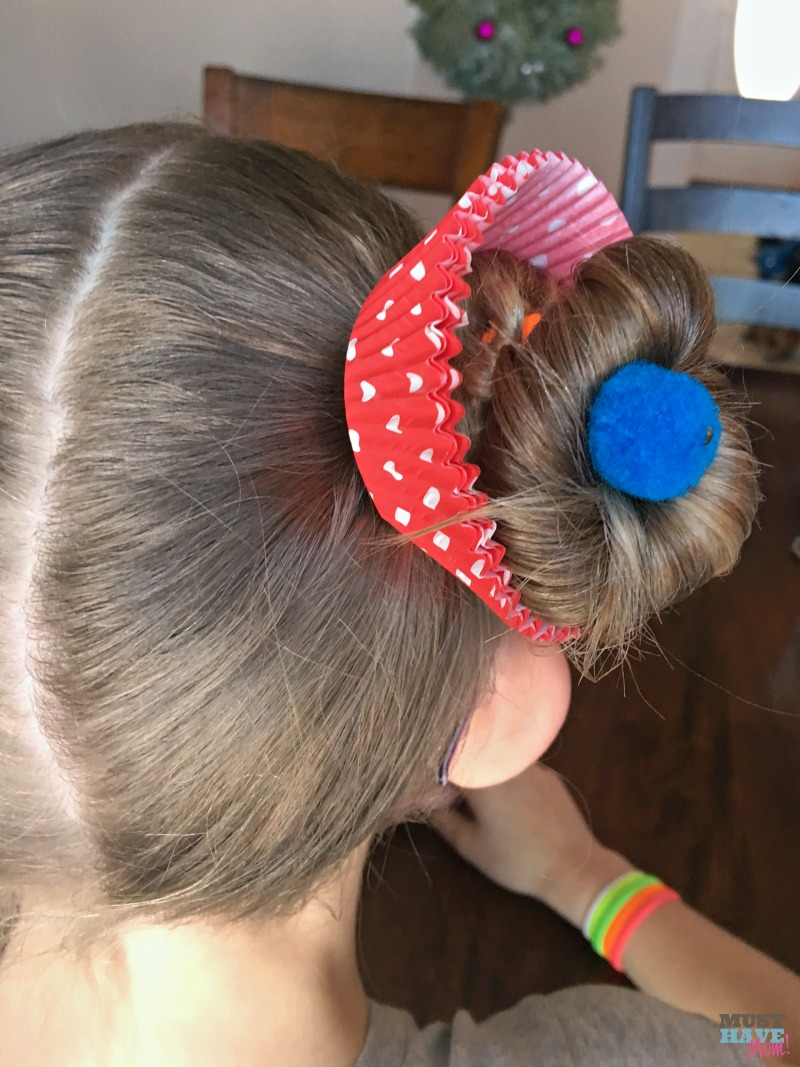 Here is a view of it from the side.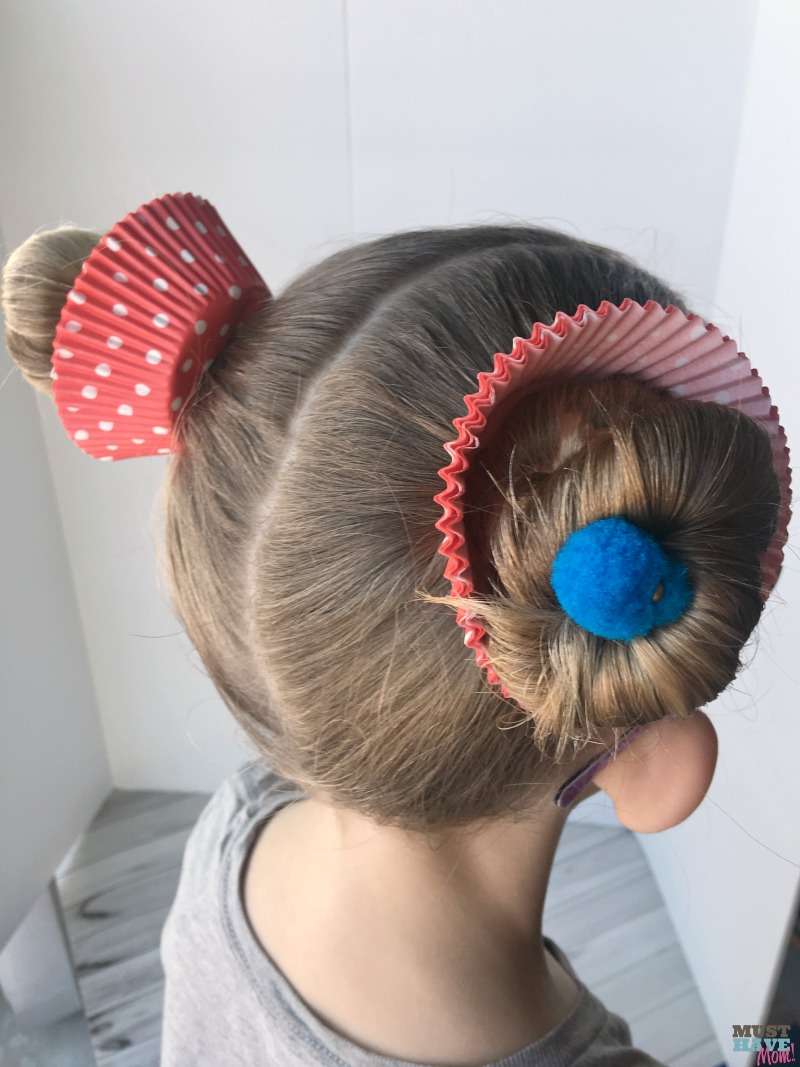 Repeat this on the other side so you have two cupcake buns. I have also seen people use temporary spray in hair color to spray the cupcakes a color. We did this on the fly and didn't have any but you could use some to make it look even more real.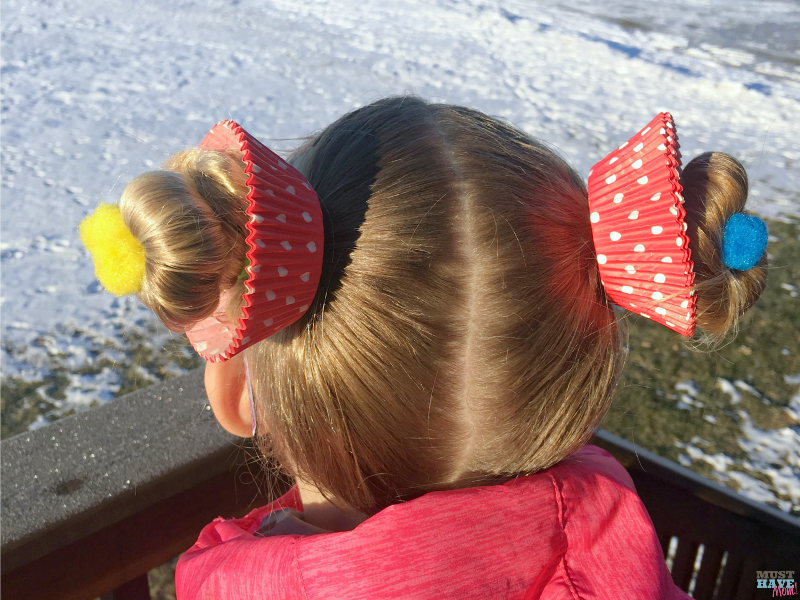 My daughter loved how cute it turned out and I was amazed that I pulled it off in ten minutes with no planning ahead of time. I woke up that morning with no ideas and then bam! Whipped it out. You can too!!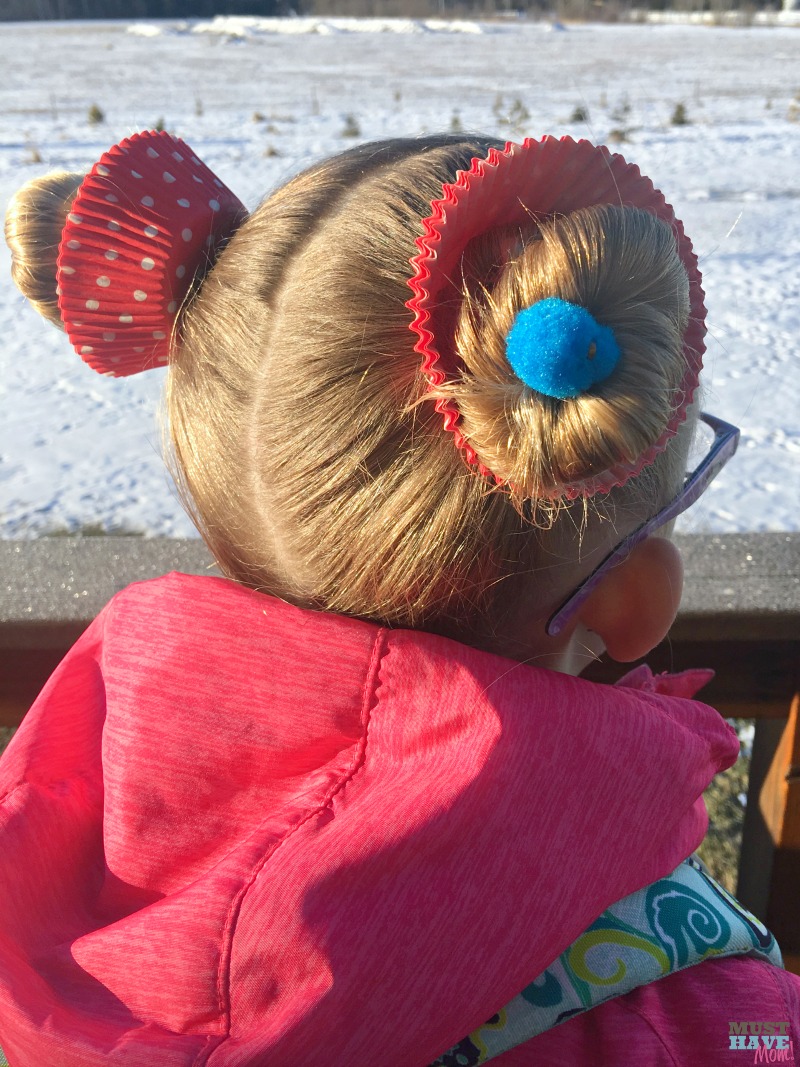 After I completed the style I hair sprayed it some more to help keep stray hairs in place and make the buns sturdy.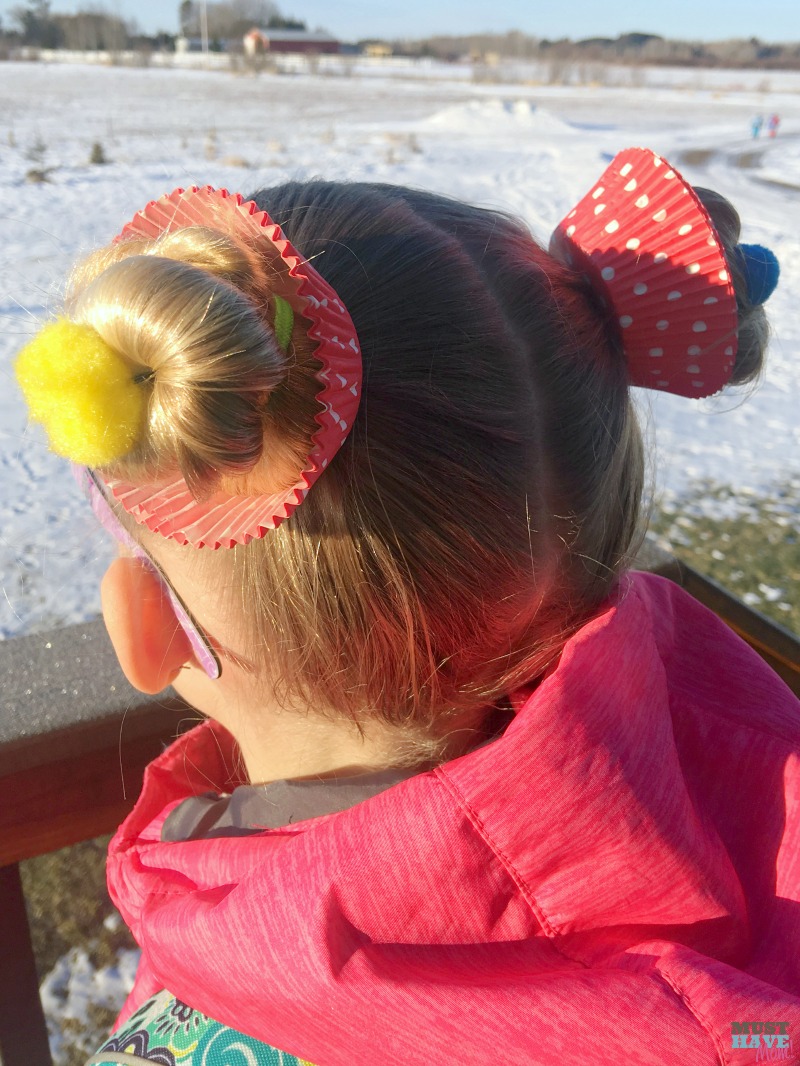 For your daughter's next crazy hair day at school you'll be ready with this crazy hair day ideas girls cupcake buns!