I am in love with the look of wood high chairs but in my search for the best wood high chair out there I have come up short. Until now. I have finally found the best wood high chair and I love it. After trying Keekaroo, Badger Basket, among others, I am in love with my Summer Infant Bentwood High Chair. It has the style of a wood high chair with the functionality of a plastic high chair. I cannot believe how perfectly it matches my dining room set! They look like they were made for each other.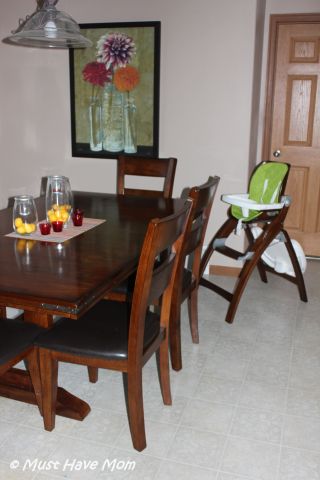 I saw the prototype of this high chair almost a year ago at BlogHer '12 in NYC. I knew when I saw it that it had everything I was looking for in a high chair but had failed to find. I couldn't wait to get my hands on one and it was agonizing to wait so long for it to finally come to market! Alas, it is finally here and I couldn't be happier! Aside from it's stunning design style it has some great features that every mom can appreciate.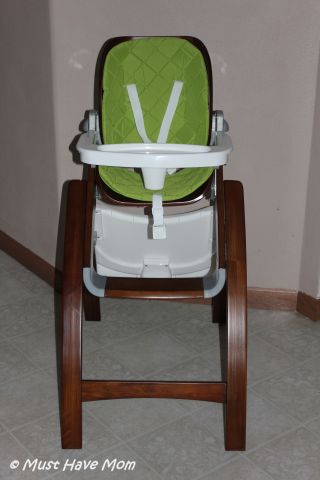 My absolute favorite feature is the storage for the tray on the back of the high chair. With our old high chair there was no place to store the tray and to save space we didn't like to store the high chair with the tray in place. It would end up sitting on an unused kitchen chair and was always an eyesore and was also in the way. The Bentwood High Chair has that all figured out and I no longer have that problem! Even my husband was the first to comment on how awesome this feature was.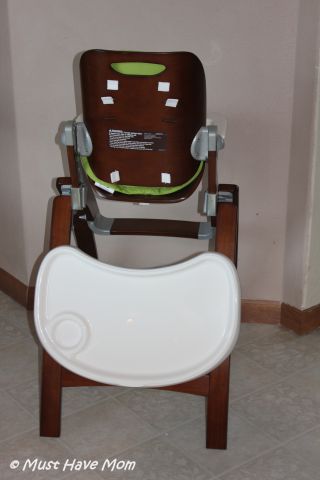 The tray easily slides on with one hand when you wish to use it. The high chair has a 5 point harness so your child is securely in place.
Another ingenious feature of this high chair is the dishwasher safe tray insert. Not only does the entire tray come off for easy cleaning but the top insert can also come off. Do you know how many times we eat something that Carson makes a mess out of and I need to take the tray away before he makes a bigger mess but I still need him to have a tray? Well, this totally solves that problem. I take off the tray insert and he has a clean tray waiting underneath! It makes for quick, easy cleanup too.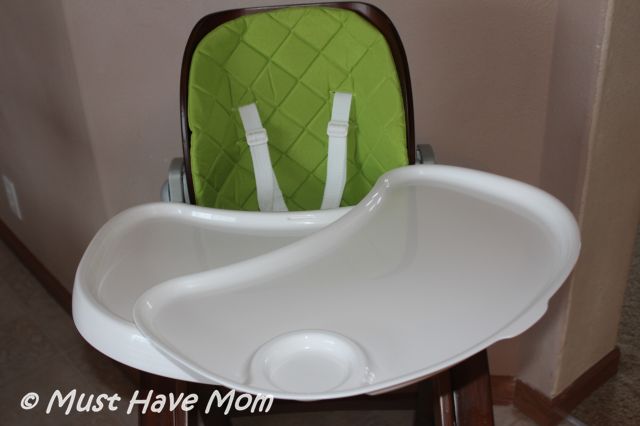 Carson loves his high chair just as much as mommy does 🙂 The high chair truly grows with your child from infancy to toddlerhood. It comes with an infant insert for smaller babies and can serve as an up to the table booster for older toddlers. Here Carson has the large tray off and just the permanent bar in place (which can be removed for booster use later). I love that they incorporated a small tray into that bar so he can sit there for a snack without having the entire tray in front of him.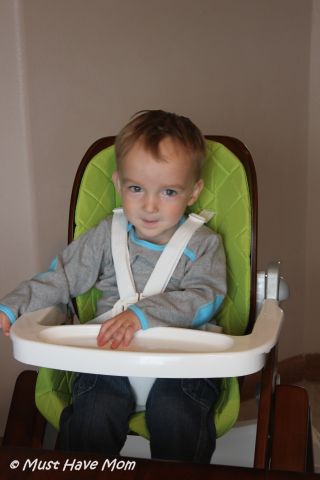 Carson is my messy boy and I was worried he would have that seat pad stained in no time. After a few days use it had a lot of spots on it and after a quick run through the wash and hang to dry I discovered that everything came out without even stain treating it. I've been so impressed by how easily it washes up.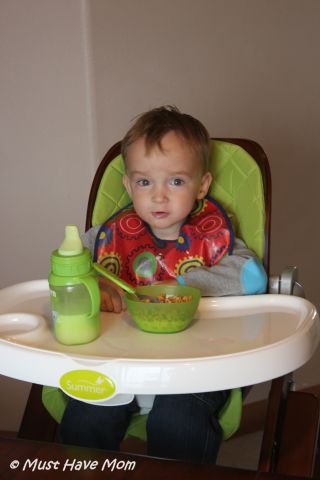 The high chair also folds up nice and compact for storage when you aren't using it. I find that it is small enough with the tray hanging on the back that I just leave it set up at the table.
All in all this high chair perfectly combines the elegant style of a wood high chair with the functionality of a plastic high chair making it the best wood high chair I have ever used!
You can buy the Summer Infant Bentwood High Chair on their site or at Diapers.com. It is currently selling for $169.99 with free shipping on diapers.com ($200 suggested retail). This wood high chair is worth every penny!
Follow Summer Infant on Twitter and Facebook for the latest updates!