Pancake and Waffle Mix Recipe ~ Dry Make Ahead Mix!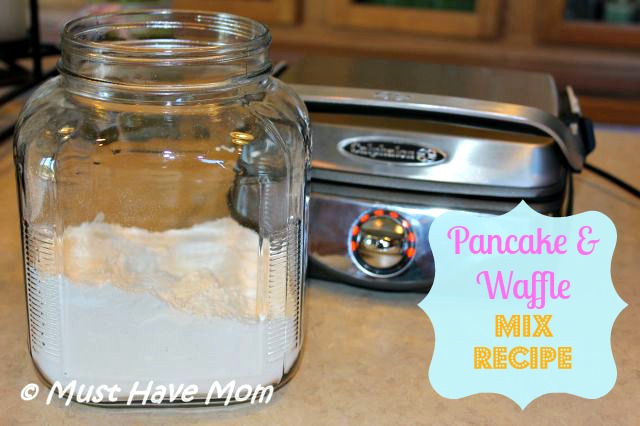 We love pancakes and waffles and having my own homemade pancake and waffle mix on hand makes it easy to whip up a batch on any day of the week. I like to make my own Pancake and Waffle dry mix because then I know exactly what is in it and I know it's not loaded with chemicals or artificial ingredients. It's SO easy to make so there is no reason to buy mix at the store! Get yourself one of these glass cracker jars at any big box store for around $5 and it will keep your mix fresh for months to come!
This makes really yummy pancakes or waffles. The wet ingredients you add to it determine which recipe you make. It's quick and easy! SO much better than store bought mix. I've been making more and more homemade mixes lately because not only are they healthier with less unknown ingredients but they are also much less expensive to make yourself than to buy. Stay tuned for even more recipes! Print off my recipe below or pin it for later.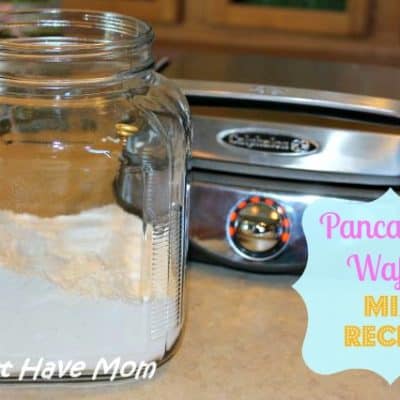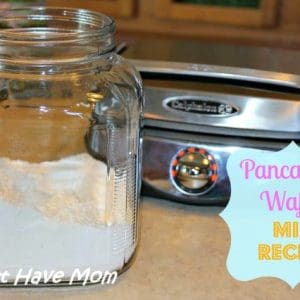 Pancake and Waffle Mix Recipe ~ Dry Make Ahead Mix!
Dry pancake & waffle mix recipe to make ahead and store for any day you'd like to whip up a batch of pancakes or waffles.
Ingredients
7

C

Flour

1/2

C

Sugar

8

tsp

Baking Powder

4

tsp

baking soda

2

tsp

salt
Instructions
Mix all ingredients together in a large mixing bowl.

Combine thoroughly and transfer to a large glass (airtight) jar.

Store for up to 3 months.

To Serve:

Pancakes:

Place 1 cup mix in a medium mixing bowl.

Beat 1 egg, 1 Tbsp melted butter, 1/2 C buttermilk, 1/2 C milk and 1/4 tsp vanilla together and stir into the dry mix until combined.

Let mixture rest for 1-2 minutes

Cook on griddle until bubbles form and flip. Cook until golden.

Makes 6 four inch pancakes

For Waffles:

Place 1 C mix in medium mixing bowl.

Combine 1 beaten egg, 1 tbsp melted butter, 3/4 C buttermilk and 1/4 tsp vanilla together and stir into dry mix until combined.

Cook on waffle maker until golden brown.

Makes 4 five inch square waffles
You may also like:
Calphalon Waffle Maker Review & Giveaway
Like this post? Pin it, Tweet It, Share It! 🙂