Sweet Kale Superfood Mason Jar Salads For Busy People
These sweet kale superfood mason jar salads are perfect for busy people who want to eat healthy food but find themselves lacking the time to prepare the foods they really want to eat. Kick the quick, unhealthy solutions for lunch like pizza and opt for these easy superfood salads instead (no chopping involved!).
*This post was sponsored by Eat Smart as part of an Influencer Activation for Influence Central and all opinions expressed in my post are my own.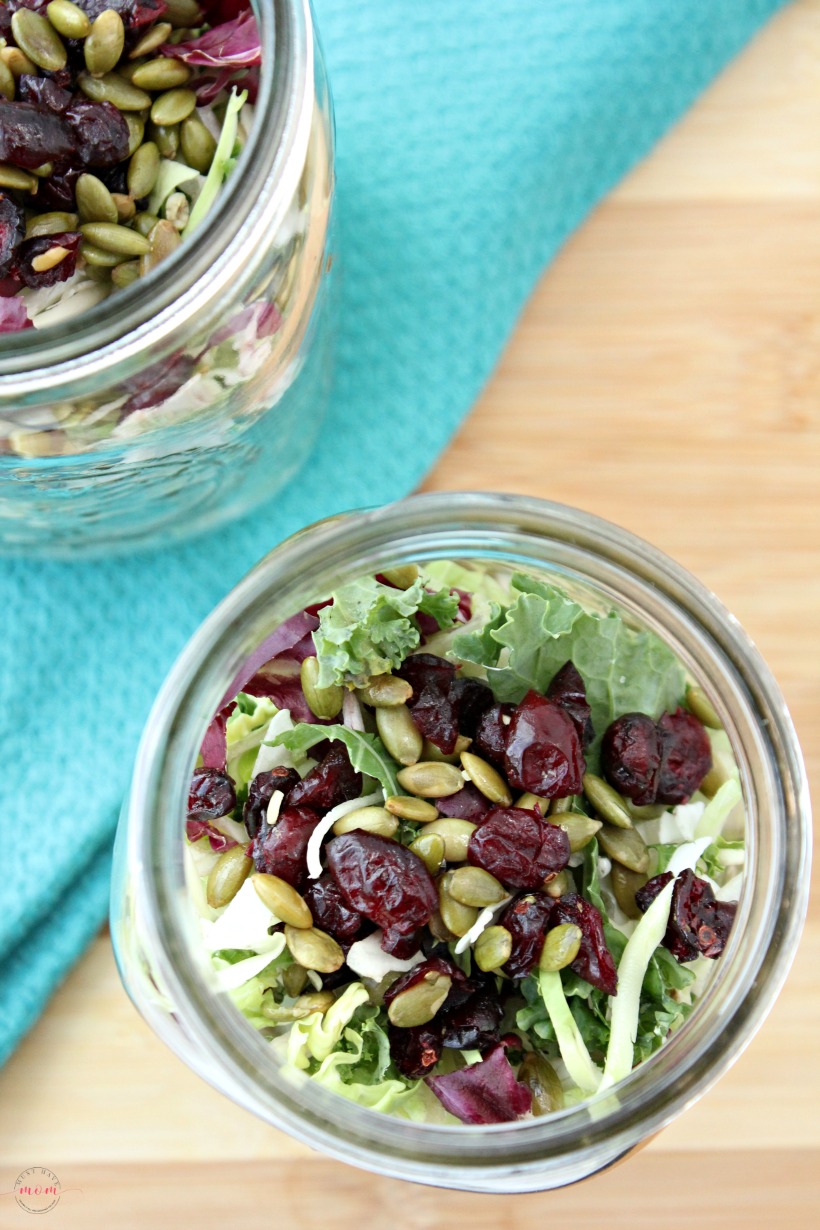 I began making mason jar salads many years ago and if you check out my mason jar salads post from back then you'll see that they were a hugely popular topic for my audience. It's been pinned nearly 100,000 times! That tells me that I'm not the only one who doesn't have time to fix healthy meals all week long. You're all searching for the same solutions as me. You want to eat healthy, but lack time to prep healthy lunches that taste great. That is precisely why mason jar salads are so popular! They can be assembled on Sunday and will last all WEEK long in the fridge! That means one quick evening of meal prep and you're set. But maybe you still are SO short on time that you don't have time to concoct different recipes, shop for ingredients and chop and prep them all. Well, for those of you that are lacking prep time, but long for those delicious mason jar salads, I've got an amazing solution for you that will put mason jar salads in your fridge in 5 minutes time. Don't beleive me? I'll show you how because I'm a total skeptic of claims like that too.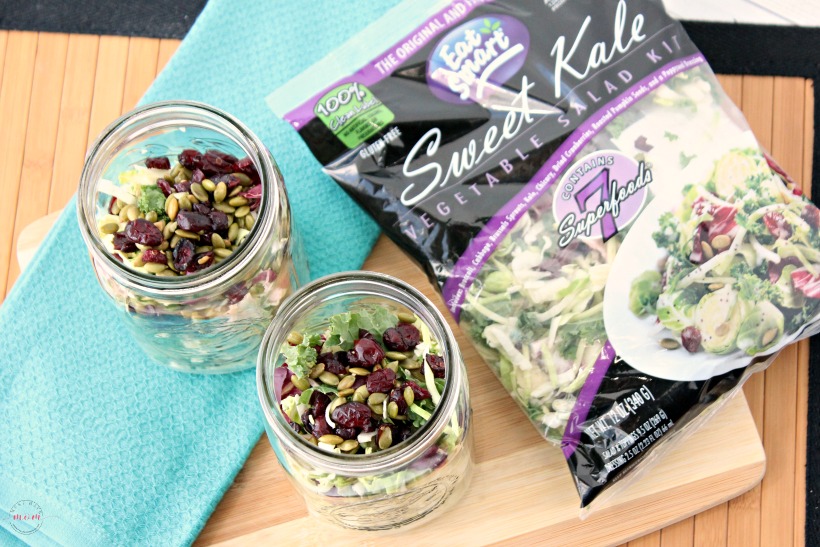 These superfood sweet kale mason jar salads require one ingredient on your shopping list and will require only one aisle be walked down and one package be grabbed. Easy enough? Okay, good! Head to Walmart and visit the produce section. Grab a bag of the Eat Smart Sweet Kale Vegetable Salad Kit with 7 Superfoods for every 2 mason jar salads you want to make. I typically buy 2-3 bags at a time and make 4-6 salads for the week. These are the perfect grab and go lunch option and I like to have enough on hand for both my hubby and I to eat. That's all you need! Make sure you also have 2 quart size mason jars and lids on hand for each salad kit.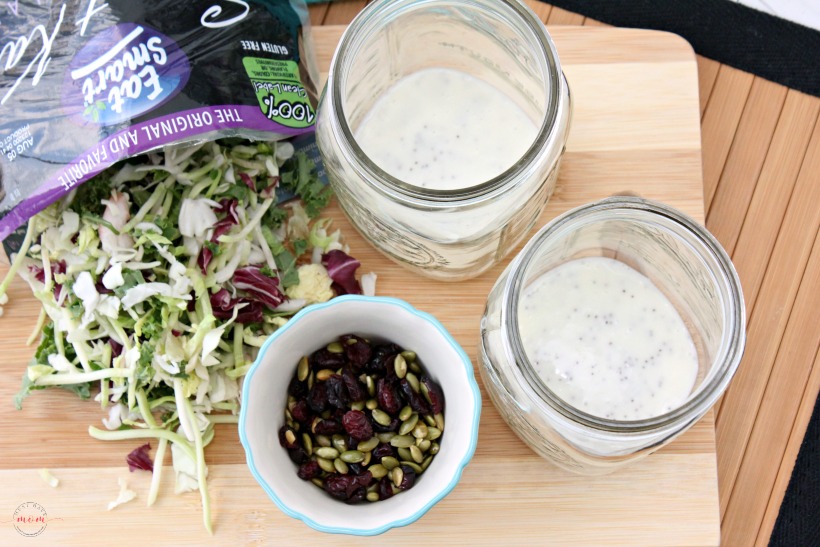 Assemble the Mason Jar Salads
Now when you arrive home from shopping don't even bother putting these in the fridge. Get right to putting them in jars and in 5 minutes you'll be done for the entire WEEK!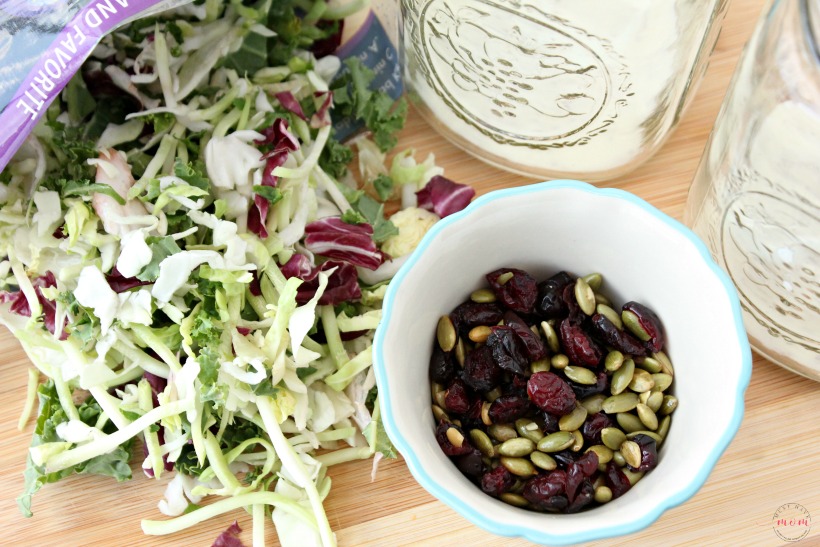 Each Eat Smart Sweet Kale Vegetable Salad Kit contains everything you need to assemble your salads (even the dressing!). I love these kits because the nutrient-dense Gourmet Sweet Kale Salad Kit is 100% Clean Label. No Artificial Colors, Flavors, or Preservatives to worry about. I don't have to hunt down clean ingredients for my salads, they're all included.
This chef-inspired salad kit is a unique blend of seven superfoods – kale, green cabbage, broccoli, Brussels sprouts, chicory, roasted pumpkin seeds and dried cranberries – completed with a delicious poppy seed dressing. Begin by dividing the dressing packet in half, putting half the dressing in the bottom of each of your two quart-size mason jars.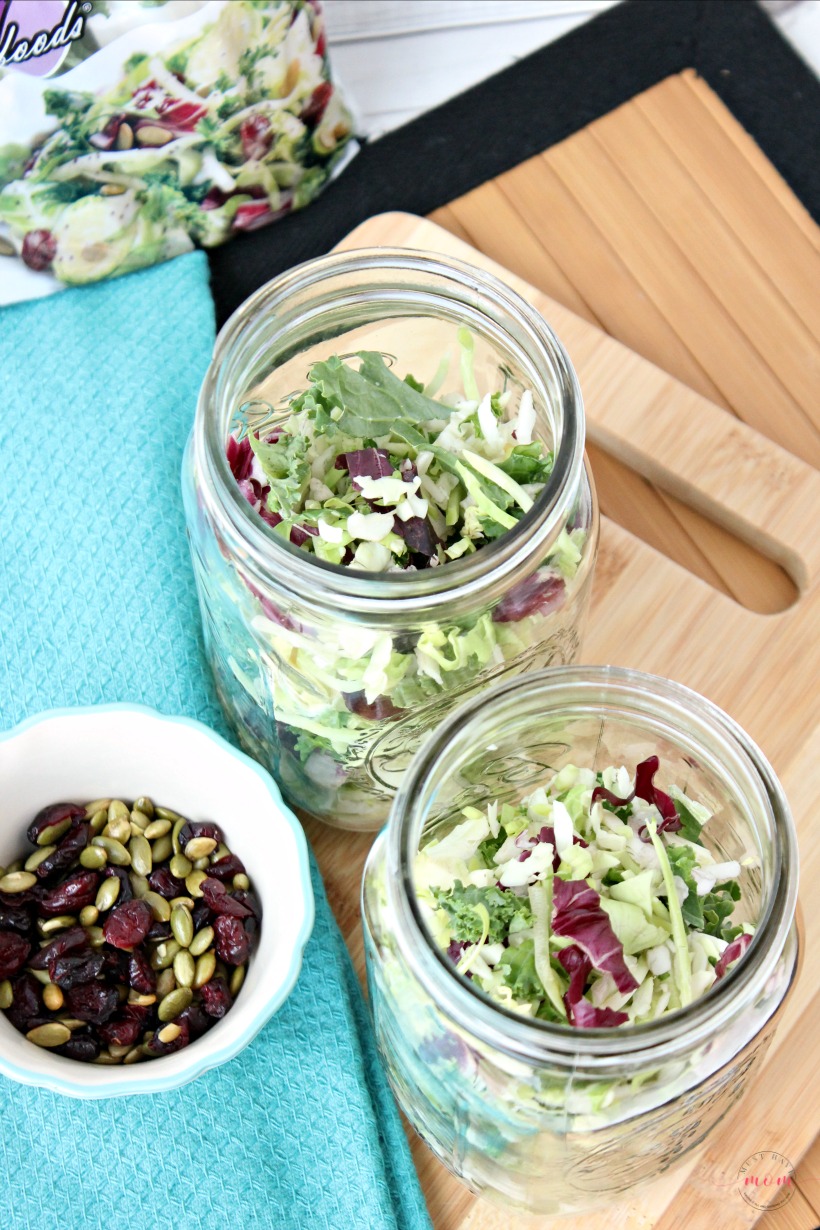 Then, divide the salad mixture between the two jars evenly.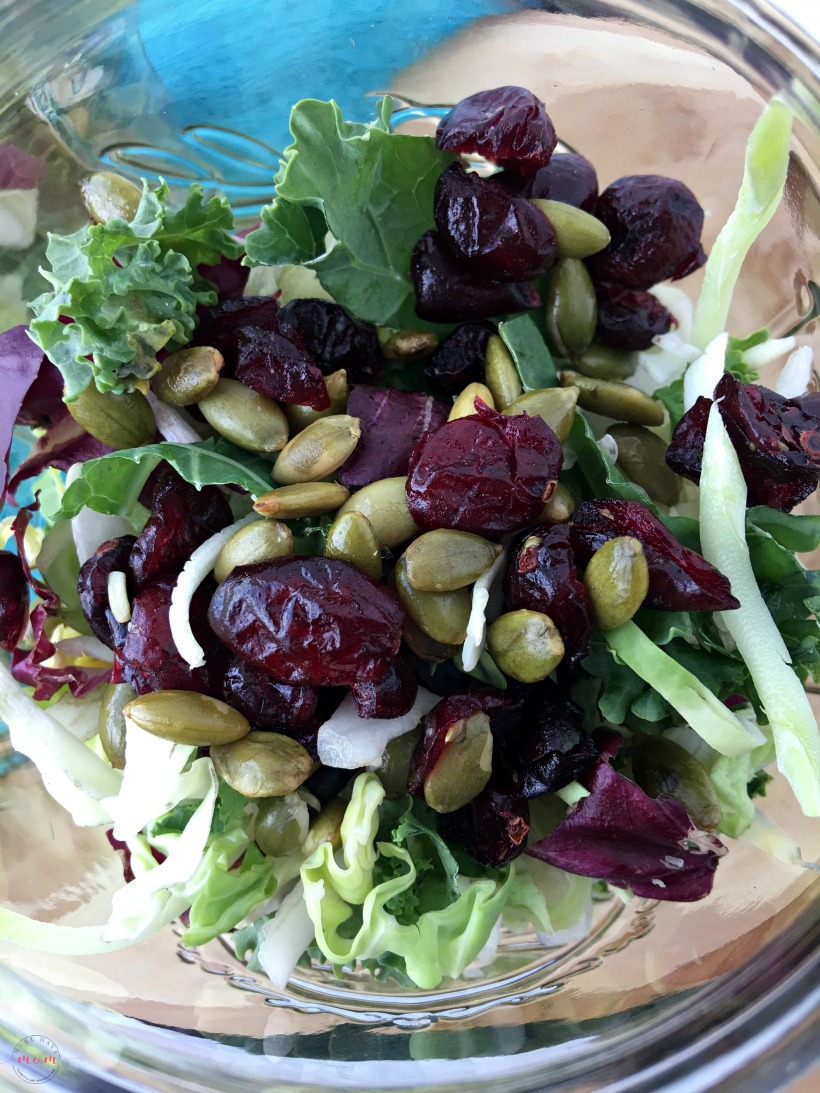 Now, add your pumpkin seeds and cranberries mixture on the top!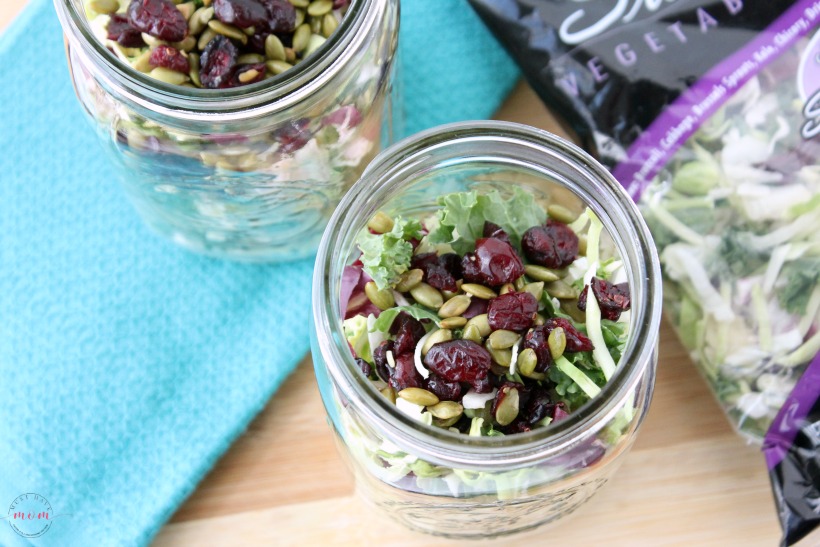 That's it! I told you it would only take you 5 minutes. Now don't shake it or mix it yet. Just place the lid on it and put it in the fridge. I prefer to use these storage lids because they are one piece and are easy to put on and take off as well as being easy to wash. Place in the fridge and grab one whenever you need a quick, easy meal that is healthy too! They will last a week in the fridge. When you are ready to eat them simply give them a shake to mix the dressing up and eat it out of the jar or dump out onto a plate. It can't get any easier than this folks. No excuses for not eating healthy. This is by far the fastest healthy meal I have. If you're still craving that unhealthy pizza lunch, give my buffalo chicken pizza recipe (21 day fix approved) a try and alternate your mason jar salads with healthy pizza!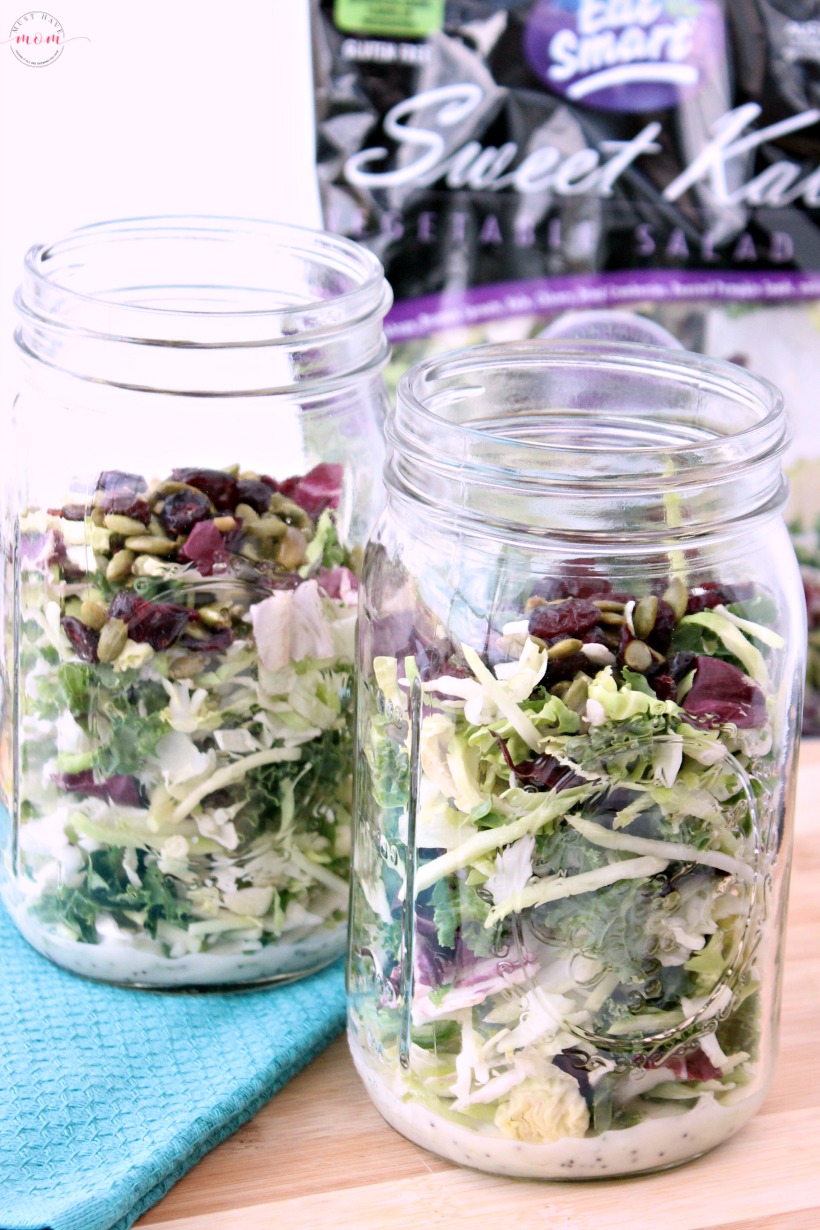 Eat Smart is the first brand within its category to commit to clean ingredients and labeling, with plans for all products to contain a "100% Clean Label" by the end of 2018. All Eat Smart products will be free from artificial colors, flavors, and preservatives by the end of next year. This popular nutrient-dense Gourmet Sweet Kale Salad Kit is 100% Clean Label and is now available in Walmart stores nationwide!
Sign up for the Eat Smart newsletter to stay on top of their latest clean label products, and receive exclusive offers!
Pin the Once-A-Week Mason Jar Salads:

Buy Mason Jar Salads Supplies:
Eat Smart Sweet Kale Salad Kit

Ball Mason Wide Mouth Quart Jars with Lids and Bands, Set of 12

Ball Wide-Mouth Plastic Storage Caps, 8-Count