Surprising Things Your Toddler Can Do Themselves (And Why You Should Let Them!)
*This conversation is sponsored by Pampers at Sam's Club. All opinions are my own.
As a mom to four young children I have learned a LOT over the years and one piece of advice that I received really stuck with me. What was that golden nugget of information? Don't do for your kids what they can do themselves! Truly, you will raise more independent, self-reliant children and you'll save your own sanity by raising kids that don't require you to do everything for them. Trust me, you'll burn out if you keep doing it all for them! I'll show you how easy it is to do this and also reveal surprising things that toddlers can do for themselves.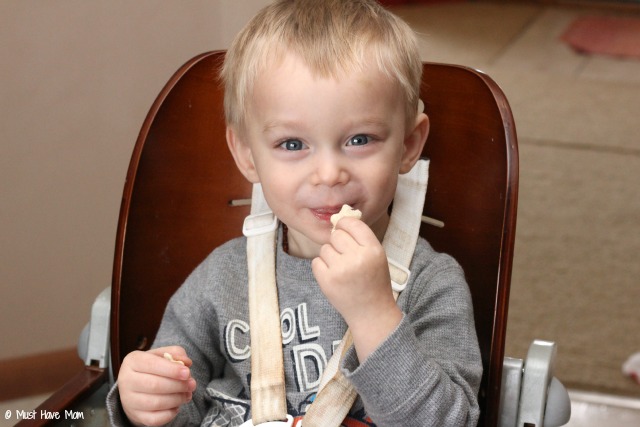 Surprising Things Toddlers Can Do For Themselves
Part of raising our children is to teach them things and equip them for adulthood. This job doesn't start once they hit the teen years though, it starts from day 1! Here are some surprising things toddlers can (and should) do for themselves. I'll touch more on why you should let them near the end!
1.) Toddlers can feed themselves – It can be tempting to continue to feed your toddler because they are messy and often play with the food more than they eat it, but resist that urge to neatly feed your child each meal. Learning how to pick up foods, hold a fork and scoop a spoonful of cereal are all part of learning life skills they need to know. Provide easy to pick up foods so they can practice their pincer grasp (try these mini PB&J bites!).
2.) Clean up their spot – This will depend on what stage of toddlerhood they are in. You might have a very helpful one-year-old that loves to swipe everything off their high chair tray. This can be very frustrating but it does pass! Once your toddler hits age 2 they should be able to help clear their spot and put dishes in the sink. This is yet another life skill that they need to practice. Will they do it perfectly? Of course not, but practicing it is more important than how clean they are able to get their place.
3.) Help make food – As your toddler hits age 2 and 3, they are able to make simple things like a sandwich or cheese and crackers and you should let them! They won't make it perfectly, and it will be messy, but once again this is an important skill.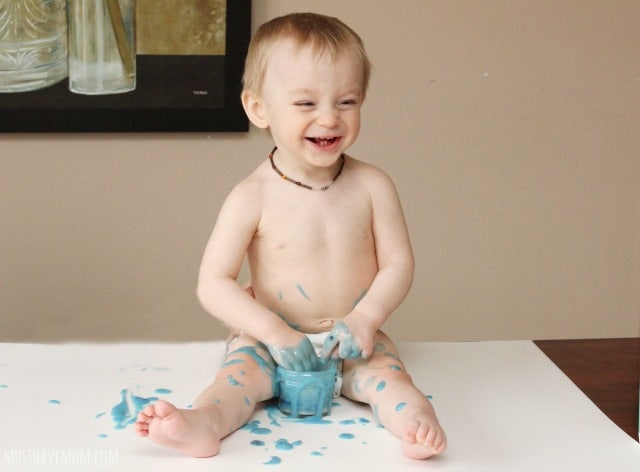 4.) Clean up their toys – Kids as young as 1 year old should be encouraged to clean up their toys when they finish playing. Teach them to put them back in the bin or on the shelf and sing a clean up song to make it fun! Once they hit age 5, you'll be glad you instilled this skill in them from the start!
5.) Undress themselves – Before bath time I always tell my kids to take off their clothes. When they are younger they may only be able to remove a couple pieces of clothing and require help with the rest, but as they get older they'll master all of it! Resist the urge to do it for them all the time.
6.) Dress themselves – Just like undressing is a skill they will need time to master, so is dressing themselves. Let them do as much as they can and learn how to do it. When my kids are younger I will lay everything out on the floor the right way so they can easily slide their legs into their pants, and as they get older they are able to learn how to do it themselves.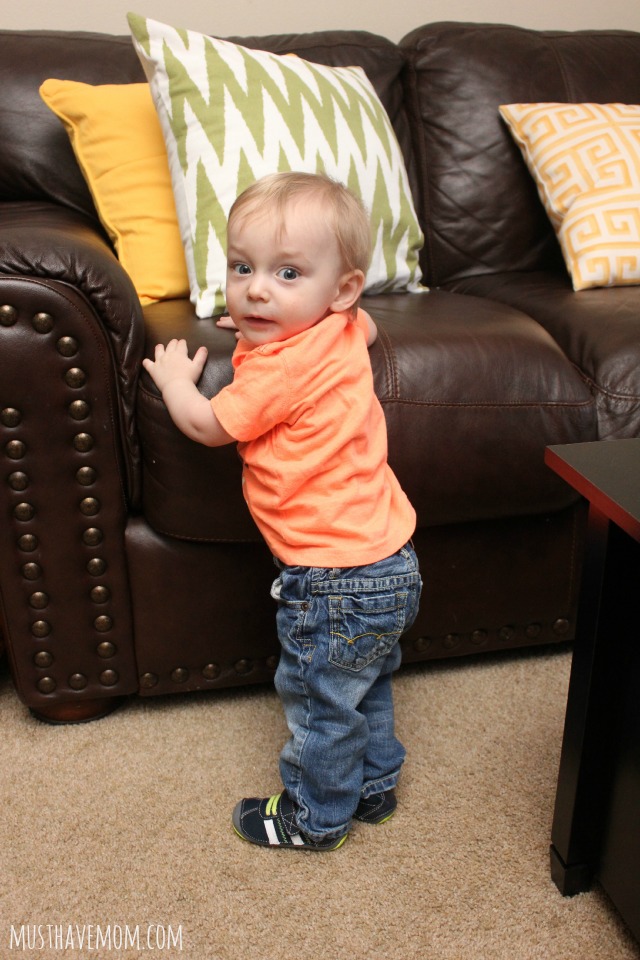 7.) Walking and Pulling Up – Learning to walk is one of the biggest milestones as your baby journeys from baby to toddler. Encourage them to learn by pulling up on furniture and giving them opportunities to walk around wherever you are. As they get older you can also encourage them to walk instead of ride in a cart or stroller. Learning to walk by mom (and stay near her) is an important skill.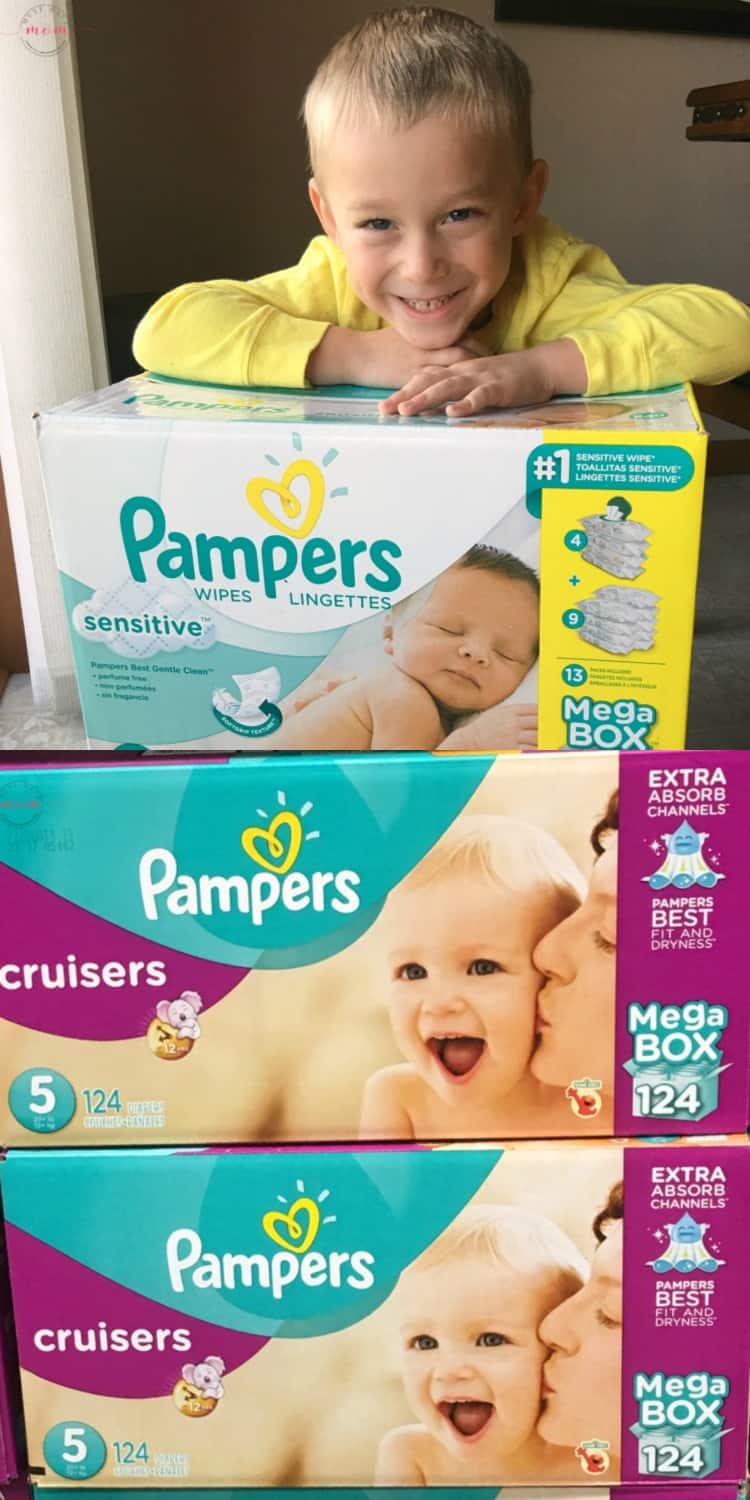 8.) Help put away groceries – As your child hits age 2, they can help put away the groceries when you get home from the store. Give them things that won't break (no glass) that they can carry to the pantry. My kids range in age from 3-9, and when I arrive home from grocery shopping I put away all the fridge stuff (to ensure nothing gets missed) and they put away all the dry goods. It saves me a ton of time and energy and since they've always helped with it, it's something they are really good at doing. Brady and I recently hit an amazing deal at Sam's Club on Pampers Cruisers and wipes so we stocked up. Here he is grinning with his pile. He wanted to put them away but they were too heavy so he pushed them across the floor instead!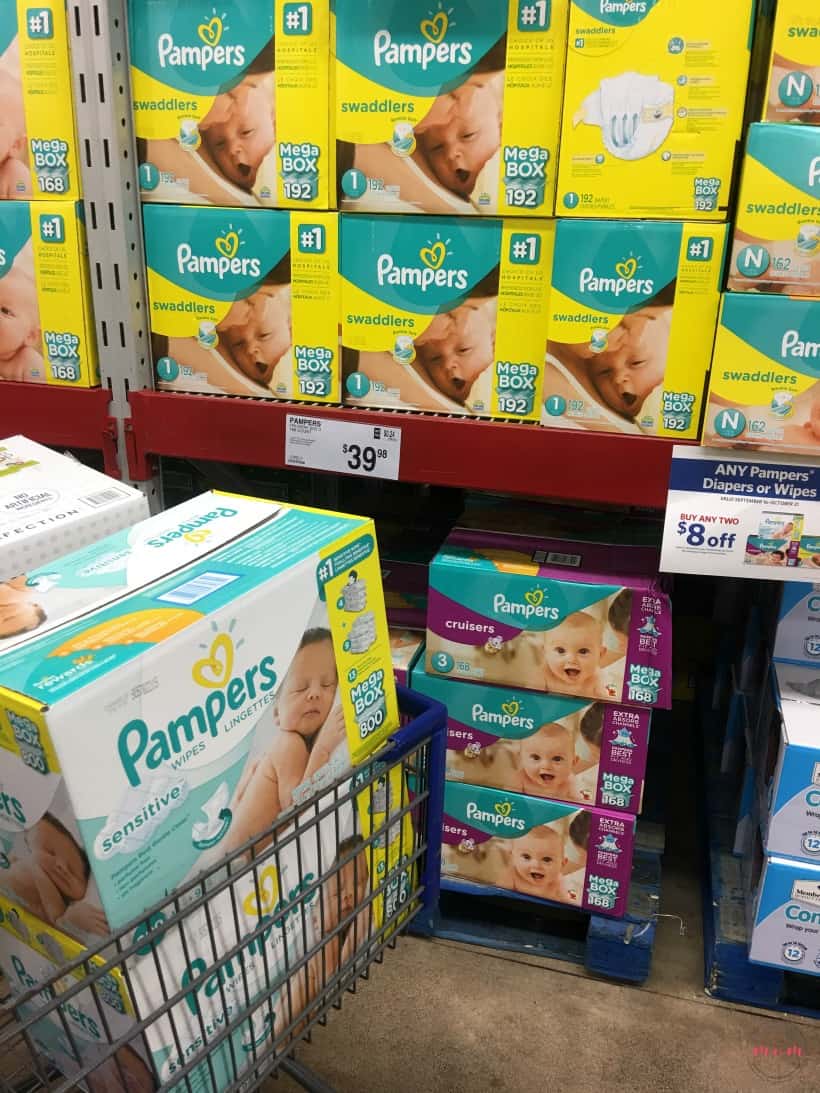 P.S – If you want to score the same great Pampers stock-up deal that we did, just head to your local Sam's Club where you can score $8 off the purchase of two Pampers diapers or wipes items AND free shipping or Club Pickup through October 31st.
I recommend the Pampers Cruisers if your baby is on the move! Cruisers' unique 3-way fit adapts at waist, legs and bottom for more flexibility and have Extra Absorb Channels for a 12-hour dryness and less sagging! The soft, stretchy sides help the diaper stay in place, flexing with baby's every move.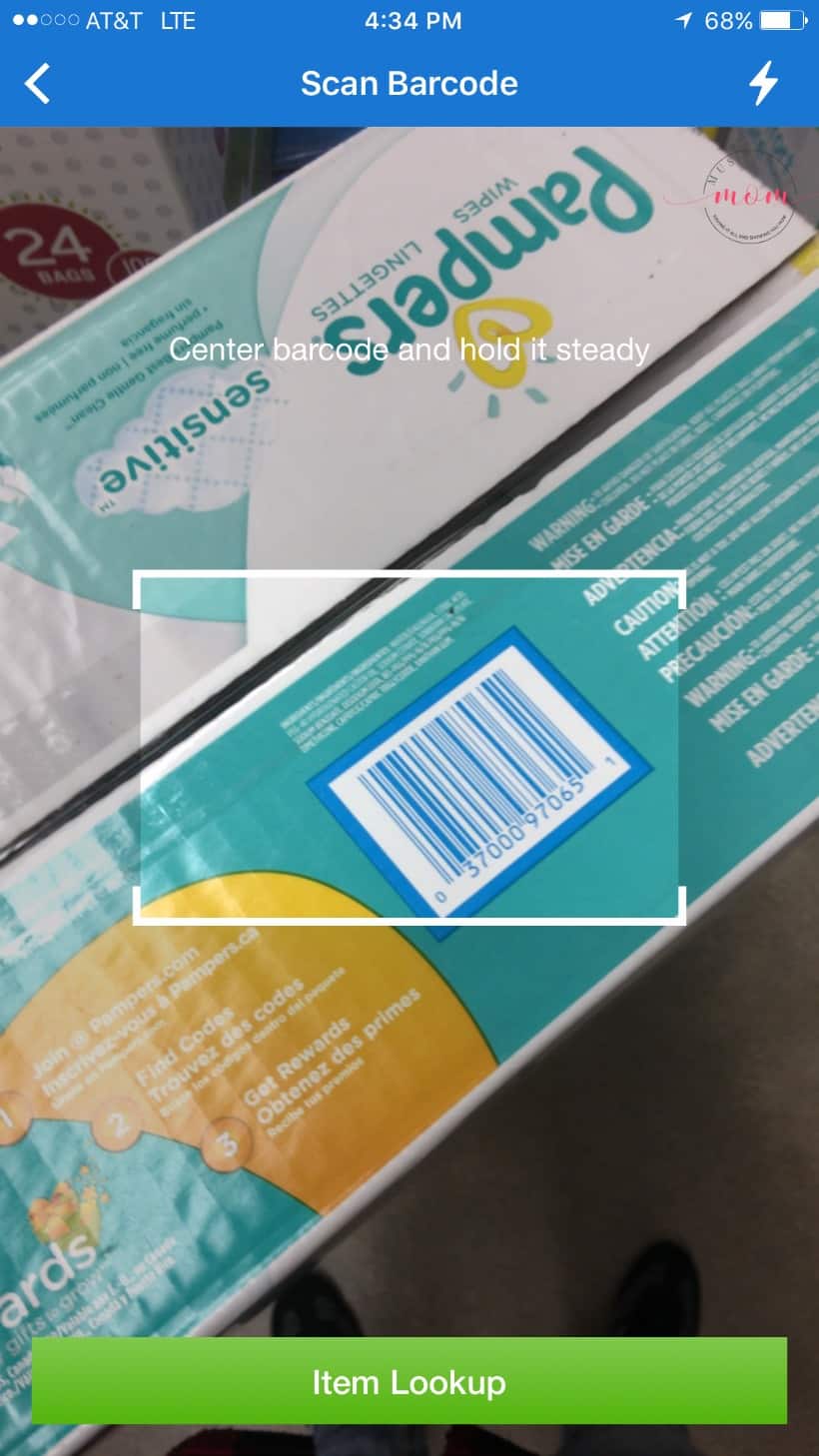 Pro Tip: Every mama knows that shopping with kids isn't always a walk in the park. Teaching your newly-walking toddler to stay nearby requires time, energy and patience. For those days when you're short on any of the above, I recommend using the Sam's Club Scan & Go App! Just download the app (apple or android), scan the items as you add them to your cart and you'll skip the checkout lines altogether!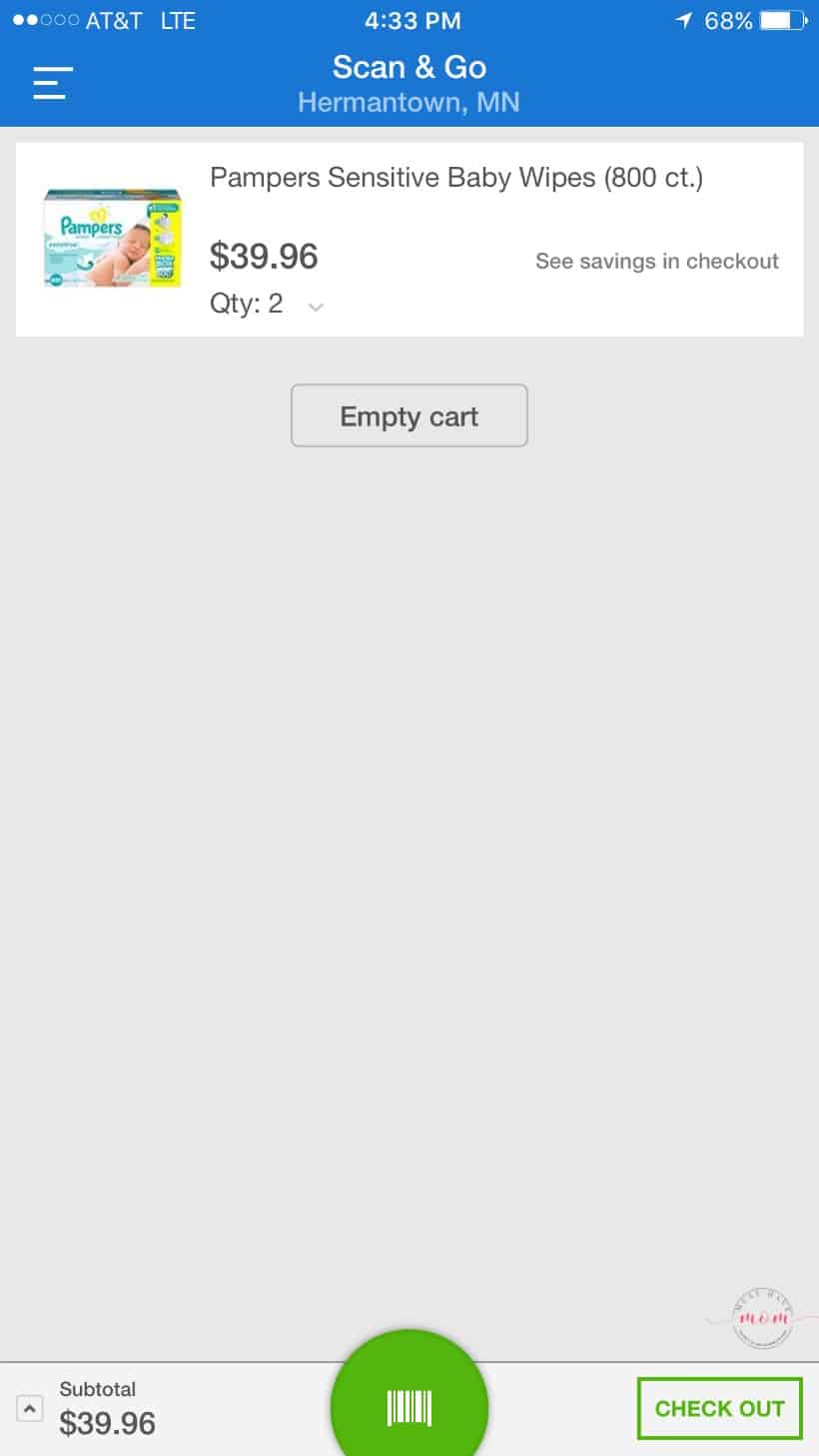 Once you have finished shopping and have everything in your cart added to the app, just hit Check Out and show the completed purchase at the door on your way out. That's it! No more screaming kids in checkout lines. Thank goodness right? Mamas rejoice!
OR….skip the store altogether and use pickup. Order your Pampers Cruisers on samsclub.com and select Club Pickup to have everything waiting for you when you arrive to the club. You don't even need to leave your car in some clubs – a life saver when you have kids in tow!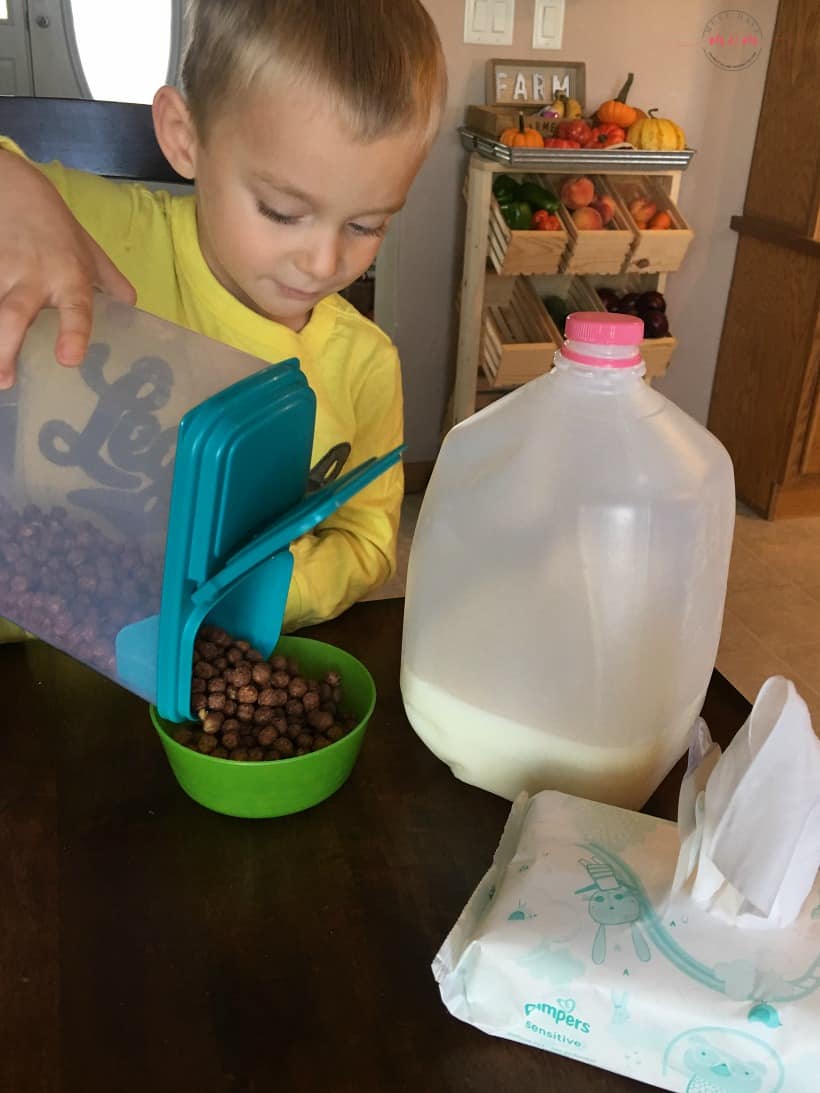 9.) Make breakfast – Breakfast is perhaps one of the easiest things you can let your child help with. I put our cereal in reusable containers with easy-pour lids and Brady loves being able to pour his own cereal. Since these containers are a bit easier to handle than a box with a bag inside, he feels confident and it gives him a sense of pride.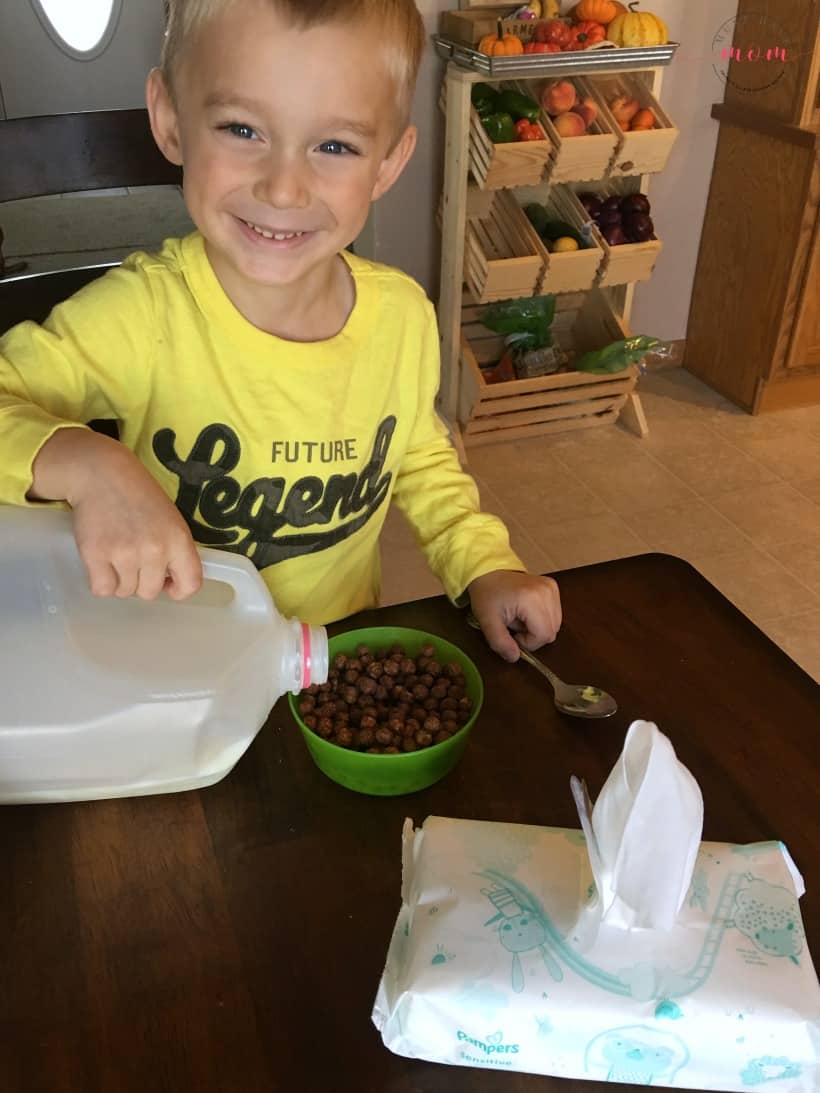 Why You Should Let Your Toddlers Do It Themselves
While it takes more time, energy and patience to let your toddler do things by themselves, it also builds lifelong skills that will SAVE you time, energy and frustration in the end. I look at the big picture here. When my kids were all little, the last thing I wanted was to let them destroy my kitchen while making peanut butter and jelly sandwiches, but I let them. Now my kids that are elementary aged are SO capable of doing things themselves.
My daughter is 9 and can make us this sheet pan dinner recipe all by herself (with supervision of course). My son who is 7 can make mac and cheese himself (I just dump the boiling water for him). And my 5 year old is amazing at cleaning (he actually loves it). My 3 year old can make toast himself and pour his own cereal. And guess what? They all are so proud of their independence.
While the battles can seem insignificant now, it is so important to let your child explore their independence and actually do things they are capable of. When you clean the house let your toddler dust and wipe down counters. They are actually really great at dusting baseboards because they are so short! Look at each situation in life as an opportunity for them to learn a skill, and in the end, your life will be easier as they get older. Stop doing everything for them and encourage them to do it! Remember it's fun for them too.
Pin Surprising Things Toddlers Can Do Themselves: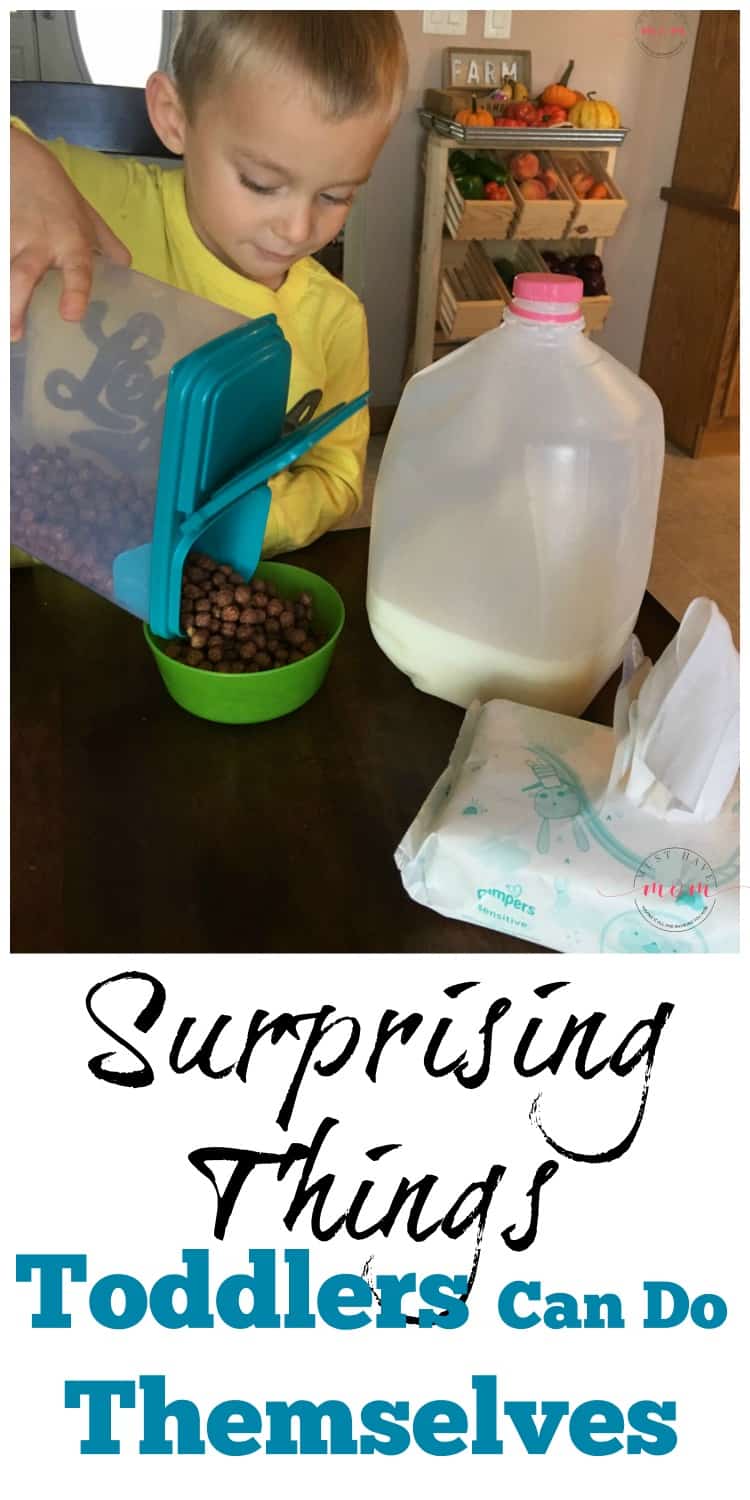 This is a sponsored conversation written by me on behalf of P&G. The opinions and text are all mine.