Outdoor Summer Math Game + Tips To Prevent The Summer Slide The Fun Way!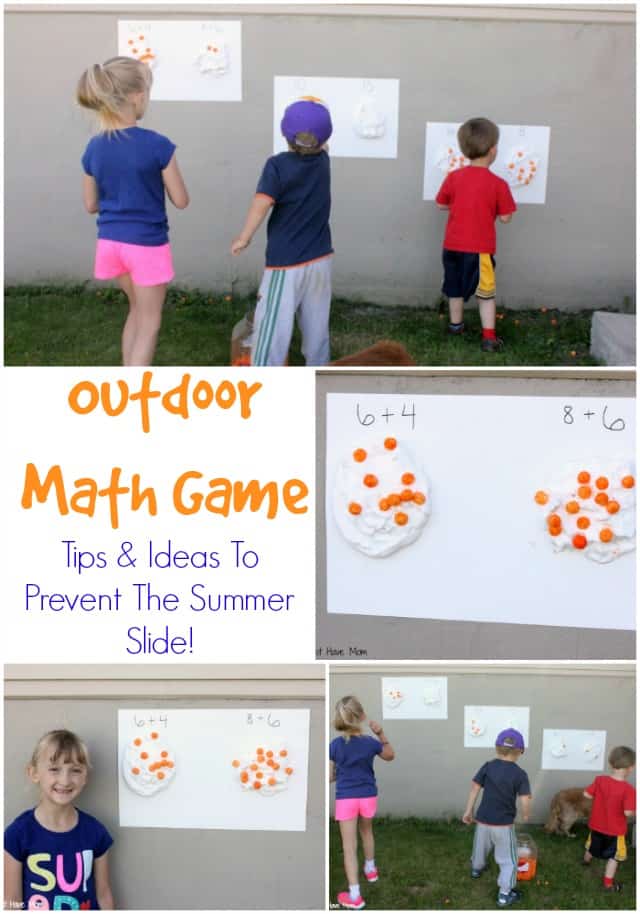 Did you know that research shows students lose two to three months of grade level math equivalency over the summer? I couldn't believe how much knowledge they lose over the Summer and after spending the entire year helping my daughter understand all of the new math concepts that were taught in first grade there was no way I was about to let her lose all of that over the Summer! I have some fun ideas for preventing the Summer slide and reinforcing your kids math skills! Trust me there will be no whining from your kids when you pull out these ideas!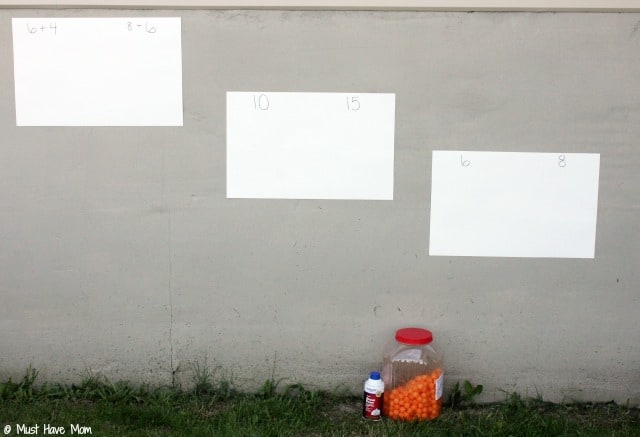 One of the hardest things for me when it comes to learning and Summertime is that my kids want to be outside all. the. time. I have learned to get creative. Learning doesn't have to take place at a table with a paper and pencil. We can use the world around us in all sorts of ways and make learning fun!
First up let's play a game of cheeseball math! This game was inspired by a tub of stale cheeseballs in my pantry and a leftover can of shaving cream from an outdoor pretend play coffee shop we set up (more on that to come soon!). How many of you have kids that leave the cheeseballs open in the Summer and in a matter of hours they are stale and disgusting? You too? Yeah. So next time your child does that you'll know what to do! Anyway, on to the game. I used 3 half sheets of posterboard (1 for each of the kids) and wrote numbers on the top for my 3 and 5 year old boys and wrote math problems on top for my 7 year old. I tailored it to their abilities.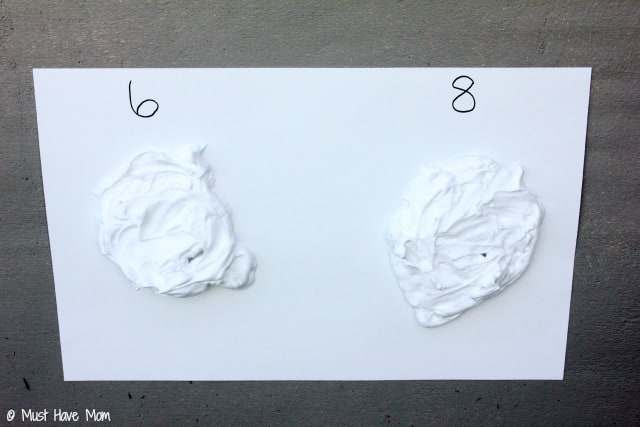 Then create shaving cream circles under each math problem which will serve as the target to toss the cheeseballs at. Now if you don't have stale cheeseballs sitting around, get creative! Use something else like hard marshmallows 🙂 Come on we all have something sitting around right?
Now instruct the kids to throw the correct number of cheeseballs at the target. For my younger boys this meant practicing number recognition and counting. For my daughter it meant solving a problem and then counting out the answer. It's also a lot of fun trying to get those cheeseballs on the target!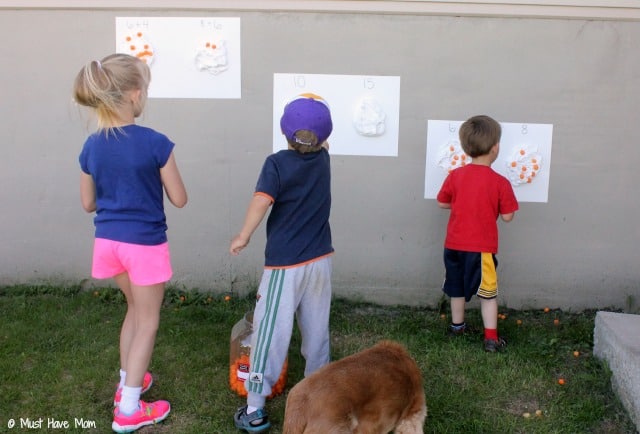 It definitely helps to have a dog who loves cheeseballs to clean up the ground!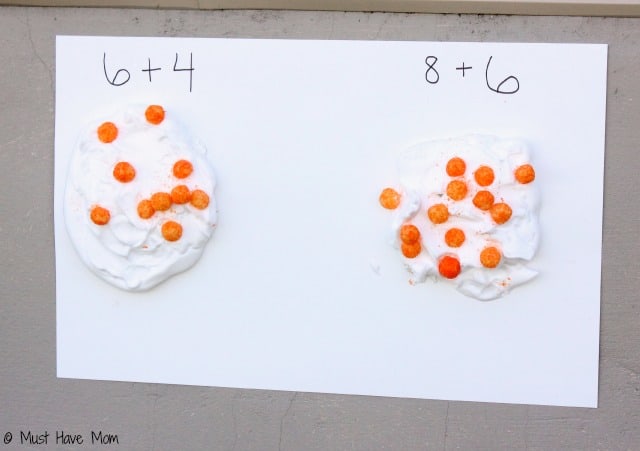 They were having lots of fun tossing them at the targets and counting them to see how many had stuck and how many more they needed. It was great math practice!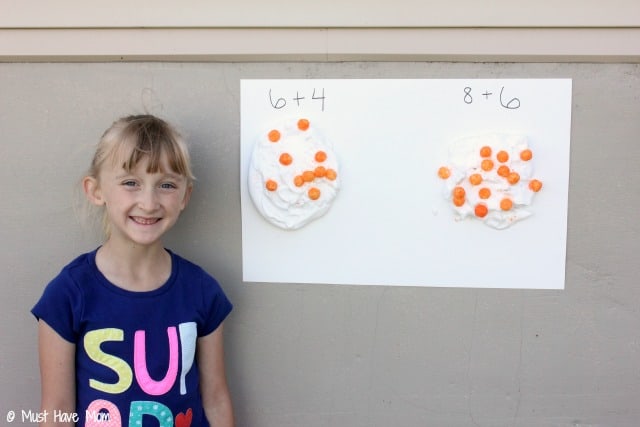 They were so proud of their work too! They didn't even realize I was doing a math lesson with them 🙂 They just thought I was a super cool mom to let them do this!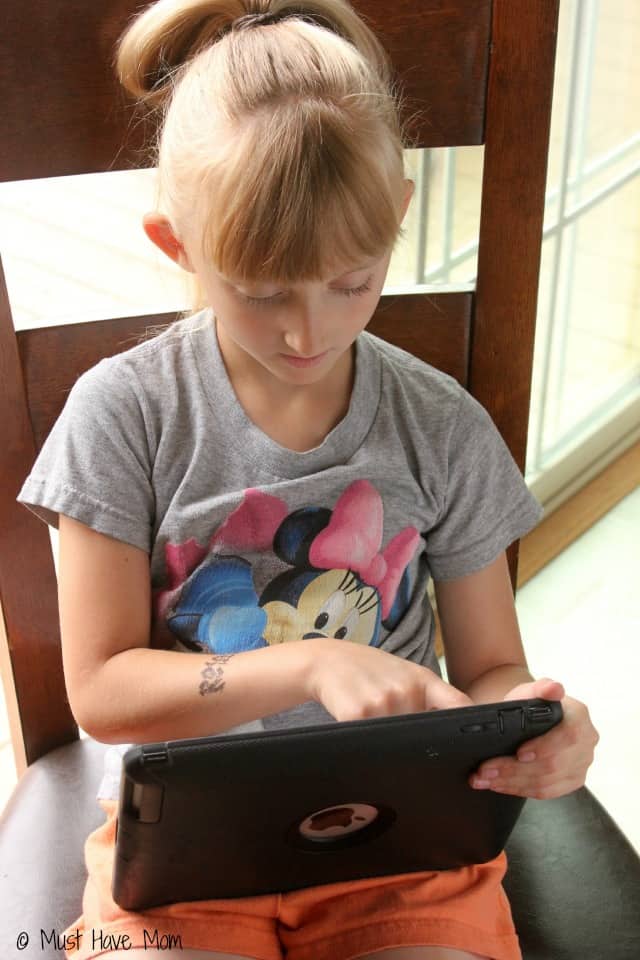 Another resource that we have begun using is an app called TenMarks. The TenMarks Summer Math Program is a national program that provides students with a personalized course tuned to their individual learning needs, and best of all, it's free! Danika is always asking me for time on the iPad so when I do let her play it I want it to be educational. She's thrilled to play the iPad and I'm thrilled she's studying!
Data from 2014 showed that the TenMarks Summer Math Program helped reverse summer learning loss for over 69% of participating students—in just 8 weeks, with one-hour of use per week, students tested at the beginning of the program and then again at the end of the program averaged 11% increase in scores.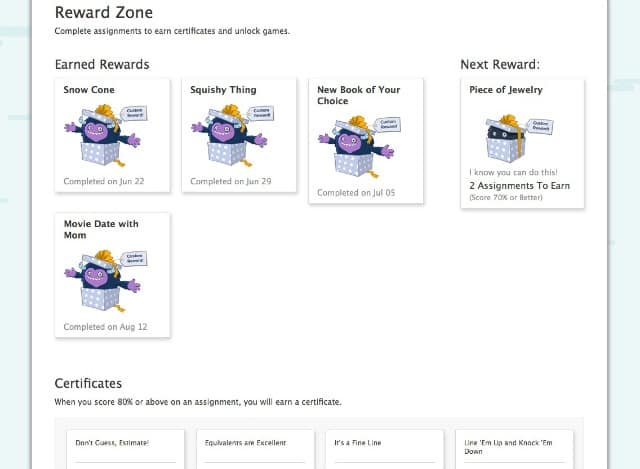 You can further motivate your kids by setting up rewards once they complete certain levels. Your kids will be striving to learn and conquer so they can earn fun rewards! There is a parent portal which allows you to track progress and create rewards. Your child plays on a separate link so they don't have access to this area. The program is tailored to your child's individual skills and they take a test when they begin to assess their current level of math. The TenMarks Summer Math Program is designed for students completing grade 1 through Geometry and Algebra 2. Danika has really enjoyed using this and I'm excited to keep her knowledge at the forefront and prevent the Summer slide!
The TenMarks program is available today and runs through August 31, 2015, and is available free to every family in the United States—parents should visit http://summer.tenmarks.com for more information and to sign up.  The TenMarks Math for Students app is available for tablets on iOS, Android or Fire OS.
How do you prevent the Summer slide?
Disclaimer: Compensation was provided by TenMarks via MomTrends. The opinions expressed herein are those of the author and are not indicative of the opinions of TenMarks or Momtrends.