This is a sponsored post written by me on behalf of Florida Department of Citrus for IZEA. All opinions are 100% mine.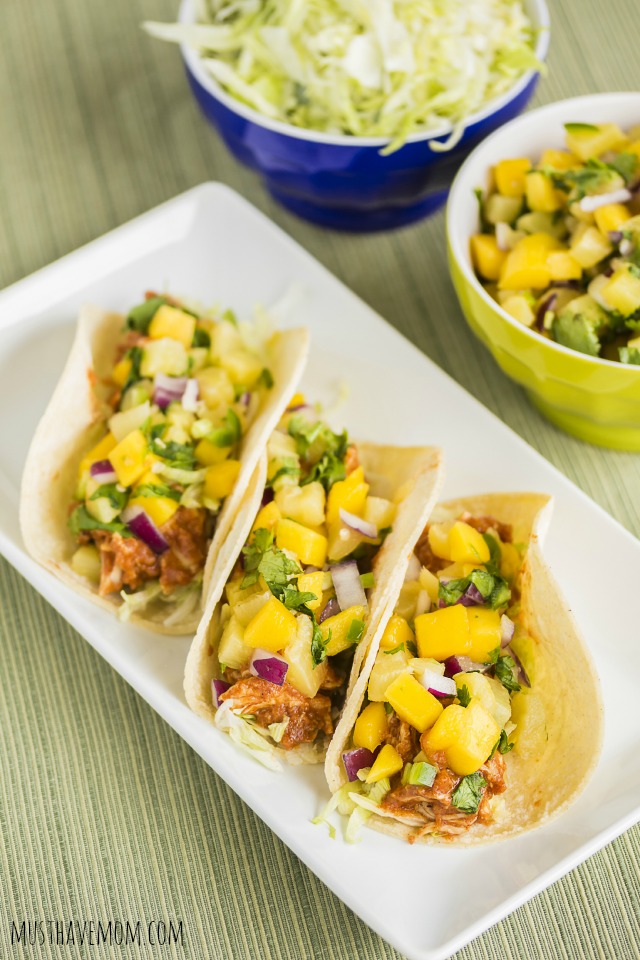 I love tacos. My Father in law jokes that he has never met such a white Mexcian because my husband and I LOVE Mexican. It's our favorite. I decided we could put a spin on our love for Mexican food and branch out and experiment with other flavors. These slow cooker Hawaiian Chicken Tacos are fabulous and the Pineapple Orange Salsa on top just takes the cake!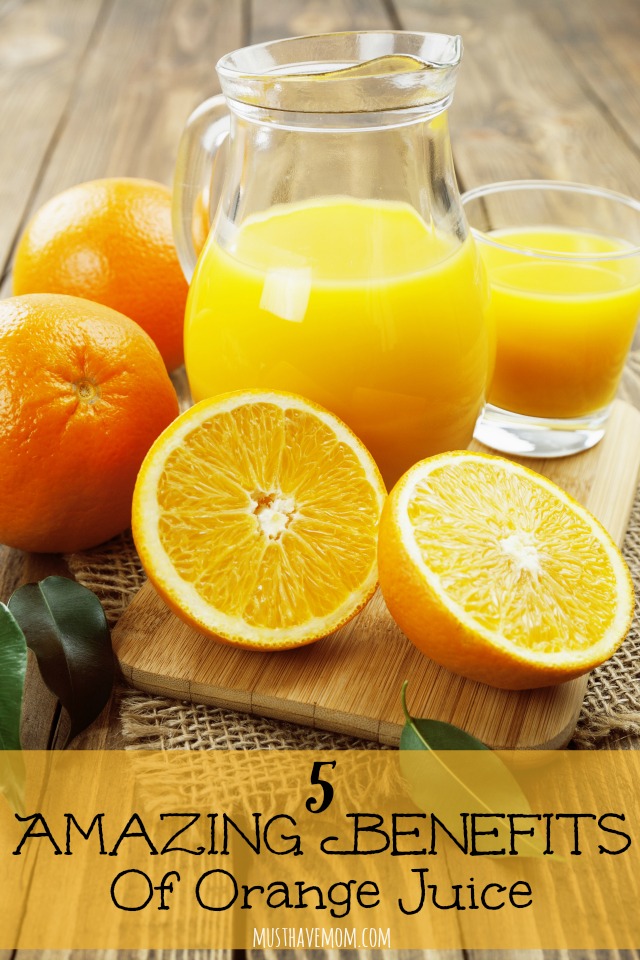 MY LATEST VIDEOS
I'm always looking for ways we can incorporate extra servings of fruits and vegetables in our diets. We don't ever seem to eat enough each day and sneaking them into our meals is a great way to add them to our diet. Did you know that 100% Florida Orange Juice has five amazing benefits? There is good reason to start your day AND end your day with a glass of 100% Florida orange juice.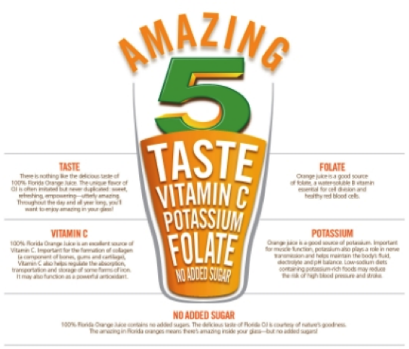 Inside each glass of 100% Florida Orange Juice you will find an "Amazing 5" benefits!
The delicious taste that's both refreshing and "amazing" is the most obvious! I love starting my day with a glass of 100% Florida orange juice!
100% Florida orange juice has no added sugar which means I'm not serving up a glass of sugar loaded OJ to my kids each morning.
8 ounces of 100% Florida Orange Juice is an excellent source of vitamin C which is important in the production of collagen which is a component of bones, gums and cartilage!
It's a good source of potassium which is important for muscle function, nerve transmission, and helps maintain the body's fluid, electrolyte and pH balance.
You'll also get a great source of folate in your 100% Florida orange juice which is a water soluble B vitamin that is essential for cell division and healthy red blood cells.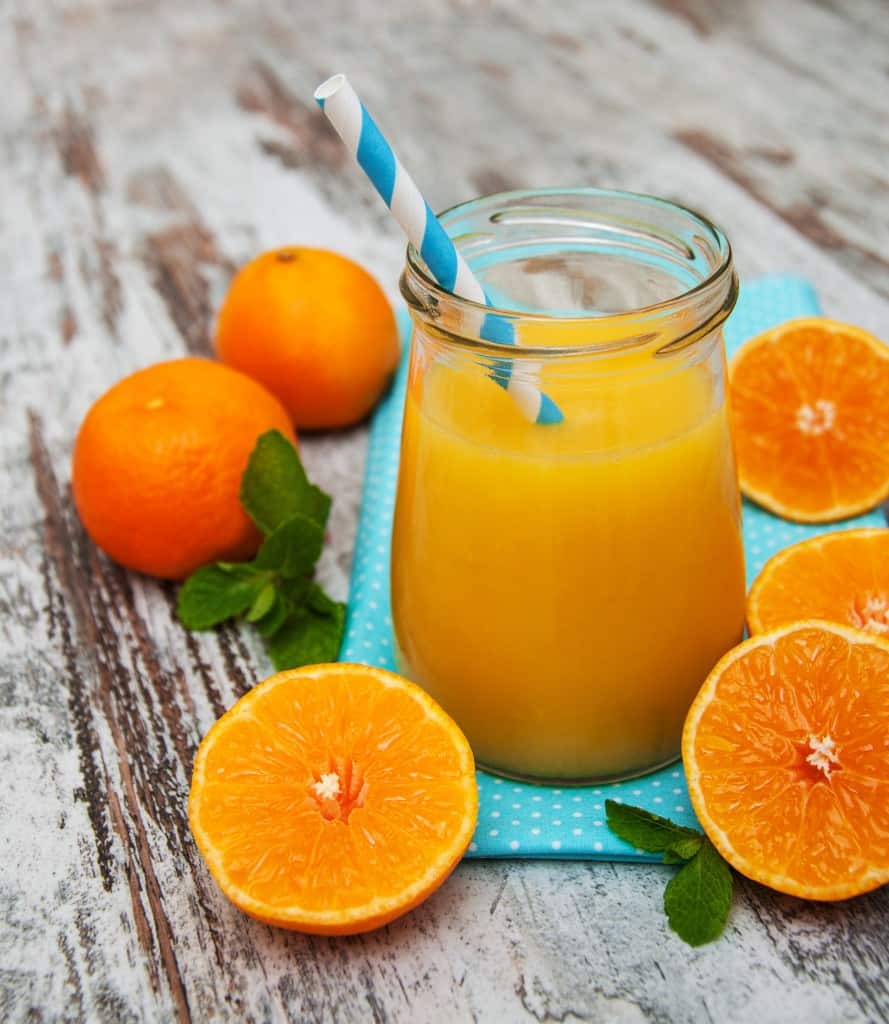 These are all great reasons to incorporate 100% Florida orange juice into your day! I love to start my day out with toast, a piece of fruit and a glass of 100% Florida orange juice. My kids love their cereal and by serving it alongside a glass of Florida orange juice I know I am helping them reach their daily servings of fruit. Most families do not get the necessary servings of fruits and vegetables in their diets. Start the New Year off right by serving 100% Florida orange juice and incorporating it into your meals!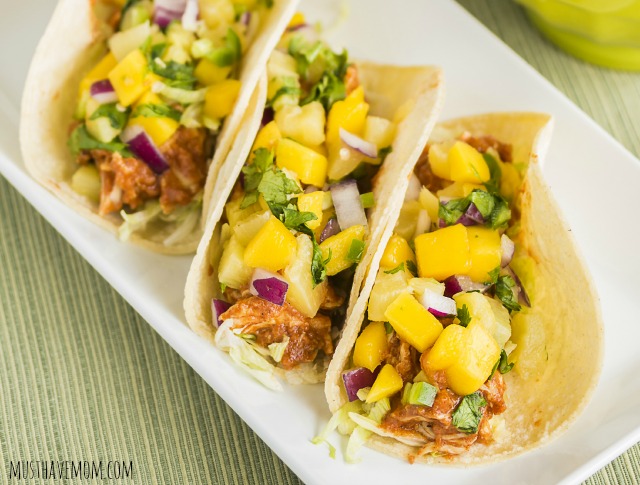 Print off the Slow Cooker Hawaiian Chicken Tacos Recipe and the Pineapple Orange Salsa recipe below or pin them for later! 
Sarah | Must Have Mom
Yields 6
Slow Cooker Hawaiian Chicken Tacos With Pineapple Orange Salsa Pineapple Orange Salsa
Easy slow cooker recipe bursting with flavor!
15 minPrep Time
8 hrCook Time
8 hr, 15 Total Time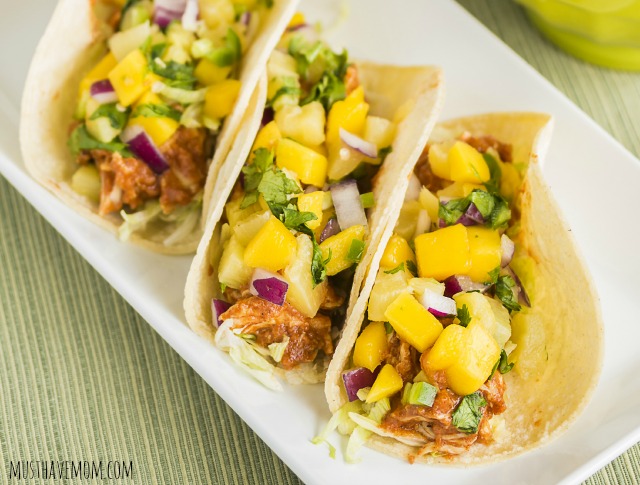 Ingredients
Hawaiian Chicken!

3 lbs boneless skinless chicken breast
1 cup unsweetened pineapple juice
1/2 cup Florida orange juice
1/2 cup honey BBQ sauce
1/3 cup soy sauce
1/4 cup apple cider vinegar
1/4 cup brown sugar
2 cloves garlic, minced
1 teaspoon minced ginger
1-2 tablespoons sriracha
12 flour tortillas
1 cup Queso Fresco cheese, shredded
Pinapple Orange Salsa (print off a recipe below)
1 Cup fresh pineapple, diced fine
1/4 teaspoon orange zest
1/2 Cup Florida orange juice
1 jalapeno, seeds removed, diced
1/2 red onion, diced
2 tablespoons fresh cilantro leaves, chopped, plus 2 tablespoons for garnish
Pinch salt
1 tsp raw honey
Instructions
Spray a crock pot with non-stick cooking spray or use a plastic liner.
Combine the pineapple juice, soy sauce, BBQ sauce, apple cider vinegar, garlic, ginger, brown sugar, and sriracha in a large bowl and stir until well mixed.
Place the chicken breasts in the slow cooker and cover with the pineapple juice mixture.
Cover and cook on low for 8 hours.
When the chicken is fully cooked, shred with 2 forks in the sauce and mix together to coat.
Let it sit in the sauce for another 30 minutes to marinate well.
Serve on the flour tortillas and top with pineapple orange salsa and Queso Fresco.
Combine all ingredients in a bowl and mix well.
Serve alone with chips or use it to top Hawaiian Chicken Tacos.
Store in an airtight container in the fridge.
7.6.7
263
https://musthavemom.com/slow-cooker-hawaiian-chicken-tacos-pineapple-orange-salsa/
What is your favorite way to incorporate orange juice in your day?