Easy Freezer Lasagna Recipe – Make Ahead And Freeze For Later
This is a sponsored post written by me on behalf of SOLO® Brand Products. All opinions are 100% mine.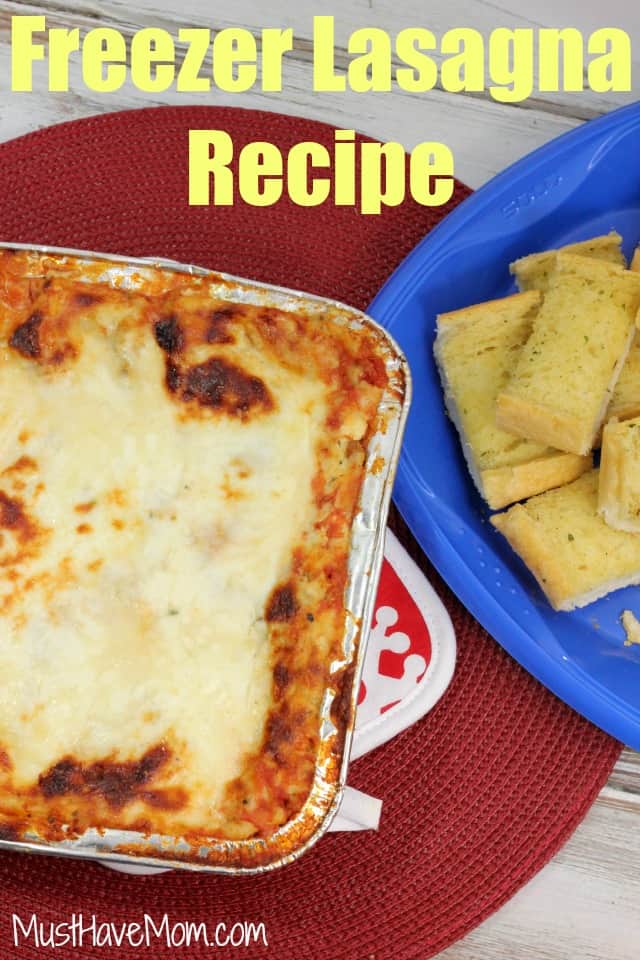 I love making easy freezer meals ahead of time and always having a freezer stocked with homemade, ready to eat food. Lasagna is one of the easiest and tastiest freezer meal recipes around. I've adapted my Italian sausage lasagna recipe to be very freezer friendly with minimal prep involved! Now you can make your own freezer lasagna recipe instead of buying preservative laden meals at the grocery store.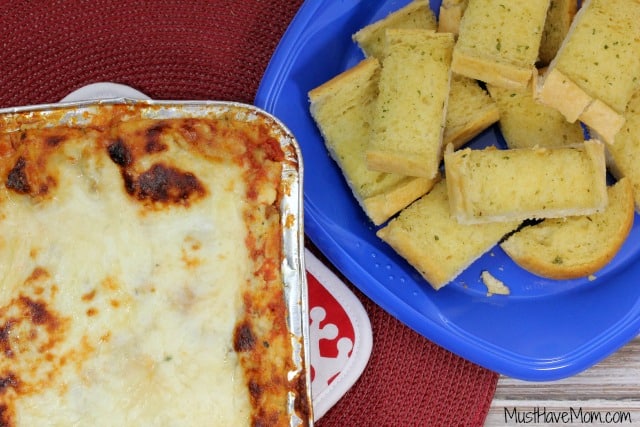 Print this recipe off now or Pin it for later!
Easy Freezer Lasagna Recipe
Easy lasagna recipe that can be made ahead and frozen to be cooked later.
Ingredients
1

# ground Italian sausage

or lean ground beef

1/2

cup

onion

chopped

1

clove

garlic

minced

3

Tbsp

fresh parsley

chopped

1

Tbsp

fresh basil

chopped

1

tsp

sugar

1

14 1/2 oz can diced petite tomatoes

1

15 oz can tomato sauce

12-16

lasagna noodles

uncooked

2

cups

cottage cheese

1/2

cup

grated Parmesan cheese

1

Tbsp

fresh oregano

chopped

2

cups

shredded mozzarella cheese
Instructions
In a large saute pan cook sausage, onion and garlic over medium heat, stirring occasionally, until no longer pink.

Drain grease and return to pan.

Stir in 2 Tbsp of the parsley, the basil, sugar, tomatoes, and tomato sauce.

Heat to boiling, stirring occasionally.

Mix together cottage cheese, 1/4 cup of Parmesan cheese, the oregano and remaining 1 Tbsp of parsley in a medium bowl.

In a 9x13 pan (or 2 8x8 pans), spread 1/2 of the sausage mixture on the bottom. Cover the sausage mixture with the uncooked noodles (they will cook later during normal cooking and don't need to be boiled ahead).

Spread half the cottage cheese mixture over the noodles.

Sprinkle with 1 cup mozzarella cheese

Add a layer of uncooked noodles

Top with remaining sausage mixture

Top with a layer of uncooked noodles

Cover with remaining ricotta cheese mixture

Sprinkle with remaining mozzarella cheese and remaining 1/4 cup of Parmesan cheese.

Then freeze: Cover with a layer of plastic wrap pushed down against the cheese. Then wrap in a layer of foil, label and freeze.

To cook: Thaw in fridge overnight and bake covered at 350 degrees F for 45 minutes, uncover and bake an additional 15-20 minutes until hot and bubbly. If cooking from frozen add an additional 35-45 minutes until hot and bubbly.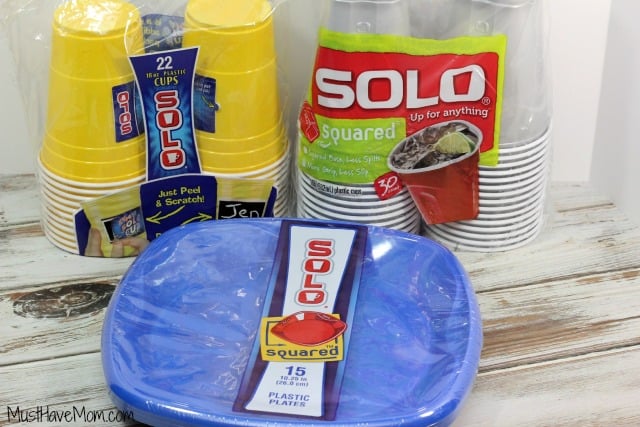 Then make sure you have SOLO Squared plates and cups on hand or grab my favorite SOLO Peel & Scratch cups and then you'll be ready for anything! You can whip out the lasagna and bake it and serve it on your SOLO plates and cleanup will be a breeze!
Not Every Cup is a SOLO cup you know! Only SOLO is Squared and includes Clear cups, Ultra cups – in different colors, & 'It's My Solo' Cups – you can simply peel the label, make your mark by scratching your name, and let the fun begin! SOLO is more than just cups though and also offers Paper, Heavy Duty and Premium Strength products. So grab your favorites and keep them on hand this holiday season!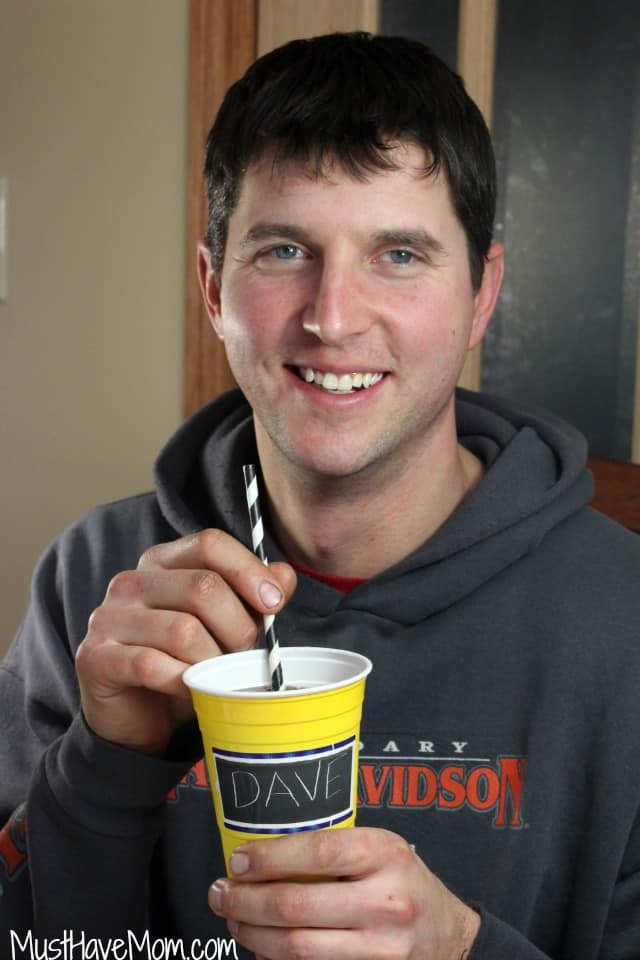 My husband and I are pretty much up for anything so when my family stopped by the other night I popped one of my frozen lasagnas in the oven and broke out the SOLO cups and plates and we had an impromptu get together. It was a blast!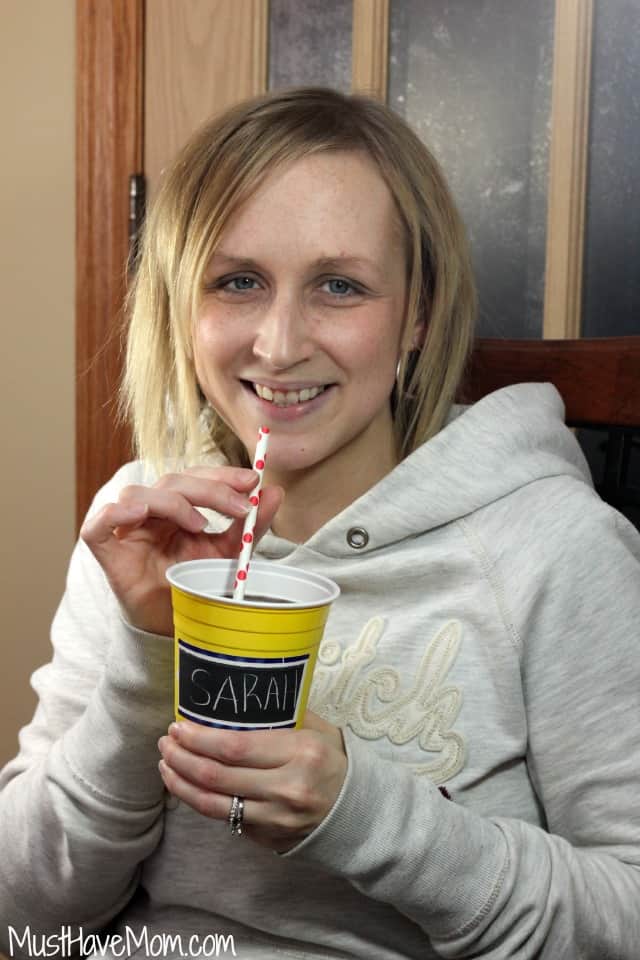 I thought the peel & scratch cups were pretty cool. They look like a chalkboard and you use your nail to scratch in your name. I love not getting my cup mixed up with anyone else's cup too! I'm a bit of a germ-o-phobe.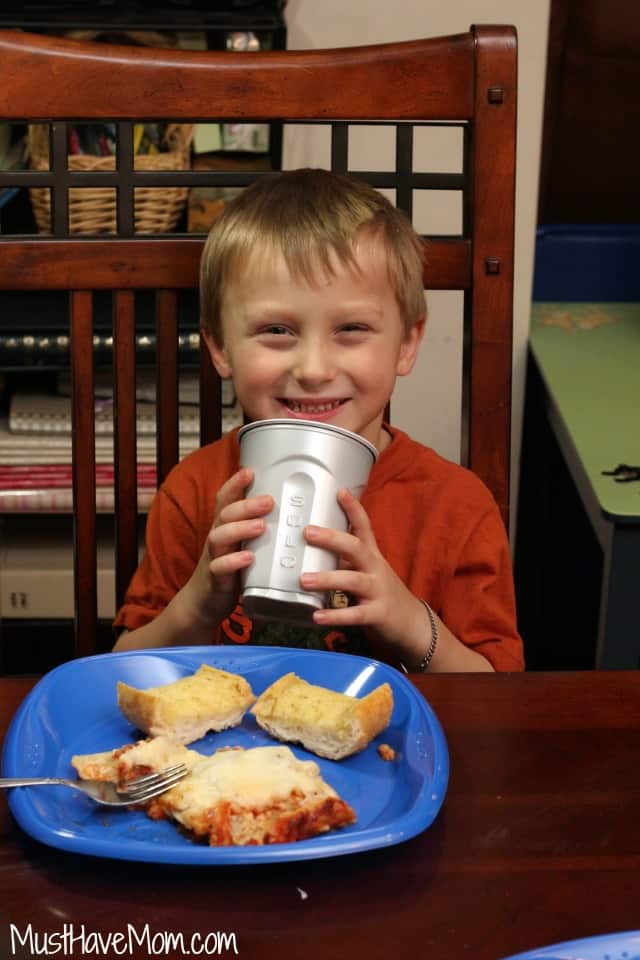 The kids were happy to have fun cups with a special drink in them too.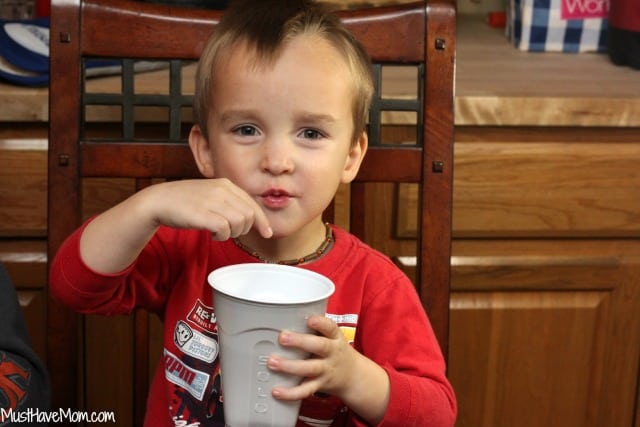 Carson said "What IS this?!" because we let him try some root beer. He thought the fizz was funny!
It doesn't have to take a lot of planning to throw a party! With the holidays upon us, it's that time of year when unexpected guests stop over. Be ready for them with my freezer lasagna recipe and some SOLO cups and plates. It's all you need!
Check out these SOLO® Up for Anything videos, SOLO's Pinterest page and SOLO's Facebook page for more inspiration!
Are you up for anything? Do you find yourself entertaining more often this time of year?