My Favorite Homeschool Resources
We started homeschooling during the pandemic and we fell in love with it. It wasn't an easy transition but it is SO worth it! I've compiled some of my favorite homeschool resources to make our days fun and educational.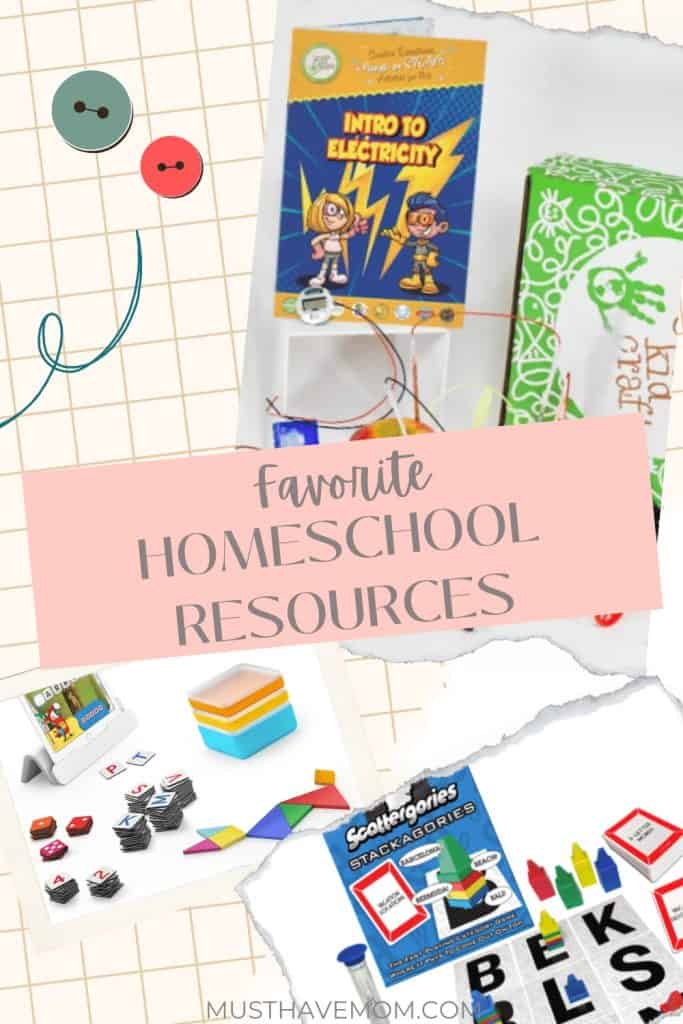 I've already shared some of my favorite resources we've been using while homeschooling. I love Reading Eggs and shared all about how Brady is using that. I shared some of our favorite homeschool science experiments like these borax crystals and this volcano experiment. We have had a TON of fun while learning!
BEST Homeschool Add On resources
Making sure that your kids are having fun while learning is really important. We aren't just recreating school at home, we are taking our kids on an educational journey, filled with fun, hands-on experiences that they might not otherwise get to do. It's an adventure! Ready to make it fun? Let's go!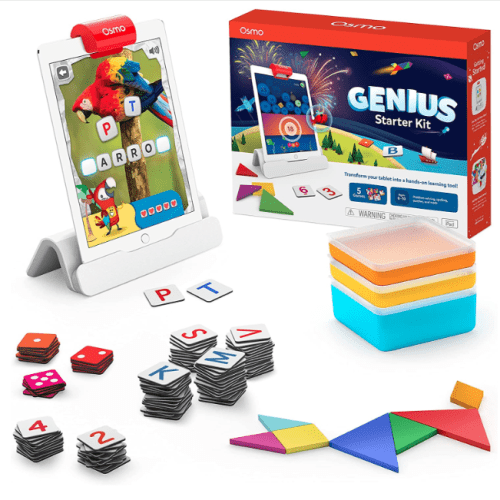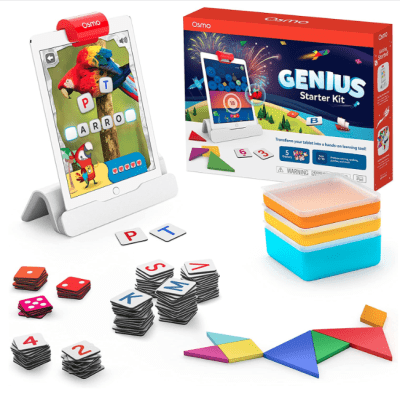 Genius Starter Kit
A great entry to the Osmo universe, the Genius Starter Kit includes everything your kids need to experience hands-on learning and digital fun in five different ways. Includes stackable storage which I love for staying organized!
We know kids learn by doing, so each game uses physical action. Whether it's arranging tangrams, zooming number tiles around, or even freehand drawing, Osmo sees and reacts to every real-live move.
This Award-winning STEAM learning system, which is loved by millions of kids and used in more than 50,000 classrooms, allows kids to learn through hands-on play and engage with core subjects. Osmo combines hands-on learning and digital gameplay to make exploring concepts fun.
Osmo helps your child become more confident, thoughtful, and creative.  Box includes 5 STEAM game apps that help with math, reading, spelling, drawing, problem solving and more (Tangram, Newton, Masterpiece, Numbers, and Words).
Games are designed for beginner to expert levels. Available for iPad or Fire.
SCATTERGORIES® STACKAGORIES™
The great game of Scattergories debuted in 1988 and now there's a new twist on the game! Each player controls their own set of colored stacking pieces. Lay out the Letter Cards, flip a Category Card and the one-minute timer and the game is on! Players, playing simultaneously, shout out words that fit the category and place one of their stacking pieces on the corresponding letter card. When time's up, the player who has their colored stacking piece on the top of the stack scores for that card. The more pieces under their piece, the higher the score!
My kids LOVE this game and they have no idea they are learning while playing it! It's a fantastic reward game to offer up when they complete work on time.
Stay Curious and Keep Exploring
This book walks you through 50 favorite science experiments and is great for curious kids ages 5+. This book is like no other science experiment book you've seen before. The artwork alone makes the science experiment pop off the page and feel so fun and playful. But this book is more than just beautiful (which it is!!), it's a book that helps kids think like a real scientist.
Each experiment starts with a question about the world around us – Why is ketchup so hard to get out of the bottle? Why do my fingers get wrinkly in the bathtub? Why do my ears pop when we drive up a mountain?
The answers to these questions lead you into the experiment so that you can connect the science that you're learning in the experiment to the wonders of the world around you.
This book is perfect for kids who loved Emily's Wonder Lab and are looking for more hands-on ways to learn about science!
YAHTZEE Cup Noodles
Play with your food in this delicious version of the classic "Shake, Score & Shout" dice game! YAHTZEE® Cup Noodles serves up instant fun and nostalgia with custom dice featuring your favorite flavors: Chicken, Beef, Shrimp, Lime, Corn, and Carrots! Roll the right ingredients to score big or try for a YAHTZEE that's "Much More Than a Soup"! Caution: Competition gets heated.
The perfect way to take a break and work on those math skills in the most fun way!!
Osmo Pizza Co.
We love this game so much!! Make pizza, make change, and (hopefully) make profits when you run your very own cartoon pizza shop!
Run your own pizza shop! Quickly cook pizza & calculate change using toppings & money tiles. Invest your profits to upgrade your shop as you bake your way to becoming "the big cheese"!
Pizza Co. teaches kids real-world business skills by operating a pizza-making business in addition to practicing addition, subtraction, fractions, mental math, critical thinking, creative problem solving, social interaction, and communication skills.
They make pizza for customers, collect payment, make change, and learn about profitability. Box contains: pizza/tray, toppings, money tiles, stackable storage for game pieces; and Pizza Co. game app. Available for iPad or Fire.
Superio Ribbed Storage Bins
Staying organized when homeschooling is an absolute MUST. There is nothing worse than wasting time searching for textbooks or resources because they are scattered all over the house.
Each of my kids has a bin with a lid for all of their curriculum. They also have a bin with a lid for extras like colored pencils, markers, manipulatives, etc. It's been a godsend and I am in LOVE with these ribbed storage bins from Superio because they have LIDS and come in multiple sizes while looking beautiful!
Hooked on phonics
Hooked on Phonics uses a proven, simple and fun method to teach critical reading skills. Developed by leading educators, each session takes just 20 minutes or less. Join 5 million+ children who are getting better grades.
Hooked on Spelling is now included in the Hooked on Phonics App with no additional cost to you! Help your child learn a whole new important skill. Fun games and videos help your child master spelling, and can be used alongside our Learn to Read portion of the App.
Hooked on Math helps learners unlock their own potential through adventures in foundational math concepts. Kids earn rewards for completing activities, encounter thoughtful review to solidify skills, and have tons of fun learning how to count up and down, add, subtract, skip count, estimate, use doubles, learn place value, and more!
Green Kids Crafts
Green Kid Crafts is empowering the next generation of environmental leaders using creative, nature-based STEAM activities. Founded by mother and environmental scientist Penny Bauder in 2010, Green Kid Crafts has sold over 1.5 million boxes specially designed to help children exercise creativity, develop a love of discovery, and learn about the world around them.
Developed by teachers, crafty moms and STEAM experts (science, technology, engineering, arts and mathematics) to support key developmental skills for kids ages 2-10+, our products, including educational toys, STEAM kits, eco-friendly toys, and STEM kits, celebrate creativity with craft projects and activate thinking, questioning, inquiring, and original creation as we guide children through fun science experiments.
Which homeschool resource would bring fun and excitement to your homeschool day?!