Kids will love this DIY monster truck stadium sensory bin with monster truck toys to go along with it! They can race them, do tricks and get their hands dirty in this tricked out monster truck stadium!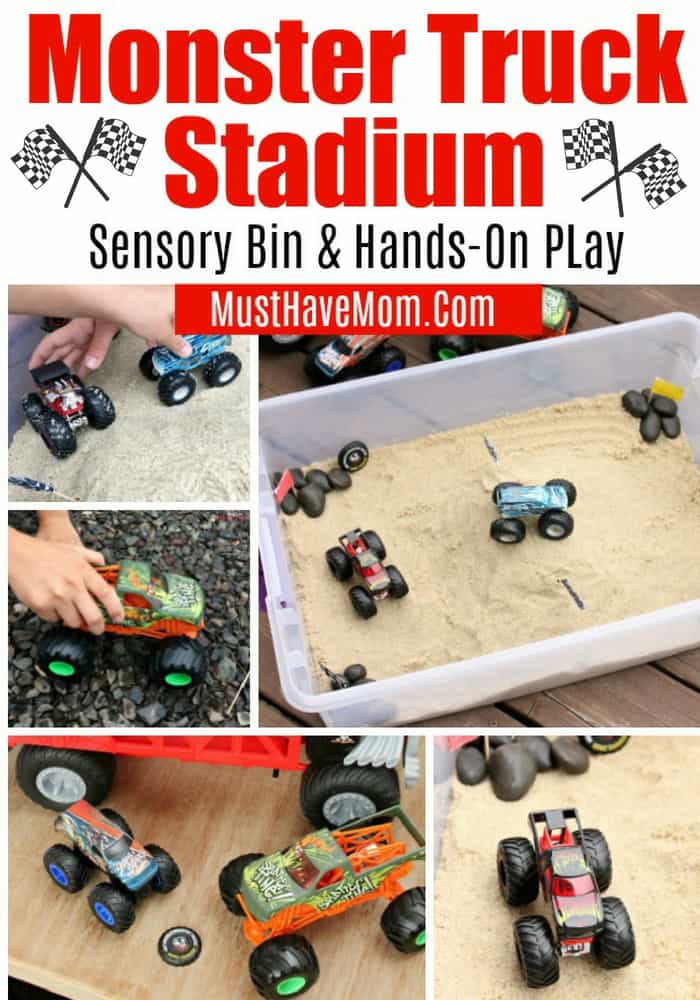 Monster Truck Toys
My kids are obsessed with monster trucks. We have been attending monster truck shows for years. We typically have to drive 4-6 hours to go see them and we gladly drive the distance just to get a few hours of entertainment from the very cool monster trucks. The tricks, the burnouts, the races, it's all worth it! Bring the fun of monster trucks home with this fun DIY monster truck stadium sensory bin so they can play with their monster truck toys to their heart's content! I'll show you how easy it is to make one and you'll be glad you did once you see how many hours your kids spend playing with it!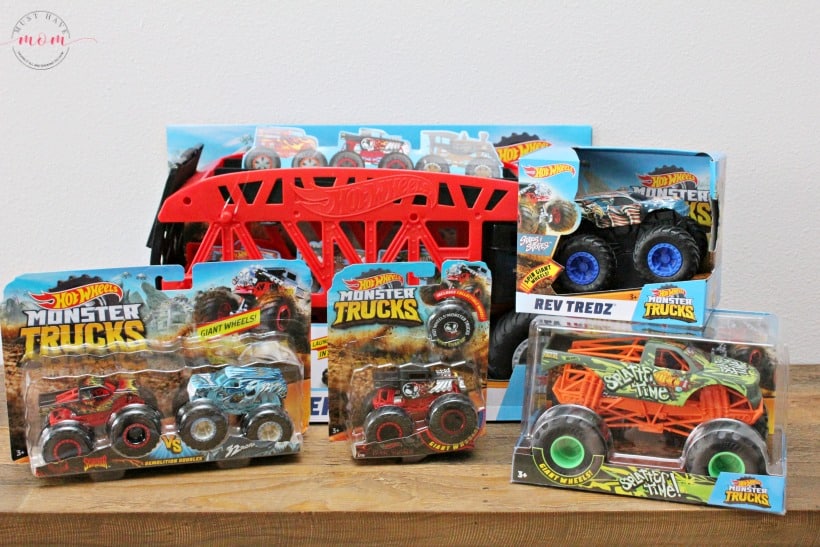 Since we go to the monster truck shows, my kids have been collecting monster trucks for years. We always have to get the newest trucks and they've made a point to collect as many as they can. We just stocked up on some of the newest Hot Wheels Monster Trucks that they didn't have yet including the Hot Wheels Monster Trucks Splatter Time!, Scorcher, 32 Degrees, and the Monster Mover which hauls the smaller Hot Wheels Monster Trucks! You can find all of these at Walmart.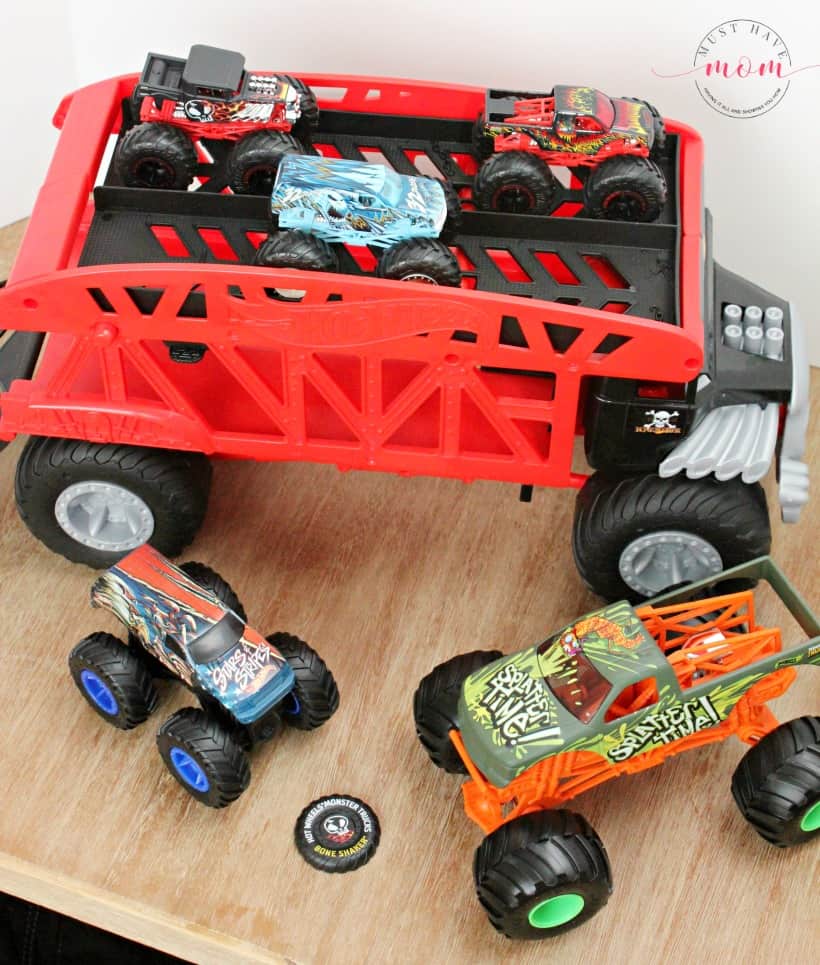 Monster Truck Stadium Sensory Bin Supplies
To create your very own monster truck stadium at home, you'll need:
Hot Wheels Monster Trucks (at Walmart)
a large bin
play sand
rocks
toothpicks
paper
markers
empty can (to create the jump in the middle)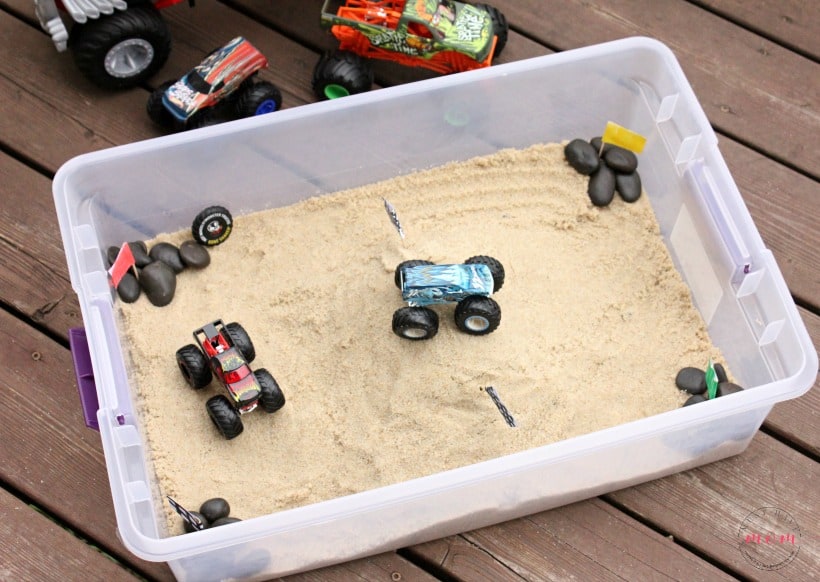 Find an empty can or small bottle that you can use to create a jump in the center of your monster truck stadium. Place it in the middle of the plastic bin. Fill your bin with play sand (found at any home improvement store in the outdoor/garden area). Then sculpt the sand to be flat around the perimeter and create a jump in the center (just like a real monster truck stadium!).
Let your kids make their own racing flags using toothpicks, paper and markers. Cut a rectangle of paper and color it then fold in half and attach to a toothpick. We made checkered flags, a caution flag and a red stop flag along with a green go flag.
Add rocks to the corners of your stadium and insert the flags where you wish. Now it's time to play!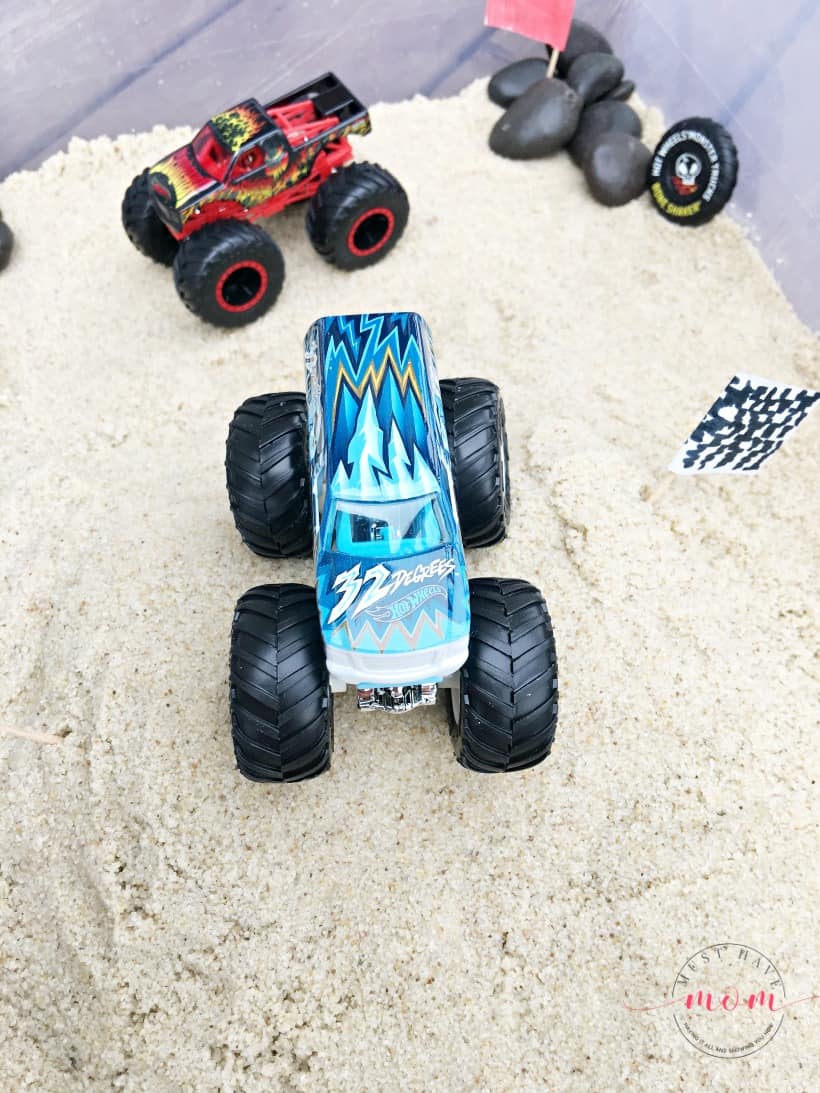 Add the Hot Wheels Monster Trucks to the stadium and let the fun begin. Kids can race them around the outside, jump the jump in the center or whip doughnuts!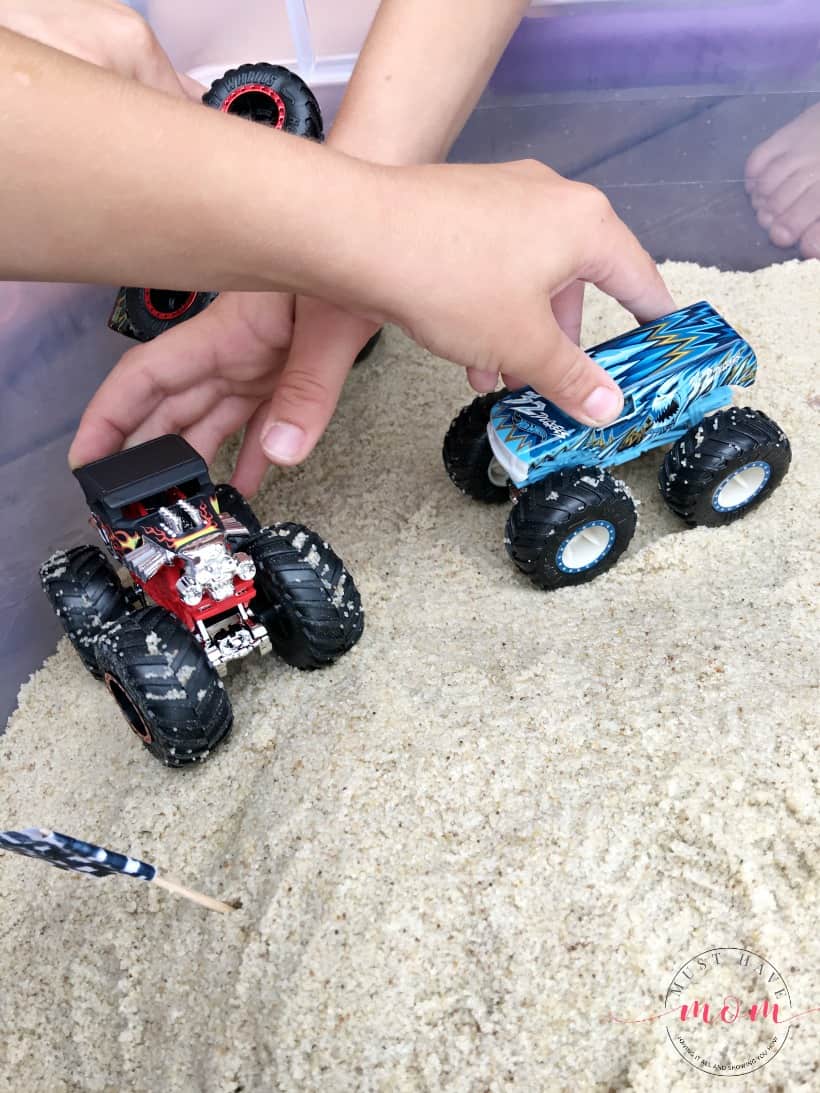 Kids can battle it out in the sand and see which monster truck comes out on top! Take the fun further and have them each vote 1-10 on each other's tricks and runs, just like at the real monster truck shows!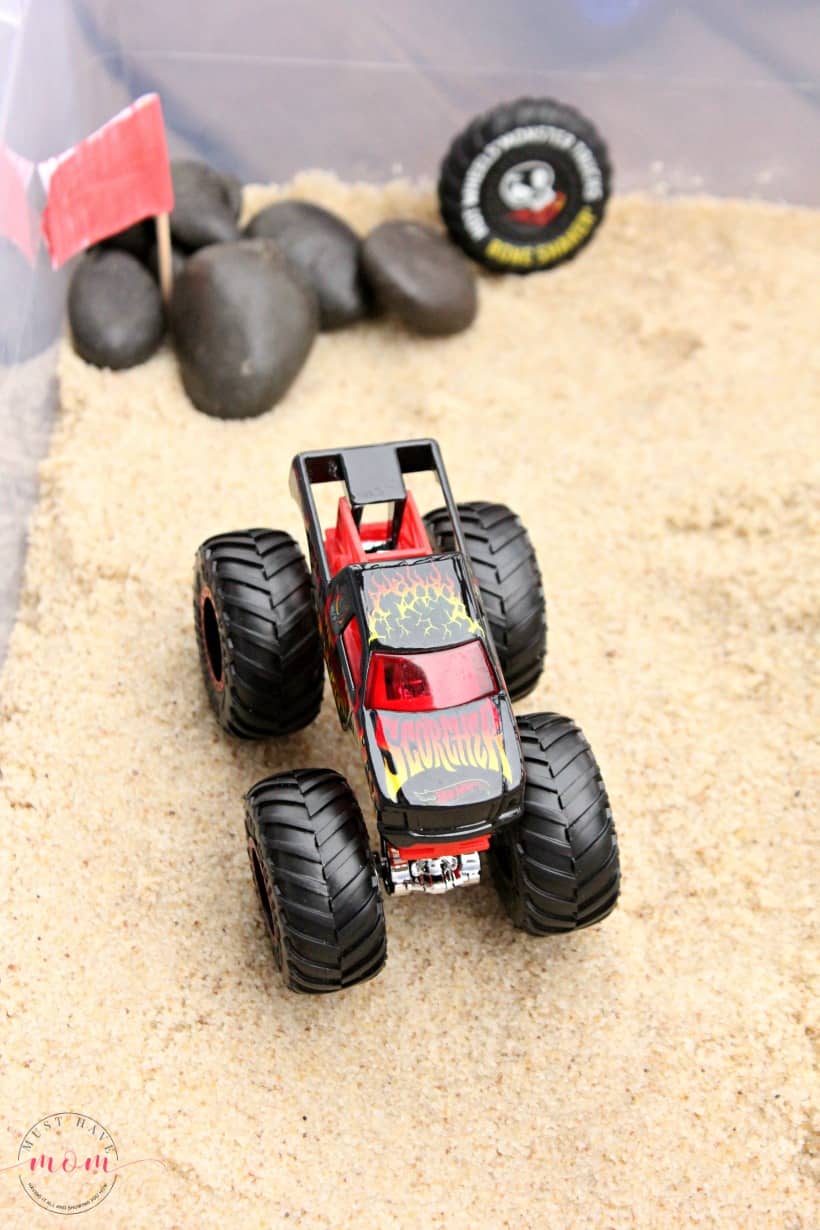 See which monster truck comes out on top and let them take a victory lap!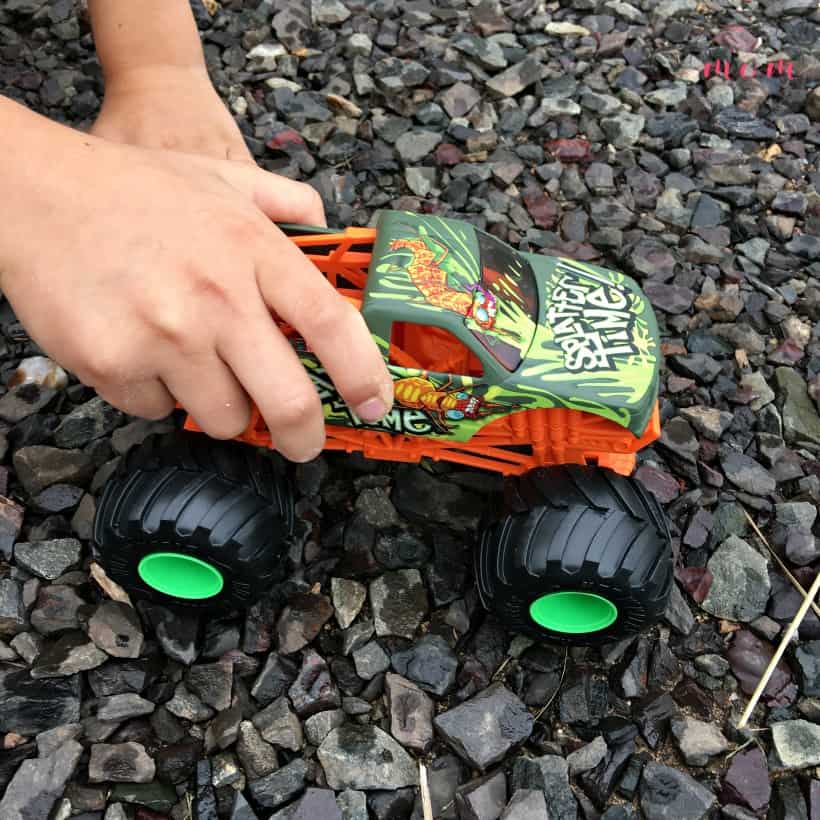 You can also get the larger Hot Wheels Monster Trucks and play with them in the driveway! Our kids love driving them over the rocks in the driveway. Having different size monster trucks is great for varying up the play ideas.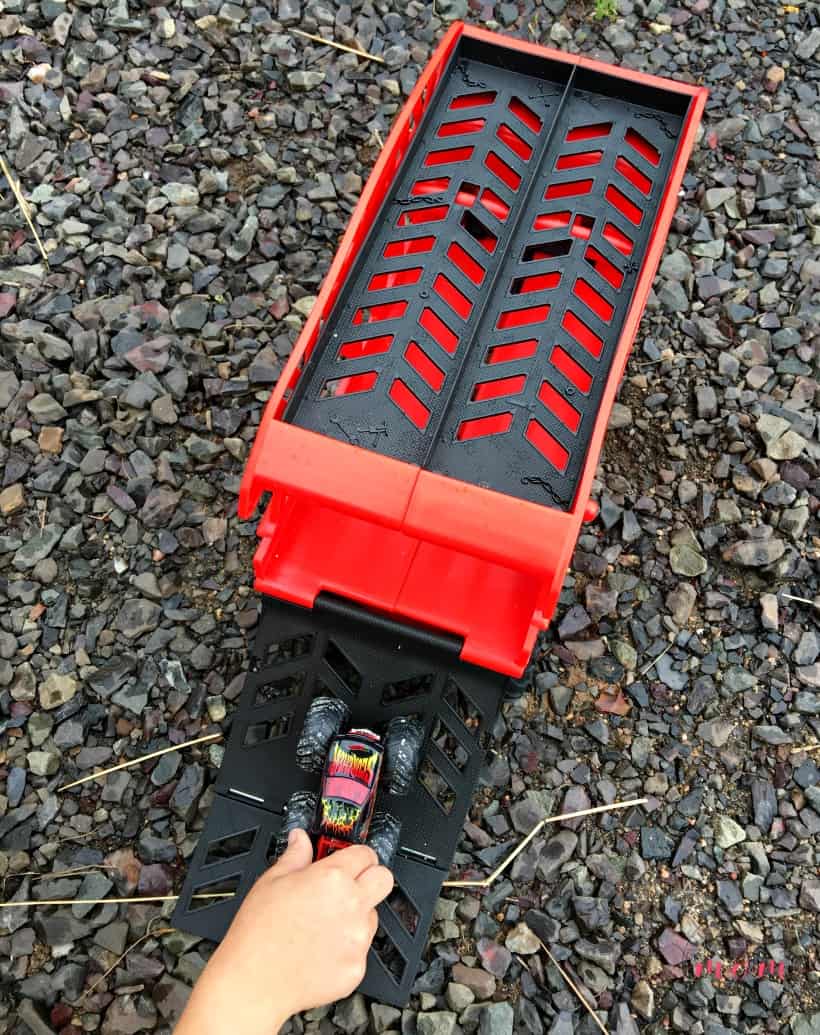 After the monster truck show is over, it's time to load them all up into the Monster Mover and haul them back to the garage for a tune-up! The Monster Mover was a huge hit with my boys! They absolutely loved that it would haul several of their monster trucks inside of it. It's a great way to store them when you're done playing too!
Pin Monster Truck Stadium Sensory Bin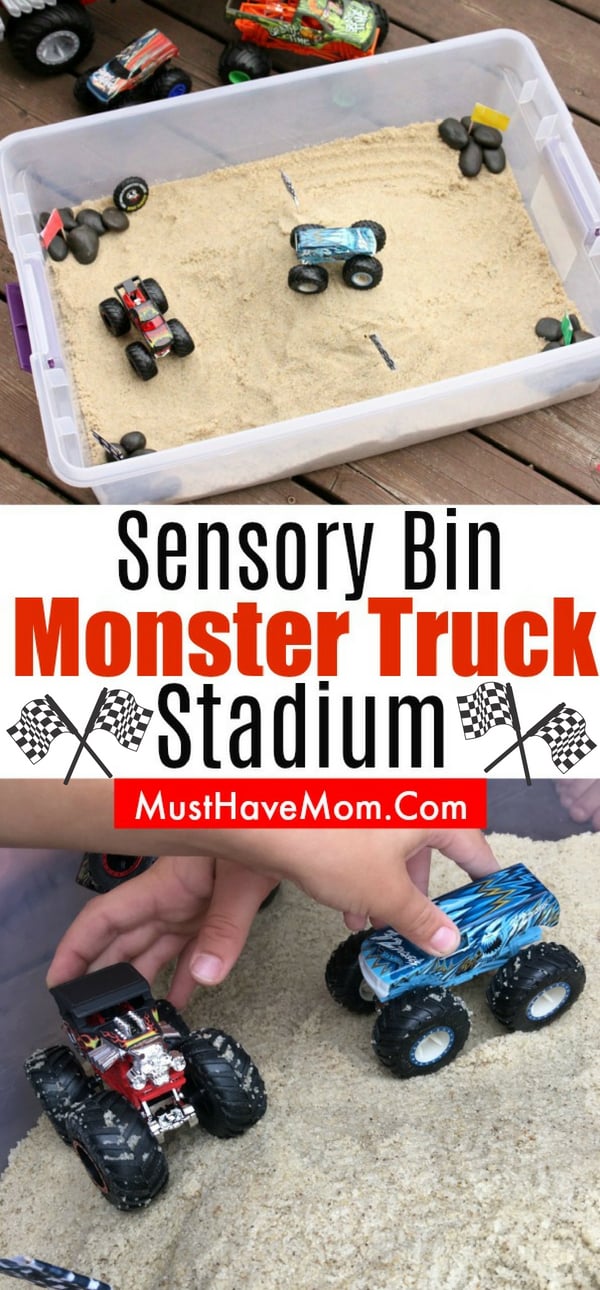 Sponsored by Hot Wheels, all opinions are my own.