Mini Taco Salad Bites Recipe ~ Easy Summer Lunch Idea!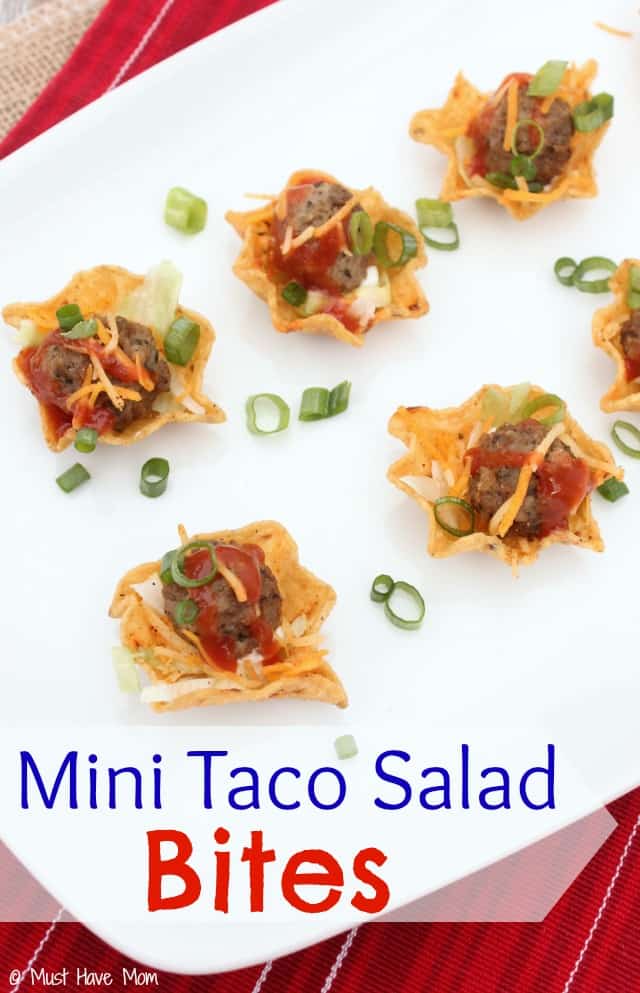 I'm always on the lookout for easy lunch ideas that I can make for the kids and myself. These mini taco salad bites have become one of my favorite to to easy Summer lunch ideas! They also make a great appetizer to bring to a party. The best part? They are so easy to make!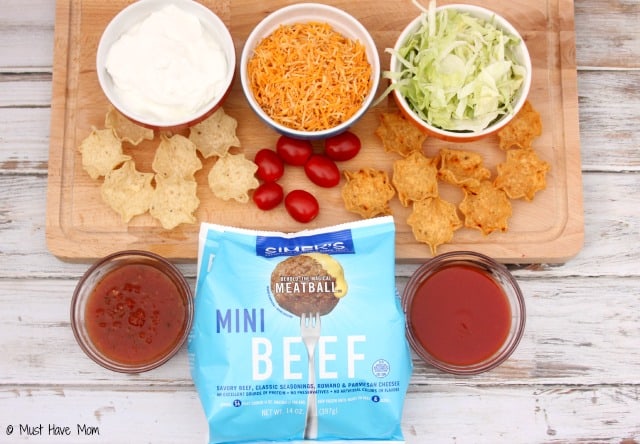 You'll need Simek's Mini Beef Meatballs (found in the freezer section at your Walmart or Cub Foods), tortilla chips in the shape of little bowls (like the scoops variety), shredded lettuce, sour cream, shredded taco cheese and optionally you can add salsa and tomatoes.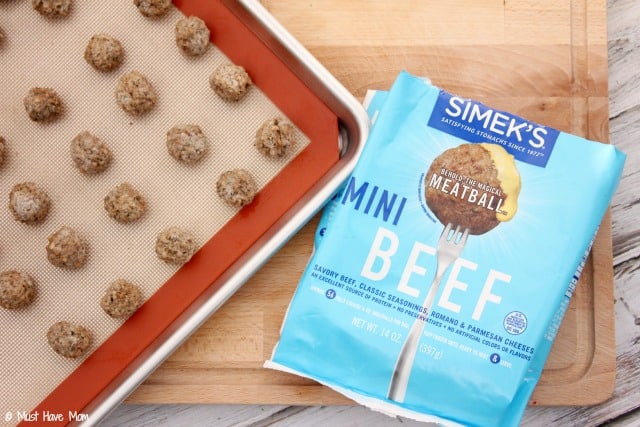 Begin by spreading the meatballs out on a baking sheet. Bake them according to package directions, 350 degrees for 15 minutes.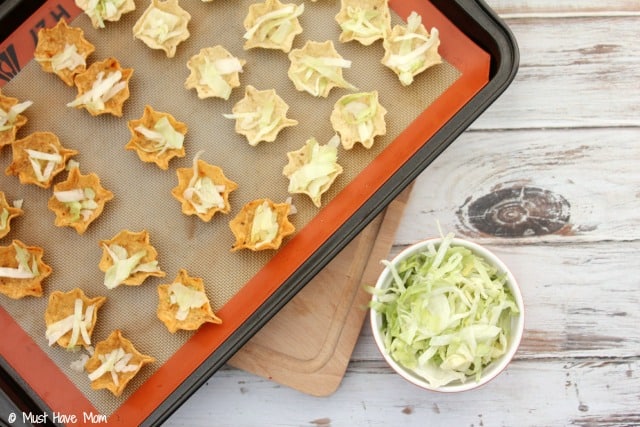 While your meatballs are cooking spread out your chips on a pan or a platter. You don't need to cook them but I used a pan to make assembly and transporting them easier. We used two different varieties of chips. I had plain tortilla scoops and fajita scoops which were my favorite. Place some lettuce inside the bottom of each scoop.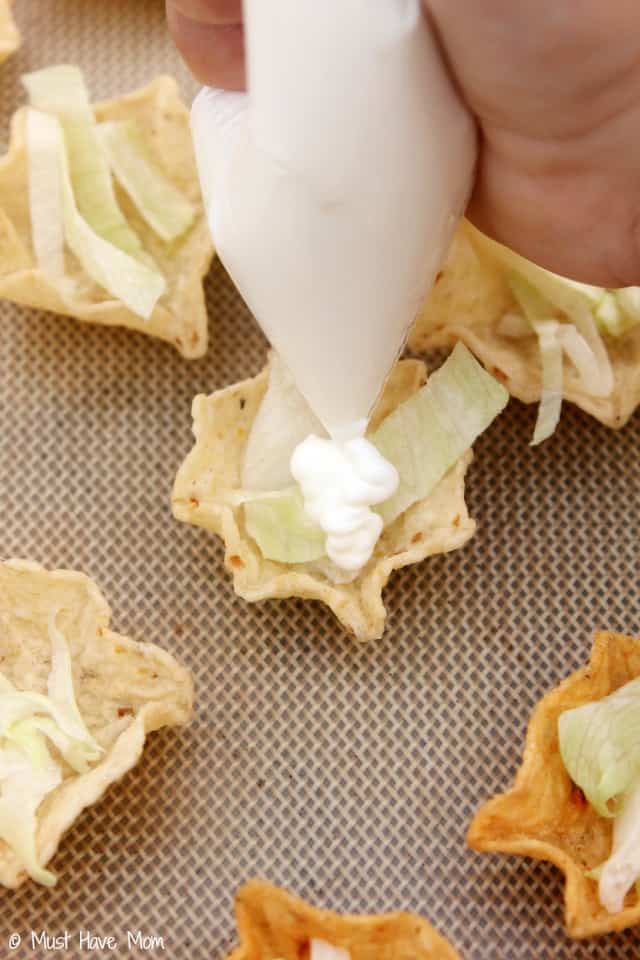 Then put your sour cream into a zip top bag and snip the corner so you can easily squeeze it into each of the little chip bowls.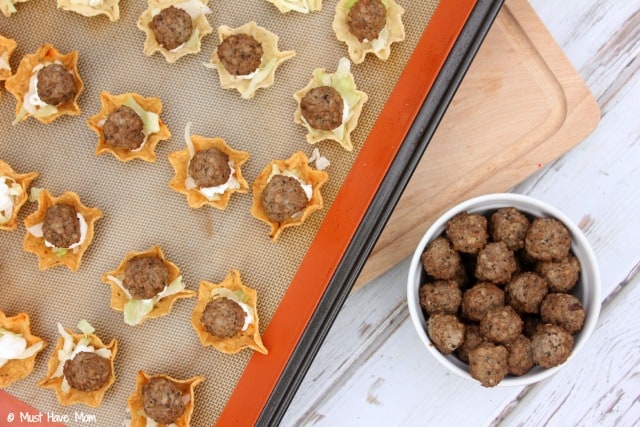 Now top the sour cream with a Simek's mini beef meatball. These meatballs are so tasty! I also left some plain in a bowl and the kids were just popping them into their mouth while I assembled the mini taco salads.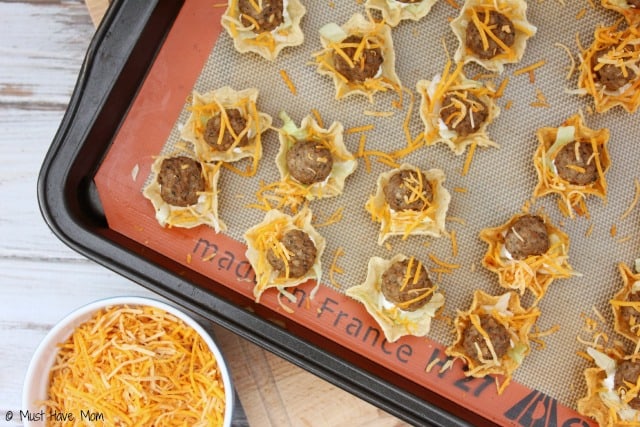 Now top with taco cheese.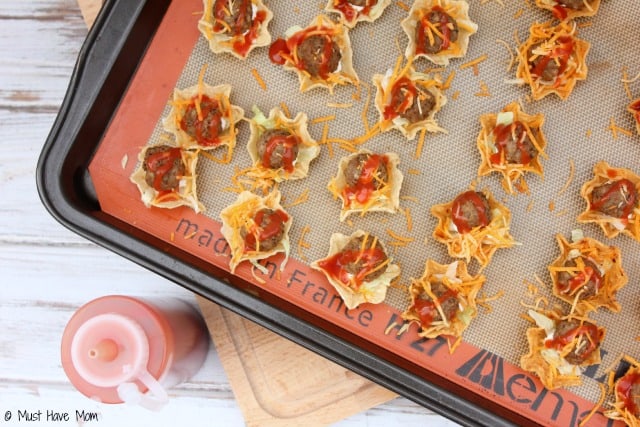 Drizzle some taco sauce or salsa on the top of each mini taco salad.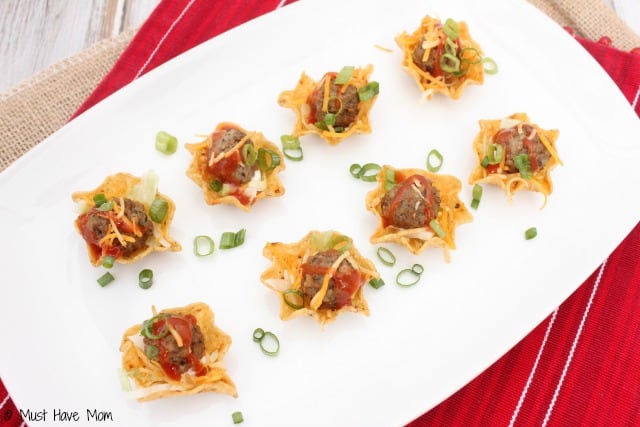 Then I topped them with some sliced green onions. I left them off for the kids mini taco salads 🙂 These taste incredible! I love that they are bite size and you can just pop them in your mouth. They are the perfect Summer lunch idea or appetizer for any gathering. These are SO yummy and the kids love them too. I think kids love anything mini!
Print off the recipe below and remember to share it with your friends on Facebook and pin it for later if you like it!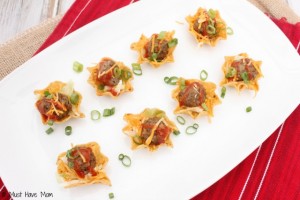 Mini Taco Salad Bites Recipe
Easy summer lunch idea that is kid friendly or a perfect appetizer to bring to any gathering.
Ingredients
1

bag mini tortilla chip bowls

like scoops variety

1/2

C

sour cream

1

C

shredded lettuce

1

bag Simek's Mini Beef Meatballs

1

C

Taco Shredded Cheese

1/2

C

Taco Sauce

3

Green Onions

sliced
Instructions
Cook Simek's mini meatballs on a pan at 350 degrees for 15 minutes.

Meanwhile assemble your mini taco salad bowls on a pan or platter. Lay out the tortilla scoops first.

Then fill the bottom of each scoop with shredded lettuce.

Now put sour cream in a zip top bag and snip the corner off. Squeeze a dollop of sour cream into each scoop.

Next top with a cooked mini meatball.

Top with taco shredded cheese.

Drizzle with taco sauce.

Sprinkle green onions on top.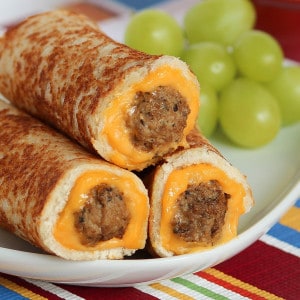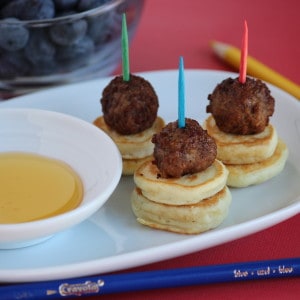 Grilled Cheese Meatball Rollups & Mini Sausage Meatball Pancake Bites
If you want even more kid-friendly ideas check out these other recipes from Simek's!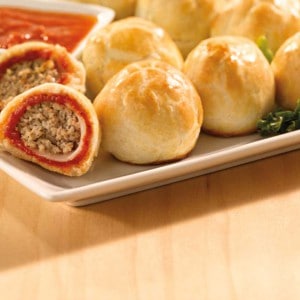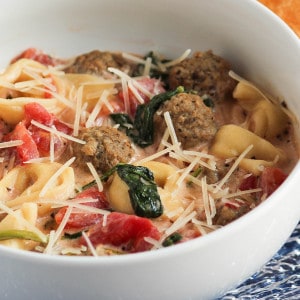 Italian Meatball Dunkers & Mini Meatball Tortellini Soup 
What would you make with these tasty mini meatballs?