Mermaid Birthday Party Ideas! Decor, Free Mermaid Printables & Party Favors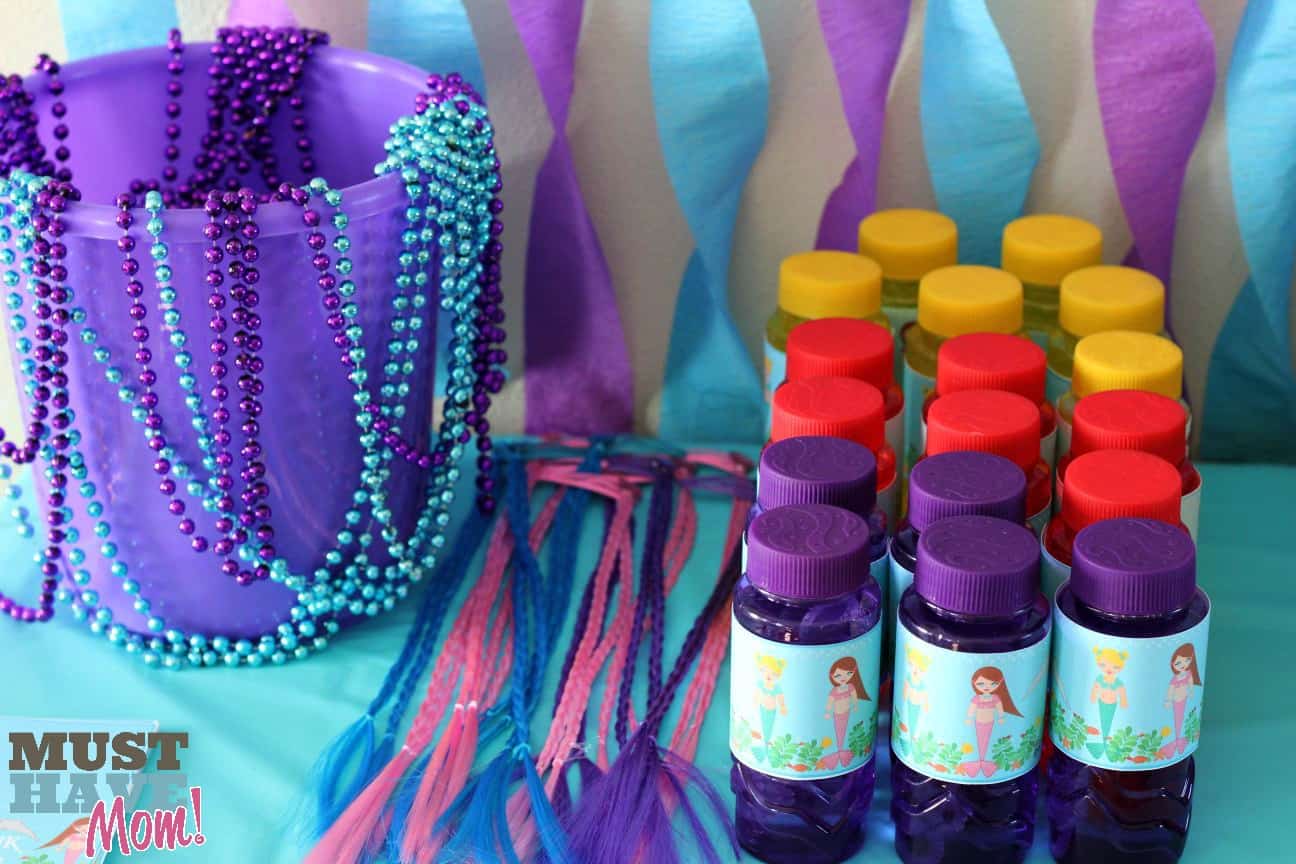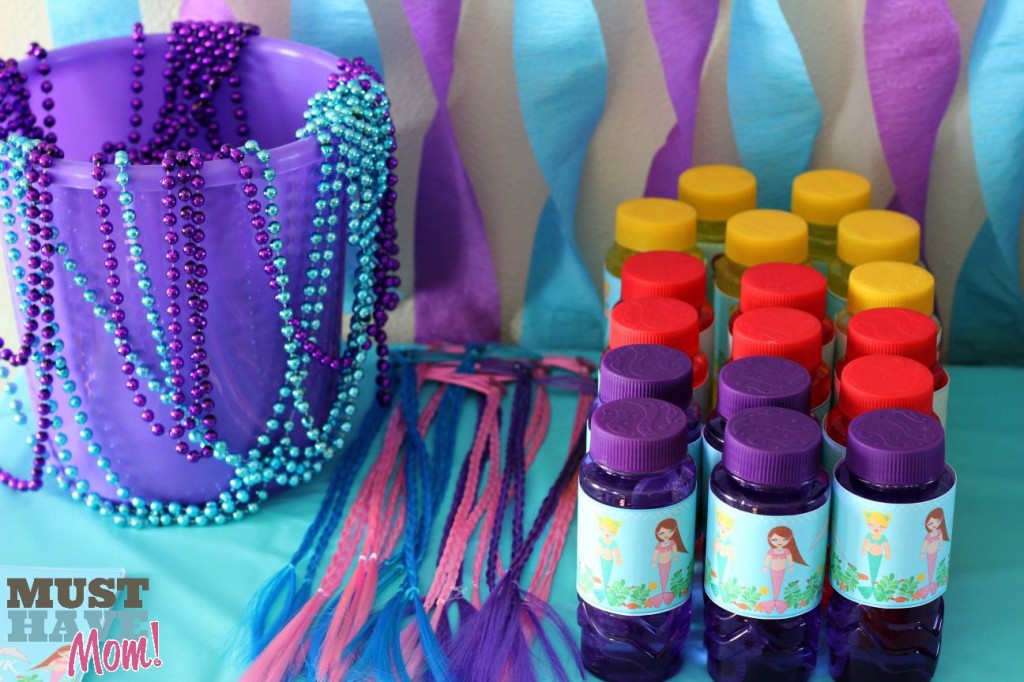 I cannot believe that Danika is six years old already! I really don't know where time goes. It flies by way too fast. She picked a mermaid theme for her Birthday party this year so we got busy planning a mermaid Birthday party for her and she was so excited to be in on the planning process!  I'll be sharing all our food ideas, games and more in upcoming posts. Let's start off with the decor and party favors!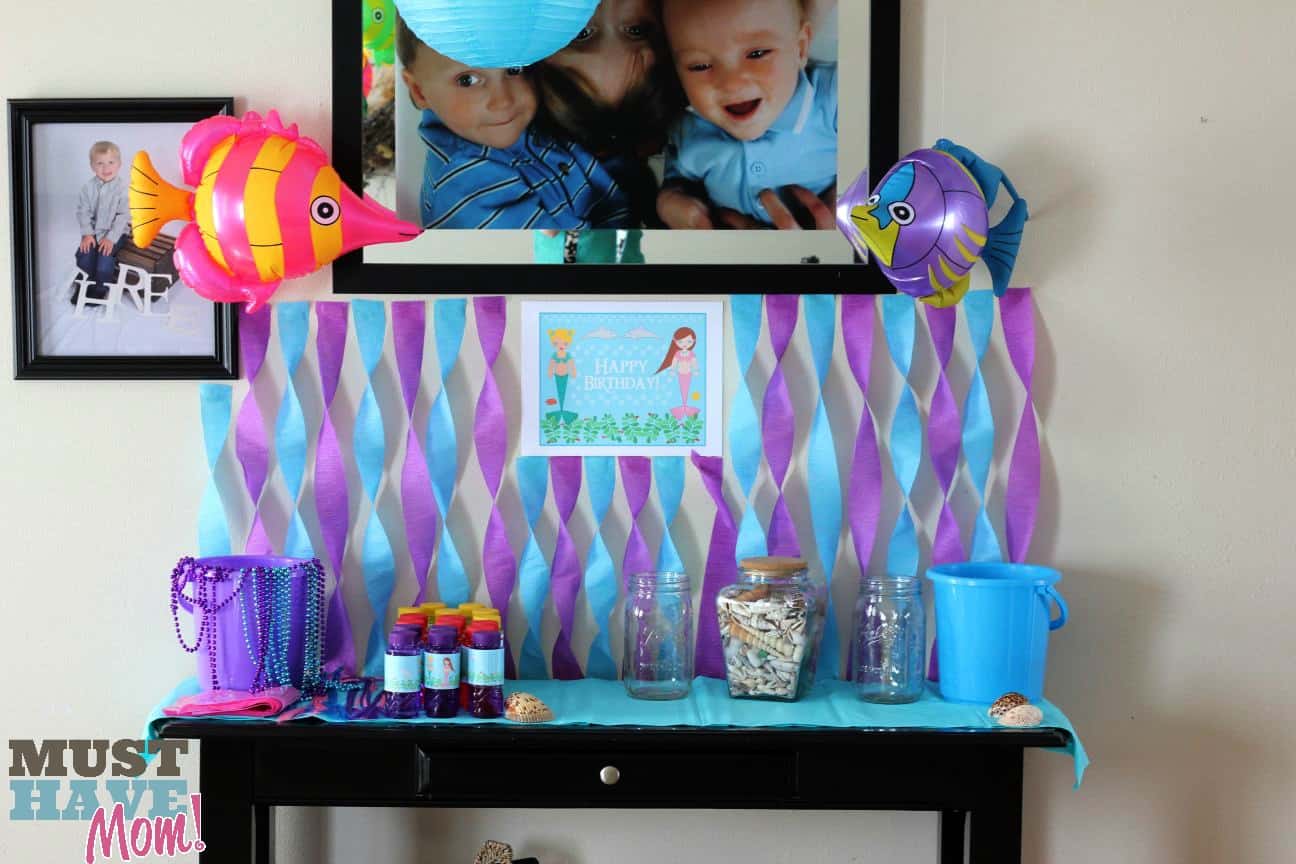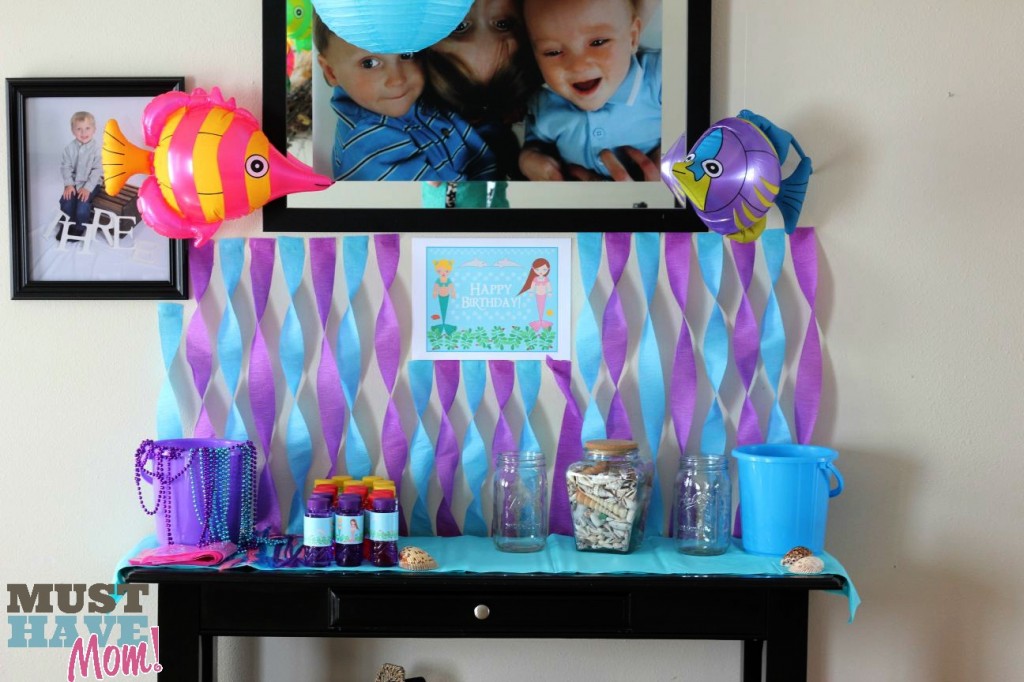 I created a table near the entryway with party favors and a game. I got the free mermaid printables to make the Happy Birthday sign and then used crepe paper to make a nice backdrop. We used sand buckets in our decorating and for food serving. They were inexpensive to buy from Oriental Trading and were a nice size. I then used fishing line to hang inflatable fish from the ceiling to complete the look.
I used teal and purple bead necklaces to decorate the table and dangled them over the sand bucket for an under the sea look. They doubled as party favors that the guests could grab and adorn themselves with when they arrived. I also had clip in colored braids for the girls to put in their hair. Once they got all pretty they could come party!
I also bought bottles of bubbles and used the free mermaid printable labels to affix to the outside so they matched our theme. You'll also notice the jars of seashells which doubled as a party game.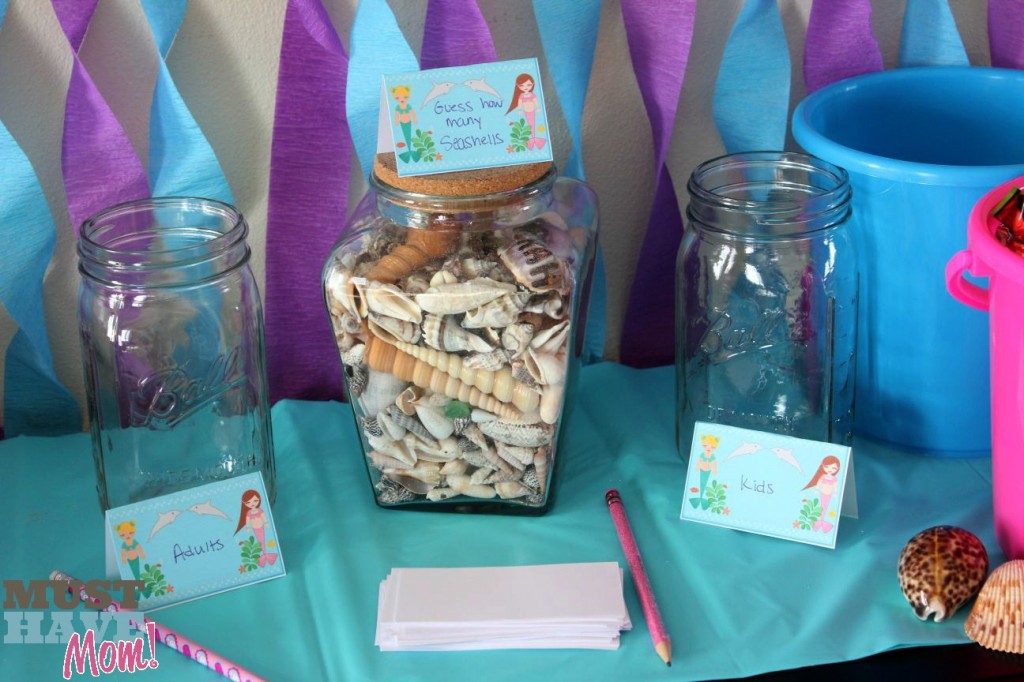 We had a jar for the kids and a jar for the adults to guess how many seashells were in the jar. Can you guess? The answer was 222 🙂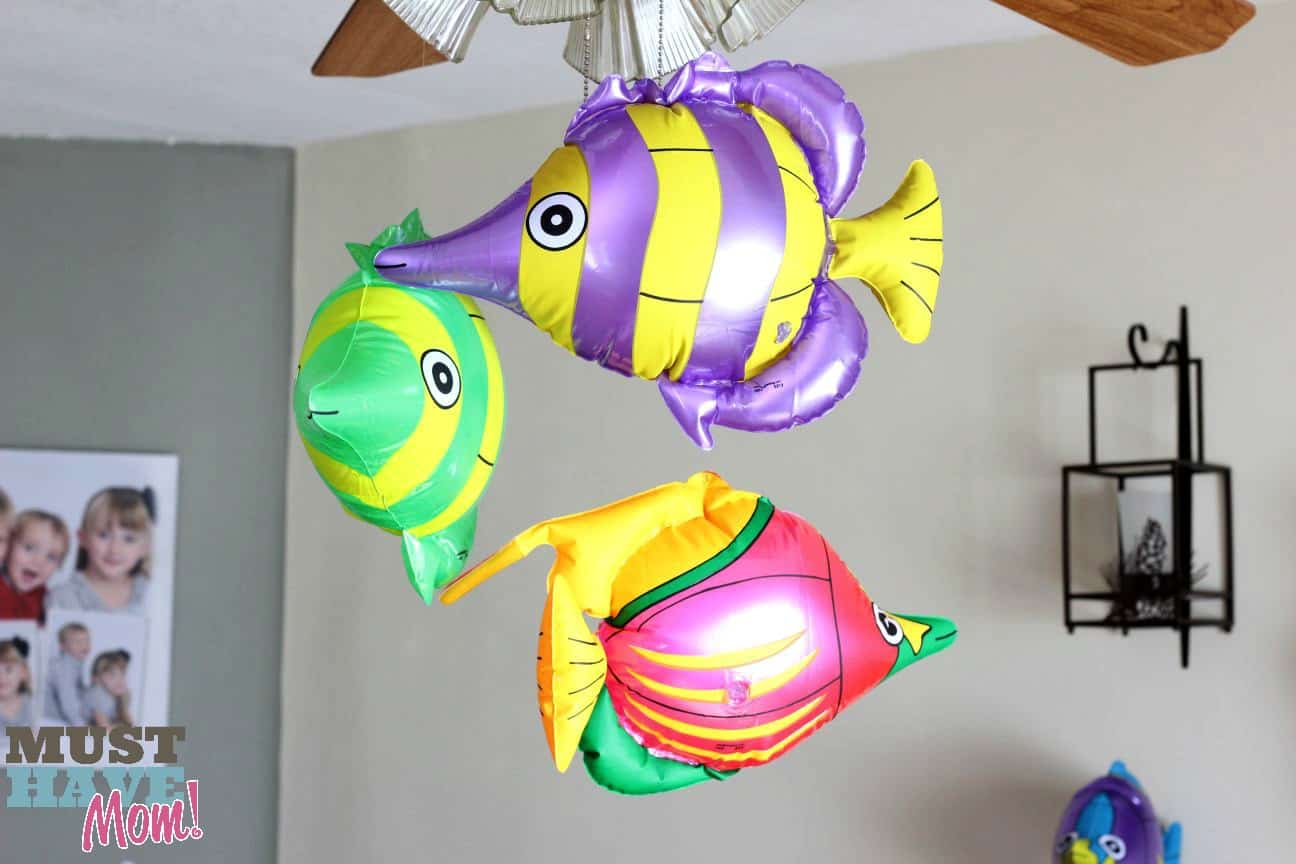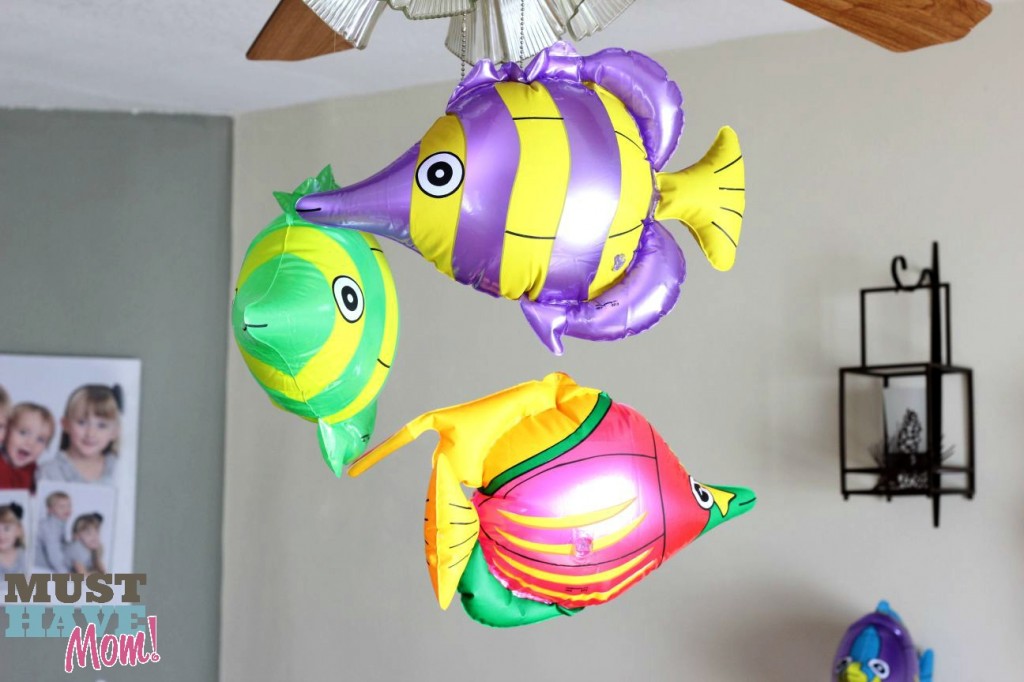 The inflatable fish from Oriental Trading were inexpensive and really complete the look of our decor for the party. They doubled as party favors too as all the kids got to pick one to take home.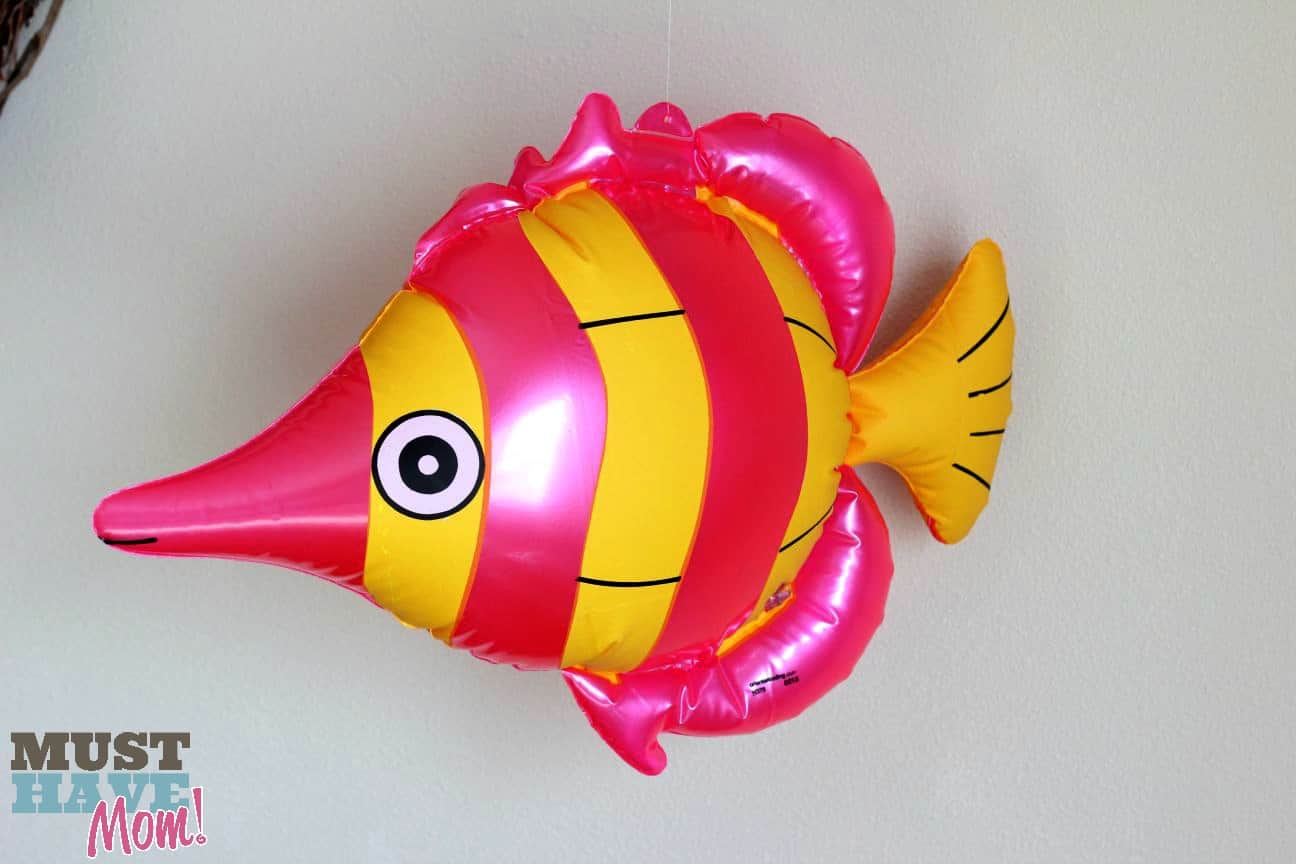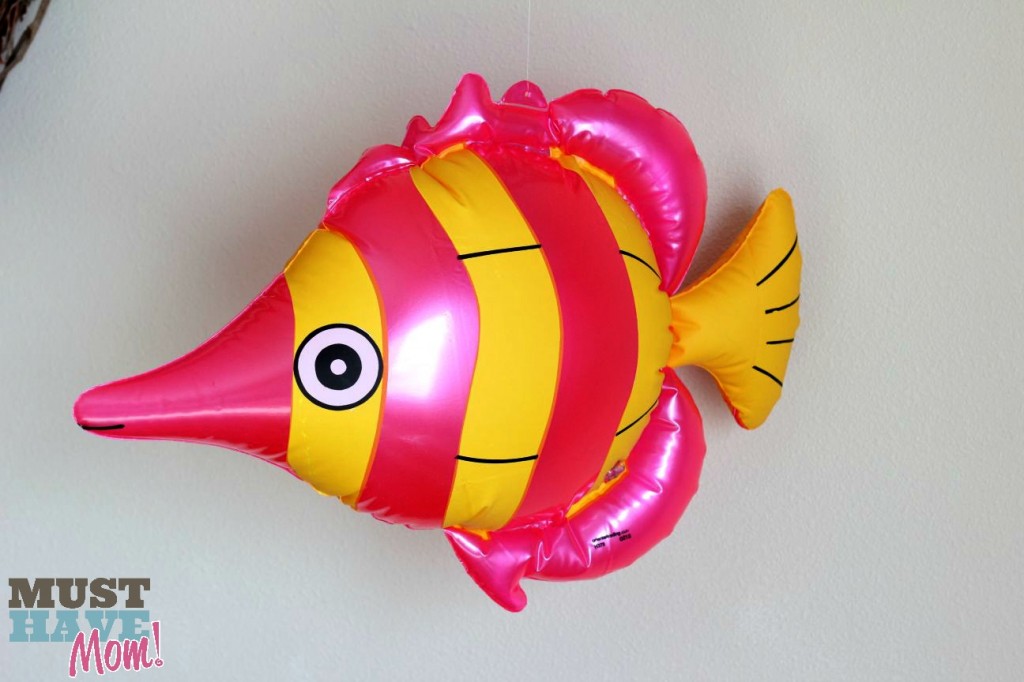 We used fishing line to hang them all over the house.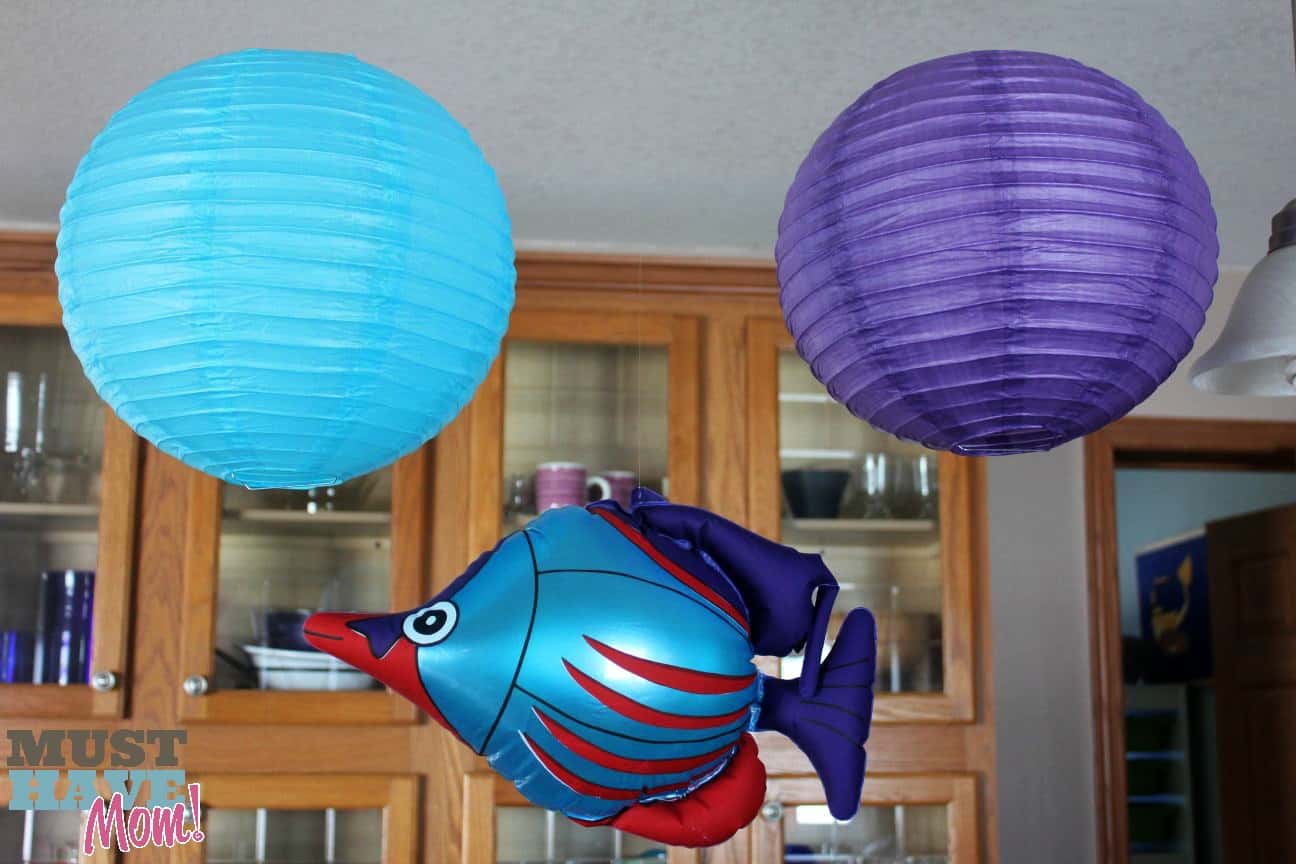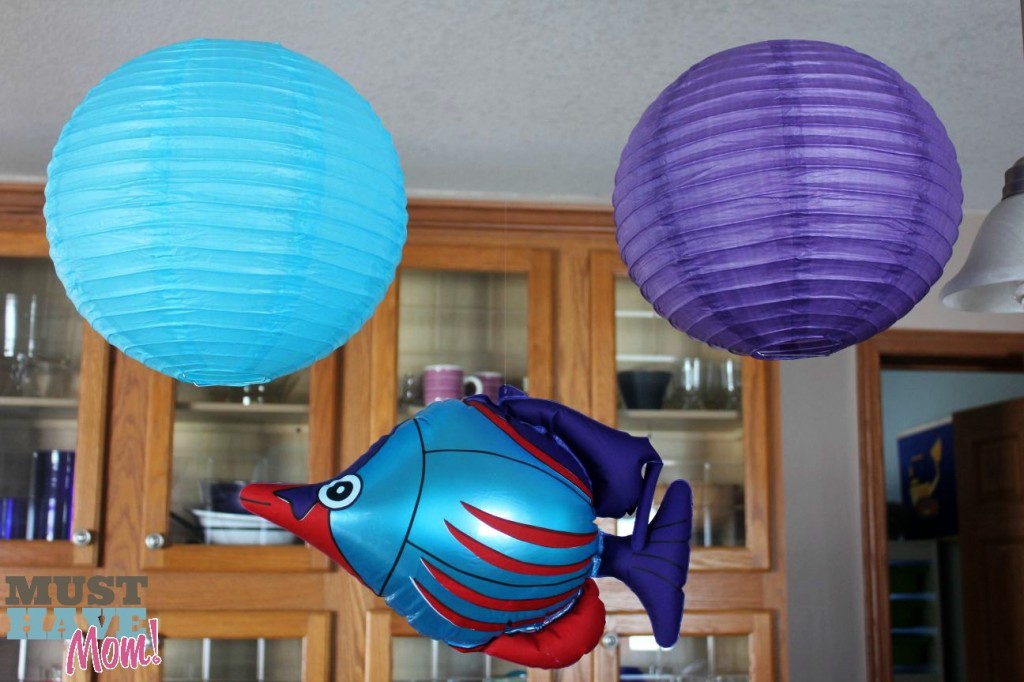 We also hung the bright party lanterns from Oriental Trading with the fish above all the tables for a fun look. We stuck to the party colors of purple and turquoise.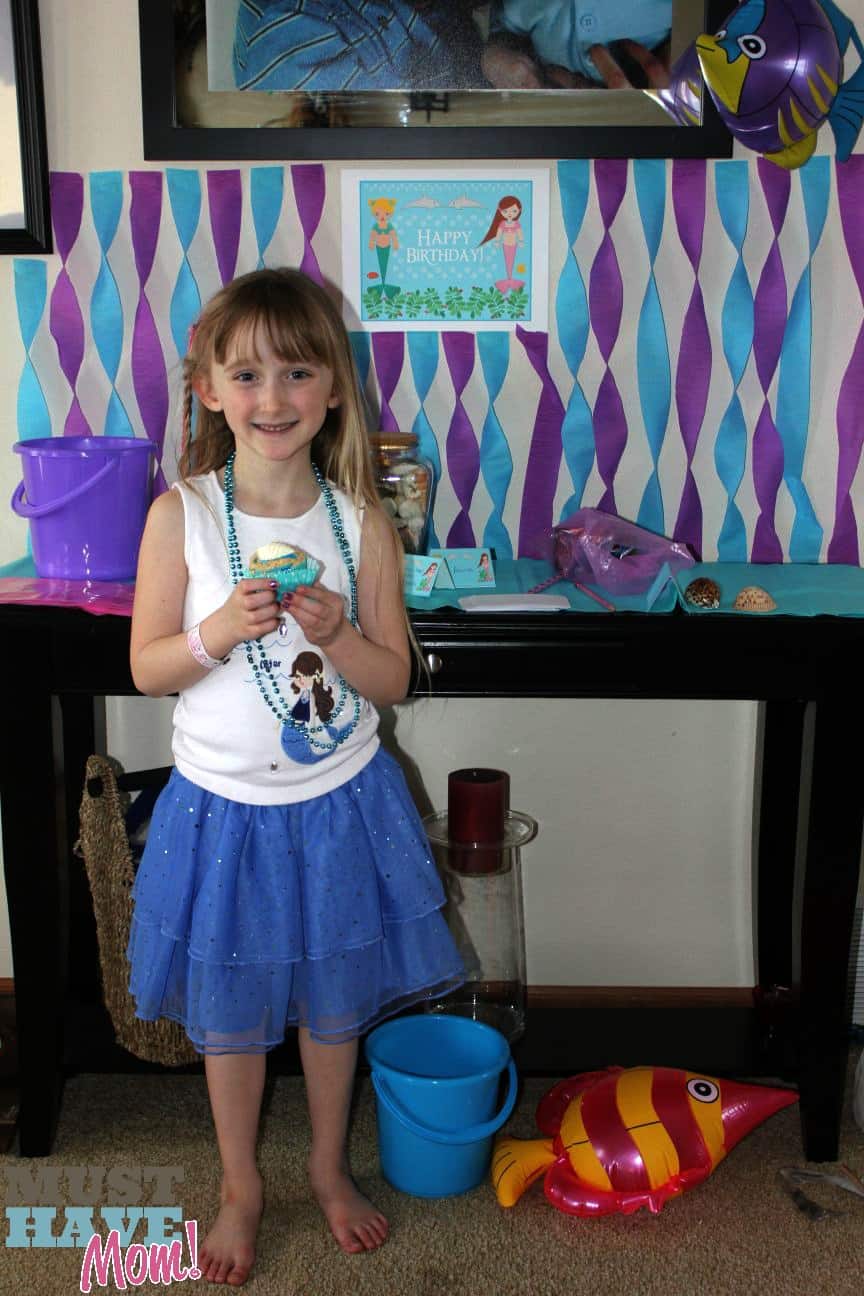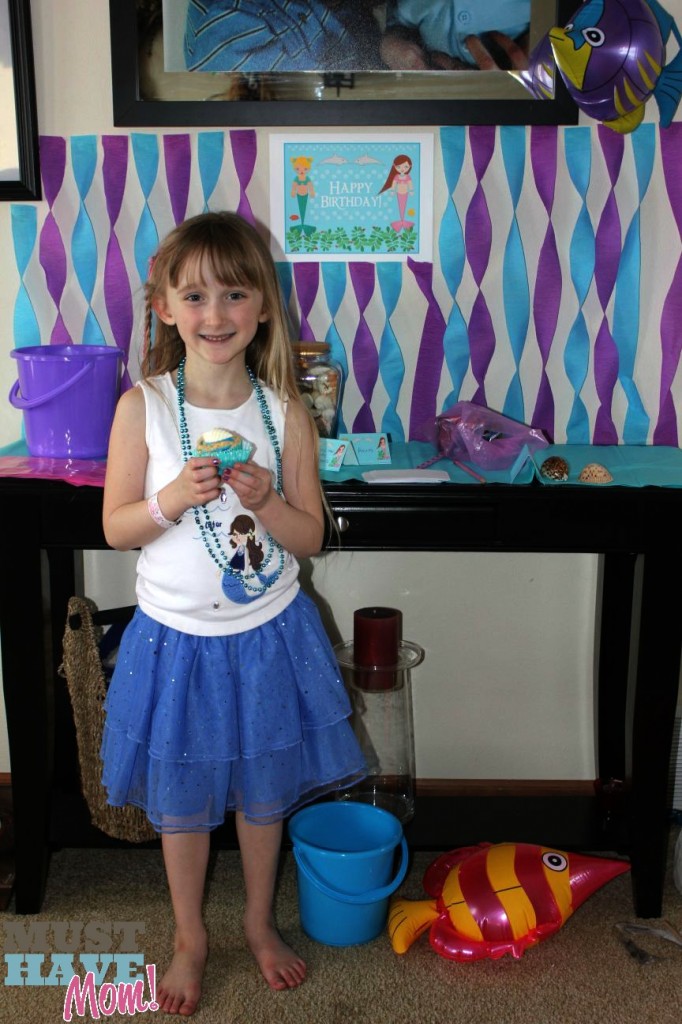 The Birthday girl was thrilled with the party and all the guests had a blast! Wait until you see the cupcakes and food ideas! Coming up in the next post 🙂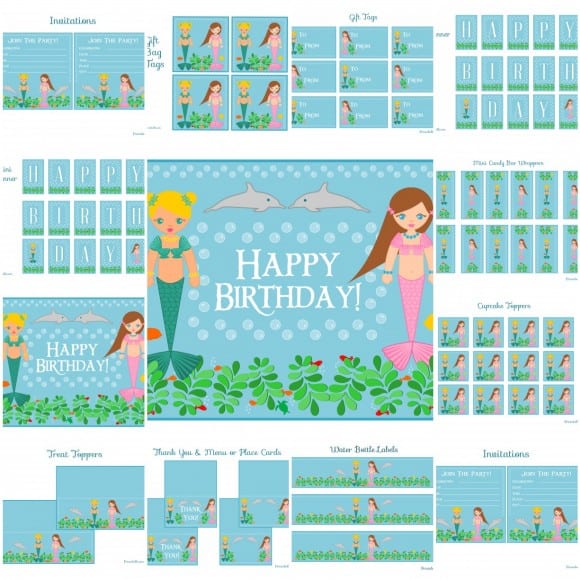 Check out Oriental Trading for inexpensive mermaid party decor! Get the free mermaid printables here.
Save