Christmas Break Movie Releases For The Family!
It's so nice to be on holiday break from school! No ECFE (Early Childhood Family Readiness which is for 0-5 year olds) or preschool for Danika. That means more laid back days that we get to spend together. This week I had a fun movie day planned for the kids!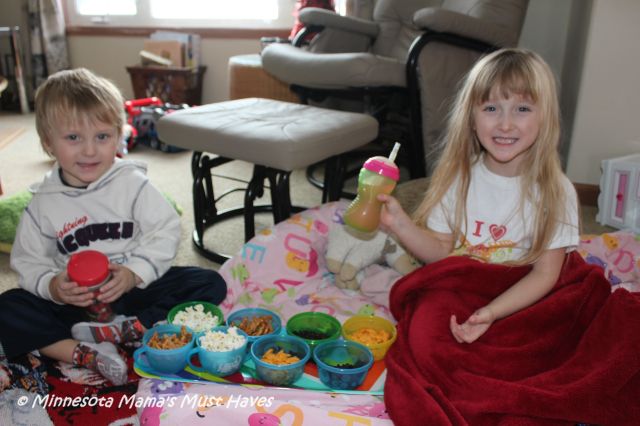 They were so excited for the "surprise snacks" I was bringing them to eat while we watched our movie. Amazing what the little things in life can do for your child. They got lemonade in their sippy cups and had an assortment of popcorn, pretzels, raisins and goldfish crackers.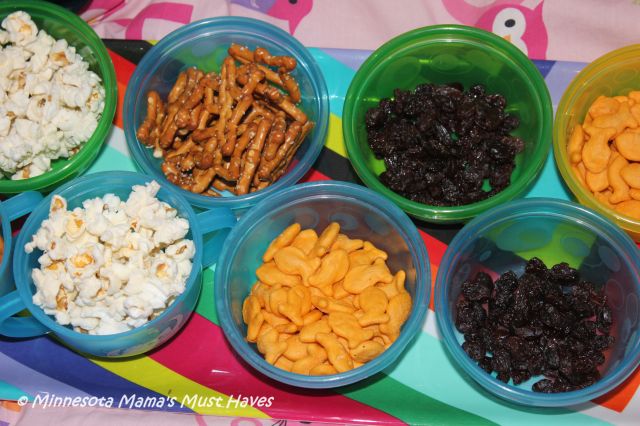 Here are some of our favorite new releases for the whole family! While your kids are on holiday break take the time to sit down and have some family time! After all it's time our kids want from us, not stuff.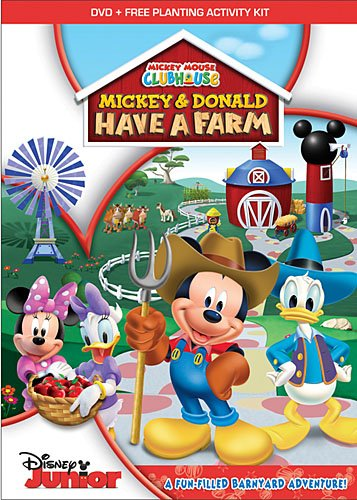 Get set to roll up your sleeves, ride the Clickety-Clack Tractor and lend a helping hand in this farm-tastic barnyard adventure!
With an oink-oink here and a moo-moo there, it's time to sing along, plant the crops and feed the animals on the new Clubhouse Farm. But when Farmer Pete's giant windmill blows all the cows, chickens and piggies out of their pens, it's up to YOU – with the right Mouseketools – to help Mickey and Donald find all the animals and bring them home.
Then, harvest extra adventure in four more exciting episodes. Packed with acres of laughter, music and surprises, Mickey & Donald Have A Farm delivers a bumper crop of fun for everyone.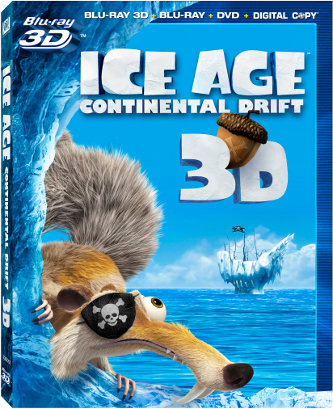 ICE AGE: CONTINENTAL DRIFT  Blu-ray 3D, Blu-ray & DVD
Ice Age: Continental Drift
Sub-zero heroes Manny, Diego, and Sid embark upon a high-seas adventure after their continent is set adrift. Using an iceberg as a ship, they encounter sea creatures and battle pirates as they try to reunite with their herd. In the wake of these upheavals, Sid reunites with his cantankerous Granny, and the herd encounters a ragtag menagerie of seafaring pirates determined to stop them from returning home.
Blu-ray 3D Exclusive Special Features:
●    Party with a Pirate! Mode
●    Sign Along Mode
○    Through a Pirate's Spyglass: Voices Ahoy and Capturing the Crew
○    Granny and the Stink of the Sloths
○    Scrat Got Your Tongue?
○    Whale of a Tale: Drifts, Rifts, Beasties and Myths
●    Shimmy Shake Music Section
○    Gutt's Sing-Along Shanty Shimmy Shake
○    "We Are" Extended Music Video
○    "Chasing the Sun" by The Wanted Music Video
○    "The Sid Shuffle" Dance Along
●    Deleted Scenes
○    Dr. Granny
○    Shell Game
●    Ice Age: The Story So Far
●    Original Theatrical Trailers
○    The Scratist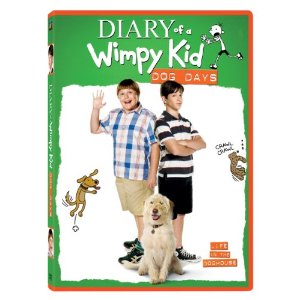 Diary of a Wimpy Kid: Dog Days
Everybody's favorite wimp, Greg Heffley (Zachary Gordon), is back for three times the fun in the latest film based on the super-popular book series! When Greg's dad (Steve Zahn) threatens to send him to military school if he doesn't stay out of trouble, Greg finds all-new ways to land himself in the doghouse! For starters, Greg's in over his head when he pretends to work at the swanky country club where Rowley's family has a membership. Things don't go much better on a father-son camping trip with the Wilderness Explorers, and then there's the Heffley's new dog, Sweetie, who fetches even more trouble for Greg in this hilarious family film!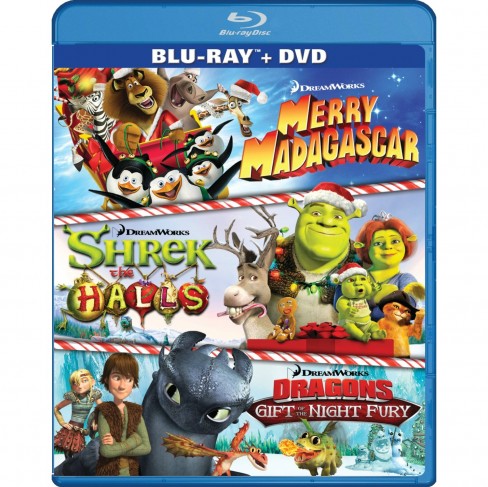 When Santa and his reindeer crash onto the island of Madagascar, it's up to Alex, Marty, Gloria, Melman and those wacky Penguins to save Christmas. Get ready for a sleigh full of laughs in this hilarious holiday classic, Merry Madagascar.  And don't miss The Penguins in A Christmas Caper!
After Shrek promises Fiona and the kids a Christmas they'll remember, he is forced to take a crash course in the holiday.  But just when he thinks he has everything, Donkey, Puss in Boots and the gang crash the party.
Shrek the Halls is the greatest holiday tale that's never been told… until now.   Also includes Donkey's Caroling Christmas-tacular!
The Dragons are back in the exciting next chapter to the Academy Award®-nominated film. The epic story of Hiccup and Toothless continues as they take flight in a thrilling, adventure to discover an island of never-before-seen dragons – Dragons: Gift of the Night Fury.  Explosive action and fire-breathing excitement collide in this exhilarating story.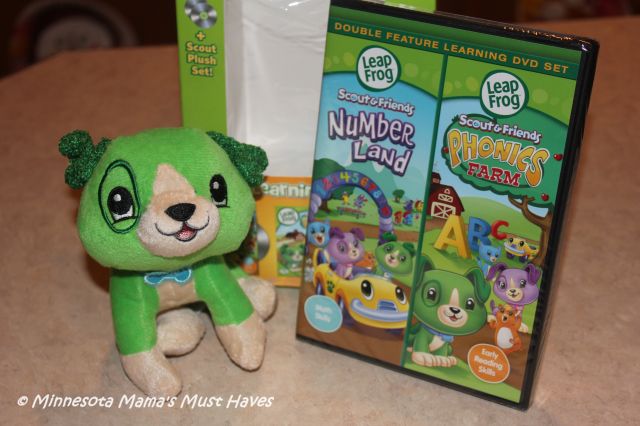 Give the gift of learning this holiday season with everyone's beloved LeapFrog character, Scout, as Lionsgate Home Entertainment and LeapFrog Enterprises, Inc., the leader in educational entertainment, join together once again to release the new LeapFrog: Gift of Learning 2-DVD + Scout Plush Set this November!  Featuring a bonusplush of puppy pal Scout, this set will bring learning to life with the LeapFrog™: Scout & Friends Phonics Farm and LeapFrog™: Scout & Friends Number Land DVDs, introducing young ones to math and early reading skills including number recognition, counting, the alphabet and more!  Perfectly timed for this holiday gift-giving season, LeapFrog: Gift of Learning 2-DVD + Scout Plush Set is available November 6 for the suggested retail price of $29.98
I love the learning aspect that LeapFrog offers and they didn't disappoint with this set! My kids loved the episodes and the little bonus plush LeapFrog was a plus! They loved him. Perfect for cuddling with while you watch the movie.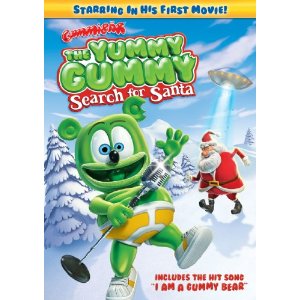 The internet sensation Gummibär makes his feature length film debut in Gummibär: The Yummy Gummy Search For Santa available on DVD, Digital Download and On Demand on November 6 from Lionsgate Home Entertainment. With over 2 Billion views on YouTube to date, "TheGummy Bear Song," is the #1 most viewed "Film & Animation" video on YouTube of all time. Now in his first fun-filled movie, Gummibär uses his charm, lovability and dancing skills to rescue Santa from Aliens and save Christmas. The DVD also includes six fun bonus music videos featuring your favorite singing and dancing green gummy bear.
Arriving just in time for the gift-giving season, Gummibär: The Yummy Gummy Search For Santa DVD is the perfect holiday gift for animation fans, kids of all ages, families as well as anyone who loves Christmas movies. The DVD will be available for the suggested retail price of $14.98.
All of these newly releases titles are available nationwide at retailers near you. These make great holiday vacation boredom busters for the kids and are a great reason to gather as a family for some bonding time! So get your Christmas break movie collection started and pop the popcorn!
*Site Disclosure: Products providing by company or representing PR firm for review purposes only. No compensation was received in exchange for this post. My opinions are my own and reflect my personal experience with the product.