Morning Time Saver! Make Ahead Freezer Peanut Butter & Jelly Sandwich

School mornings can be so hectic. Anything I can do ahead of time in order to reduce the morning chaos, is a godsend. These make ahead peanut butter and jelly sandwiches are a huge timesaver! I love that I can just grab a peanut butter and jelly sandwich from the freezer, pop it in their lunch pail, along with a few other snacks and I'm done packing their lunch! Want to make your own make ahead PB&J sandwiches? Read on for my must have tips!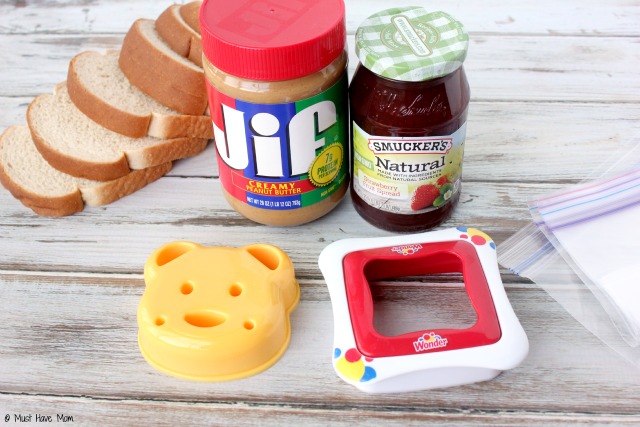 To make your freezer peanut butter and jelly sandwiches you'll need a loaf of bread, JIF peanut butter (creamy or crunchy), Smuckers Natural Fruit Spreads (we used strawberry), a sandwich cutter/sealer (we used this bear or this square).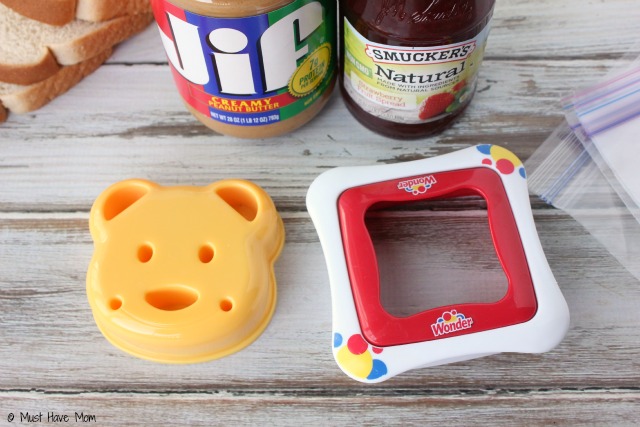 Having a sandwich cutter that seals the edges is essential. This ensures that your sandwich is sealed and won't leak any of the contents out the edges.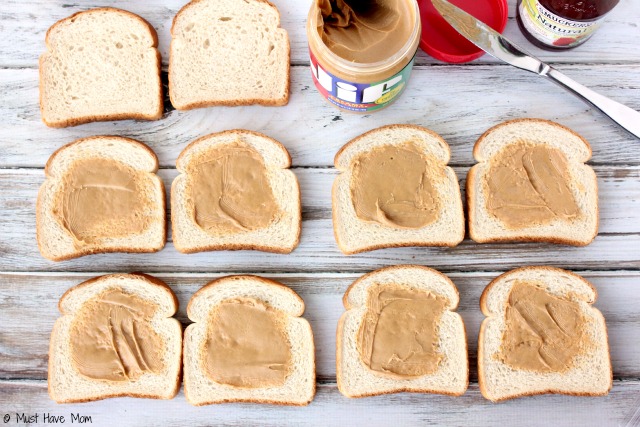 Now spread your JIF Peanut Butter on the center of each slice of bread. You want the peanut butter on both sides to help prevent the jelly from making the bread soggy. Be sure to only spread the peanut butter in the center and avoid the edges as you'll be cutting and sealing the sandwiches and you don't want the peanut butter to be all the way to the edge.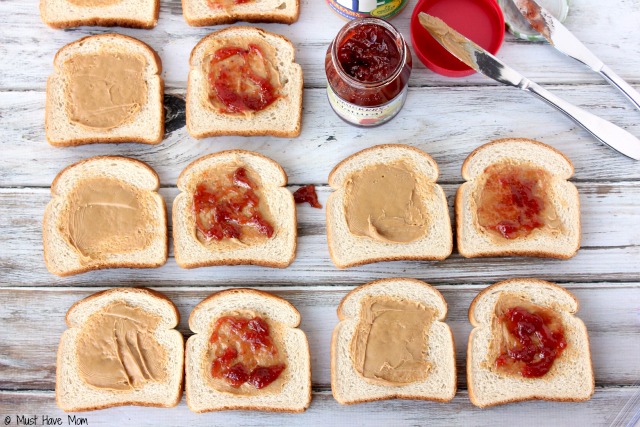 Next spread the Smuckers Naturals Strawberry Fruit Spread on one side of the bread. I choose Smuckers Naturals Fruit Spreads because they contain the same ingredients I would use in my own jam, and nothing more. Their Strawberry Fruit Spread is our favorite!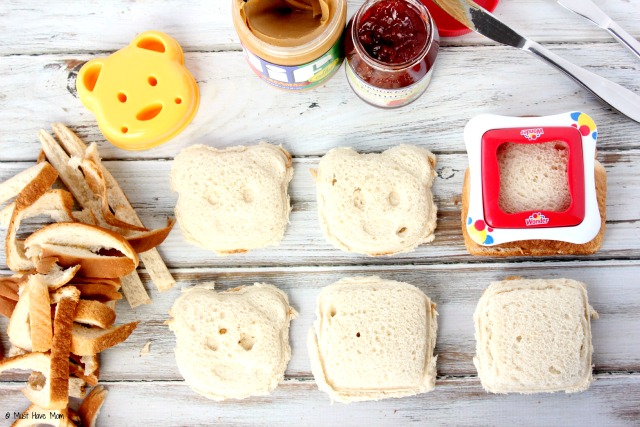 Now place the two sides of bread together to form your sandwich. Use your sandwich cutter/sealer to press and seal each sandwich. You can see how nicely my bear cutter makes a bear shape and the square cutter makes nice squares that utilize all of the bread except the crust. This works great because my kids hate the crust!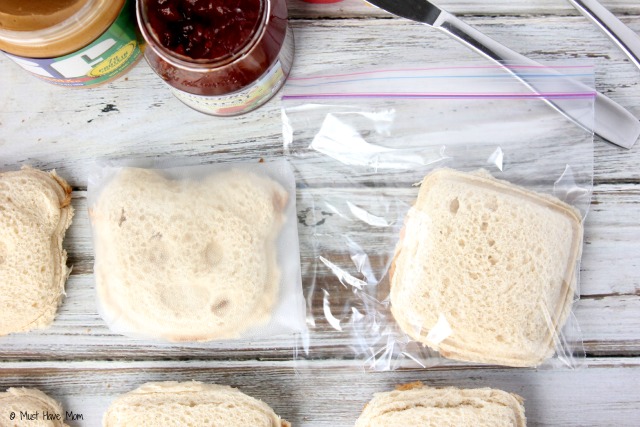 Next you can either wrap them in plastic wrap or stick each one in a plastic zip top bag. How you use them should determine how you will store them. If you are going to just toss one in your child's lunch pail each day then I'd recommend storing each one in a sandwich bag. However, if you use a bento box container (which I do), then I would just wrap each one in plastic wrap so you can place it in their container easily.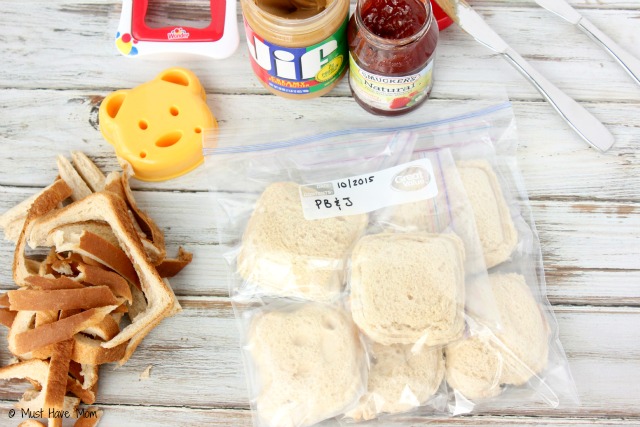 Then place all of the wrapped sandwiches into one large gallon size freezer bag. This double bagging method helps to deter any freezer burn and will keep them fresh for a longer period of time in the freezer.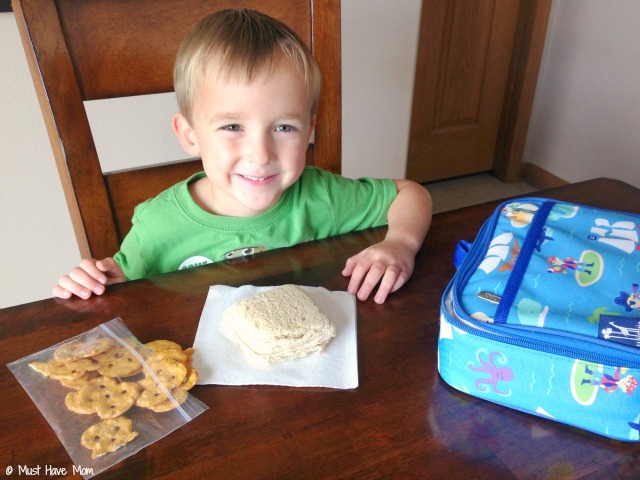 Now on your next hectic morning you can just grab a sandwich and toss together a quick lunch for your little one. Another time-saving tip that I use is to create a basket in the cupboard containing a variety of pre-portioned lunch snacks so I can easily grab a few and makeup their lunch. Making lunches no longer sucks up half of my morning and our mornings are more peaceful because of it!
Now when Carson is at preschool he can enjoy his PB&J moment knowing that mom made his favorite sandwich, just the way he likes it! I love when he comes home from preschool and shares all about his day. It makes me flash back to my days in preschool when my mom made me that same kind of PB&J! I love knowing that Carson is comforted by some food from home in the middle of his day.
What's your favorite #MyPBJMoment? Join the conversation on Facebook!