How To Teach Your Baby To Swim: 5 Must Have Tips!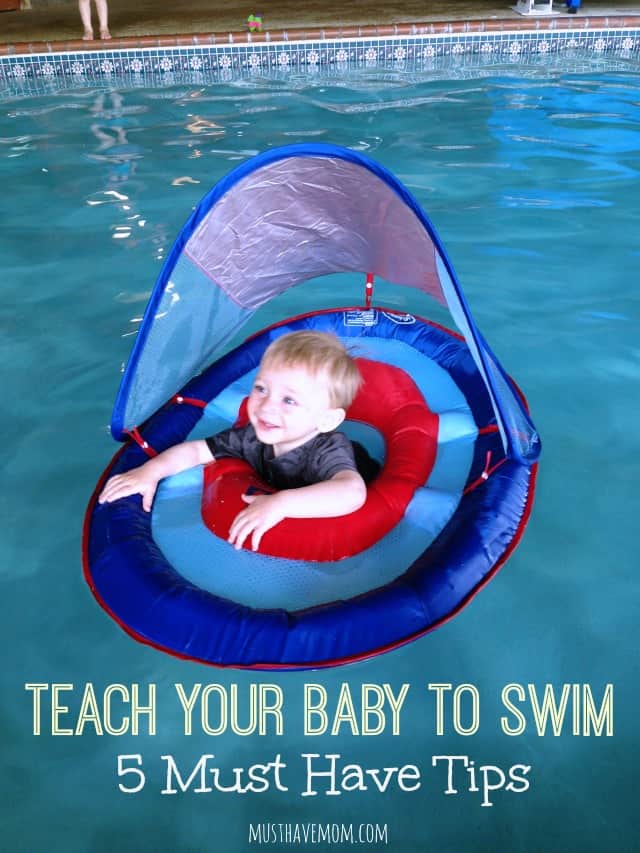 Teaching your baby to swim is an important skill that should be started at a young age. The earlier you start introducing baby to the water, the less likely they are to fear it later. Here are 5 must have tips for introducing your baby to the water and beginning their lessons in learning to swim! Teach your baby to swim with these important tips of what to do and what not to do!
1.) Begin at an early age: You don't have to start bringing your infant to the pool every week for lessons, you can start in the bath tub! Begin teaching your baby that having water on their face is okay by pouring water over their head as you wash them up and letting it go on their face. It's important for kids to learn from a young age that it's okay to get their face wet. We made the mistake of avoiding water on my child's face with our older kids and they feared water for the longest time! With my youngest we always dump the water over his head, and thus over his face, and he LOVES the water and it doesn't phase him one bit when it gets on his face. Start at a young age!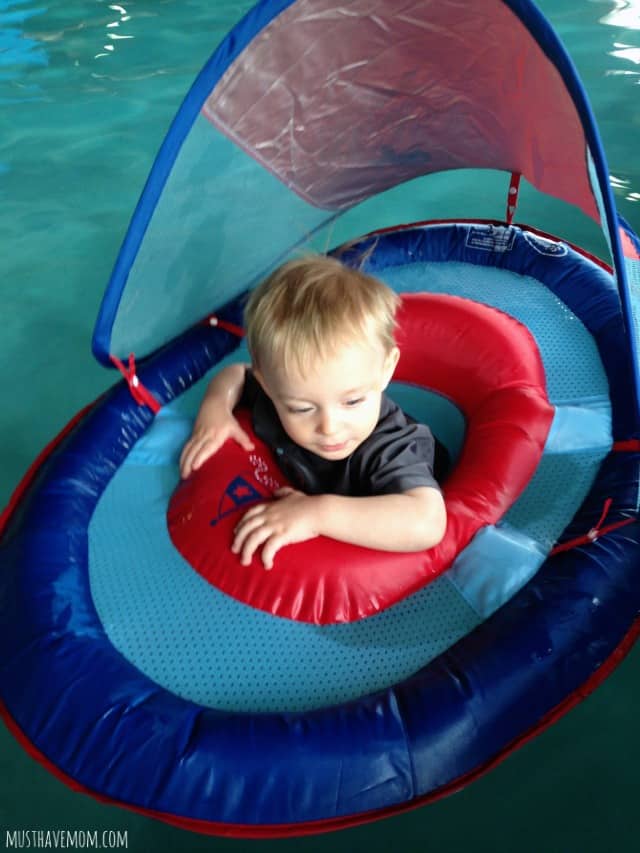 2.) Once you are ready to introduce your baby to swimming in the pool it's important to choose the right pool. Pick a pool that has warm water and a calm environment. Your baby's introduction to the water will set the tone for their lifelong relationship with water and swimming, you want this to be a positive experience! Begin by holding your baby with you in the water in a horizontal position just like natural swimming would be. Let them splash water in their face and experience the water around them.
When you aren't holding your baby (because you are attending to other children, swimming yourself, etc), keep your baby in the water and close by in their own flotation device. Rather than removing baby from the pool while you are doing other things you can keep your baby IN the pool and keep your arms free, letting them explore and play with the water around them. Be sure to NEVER have the baby out of arm's reach and ALWAYS keep your eyes on the baby!! Even though these floatation devices are safe they are not meant for you to leave baby unattended. Our personal favorite baby float is the SwimWays Baby Spring Float because it is specifically designed to introduce baby to the water as their first step in learning to swim.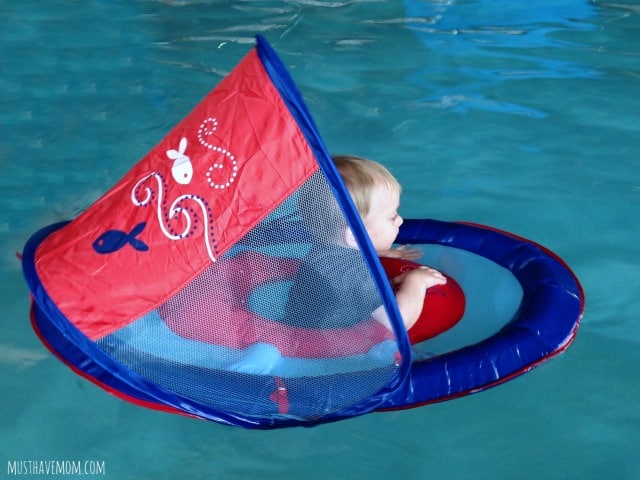 When outdoors make sure your baby always has sunscreen on. The water reflects the sunlight and baby's tender skin can burn in a hurry! Keep a shade over their head like the one on SwimWays baby spring float and keep them lathered up with sunscreen!
3.) Follow baby's lead. Take cues from your baby to determine their comfort level. If your baby is scared or unsure don't push them and create a negative experience with water for them. Go at their pace and make it fun! Try having them copy you doing various things like blowing bubbles in the water, splashing your hand, putting your ear in the water, etc.
4.) Keep it fun by introducing water toys. Keep the positive experience going by introducing fun pool toys to engage with in the water. Play games with baby and encourage fun play together. Your baby will then associate swimming with play time!
5.) Monitor baby's temperature. Babies get cold quickly and after about 30 minutes, even in a warm pool, they may get chilly. Watch for blue lips, chattering teeth or goosebumps on their skin. Take them out and rinse them off in a warm shower to get the chemicals off their sensitive skin and warm them up.
Want to learn more? There are lots of resources at teachmetoswim.com for all levels of swimming. National Learn to Swim Day is May 16, 2015 and is a great way to kick off summer safely by encouraging your children to learn to swim safely. SwimWays believes that swimming is an important life skill and that all children should have the opportunity to learn to swim. This will be the fourth annual National Learn to SwimDay. Please join us for our #SwimWays Twitter Party on Friday, May 15 from 1-2 PM ET.
Have you introduced your baby to the water yet? What was their reaction?