Christmas Eve Box Tradition & Ideas!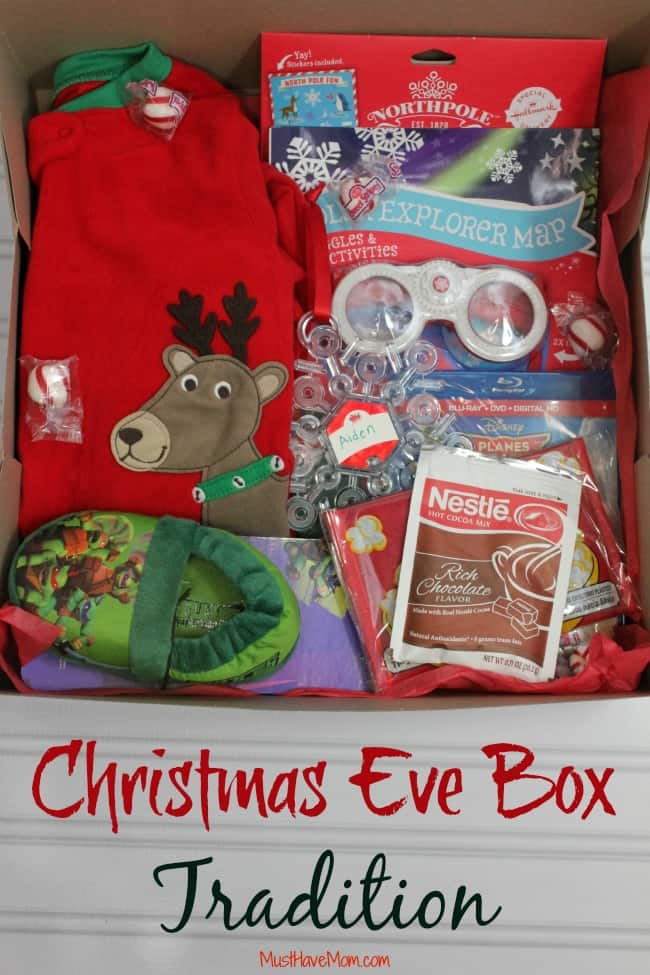 Every year I give each of my children just one gift to open on Christmas Eve. It is the only gift they will receive from Mom & Dad because Santa brings the rest on Christmas morning. Each year they receive their Christmas Eve box and it has become such a fun tradition that I now look forward to just as much as my kids do. Being that today was Black Friday I had to be sure I had everything I needed for my Christmas Eve boxes for each of my children. I have them all completed now and ready to be wrapped and placed under the tree with a big 'ol "Don't open until Christmas Eve!" sticker on them!
If you don't already have a fun family tradition for your kids to look forward to, then this one is a lot of fun and it's also very practical!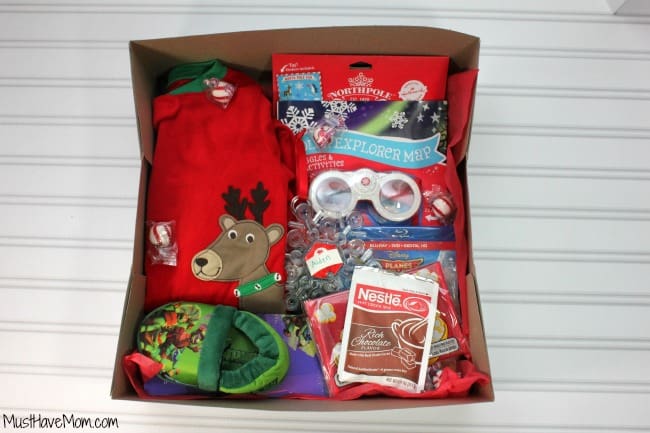 I create a Christmas Eve box for each of my kids but they all contain the same things (just in their own size/gender colors). If you need Christmas Eve box ideas then I have some really fun boxes put together for this year! What I really love about these boxes is that they are fun and they are practical and perfect for Christmas Eve. I include a new pair of Christmas pajamas
for each child. This year I got each of my 3 boys a matching pair of reindeer pajamas
that are so cute! They open this box on Christmas Eve and then wear the pj's to bed. Then in the morning when they wake up to see what Santa has brought them for Christmas morning, they are all adorable and matching in their Christmas pajamas! It makes for great photo opps and it's a fun gift! My kids love opening up new pj's and sleeping in them that night!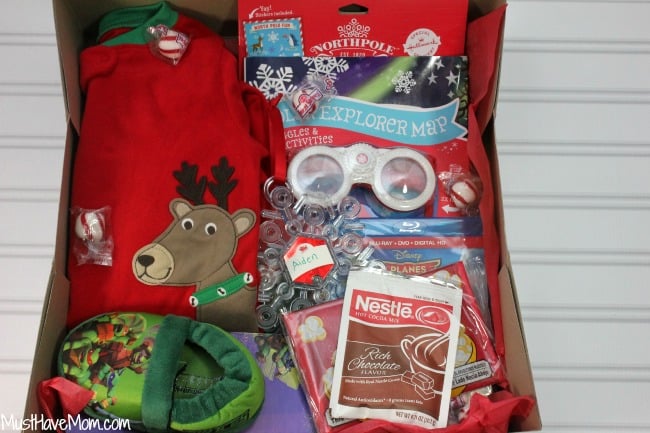 I also always include a new pair of slippers
. By this time of year they have outgrown their pair from last year and it's a great gift to give each year. This year I got footie pajamas so they really didn't need slippers to wear with their pajamas but tradition insists they receive a new pair of slippers and since my boys had outgrown theirs, I couldn't leave them out!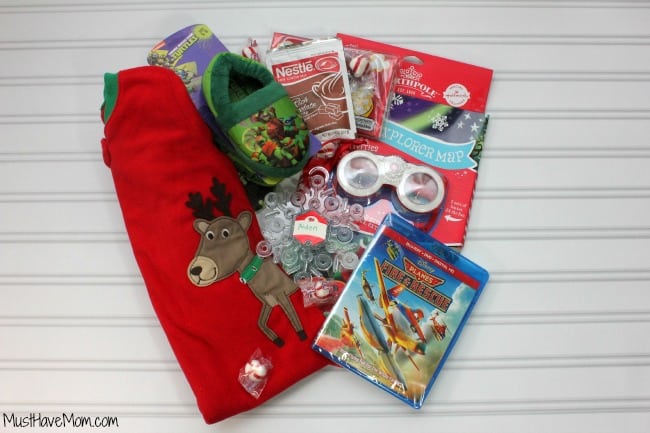 I also include a package of microwave popcorn, a packet of hot cocoa mix, peppermint candies and a new movie to watch together on Christmas Eve night! We often do a Christmas themed movie but this year I went with Planes Fire and Rescue
!
I also included a couple of really fun Northpole themed gifts I found at Hallmark. The North Pole Find Me Santa! Snowflake
which I wrote each child's name on, lights up for four hours until the jolly guy arrives, so Santa can find your child wherever they are. For my older two kids I also included the Polar Explorer Goggles and Adventure Map
so they would have a fun activity to keep them busy while we are at Papa's house on Christmas Eve. They can see the North Pole like never before by using the amazing 3-D goggles to explore every inch of the Northpole map, from its exciting places to its fun friends. The mission gets even more magical by flipping over the map for lots of fun activities, like mazes, stickers and more. It's perfect to keep them entertained while they wait for Santa! It can be so hard to fall asleep when you are so excited! Find both of these along with other fun Northpole activities at your local Hallmark or the links above!
If you want to start the fun before Christmas Eve then be sure to pick up some Magic Mail
too! Your child can write to Santa and Santa writes back! It's really fun! Your freezer is the mailbox!
Put everything in a box
and wrap it. Open it up on Christmas Eve! Do this year after year and your kids will look forward to it. We love our Christmas Eve box tradition!
What traditions does your family enjoy on Christmas Eve?