How To Get Your Kids To Do Chores Without Complaining! + Free Printable
If your kids are like most then the mere thought of chores has them whining. Want your kids to do chores without complaining? I'll show you the trick that works for us and how you can get that dishwasher emptied without any complaints!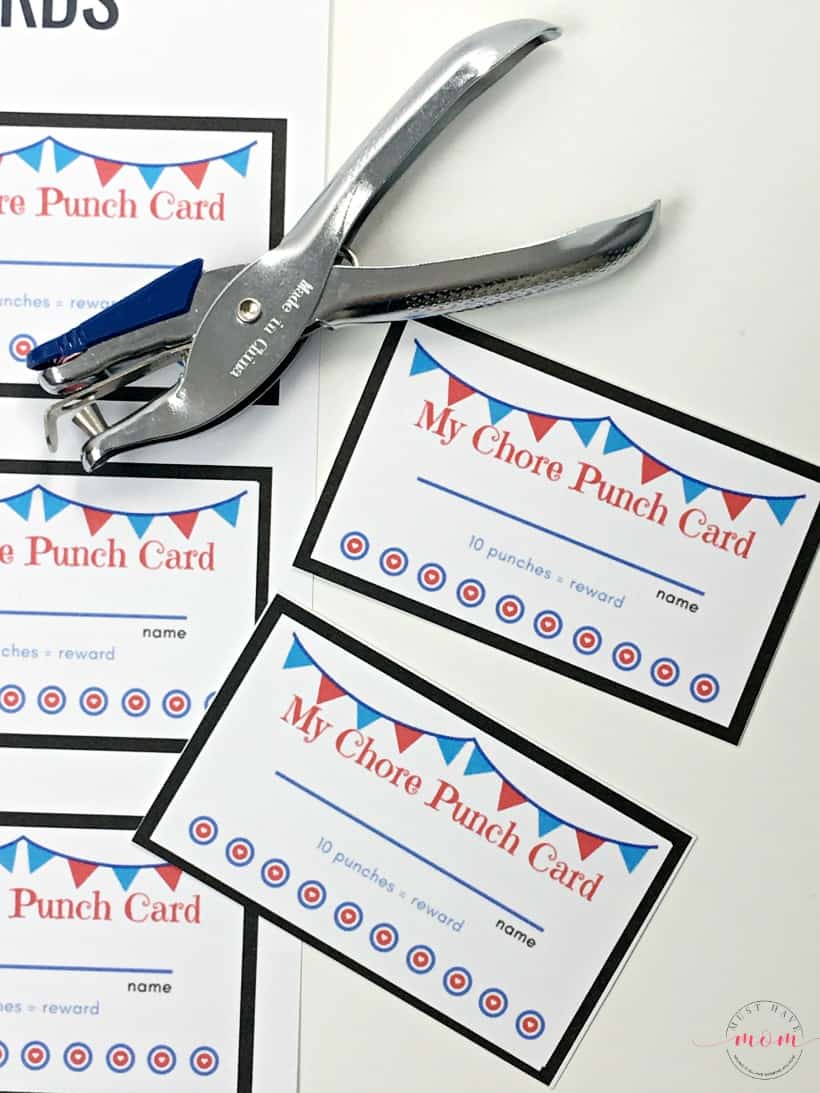 Get Your Kids To Do Chores Without Complaining!
For years we struggled to get our kids to pitch in around the house without instantly transforming into whining little sloths. It was amazing how you could ruin their whole day by simply asking them to empty the dishwasher. I knew I'd need to devise a system that would motivate and reward them for being contributing members to our family. Not only do chores teach kids responsibility and the importance of working together to keep the home running smoothly, but they also teach lifelong skills that they'll need as an adult. It is GOOD to require your children to do chores, but how do you get it done without losing your sanity? This simple system that uses chore punch cards has worked extremely well for us.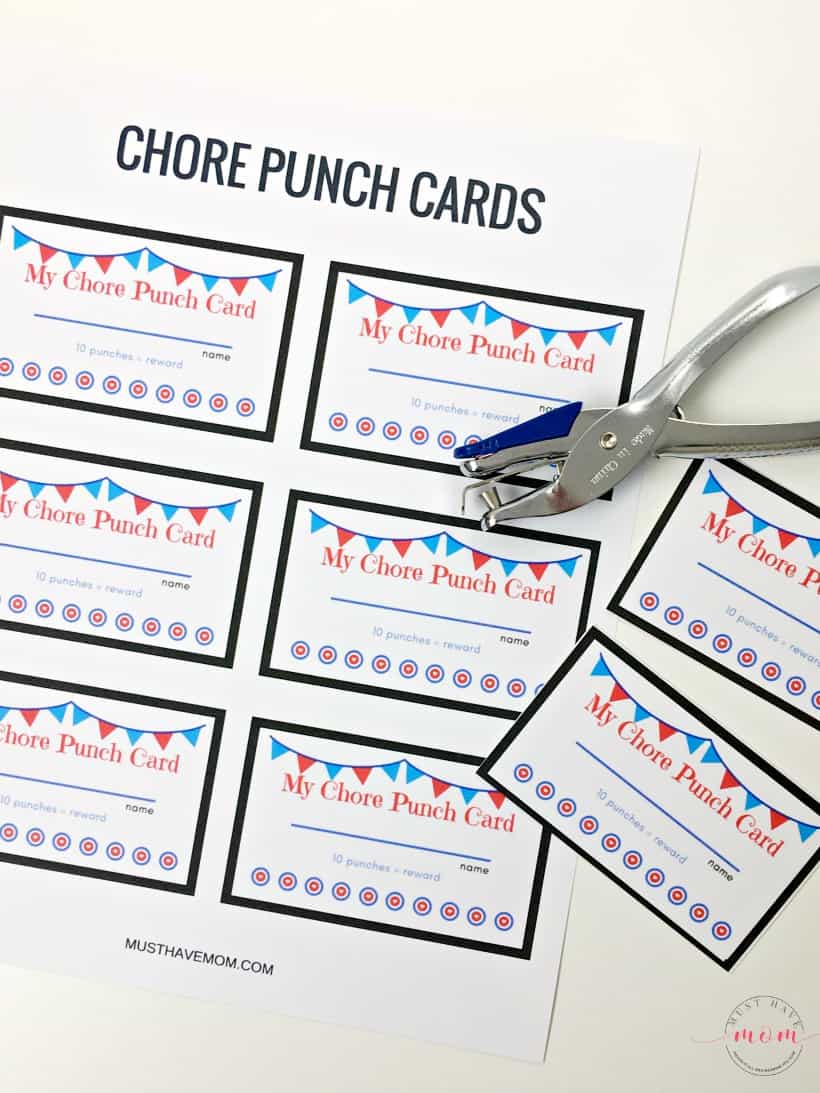 Free Printable Chore Punch Cards
We all like to be rewarded for our work. I found the same thing was true with my own kids. They want recognition and they also love earning things and working towards a goal. This system is similar to teaching them to save up their own money, but instead, they are accumulating punches in exchange for chores to ultimately earn a reward. Print off my free printable chore punch cards here.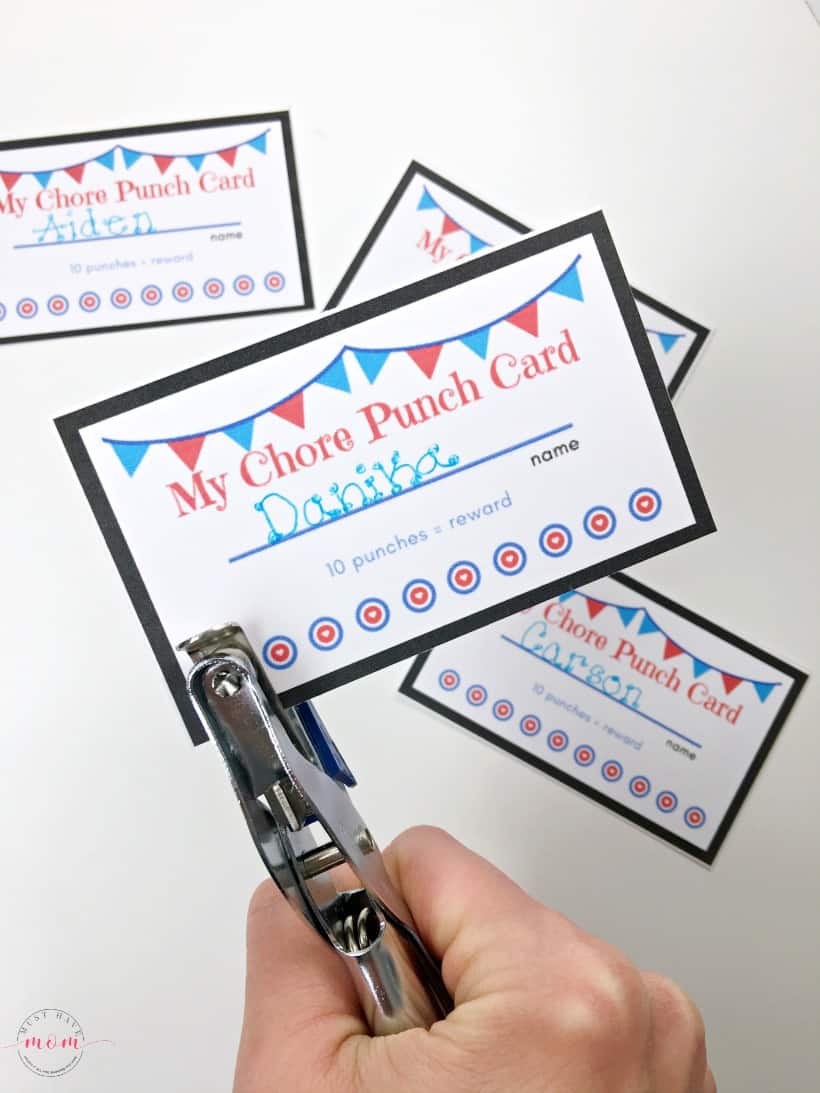 Print the chore punch cards and cut them out. Add your children's names to each card and explain to them how they work. Each chore they complete (without whining) earns them a punch. We have a rule that if you complain or do the chore with a bad attitude then you forfeit your punch. This cuts down on the whining by 95%! Empty the dishwasher. Earn a punch. Clean your room. Earn a punch. It's easy. Once they get 10 punches they get a reward. It's up to you to decide what to reward them with.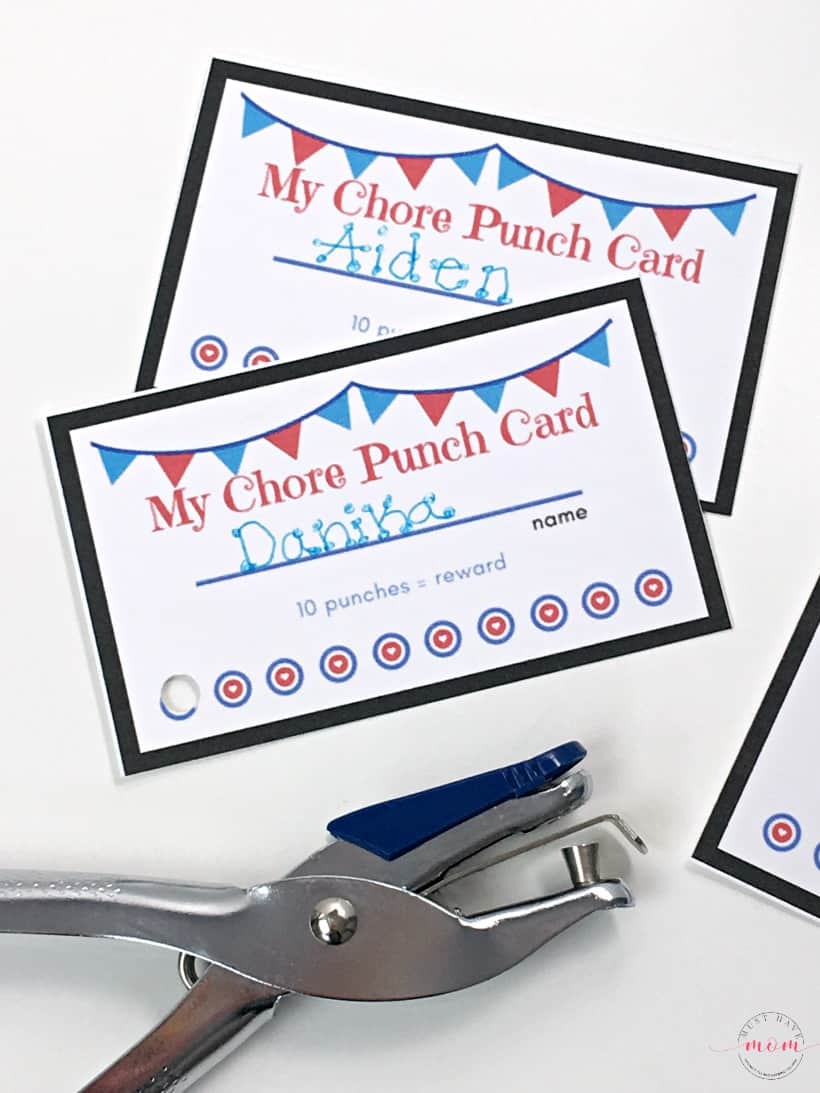 We began by having a "chore store" filled with inexpensive prizes like bubbles, coloring books, small toys, treats, etc. As I become more and more minimalist I find myself avoiding the extra clutter so we recently switched to each punch card being worth $3. Once it's full they can redeem their cash and either spend it at the store or save it for something bigger (like that much-desired Lego set). This teaches them many valuable life skills and it helps me keep my sanity. When everyone in our house is pitching in, it makes the workload a lot more manageable. Trust me, you aren't doing your children any favors if you don't require them to help out or clean up after themselves. Do their future spouse (and employer) a favor and instill good habits now.
Get Your Free Printable Chore Punch Cards
You can print off the free printable chore punch cards by clicking here. Then just download them and print.
Pin Free Printable Chore Punch Cards