DIY Muslin Swaddling Blankets Tutorial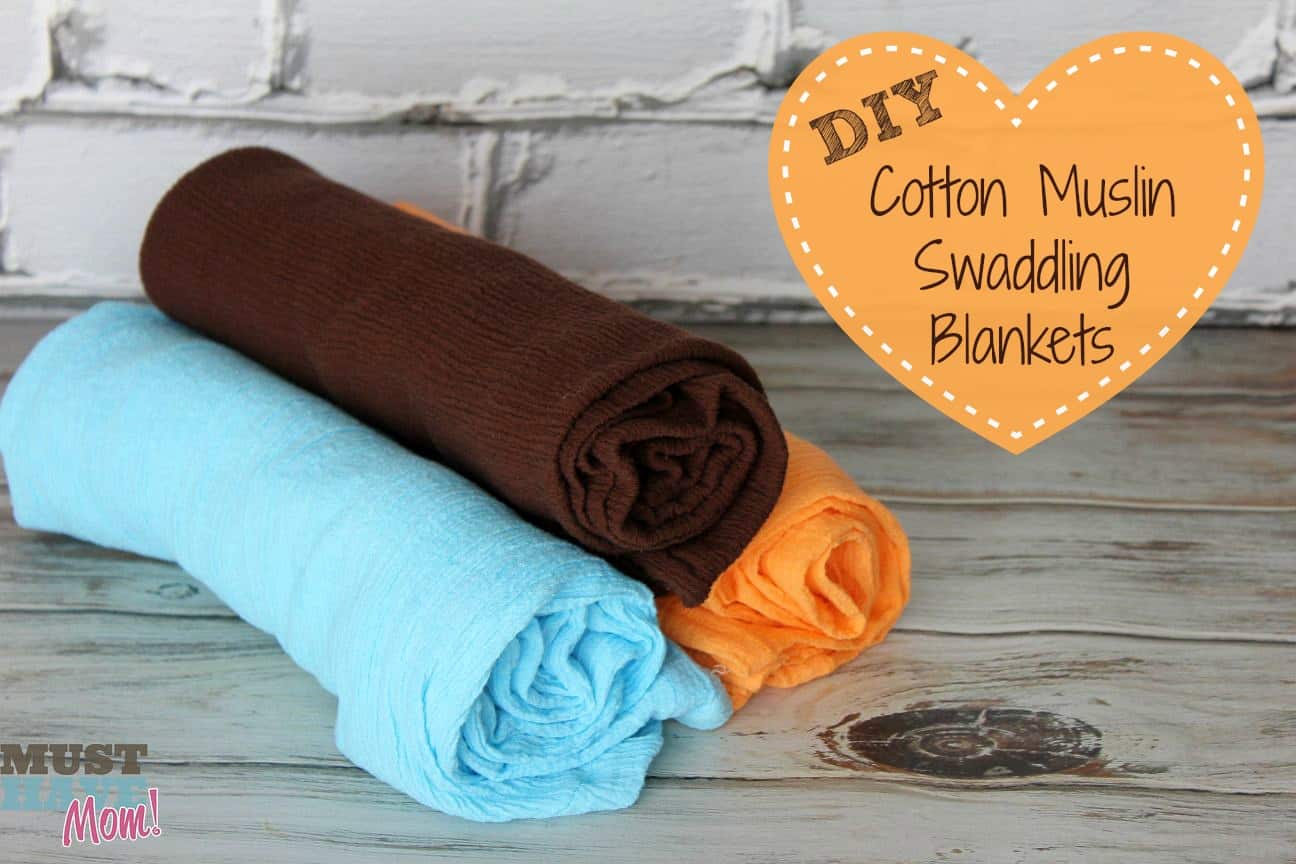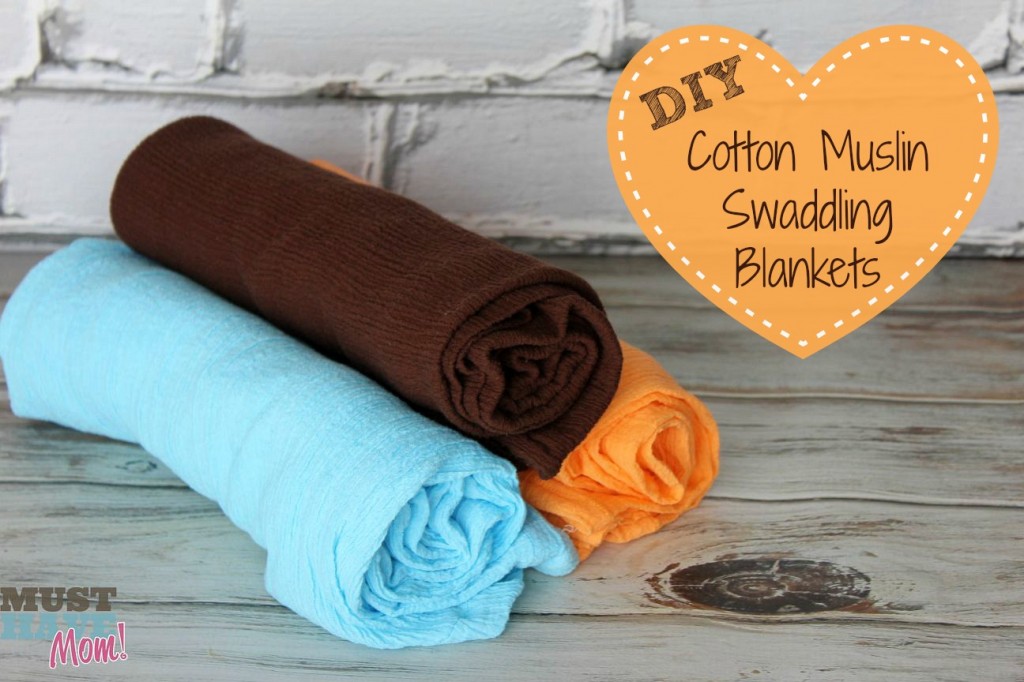 I absolutely adore cotton muslin swaddling blankets
. They are lightweight, breathable and are perfect for swaddling. They prevent baby from overheating while still keeping them swaddled and warm. They get softer with every washing and they double as great nursing covers, car seat covers and playtime blankets.
My son Carson is super attached to his aden + anais Muslin Swaddle Blankets
 and they are his "official blankie". He has a big stack of them and doesn't mind which print it is but it must be aden + anais or it doesn't pass. With baby #4 coming I knew that Carson wasn't going to give up any of his aden + anais swaddle blankets for the baby to use. I wasn't about to steal his blankies and give them to the new baby. That sounded like a recipe for disaster! I did however want muslin swaddling blankets for the baby because they are my absolute favorites! I decided I could probably make my own and it turned out to be pretty easy actually and it was cheaper than buying them new.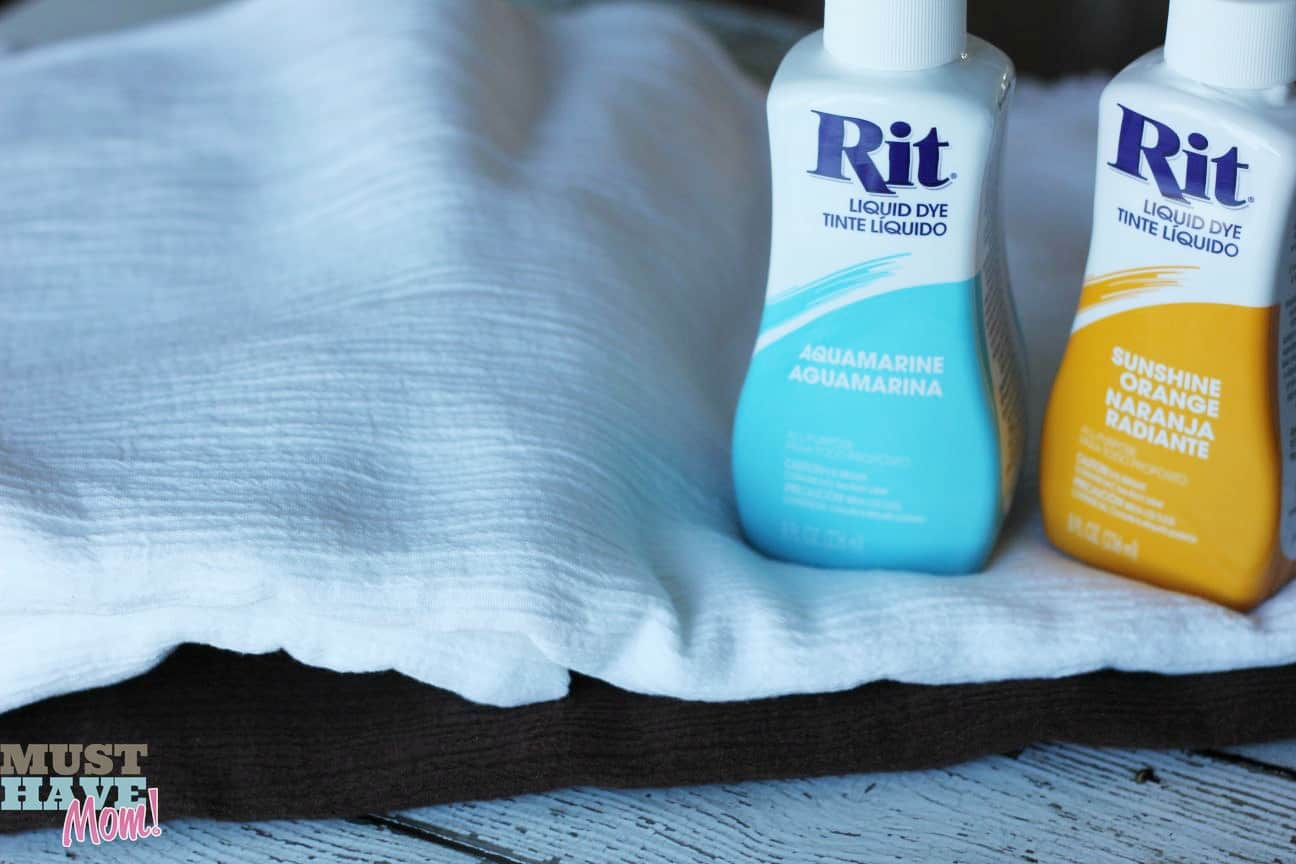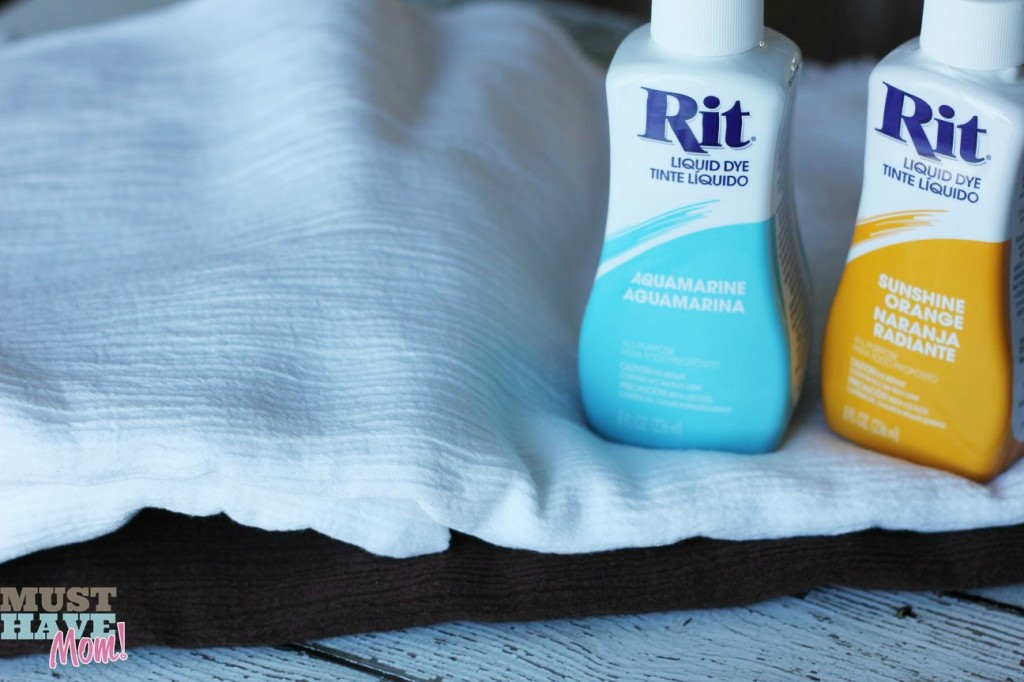 You will need to head to the fabric store and pick up some cotton gauze fabric (also referred to as muslin in other countries). I found mine at JoAnn Fabric and they had it in white and brown. I decided I could buy white and dye it to be a prettier color and I picked up some brown too. I grabbed two bottles of RIT Dye
in Aquamarine and Sunshine Orange. I love the bright colors!
For each blanket you will need a 45″ x 45″ square of cotton gauze. 42″ x 42″ will work too, depending on width of your fabric on the bolt. Just make sure it is square. I cut my fabric and then dyed it so that I could do two of each color.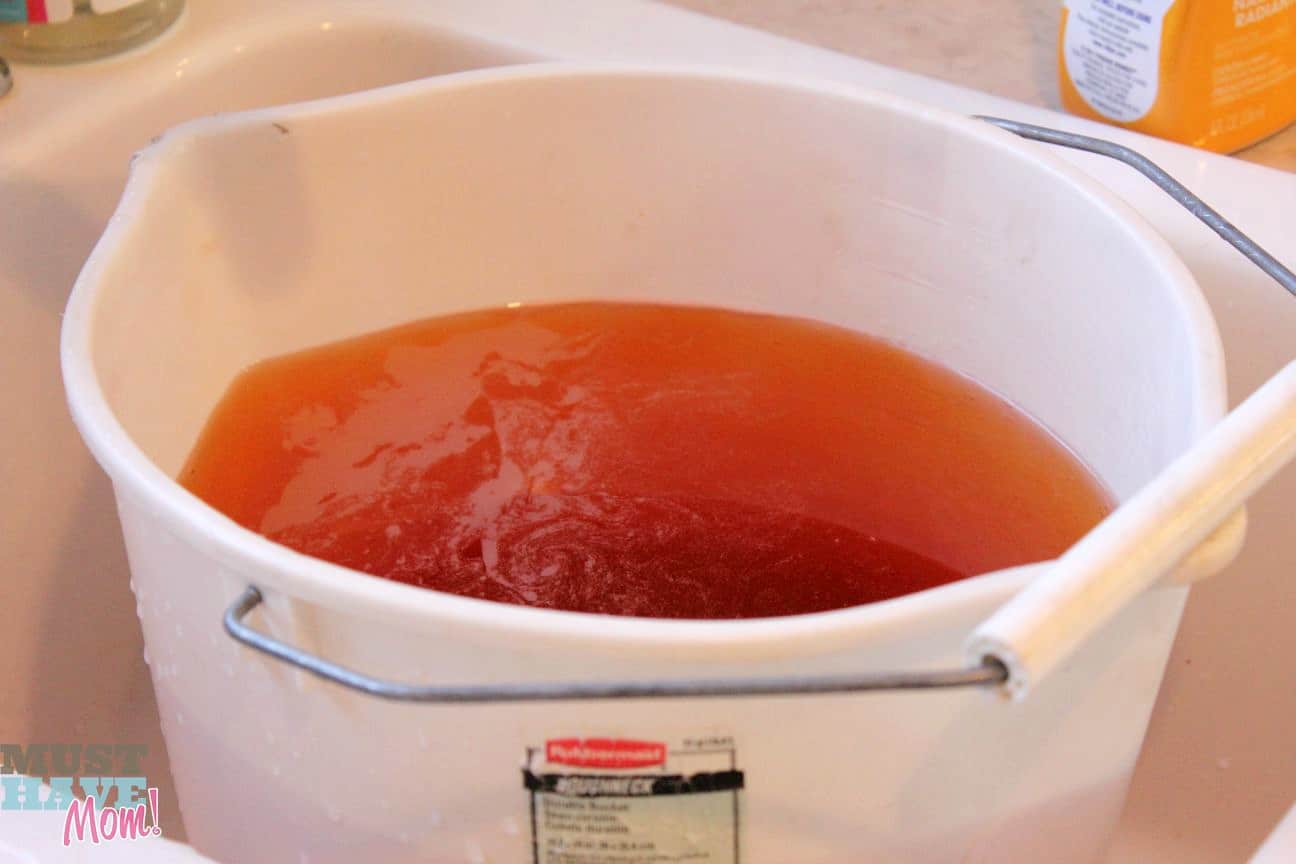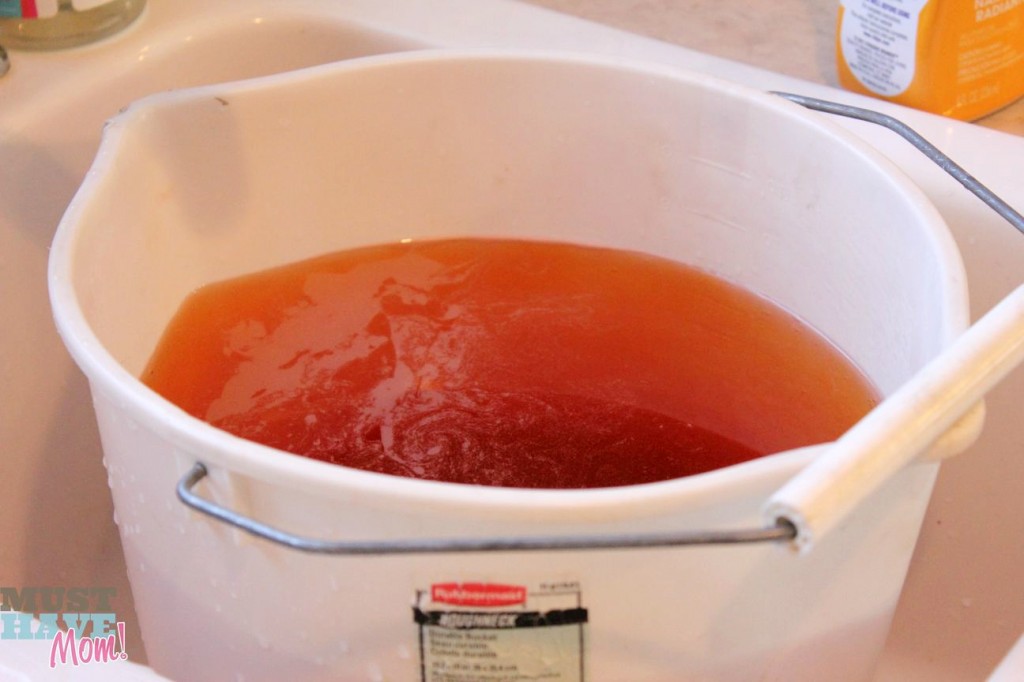 To dye the fabric you will need to mix up your liquid RIT (powder works too) in a large bucket. Be sure to wear gloves or your hands will stain! This was my first time dying fabric and I have to tell you I was intimidated but it was SO easy! Do not be afraid to give it a try!
Follow the instructions on the bottle of dye and mix it with very hot water in a bucket in the sink. Stir it together, be sure to add salt as instructed on the bottle. Then add in your fabric and stir. I found it was important to keep stirring it throughout the time it sat and never let it sit without stirring for longer than ten minutes. If you do the dye tends to distribute unevenly and the finished result is not a nice, even dye job but is splattered looking.
Leave it sit in the dye until your desired color is reached. Keep in mind that the finished color after washing and drying will be slightly lighter than it looks in the bucket of dye while wet. I let mine sit for at least an hour (stirring every ten minutes).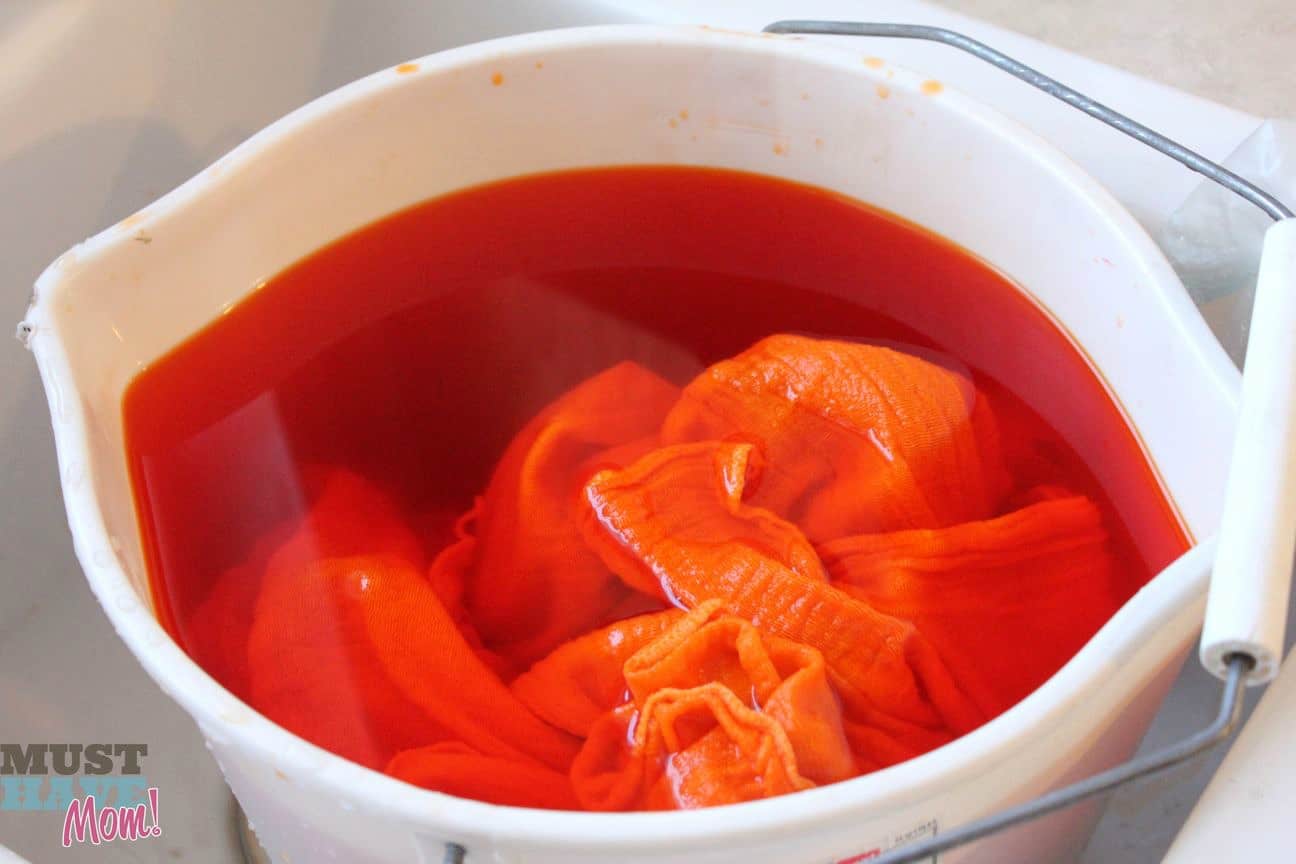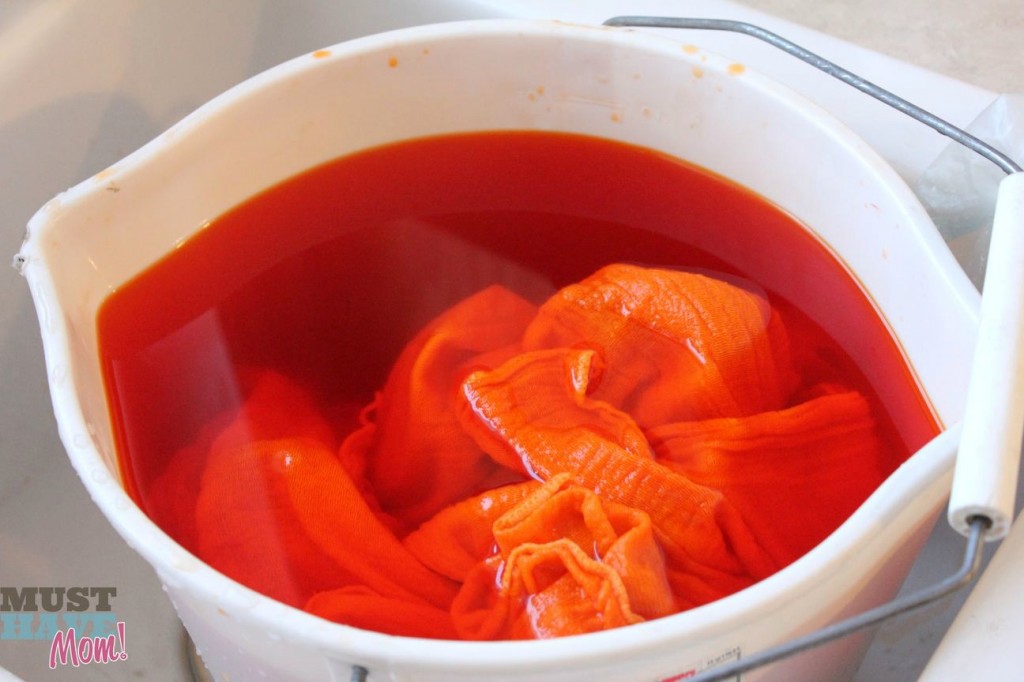 Once you have reached your desired color you can rinse it under cold water until the water runs clear. Then wash and dry in your washing machine/dryer. That's it! I did wash mine a second time along with a Downey ball filled with vinegar in order to help set the dye so it wouldn't bleed when washed again. After the second wash I found that it did not bleed anymore.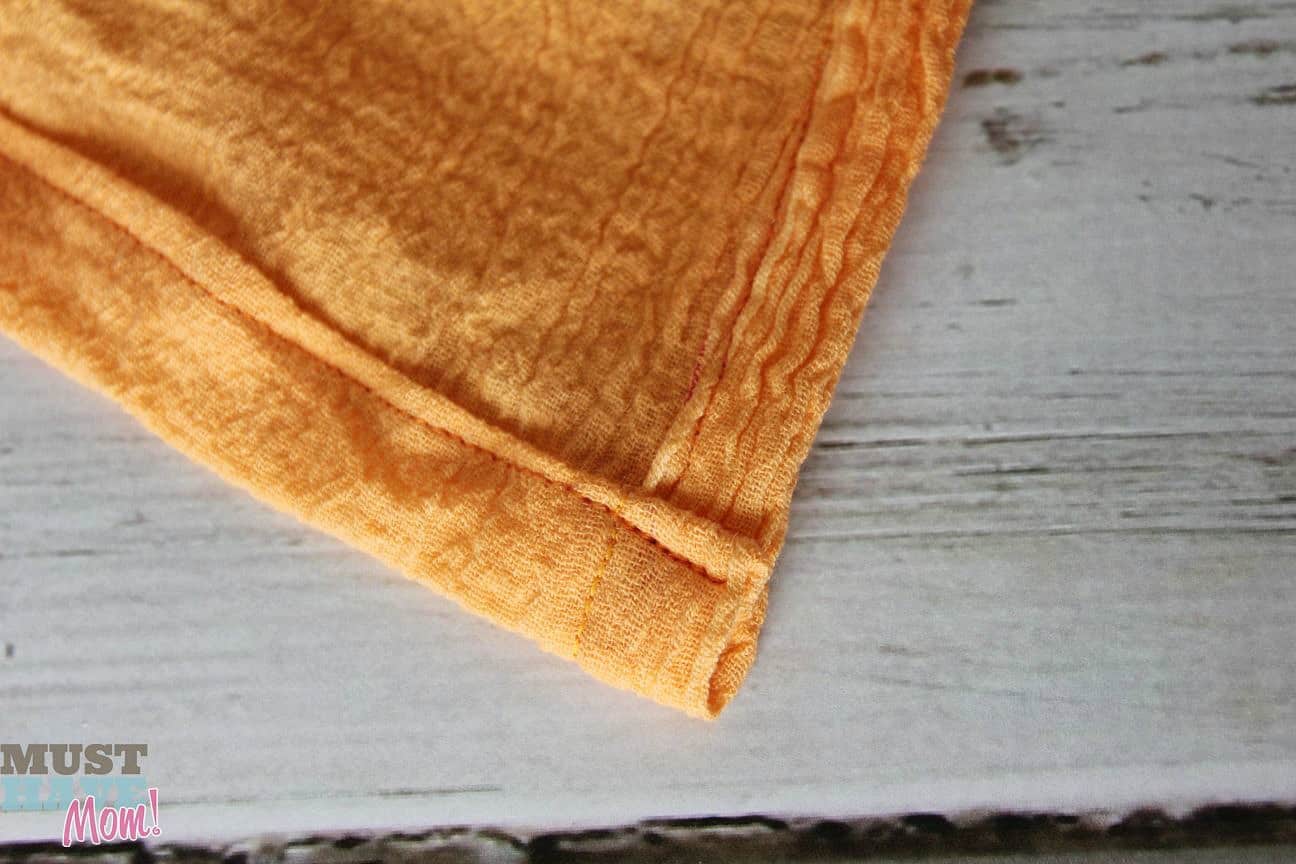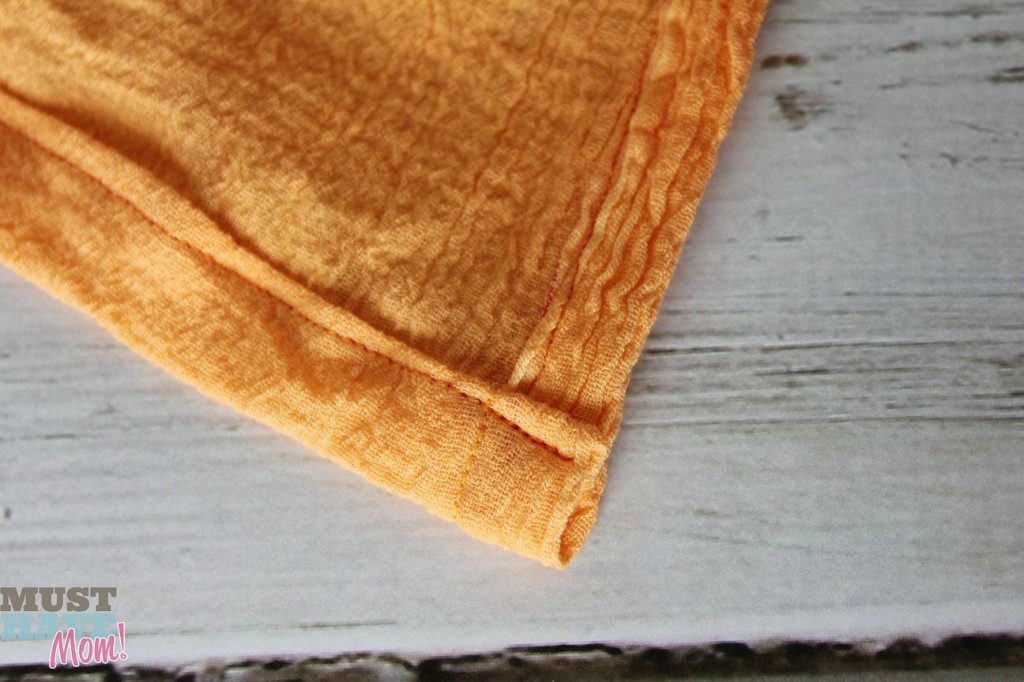 Next you will need to finish the edges. I did a little experimenting with the best way to go about this and found that it was easiest to do it this way:
Fold the edge over 1/4″ and then 1/4″ again creating a nice clean fold. Do not iron or pin. Start sewing and continue to fold over the edge as you go. The fabric is a bit difficult to work with and I found that ironing and pinning were not helpful. Just folding it over as I sewed worked the best. The line doesn't have to be perfectly straight and you will find it works well. Do this for all 4 edges.
On the corners simply fold one corner over the other edge (as pictured above).
Do not stretch the fabric as you sew it or it will pucker! Resist the urge to pull it taught 🙂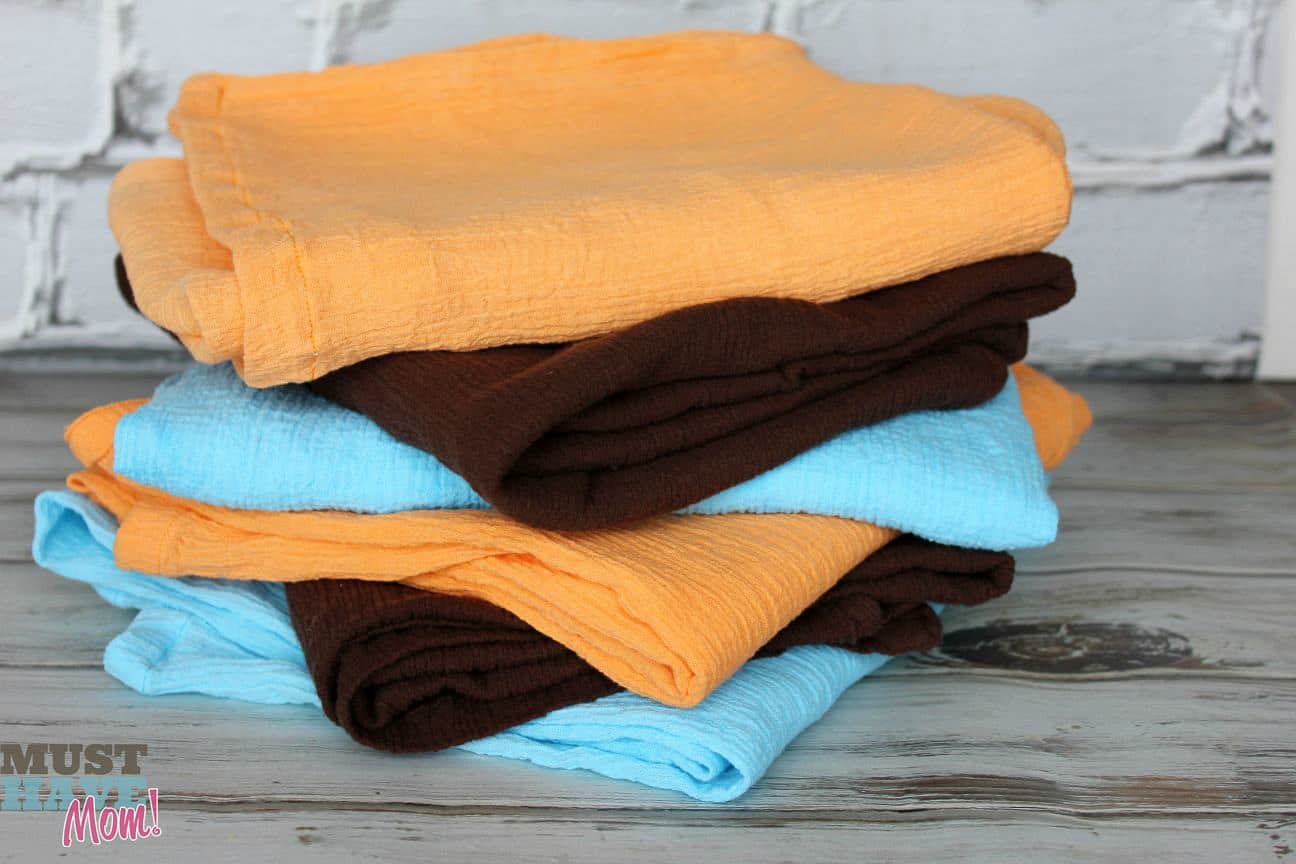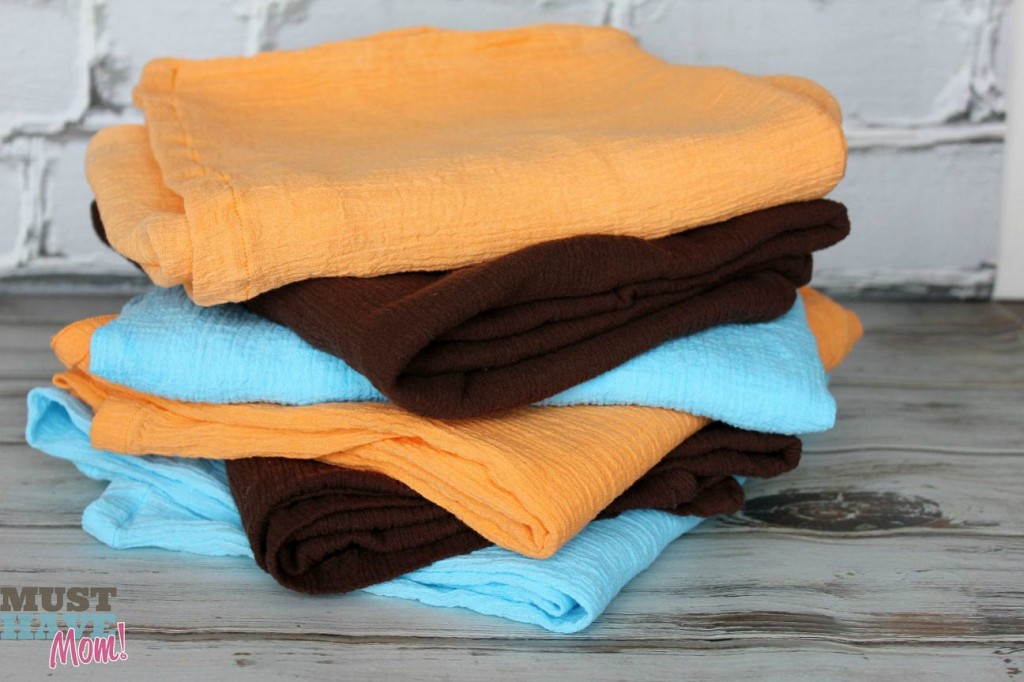 When you are finished you will have a stack of brightly colored muslin swaddling blankets! I made some with the brown cotton gauze fabric as well. They turned out great! I can't wait to wrap my little guy up in them. As an added bonus they don't look the same as Carson's blankies so he won't think the baby stole them from him 🙂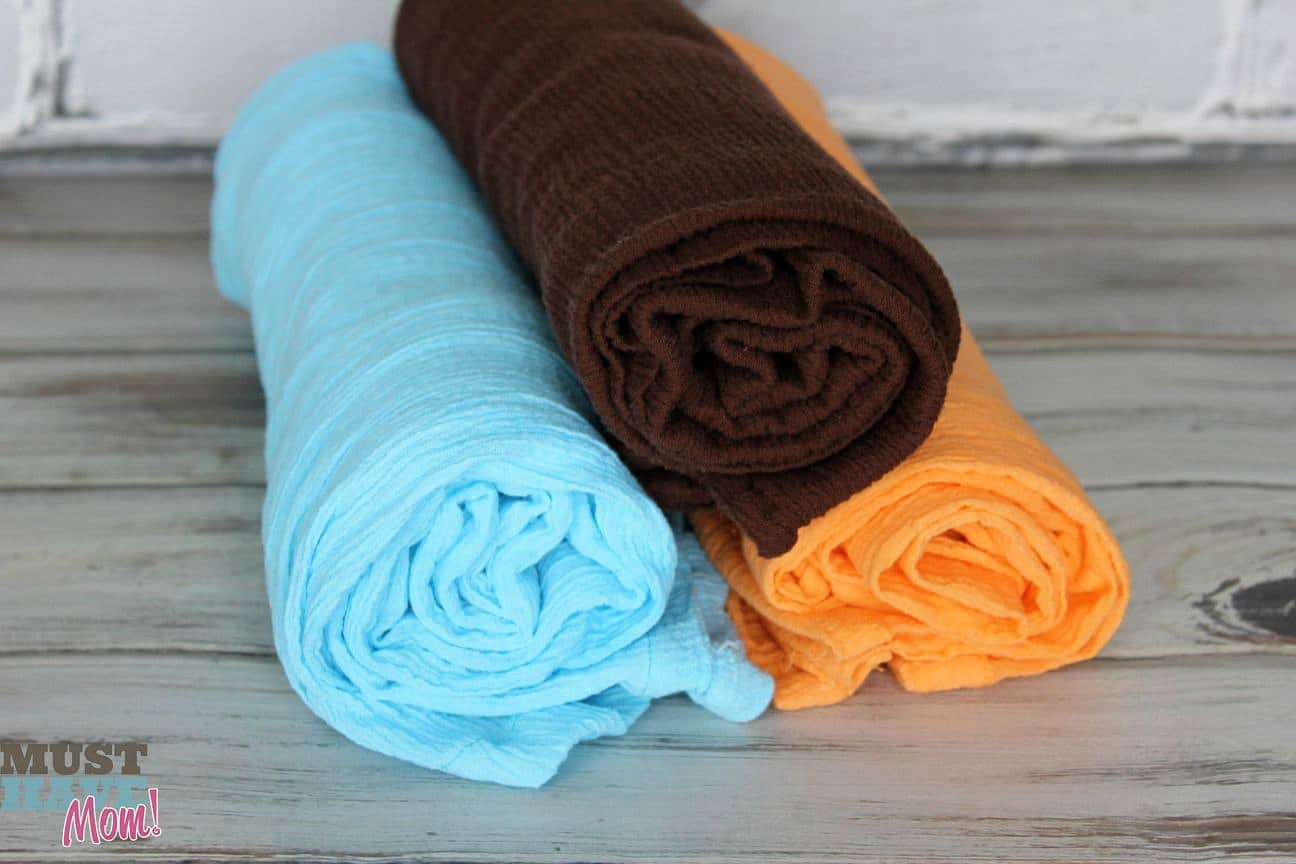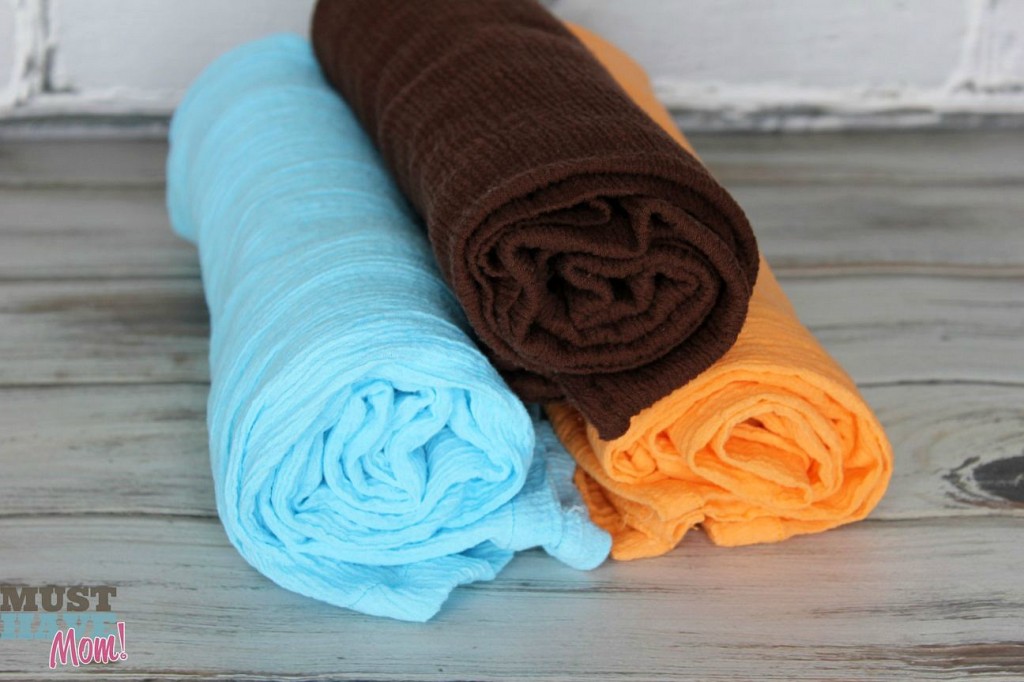 These make a fantastic and affordable baby gift idea too! When you cut your fabric save some of the scraps and use them to tie the blankets after rolling them up. It makes for a cute presentation! Make a bunch of these DIY muslin swaddling blankets and save some and gift some!
Like this post? Pin it, Share it, Tweet it 🙂