9 Must Have Outdoor Entertaining Tips + Party Ready In 30 Minutes!
No matter what occasion you are hosting an outdoor party for, these must-have outdoor entertaining tips will ensure your outdoor party is a smashing success! You won't have to worry about flies descending on your party food or wasps sneaking into your drinks with these tips. Plus you can have everything ready in about 30 minutes!
*This post has been sponsored The Coca-Cola Company. All thoughts and opinions are my own.
Outdoor Party Tips
Summer weather brings the perfect opportunity to host an outdoor party with all of your favorite friends. Dodge the typical outdoor party pitfalls with these must-have outdoor entertaining tips. These tips are genius and require very little time to do. Next time you have company drop by without any notice, you'll be party-ready.
I find that summer is the perfect time to host impromptu guests because you can entertain outdoors and you don't have to worry about the messes in your house. Do a quick tidy and clean the bathroom and you're all set to host a party. By doing a little bit of prep now, you'll be ready to host an outdoor gathering at any time!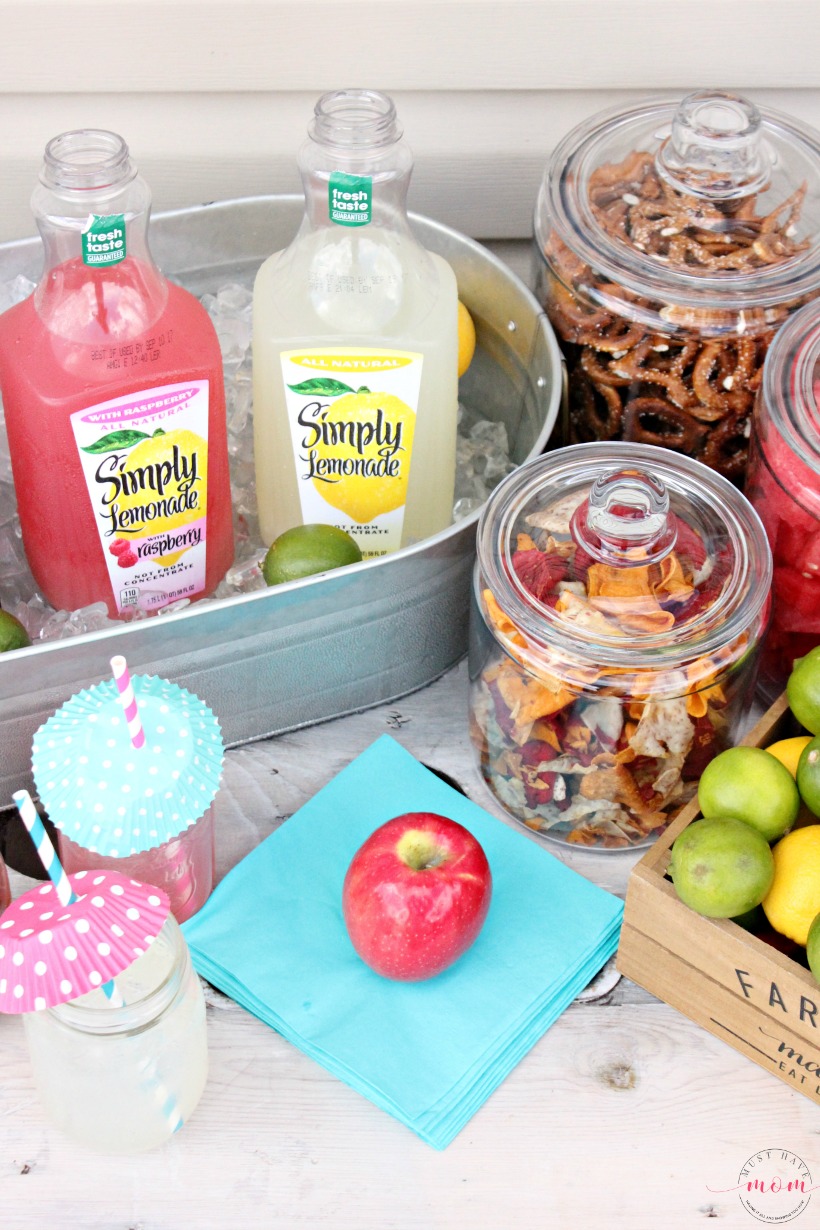 Outdoor Entertaining Tips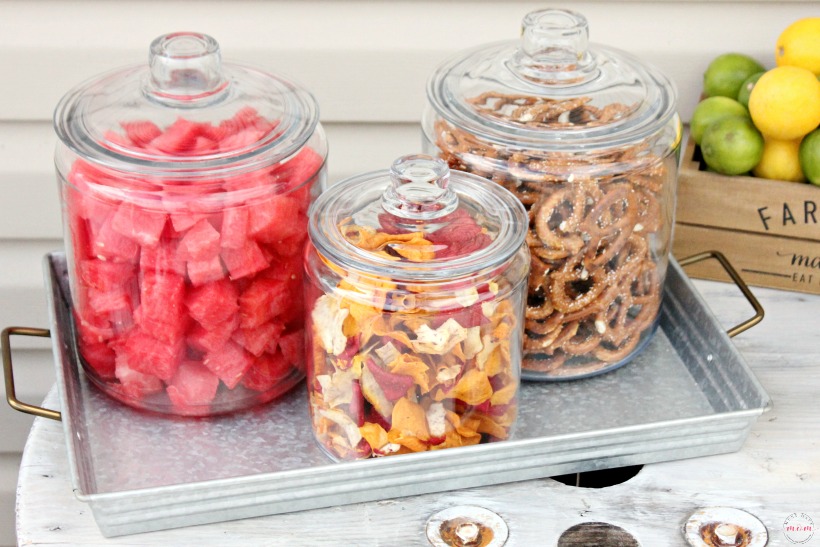 #1 – Keep some of these inexpensive glass cracker jars on hand and serve your party foods in them so that bugs don't land on your food. Put chips in them to prevent them from getting soggy. Serve salads and fruit inside them for easy access that flies can't easily get into. You can use them for just about any party food and it will help keep the bugs off and prevent foods from becoming soggy, while still displaying the food for your guests to see.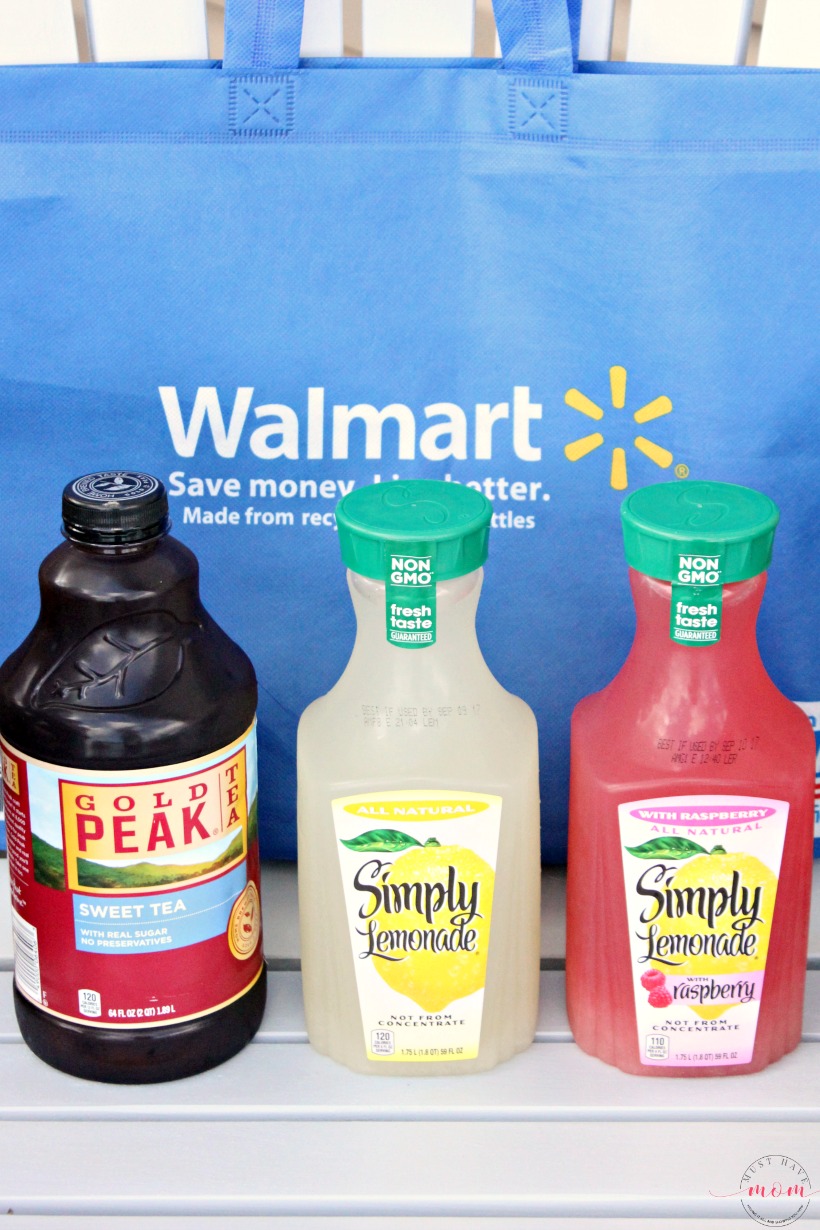 #2 – Always keep Simply Lemonade, Simply Lemonade with Raspberry and Gold Peak Sweet Tea on hand for quick and easy beverages for your guests. I stock up on them while I'm at Walmart each week. Simply Lemonade is my favorite and I always grab a couple of bottles from the refrigerated section. My husband's favorite drink on a hot summer day is Gold Peak Sweet Tea so I always grab a couple bottles from the beverage section and store them in my fridge so they are cold and ready for entertaining.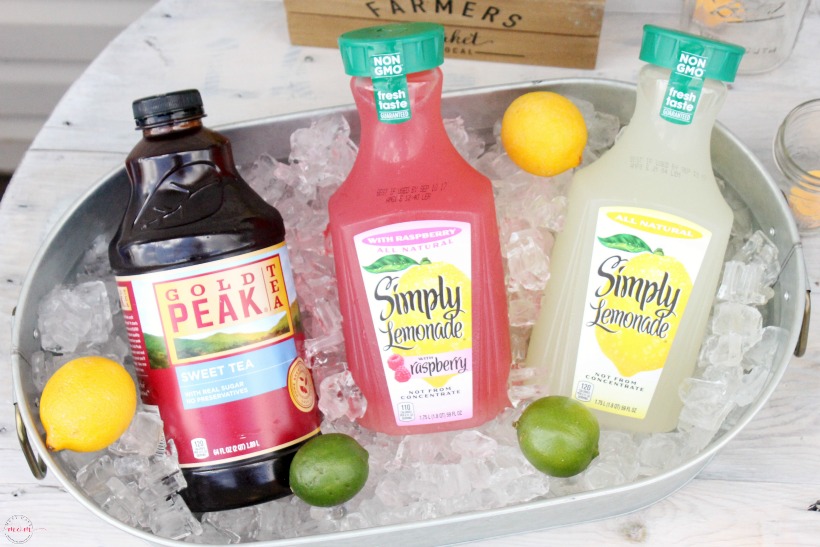 #3 – Fill a tub with ice and serve the refreshing drinks in their original bottles to cut down on dishes later. It makes for a pretty presentation without any muss or fuss, while keeping the beverages ice cold.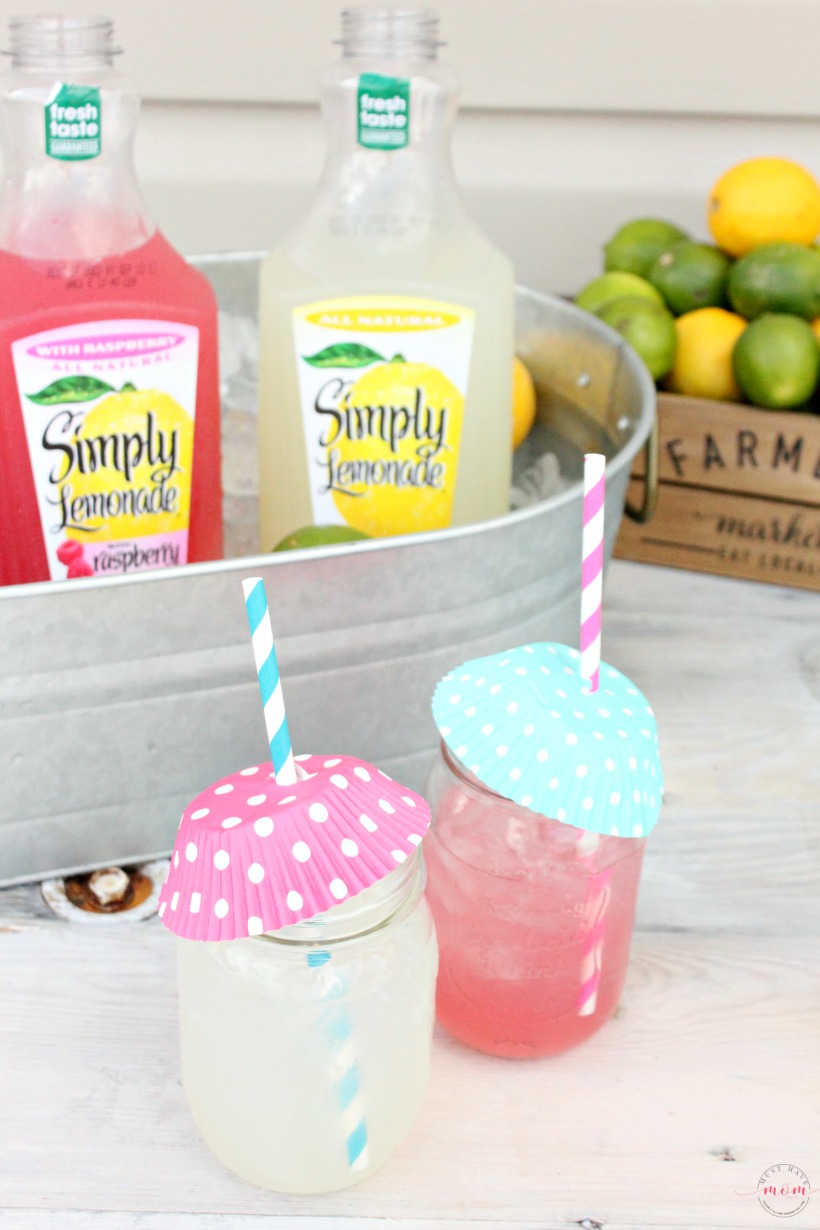 #4 – Always have muffin liners in your pantry. They are perfect for keeping wasps out of your drinks. Simply turn the muffin liner over and push the straw through it to shield your drink from wasps. Serve drinks in mason jars for a simple presentation that looks gorgeous.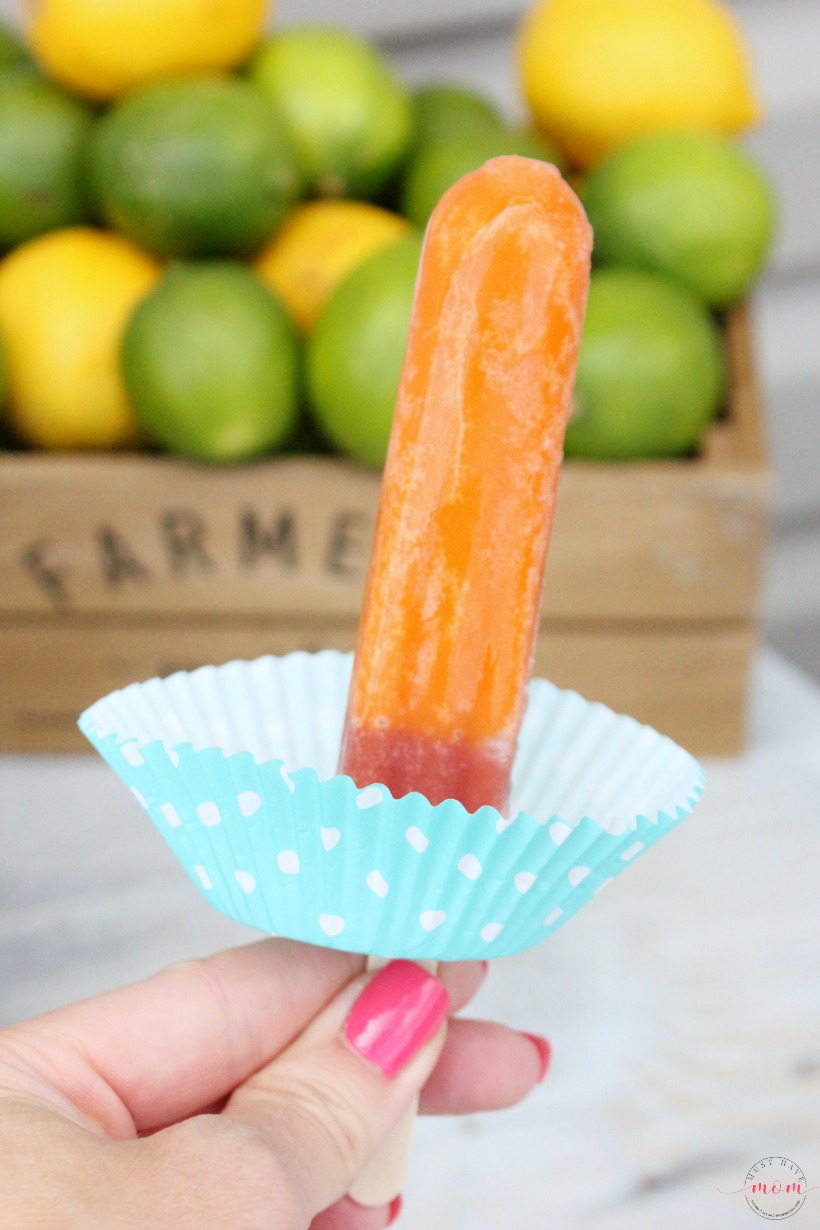 #5 – Muffin liners also come in handy for preventing hands from getting sticky while eating frozen pops! Just add it to the bottom of the frozen pop treat and it will catch the drips as the pop melts. You can make these pops yourself by filling a popsicle mold (like this one) 2/3 full with Simply Lemonade with Raspberry and freezing until solid, then adding Gold Peak Sweet Tea to fill the remaining space. Remember to leave a little space at the top for them to expand when they freeze. Then return to freezer until frozen solid. Remove and dip in hot water to easily remove from popsicle mold and serve immediately with a handy muffin liner drip catcher.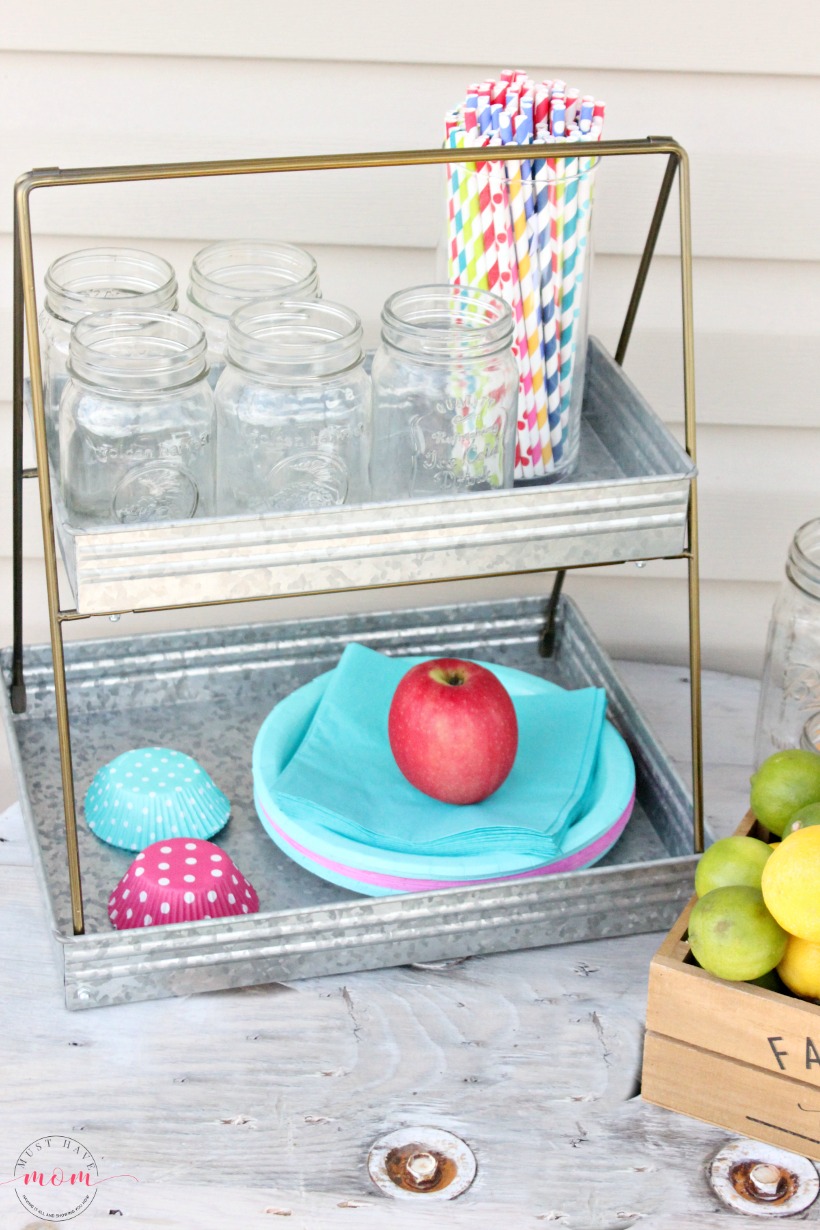 #6 – Keep a stocked party basket ready to go in your cabinet. You'll always be ready for an impromptu party with a basket that is stocked with paper plates, napkins, mason jars, muffin liners and paper straws.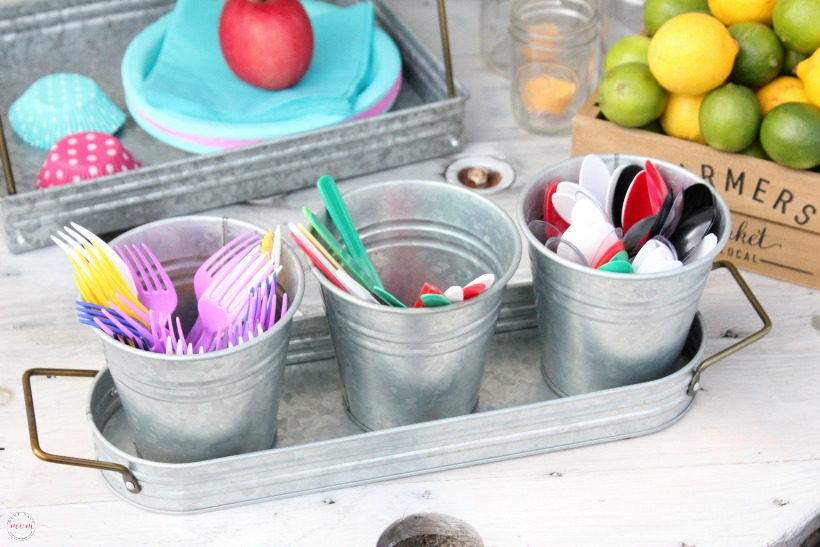 #7 – Also keep a stocked utensil caddy in your cupboard. You can easily pull it out for any occasion and it's a great way to store your unused or leftover plastic utensils after a party!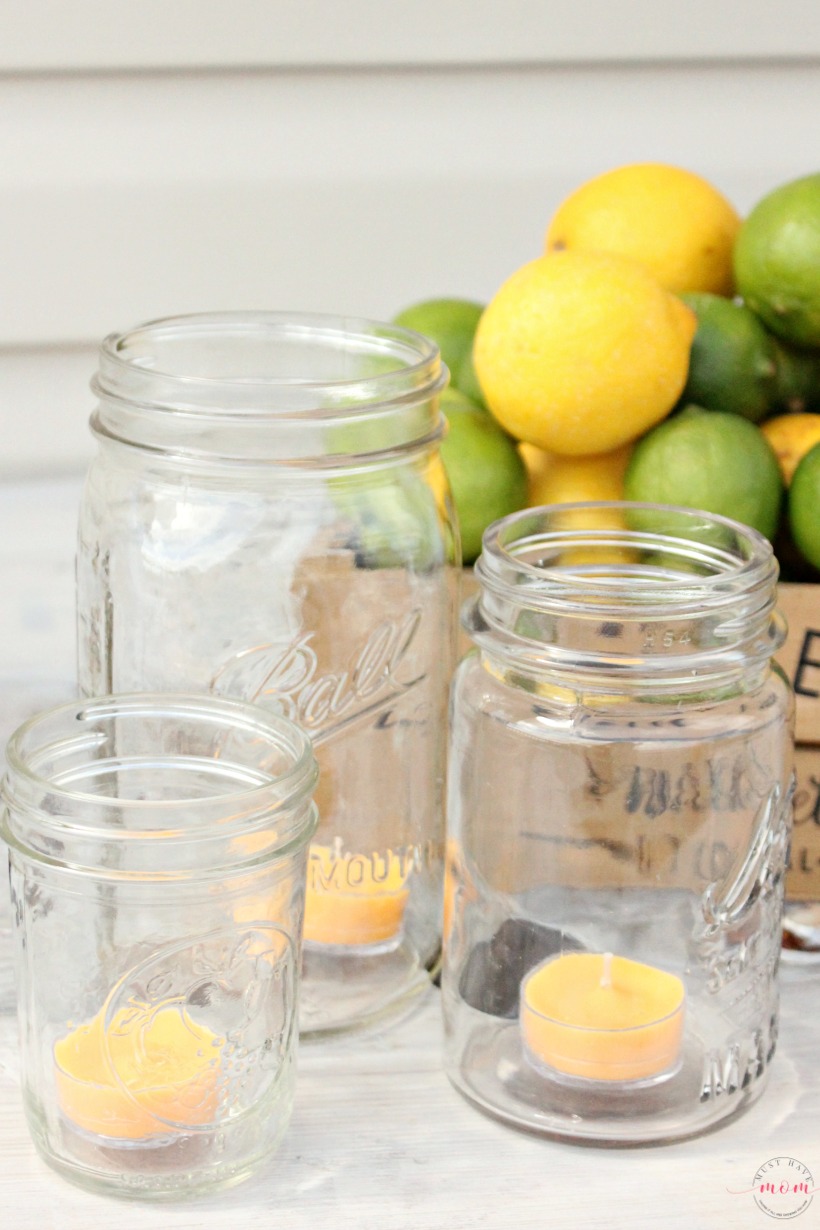 #8 – Stow away some tea lights and mason jars for quick and easy centerpieces you can add to your tables outside. Once the sun starts going down you'll be glad you have some lighting at your tables.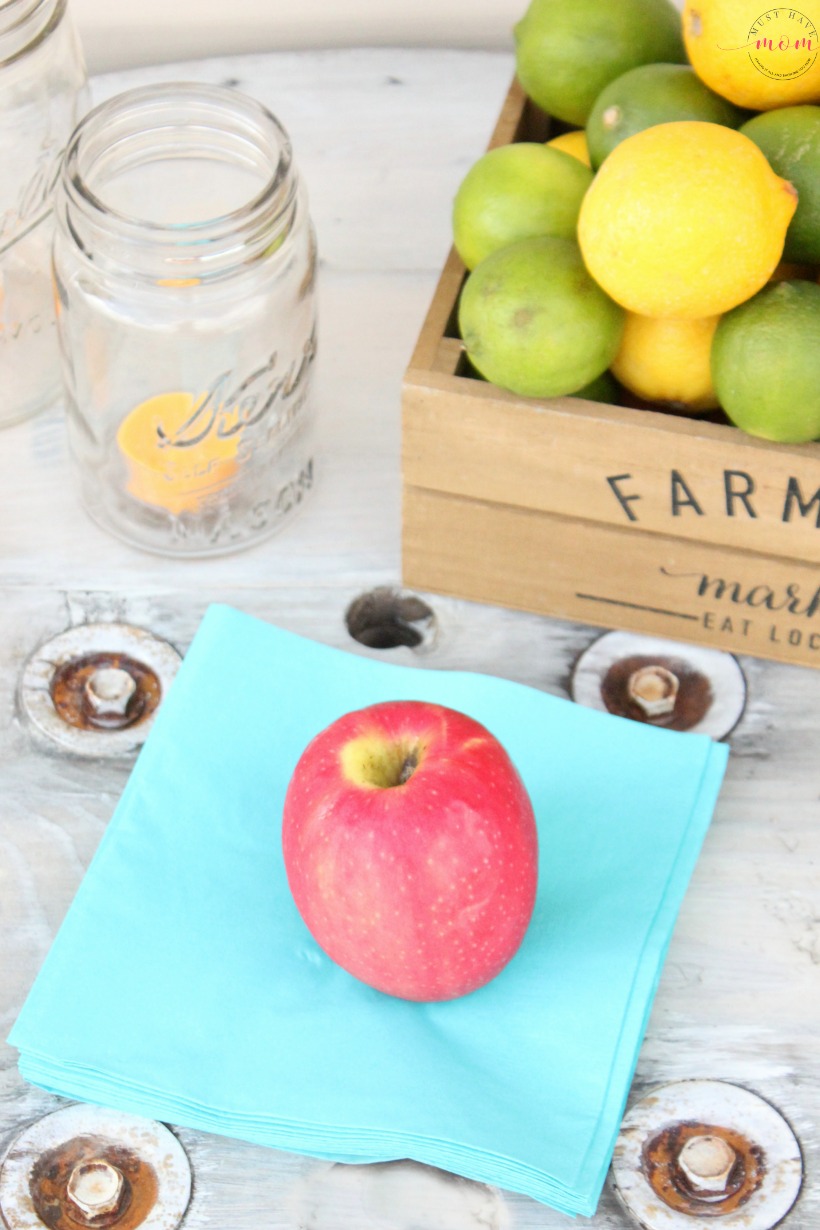 #9 – You don't need fancy supplies. Simply use apples or other fruit as paper weights so your napkins don't blow away. It's decorative and functional!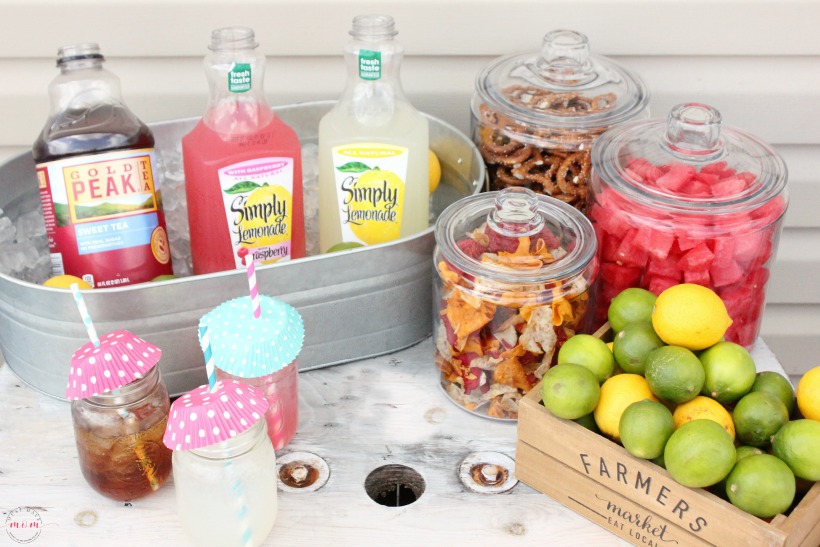 Whether you are planning for a big outdoor gathering or you frequently host impromptu outdoor parties,  these tips will help you be the best host around! You can buy everything we used in our tips here at Walmart.
Visit the Gold Peak & Simply Lemonade hub for even more summer entertaining tips, tricks, and recipes.
Pin the Outdoor Entertaining Tips: