Cook With Your Memorial Day Leftovers! Stuffed Empanadas Recipe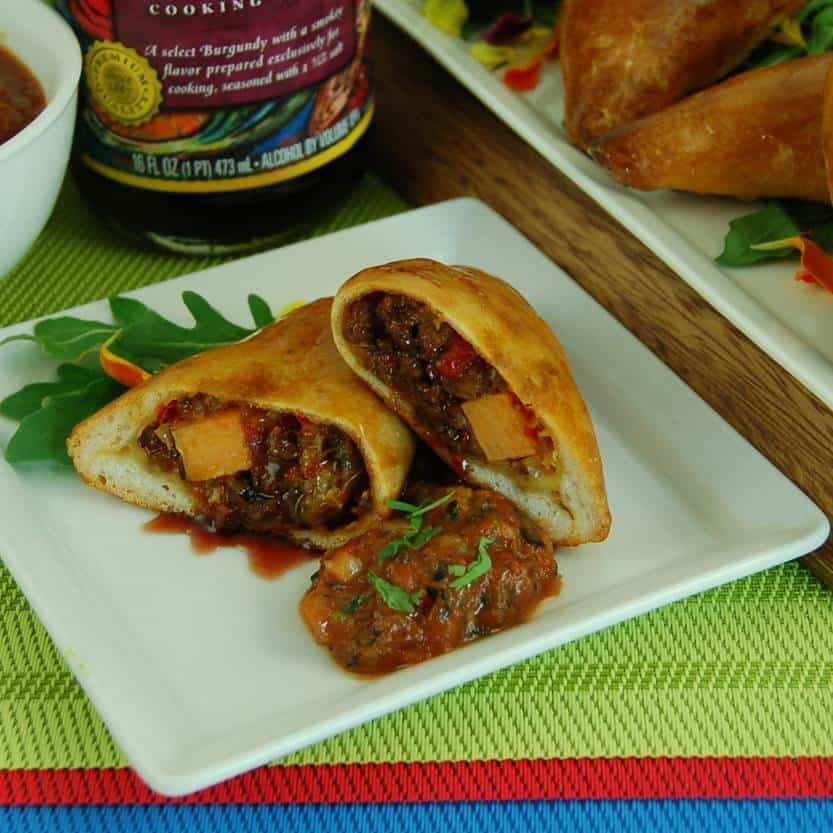 After Memorial Day weekend you are sure to have leftovers! Instead of tossing out leftover hamburgers from the Memorial Day cookout, repurpose them into delicious empanadas with this simple recipe from Holland House Cooking Wine. I love taking leftovers and making them in to a new dish. This one doesn't disappoint!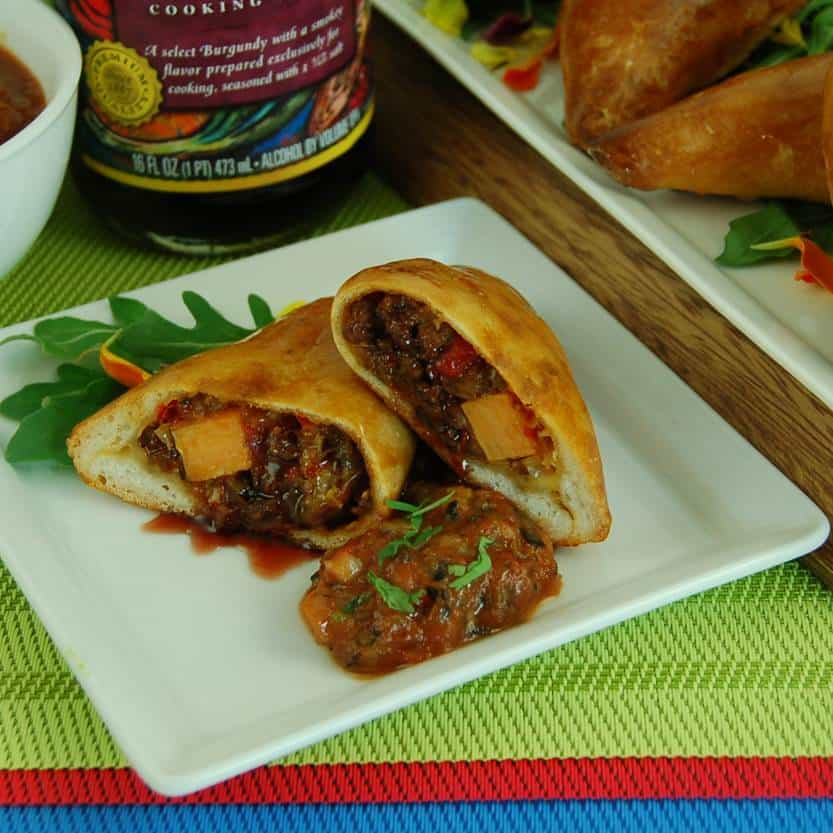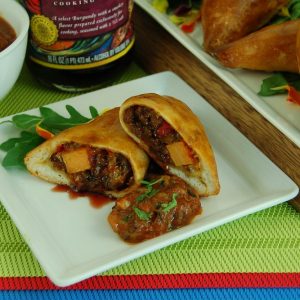 Stuffed Empanadas with Braised Burgundy Beef Picadillo and Queso Chihuahua
Great way to use up leftover hamburger!
Ingredients
1/2

lb.

ground beef OR leftover hamburger patties crumbled

1/2

cup

red bell peppers

small diced

1/2

cup

white onions

small diced

1/2

Tbsp.

fresh garlic

minced

1/2

cup

sweet potatoes

small diced

1/4

cup

green olives

minced

1/4

Tbsp.

dried oregano

1/2

teaspoon

ground cumin

1/4

cup

tomato sauce

1

Tbsp.

Worcestershire sauce

1/4

cup

Holland House Red Cooking Wine

1/2

cup

chihuahua cheese

shredded

1

– 13.8 oz. can canned pizza crust

1

egg

1/4

cup

water
Instructions
In a large skillet, cook ground beef over medium heat until cooked through, 10-12 minutes. Drain fat and reserve. NOTE: If using cooked hamburgers, crumble patties into a mixing bowl and add to the skillet after sautéing onion, garlic, sweet potatoes, olives and spices.

In the same skillet, add red bell peppers and white onion and sauté until light golden, about 3 minutes.

Add garlic and sweet potatoes, olives and spices and sauté for another 2 minutes.

Add beef, tomatoes, Worcestershire sauce and simmer for 5 minutes.

Add the Holland House Smokey Burgundy Cooking Wine and simmer for another 2 minutes or until sweet potatoes are cooked through.

Cool mixture in fridge for 30 minutes.

Roll out canned pizza crust to a 1/4" thick rectangle.

Cut 8 squares out of pizza crust and fill each crust with 2 tablespoons of filling and 1 tablespoon of Chihuahua cheese.

Fold over and crimp edges with a fork.

In a small bowl combine egg and water and mix thoroughly.

Brush with egg wash and bake in a preheated 350ºF oven for 14-16 minutes or until empanadas are golden brown.

Serve with salsa or a Chimichurri Dipping Sauce
Find a great recipe for the homemade Chimichurri Dipping Sauce on the Holland House website!
Like this recipe? Pin It, Share It, Tweet It 🙂