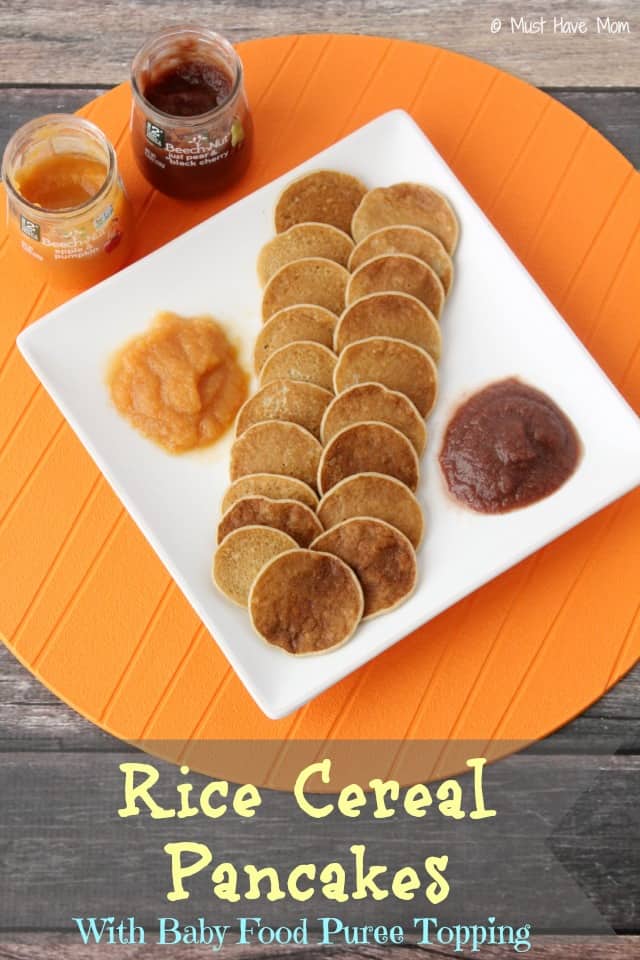 Whether your baby is just starting to explore finger foods or they've outgrown being fed rice cereal and baby food and have asserted their newfound independence, these baby rice cereal pancakes are just perfect for them! It's a great way to use up leftover cereal and baby food if your baby is beyond that stage now. It is also a great way to incorporate much needed food groups into a baby's diet when they insist on self feeding. Often when they begin feeding themselves, and refusing to be fed by you, they lack all of the nutrients they need. These pancakes allow them to still pick up pieces and feed themselves while still getting the necessary nutrients in their diet!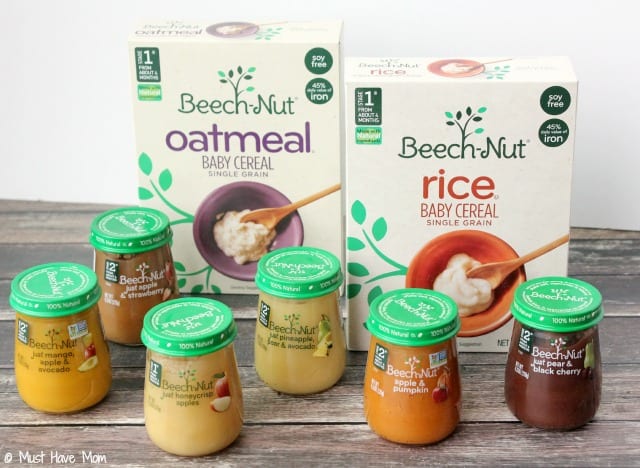 For this recipe you'll need
Beech-Nut Oatmeal baby cereal
,
Beech-Nut Rice baby cereal
and various
Beech-Nut baby foods
depending on your baby's favorite flavors. You can use whatever flavors you want in this recipe!
I specifically recommend using
Beech-Nut baby food products
because they are transparent in their labeling, offer organic options and they are working with the Non-GMO project to get all of their foods verified (you'll see the Non-GMO project label on their jars!). Often as parents we wonder what goes into our baby's food and rightfully so. Beech-Nut recognizes this and has worked hard to be transparent in their labeling. They now offer a specific breakdown of all of their recipes right on
their website
so you can see the exact percentage of what goes into each flavor of baby food.
This new initiative on Beech-Nut's behalf is particularly important after recent revelations that other popular baby food companies were touting the inclusion of superfood ingredients like quinoa and kale, but were including them in sparse amounts and using cheap apple puree as the main ingredient. Now you can see how much of those ingredients are actually included in any of Beech-Nut's baby food so you know what you are buying.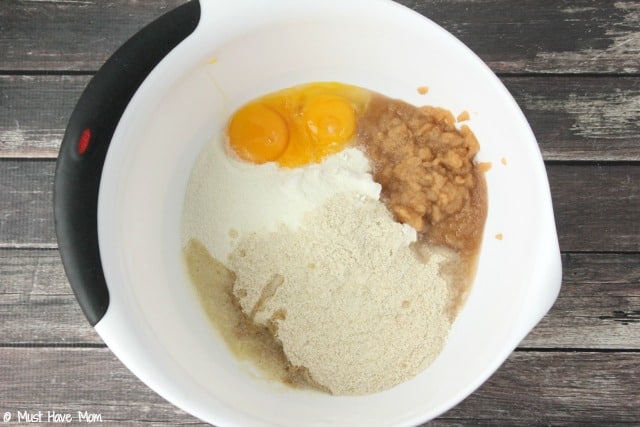 To make these pancakes you will mix together white or
wheat flour
, rice cereal, oatmeal baby cereal, formula/breastmilk/milk, 1 jar of your favorite Beech-Nut baby food, unsalted butter, egg yolks and juice until it reaches a pancake batter consistency. If it comes out too thick you can thin it with milk or juice. I find milk works best to thin it though.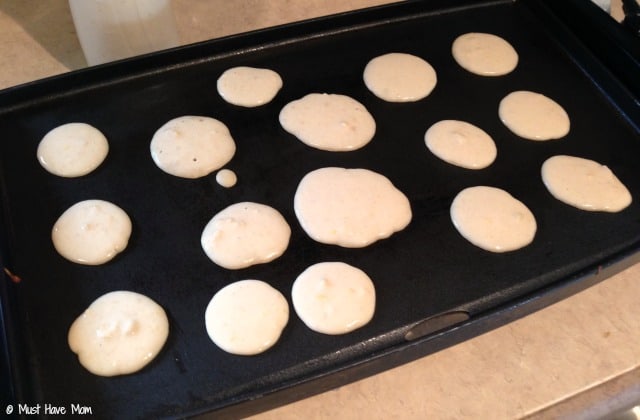 Then cook them on a
griddle
. I make them in mini sizes so they are easy for my son to pick up.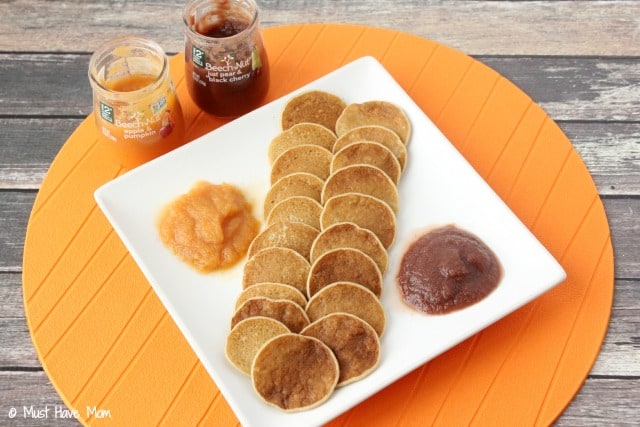 Then serve them along with Beech-Nut baby food as the topping. Skip the sugary maple syrup (and sticky mess!) and let baby dip their pancakes in the purees instead. It's yummy and it helps them get their daily fruit servings! Some of our favorites include the apple & pumpkin, just pear & black cherry and I used the just apple & strawberry in the batter. To compliment that I used an apple raspberry juice so the pancakes had a slight berry flavor. You can also use apple juice for a more neutral flavor.
Grab the recipe below! Print it off now or share this post on Facebook and Pinterest for easy finding later!
Sarah | Must Have Mom
Baby Rice Cereal Pancakes With Fruit Topping Recipe!
Baby finger food recipe using rice cereal and baby food!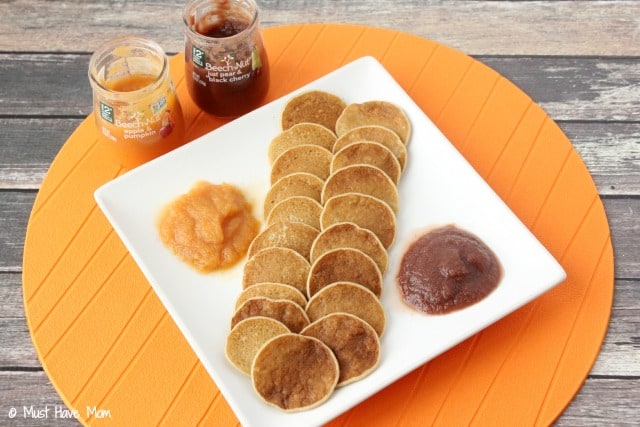 Ingredients
1 1/2 C white flour (or 1 C wheat flour-will be more dense)
1/2 C Beech-Nut Rice Cereal
1/2 C Beech-Nut Oatmeal Cereal
1 C Formula, Breastmilk or cow's milk (only if baby is over 12 mos old)
1 Jar (4.25 oz) Beech-Nut baby food (any variety)
1 Tbsp unsalted butter, melted
3 egg yolks (or substitute egg with mashed banana, applesauce, pumpkin, or other pureed fruit/baby food)
1 C juice (apple or any 100% juice flavor to compliment your baby food flavor)
Additional milk to thin the batter as needed
Instructions
Mix all ingredients together in a large bowl until combined.
Add additional milk, formula or breastmilk to thin the batter as needed until you reach pancake batter consistency.
Pour in mini pancake sizes onto hot griddle and cook until golden on each side.
Serve with Beech-Nut baby food puree in your baby's favorite fruit flavor.
This recipe also freezes well! Freeze on a baking sheet in a single layer until froze solid. Once frozen solid transfer to a large zip top bag. Remove and heat in a toaster oven.
6.8
http://musthavemom.com/baby-rice-cereal-pancakes-with-fruit-topping-recipe/
Copyright Must Have Mom
What is your baby's favorite food?