Fajita Freezer Meal Recipe ~ Chicken & Steak Fajita Kits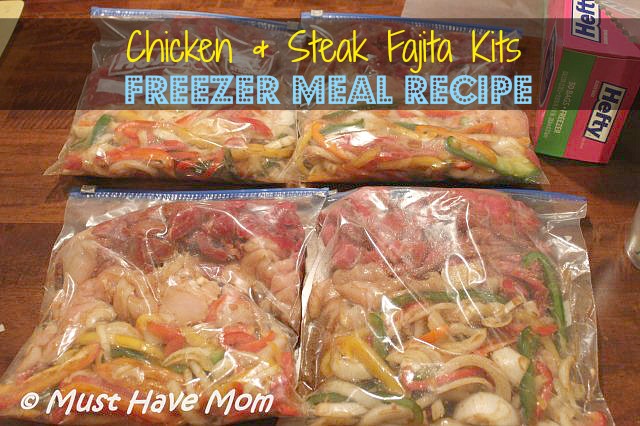 As I shared with you last week I spent all of last weekend making freezer meals and my freezer is now stocked for the next 2 months. I'm so glad I don't have to think about making dinner for 2 whole months! After many requests I promised to share all of my freezer meal recipes with you! This week I will be sharing many of them so make sure you come back each day to get them. Friday I will post a round up of all of the recipes. Use the recipe link at the bottom of this post to print off the recipe. Pin it to save this page and come back later!
Be sure to read my post on getting started freezer cooking: 101 Tips & Tricks to get the low down on how I made so many meals in one weekend. If this is your first time freezer cooking I suggest starting out on a smaller scale. Okay, now on to the fajita freezer meal recipe!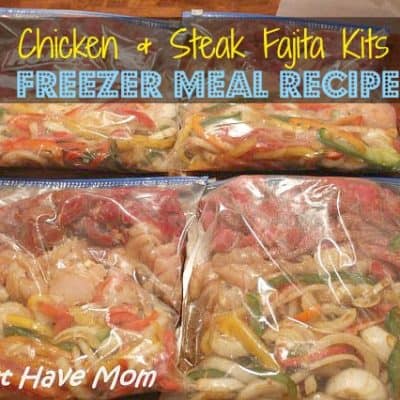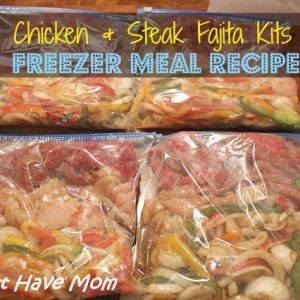 Fajita Freezer Meal Recipe ~ Chicken & Steak Fajita Kits
Mexican restaurant style fajita kits that can be made right away or frozen as a freezer meal for later.
Ingredients
2

lbs

skirt steak or chicken

or a combo of both

1

med onion sliced

2

large bell peppers

1/4

C

Soy Sauce

1/4

C

lime juice

1

tsp

chili powder

2

Tbsp

oil
Instructions
Combine soy sauce, lime juice, chili powder and oil.

Slice meat into thin slices.

If planning to freeze for a freezer meal then:

Combine everything into a freezer bag. Remove air and freeze flat. Meat will marinate as it freezes/thaws. There is no need to wait for it to marinate before freezing.

On Cooking Day:

Cook in a skillet over medium heat until cooked through.

If making as a meal for now:

Marinate chicken and steak for at least 12 hours or overnight. Cook meat in skillet over medium heat and add veggies at the end.

Serve with tortillas, cheese and sour cream.
Like this post? Pin it, Share it, Tweet it 🙂
Stay tuned this week as I share more freezer meal recipes!