Chicken Bacon Panini: Easy Lunch Idea
I'm always looking for easy lunch ideas. My kids are happy to eat mac n cheese and cold sandwiches but I quickly tire of them! I love my panini maker. In face we are pretty much attached at the hip now. It takes a cold sandwich from blah to amazing just by giving it a press on the panini. I love it! One of my favorite combinations of flavor is a chicken bacon panini.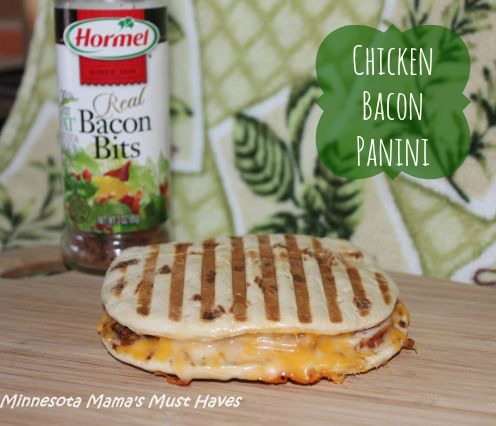 My latest craze involves using Hungry Girl Flatbread (available at grocers and Walgreens) which is low in carbs to make an easy panini for lunch. Fill it with cold deli chicken (I buy the real, cooked chicken pieces, not the thin sliced meat), Hormel Real Bacon Bits, Cheese and whatever else suits your fancy. Afterwards add some fresh spinach or avocado to it and enjoy! Quick and easy!
If you don't have a panini maker then you are missing out! I never knew how much I needed one until I got one. They are so handy!
What is your favorite thing to put in your panini?