Stoplight Brownies & Cars 3 Party Ideas!
*This post is sponsored by Mattel. All opinions are my own.
We absolutely LOVE Cars 3 and these stoplight brownies and toy cars and perfect for any Cars birthday party or playdate! I'll show you the best Cars 3 toys we found at Walmart and the adorable Cars brownies we made.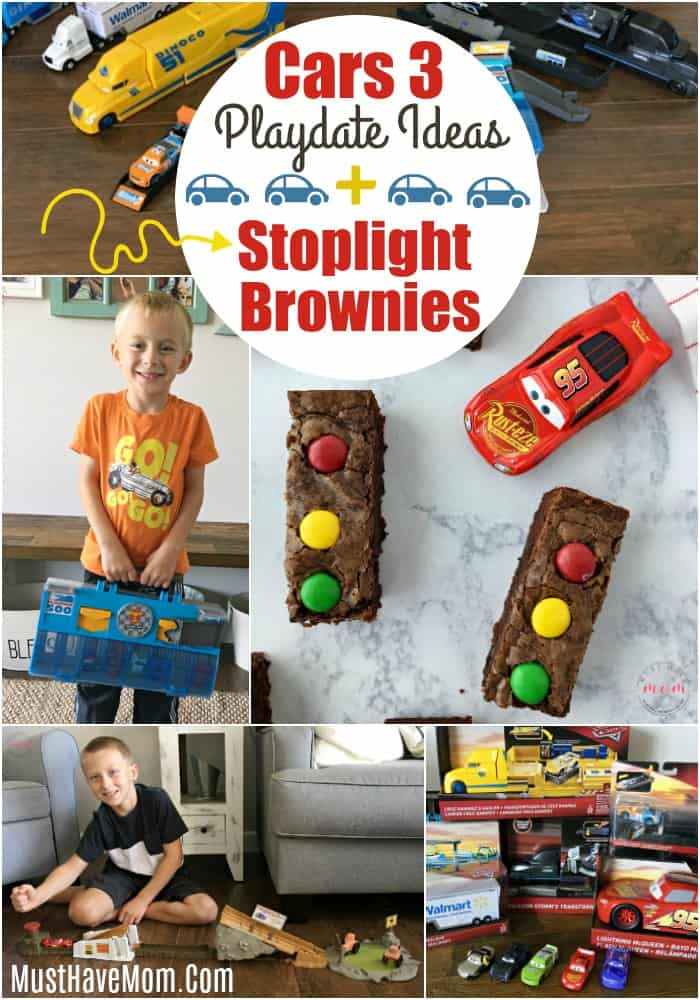 Cars 3 Toy Cars
Do you have a Cars 3 fan in your house? My whole family LOVES the Disney Cars movies (there are 3 now!). My boys are also huge fans of toy cars so naturally, they want all of the Cars 3 toys in the Walmart toy aisle. We set out to find the very BEST, most fun Cars 3 toy cars and share them with you so you can surprise and delight your little cars fan too!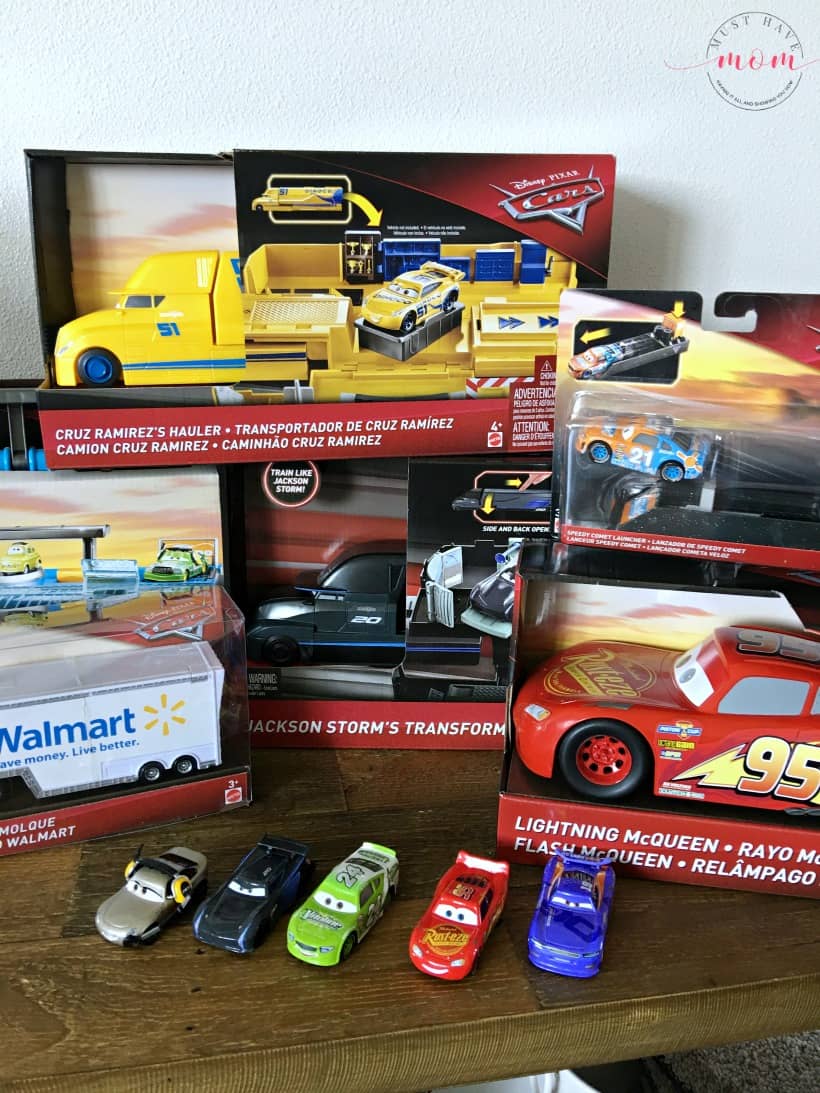 We picked out several Cars 3 toys at Walmart (they're made by Mattel). My boys are ages 4, 6 and 8 so I was interested to see how well they occupied all of them at their varying ages. These are GREAT gift ideas and are also ideal for a fun Cars 3 playdate!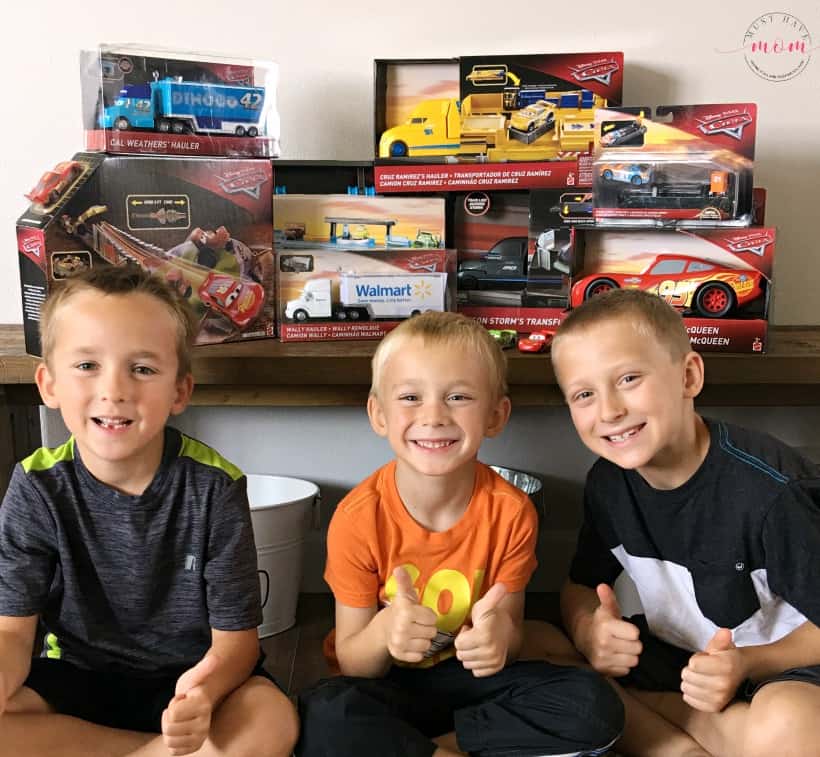 Once we had the Cars 3 toys ready for our party, it was time to make some stoplight brownies as a fun themed treat!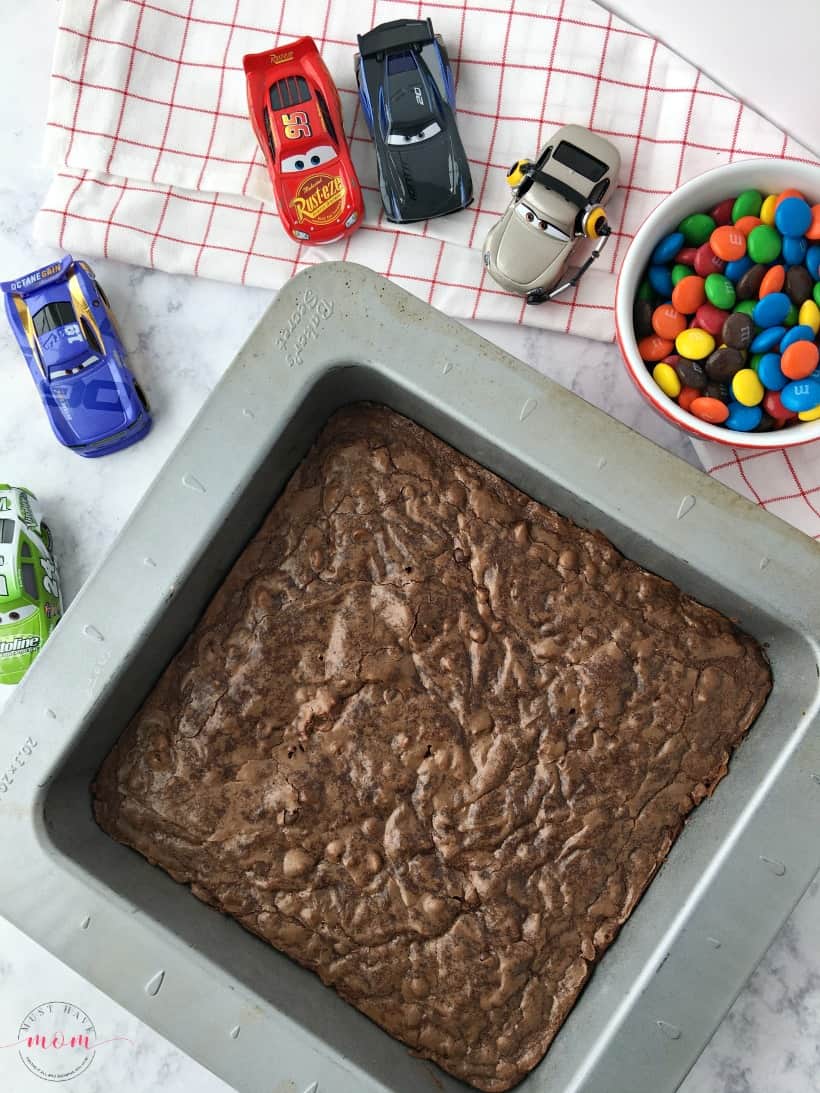 Begin by baking a box brownie mix in an 8″ x 8″ square pan. Allow them to cool slightly, but not all the way.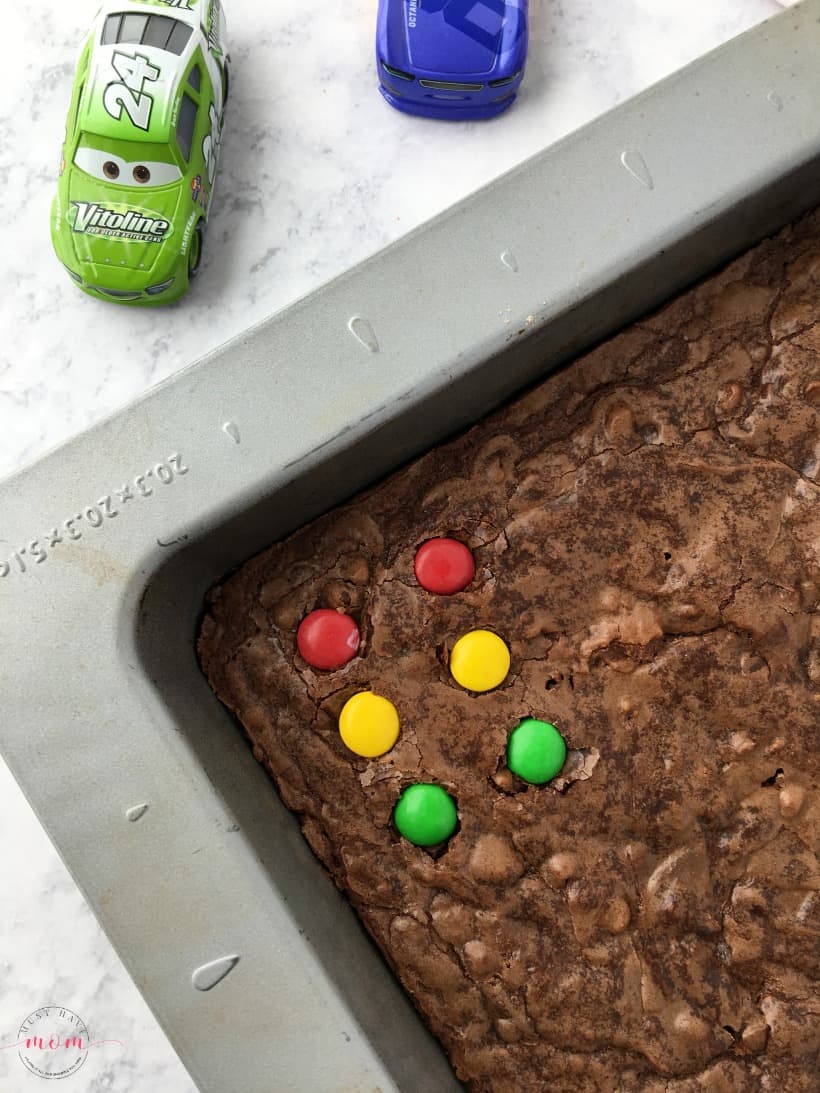 Then grab some red, yellow and green candy coated chocolates and insert them into the brownies in a stoplight pattern.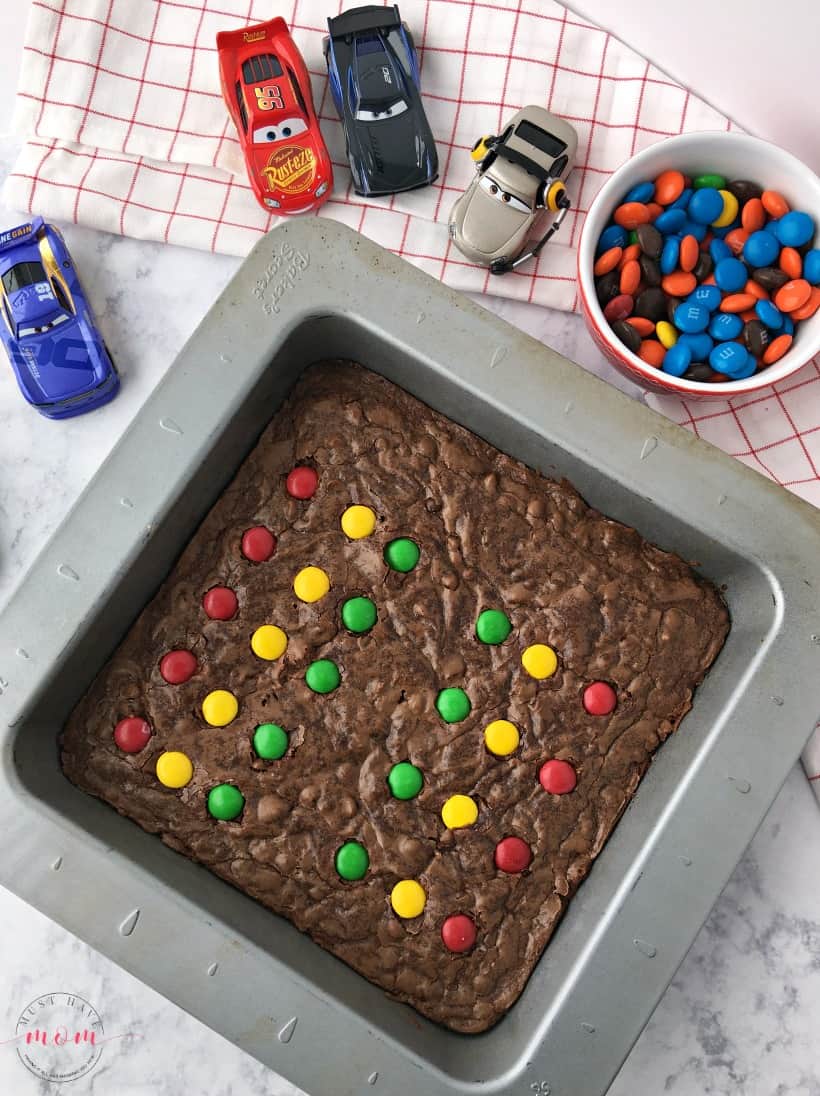 Make this pattern on each side of the brownies to form two rows of stoplights. Allow the brownies to cool completely.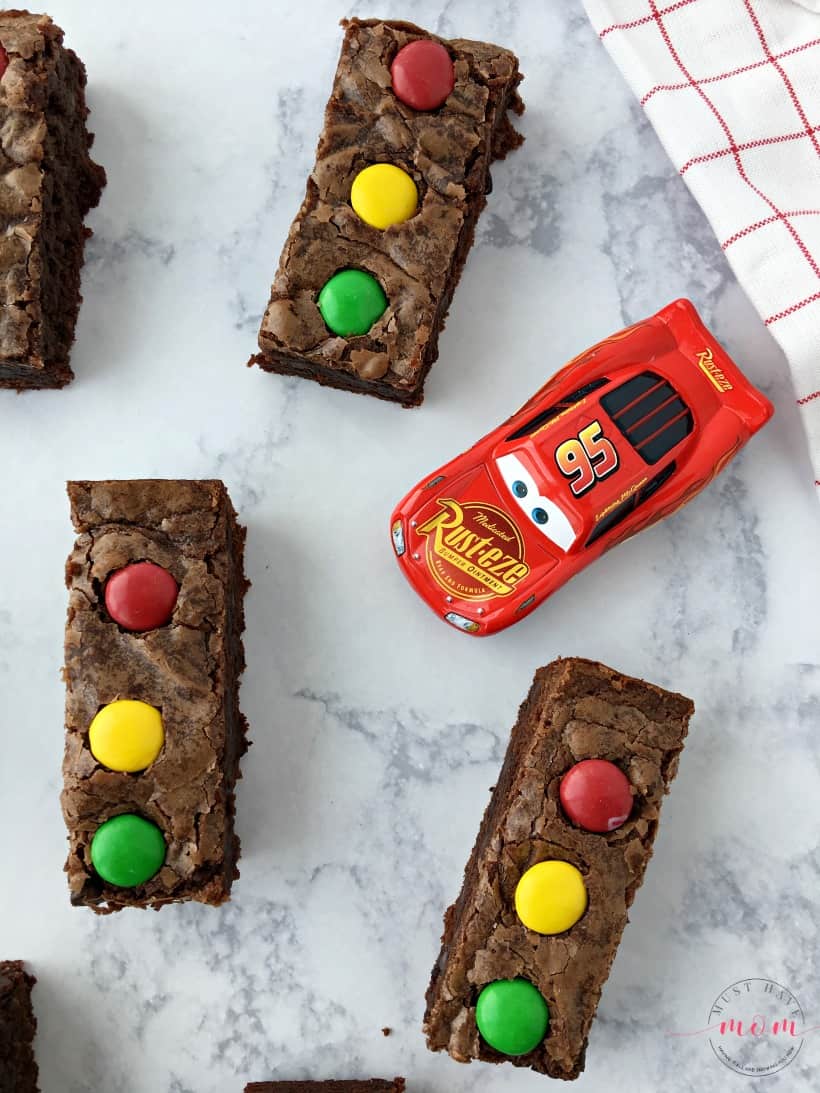 Slice into rectangles to form the stoplights. Trim the sides so they are evenly cut.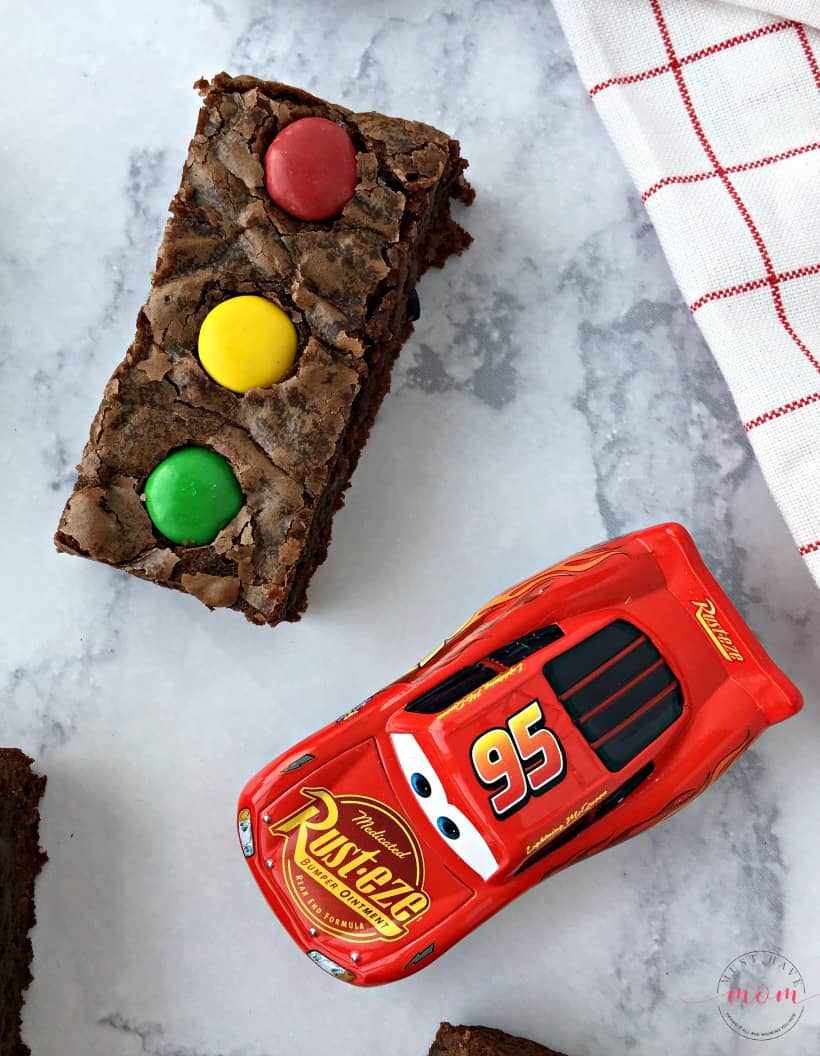 These stoplight brownies are perfect for a cars birthday party dessert! They were also a big hit at our Cars 3 playdate.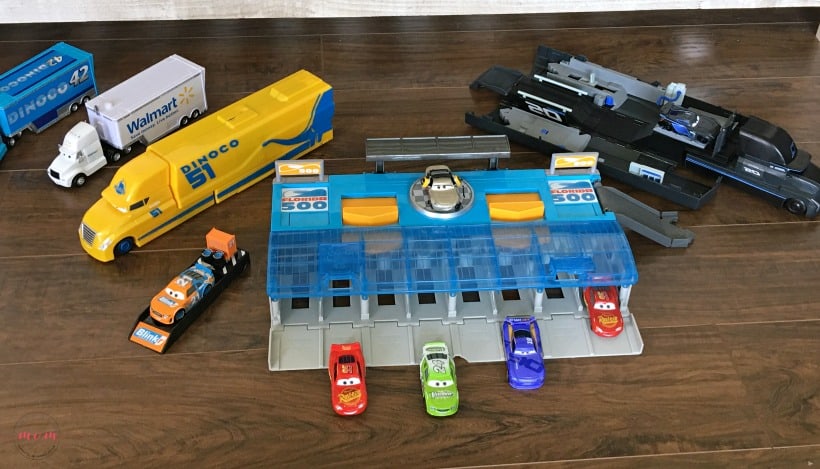 Next, we set up a "pit area" for the Cars 3 toys. We had several of the large haulers that open up to reveal a pit area for their car. Jackson Storm was busy training on his virtual reality training center while the other cars were gearing up for the race!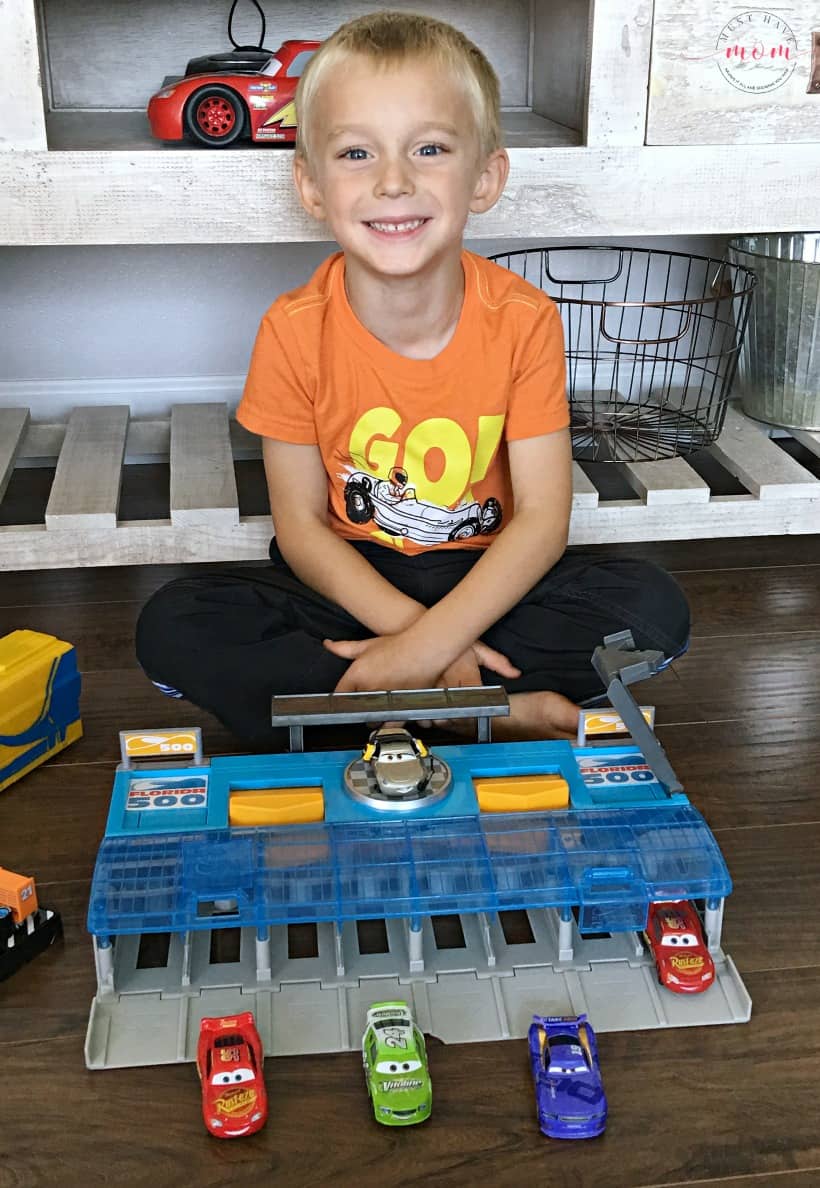 Brady was in charge of the pits!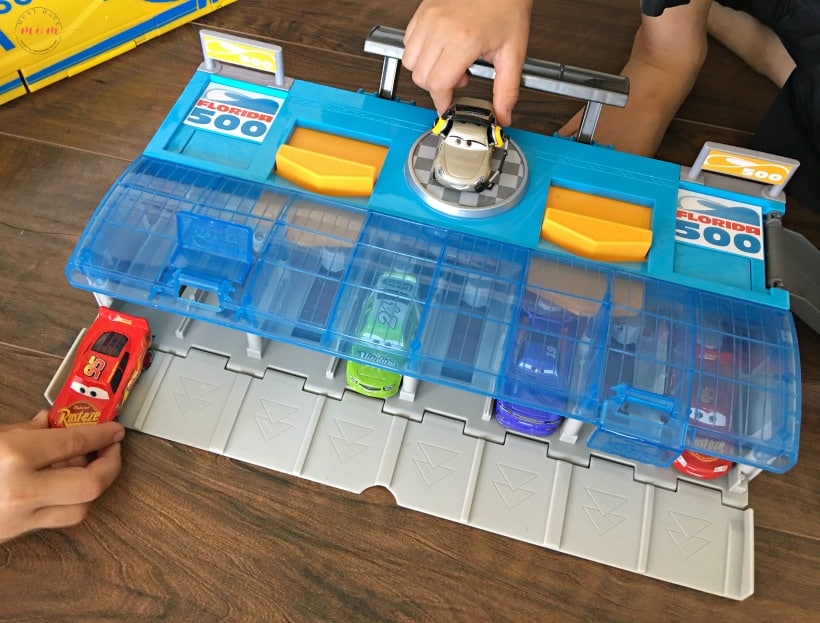 There is even a spot up top for the pit crew chief to communicate with Lightning McQueen and the other drivers!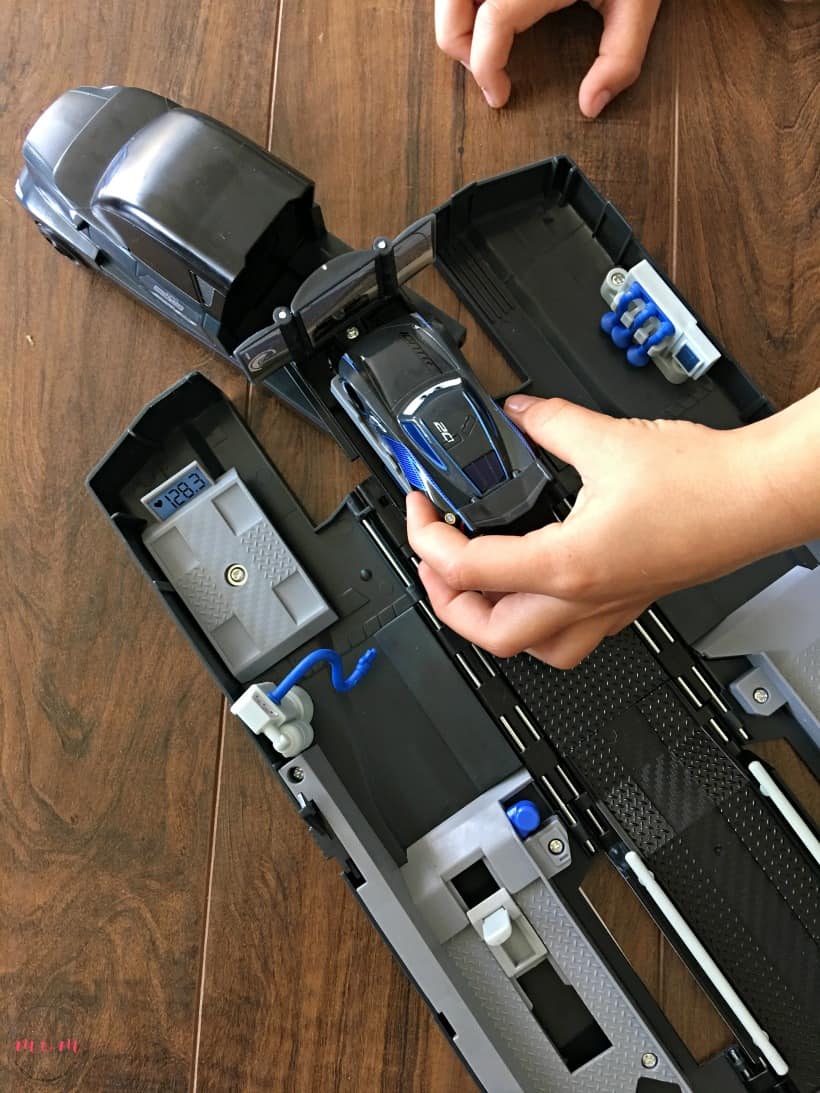 The toy haulers were particularly popular because they open up to reveal a shop inside where kids can work on their cars. When the cars weren't busy racing they could come back for a tune-up or to relax in the air-conditioned comfort of their hauler! Once they are done the hauler snaps back together and can be taken for a ride.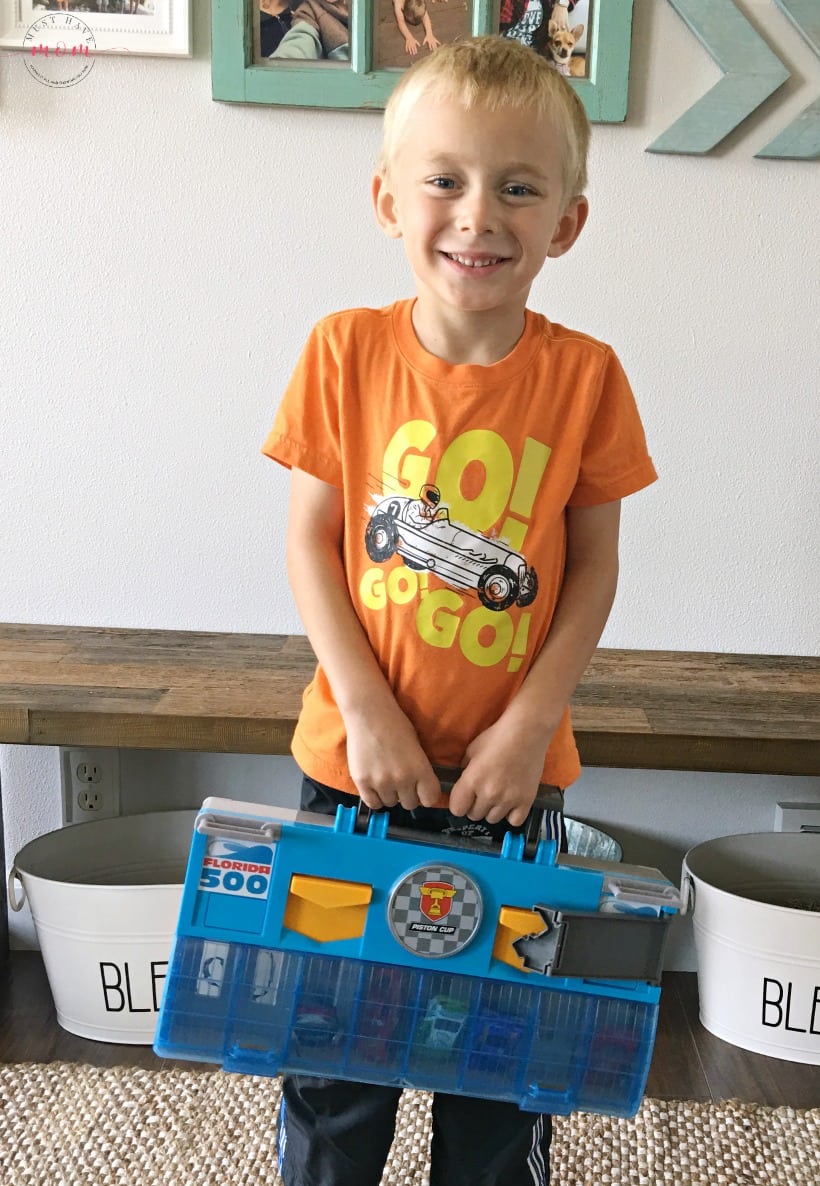 Once the race is over the Florida 500 track can be closed up and has a nice handle for carrying it along with you. We particularly liked this feature!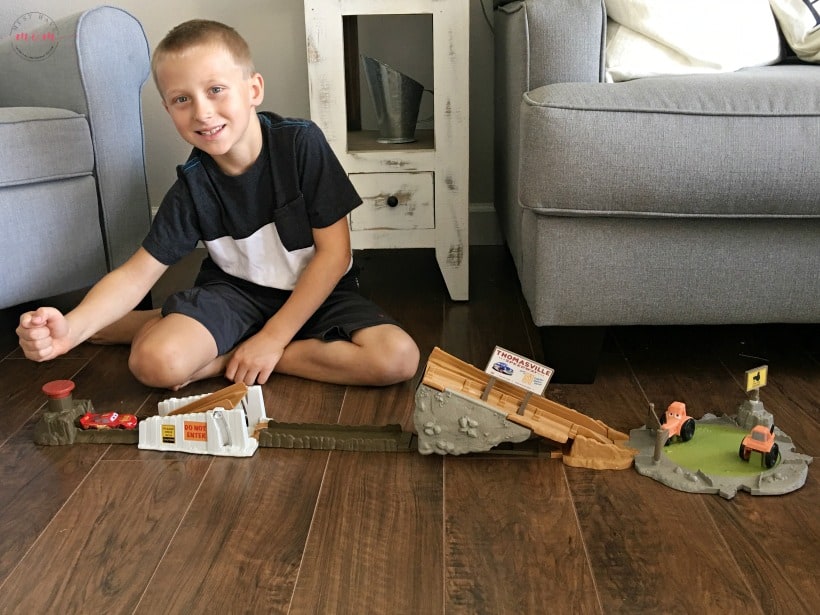 The biggest hit with my 8-year-old was this super cool Cars jumping track complete with sleeping tractors! Launch Lightning McQueen over the expanse and he lands on the decline and through the gate where he needs to avoid waking the sleeping tractors! It's a TON of fun!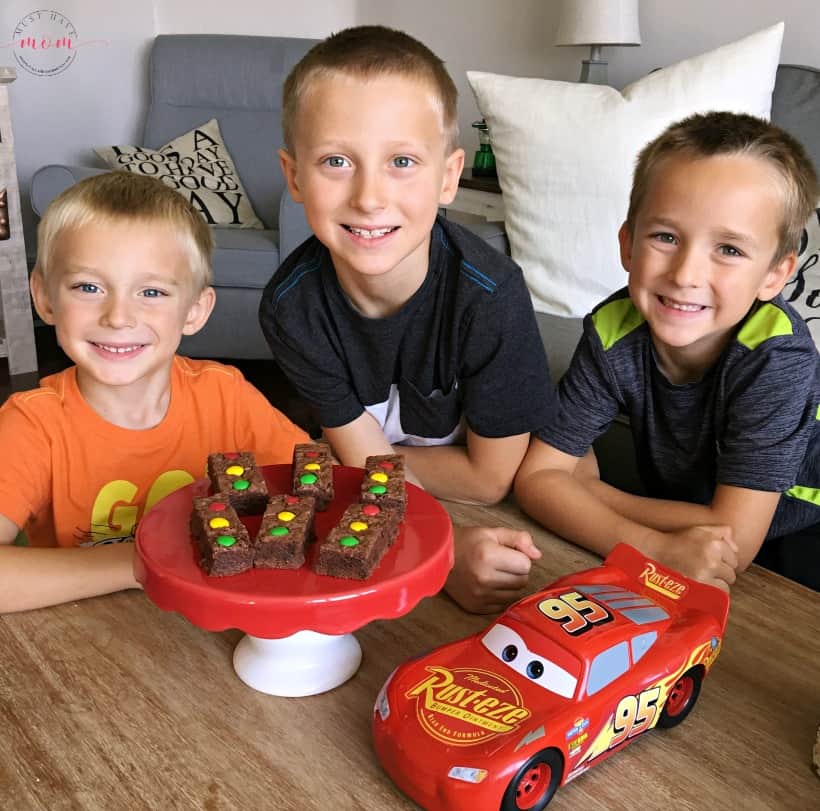 After hours of entertainment thanks to the toy cars, it was time for our stoplight brownies snack! Of course, they had to be served up by Lightning McQueen or it wouldn't be any fun! For your next playdate or cars birthday party be sure to head over to Walmart and stock up on these uber cool Cars 3 toys by Mattel. Great for gifts or just to keep the kids entertained while you get stuff done! They were ALL a huge hit with all of my boys and I love that they are easy to take on the go if we are traveling too!
Pin Stoplight Brownies: