Quick and Easy 20 Minute Chicken Satay Skewers
Sometimes you just want a really good, flavorful dish you can serve in 20 minutes or less. This spin on traditional chicken satay provides a chicken satay marinade that requires no marinating time, while still transferring TONS of flavor to the chicken. This will quickly become your go-to recipe for surprise guests and easy weeknight meals.
*This post was sponsored by Heluva Good! as part of an Ambassador Program and all opinions expressed in my post are my own.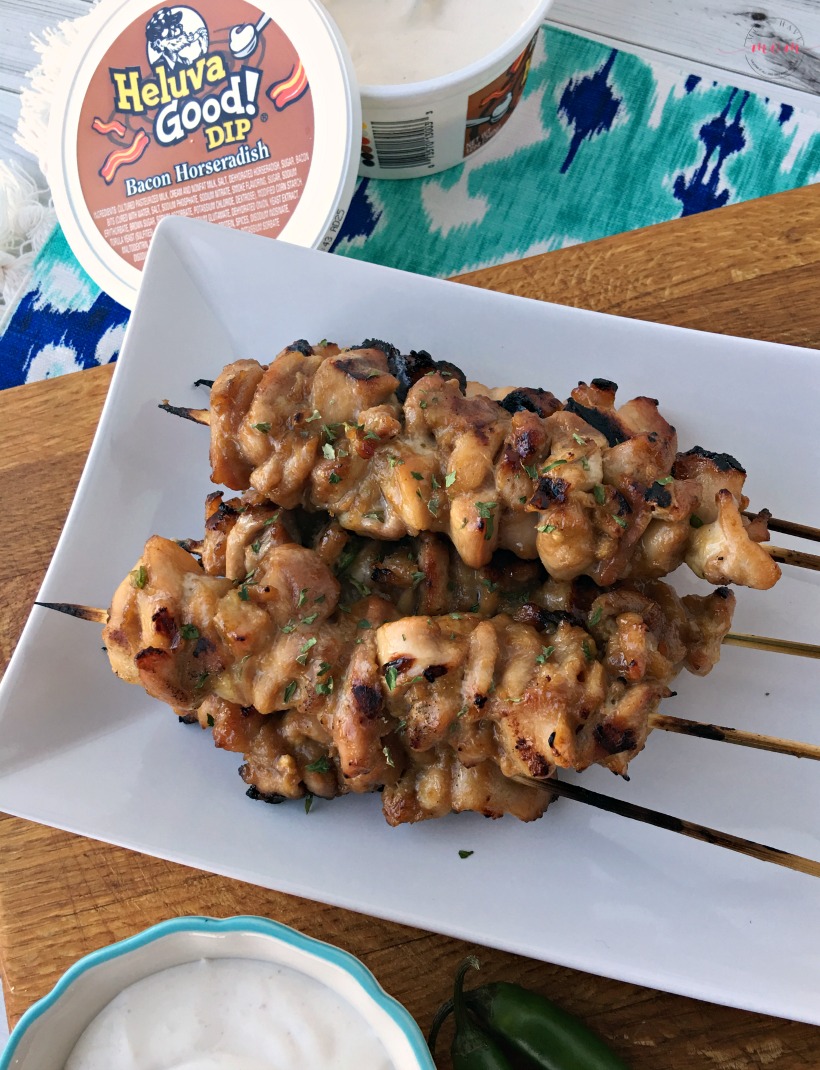 The combination of heat from the chilies and nutty flavors from the peanut butter fuse to create a perfect medley of traditional chicken satay flavors with a new flair in this 20 minute chicken satay recipe. I've transformed the recipe to use a cooling, refreshing bacon horseradish prepared dip so you can skip the tedious sauce-making process and whip this recipe out in about 20 minutes. Yay for quick and easy recipes to save the day when surprise guests stop by or when hosting a holiday gathering. You can bring on Labor Day because I'll be enjoying these chicken satay skewers in my lawn chair with a cold beverage in my hand. Forget slaving over the stove!
Chicken Satay Marinade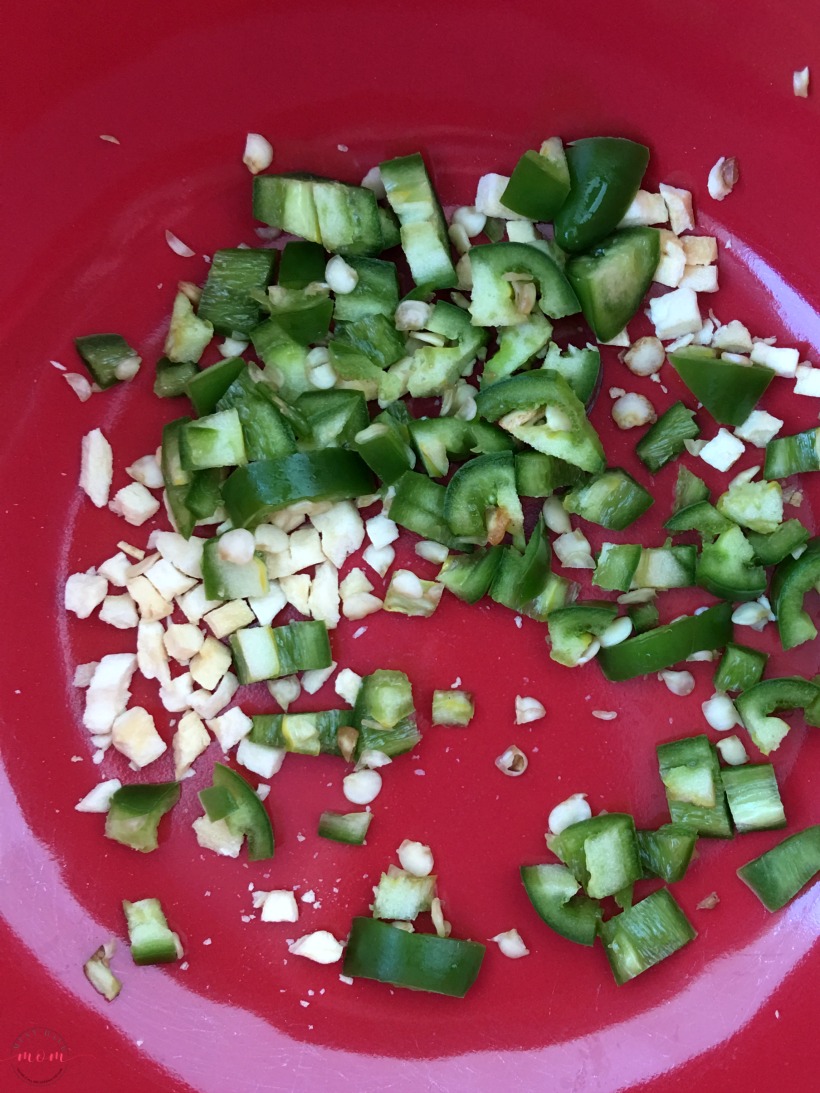 Begin by dicing up 2 cloves garlic and 1-2 serrano chili peppers. You can customize the heat to your liking. I used 1 serrano pepper and wished I had used more, however, I love spicy foods. Serrano peppers are similar in heat level to jalapenos. If you like your foods even more spicy than use a hotter pepper! Yum! Put these into a medium bowl.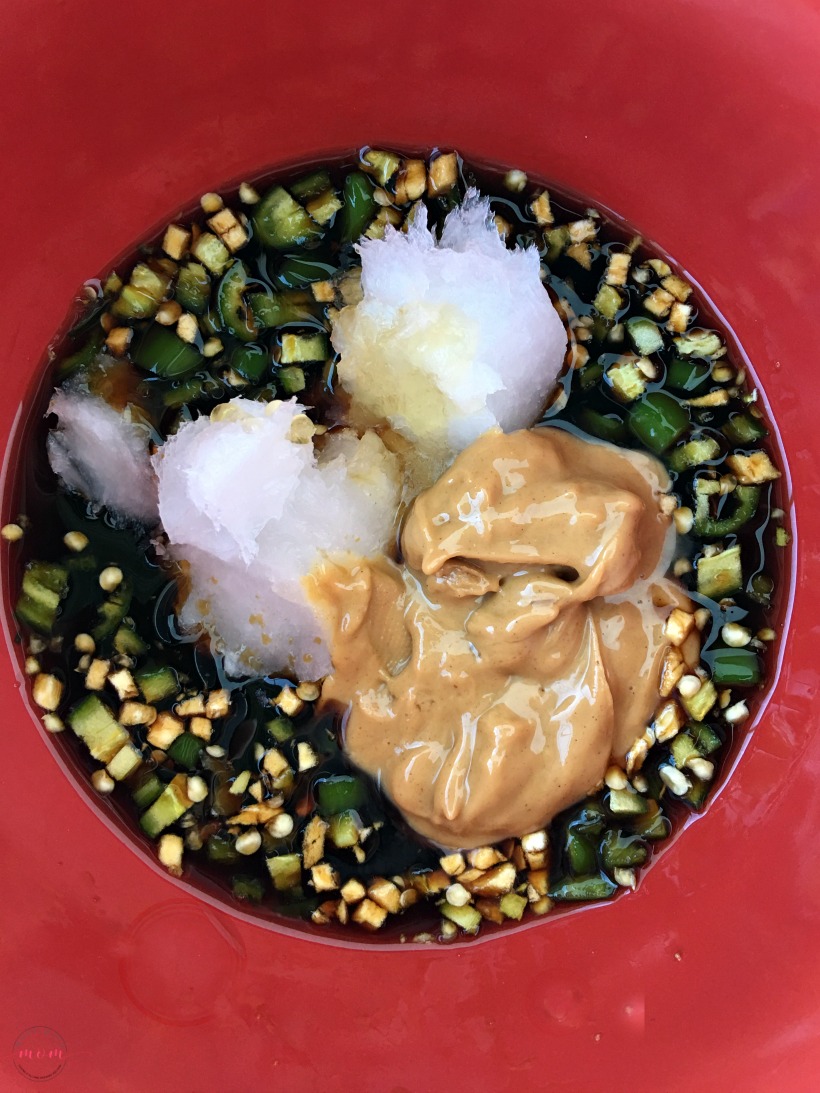 Add in 3 tablespoons coconut aminos (or soy sauce), 2 tablespoons coconut oil, 1 teaspoon honey, and 2 tablespoons of peanut butter (ensure it has no added salt or sugar). Stir to combine.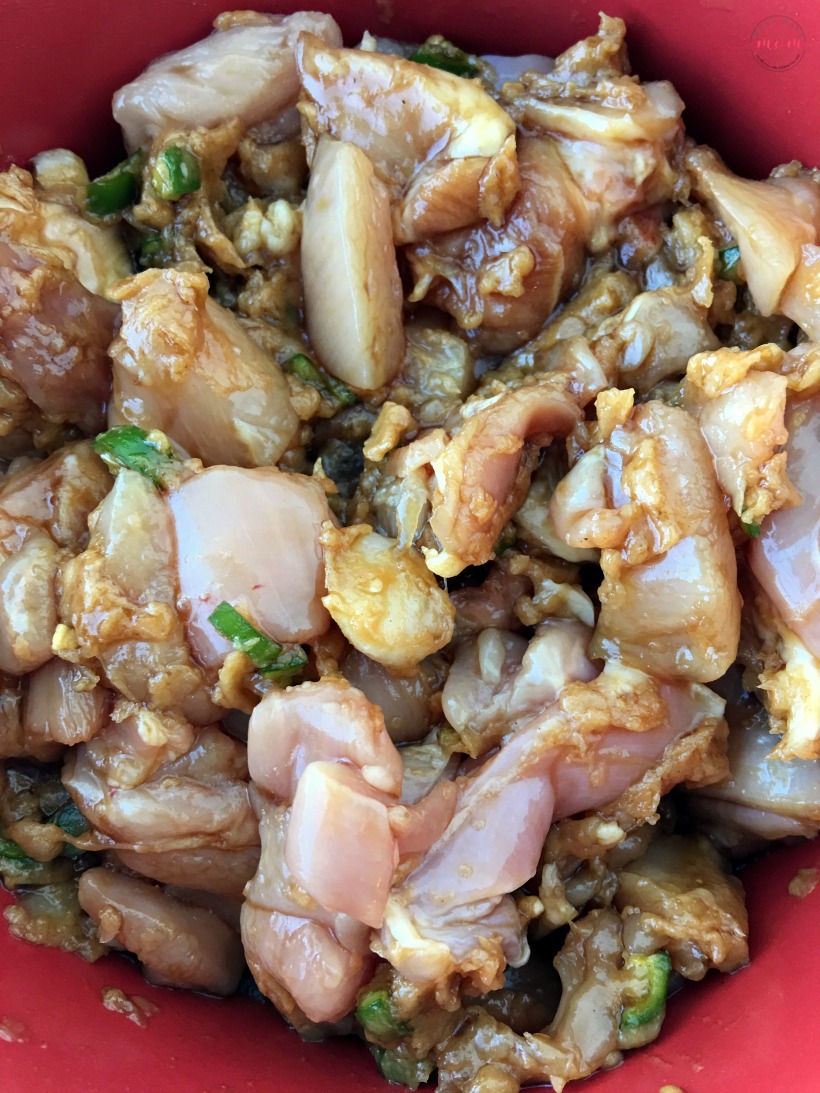 Dice up 1.5 pounds of boneless, skinless chicken thighs into bite size pieces and add them to the bowl of chicken satay marinade. Mix it up well so the marinade covers all of the chicken. If you are ready to make these right now there is no need to let them sit in the marinade. Yay! If you love prepping food ahead of time then pop these in the fridge until you are ready to cook them (you may want to even assemble them now and then put them in the fridge for later to save more time!).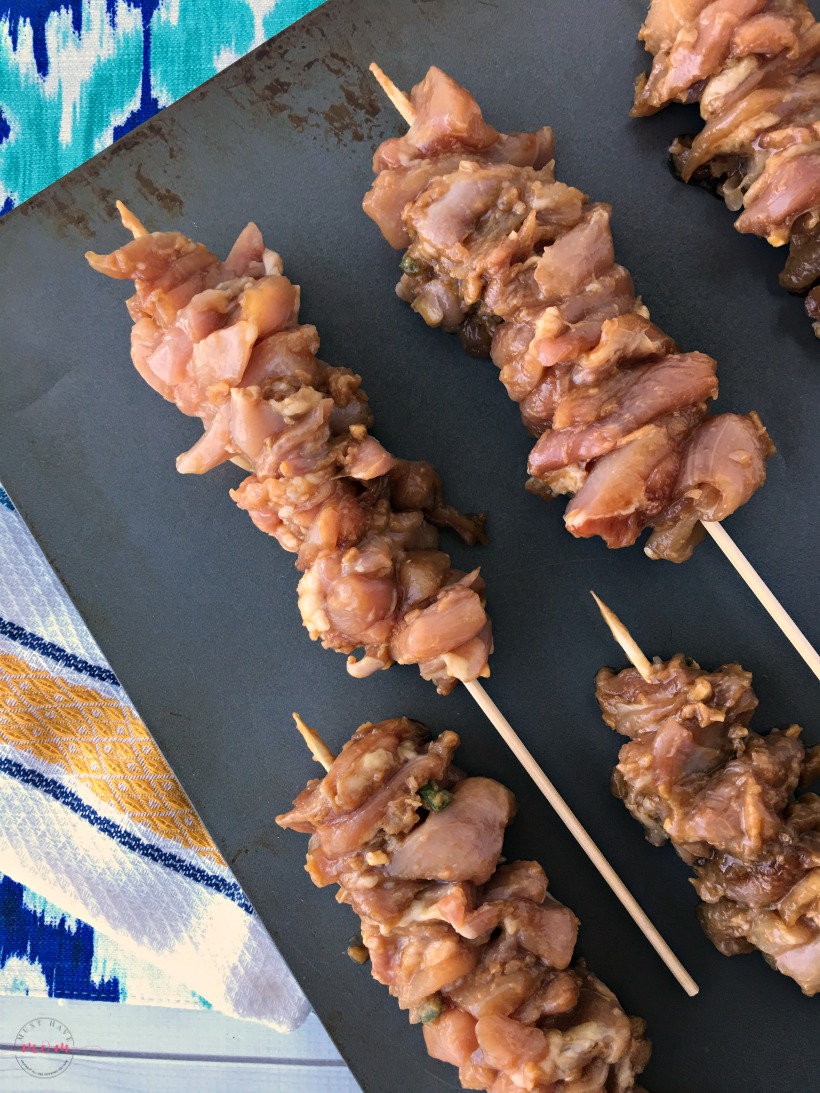 Next, thread the chicken onto the skewer so that each skewer has chicken on about 2/3 of the skewer (leaving a decent size handle on the skewer). It will make about 6 chicken satay skewers total.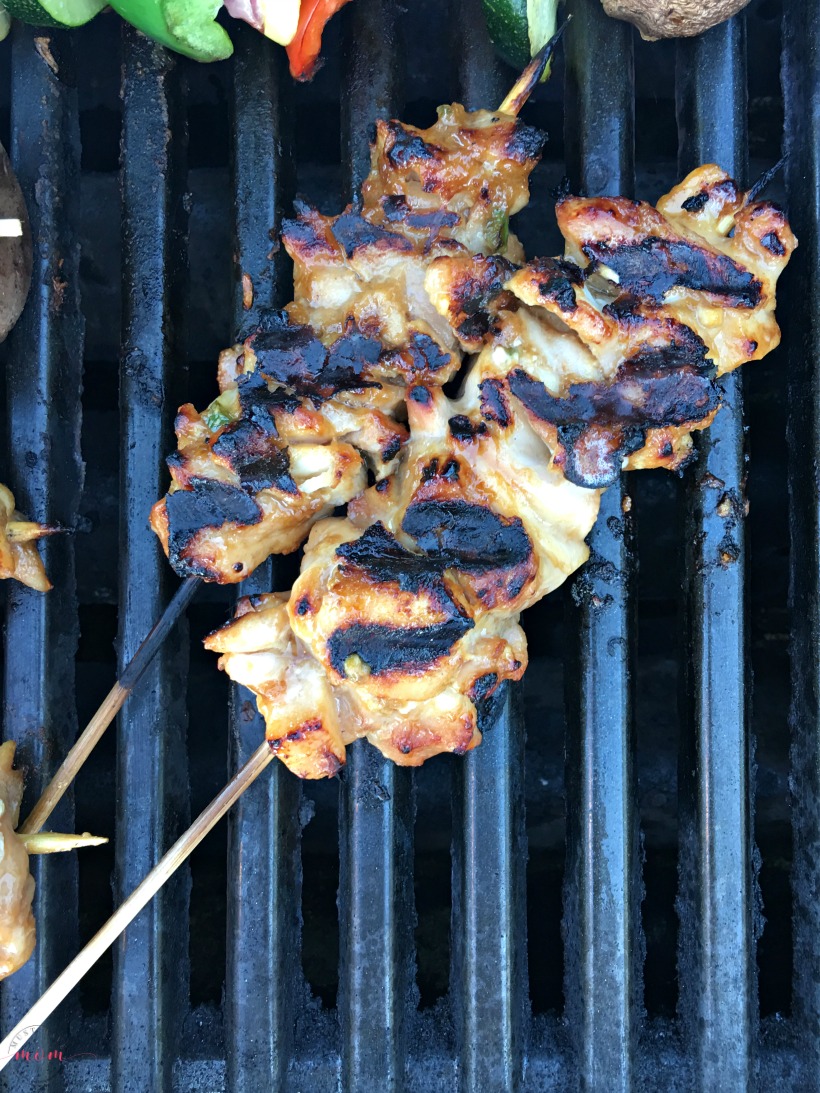 Cook on the grill for approximately ten to fifteen minutes, flipping halfway through (or until chicken is no longer pink and is thoroughly cooked). You can also pop these in the oven if you don't have a grill. Cook them under the broiler on high for 5-10 minutes and then flip and cook 5-10 minutes longer until chicken is cooked through and no longer pink.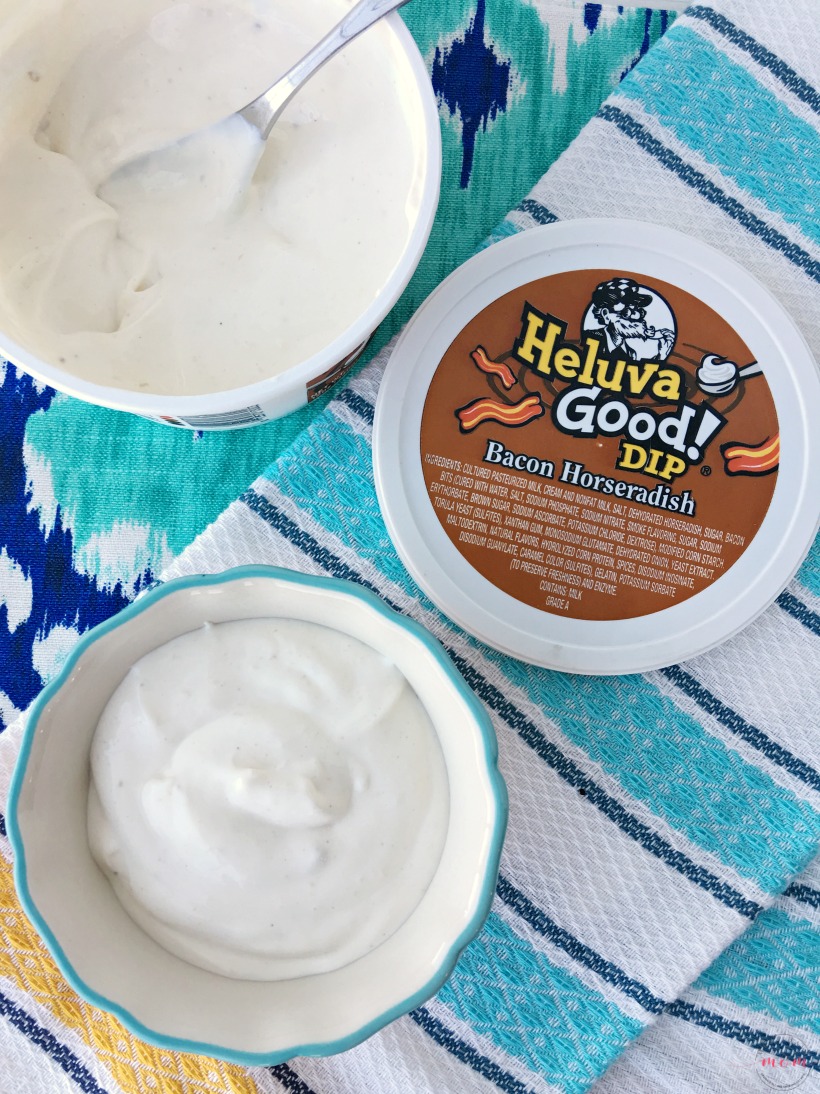 While you wait for your chicken satay to cook on the grill (or in the oven), get your dipping sauce ready. This is another time-saving hack! I use Heluva Good! Dip in the bacon horseradish flavor (buy it at a store near you in the dairy section). Chicken and bacon naturally go together, as do bacon and peanut butter, so this just makes these chicken satay skewers even more amazing! The addition of horseradish complements the nutty, spicy flavor really well too! I love it! Plus, I serve it cold so it has a cooling effect as well. Place your dipping sauce into a small bowl to serve on your platter of chicken satay skewers.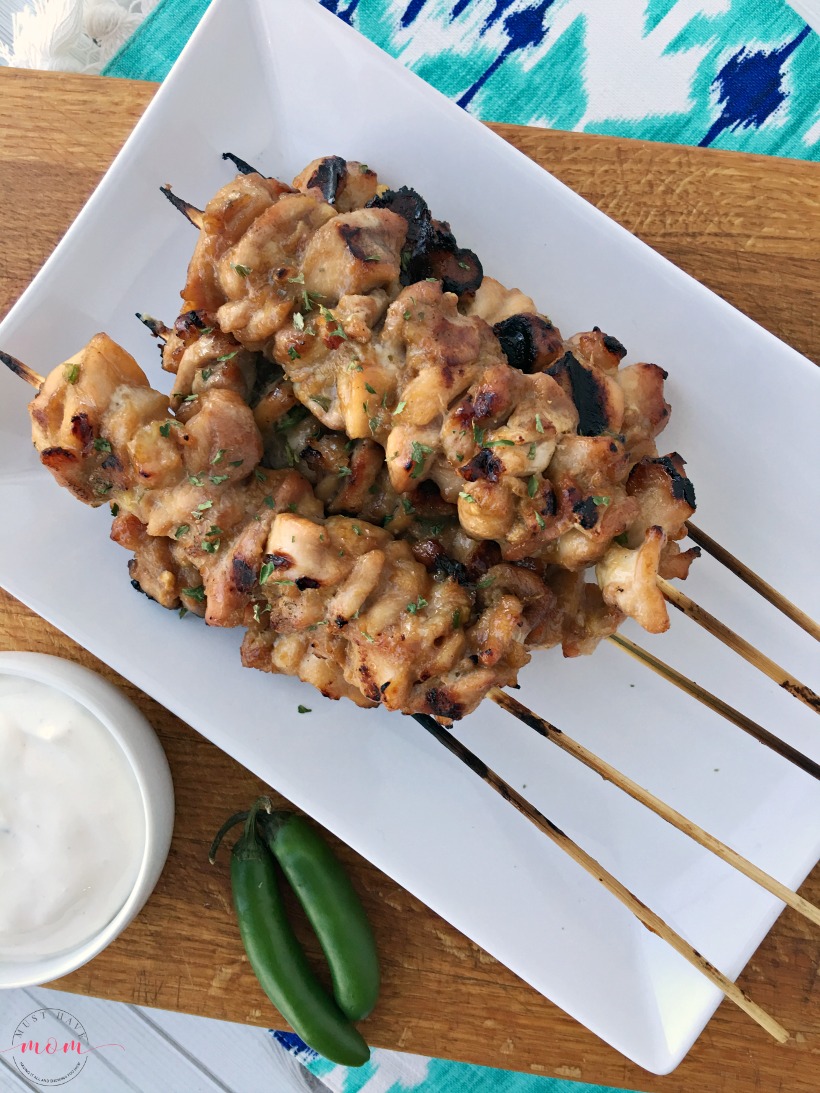 Once your chicken satay is cooked through, remove from grill or oven and place on a serving platter.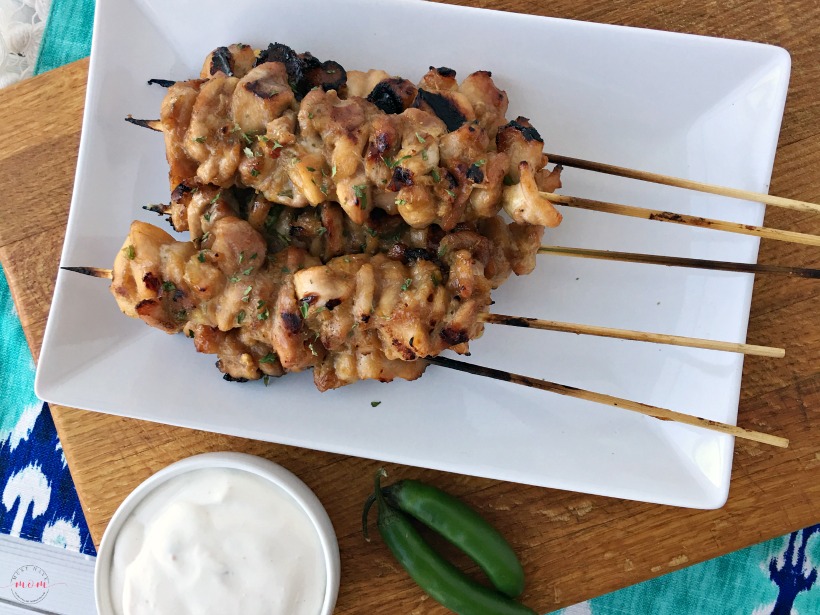 You can eat these right off the skewers so they make great finger food for parties or tailgating! They are a favorite around here and we make them for any get together. We love grilling them in the warmer months and when winter weather chases us indoors we make them in the oven! I love the versatility!
We paired them with the Heluva Good! Bacon Horseradish Dip, but they have several flavors that would pair well with this chicken satay recipe including the featured flavor, Tabasco! What flavor would you pair them with?
Print the Chicken Satay Marinade Recipe: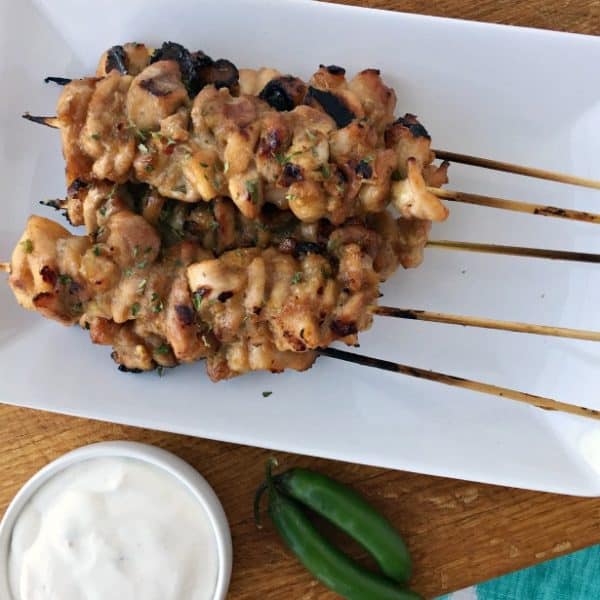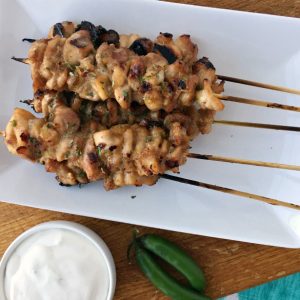 Quick and Easy Chicken Satay Skewers
20 minute chicken satay recipe that requires no marinating time!
Ingredients
2

cloves

garlic

diced

1-2

serrano peppers

diced

3

tablespoons

coconut aminos or soy sauce

2

tablespoons

coconut oil

1

teaspoon

honey

2

tablespoons

peanut butter

no salt or sugar added

1.5

# boneless

skinless chicken thighs

skewers

Heluva Good! Dip - Bacon Horseradish flavor
Instructions
In a medium size bowl combine diced garlic and serrano peppers. Add coconut aminos, coconut oil, honey and peanut butter and mix well.

Cut up boneless chicken thighs into bite size pieces and add to the marinade bowl. Mix together until all chicken is covered in marinade.

Thread chicken onto skewers, filling each skewer approx 2/3 full. Should make about 6 skewers.

Grill for 10-15 minutes, flipping halfway through (or until chicken is no longer pink and is cooked through). Alternatively you can cook them in the oven under the broiler on high for the same amount of time, flipping halfway. Ensure chicken is cooked through and no longer pink.

Serve with Heluva Good! bacon horseradish dip for dipping sauce.
Pin the 20 minute Chicken Satay Recipe:
Don't forget to pin the 20 minute chicken satay recipe below for easy finding later! We also love when you share it on Facebook and Twitter!