Mason Jar Salads With Recipes and Packing Order! Lunches that last a week in the fridge!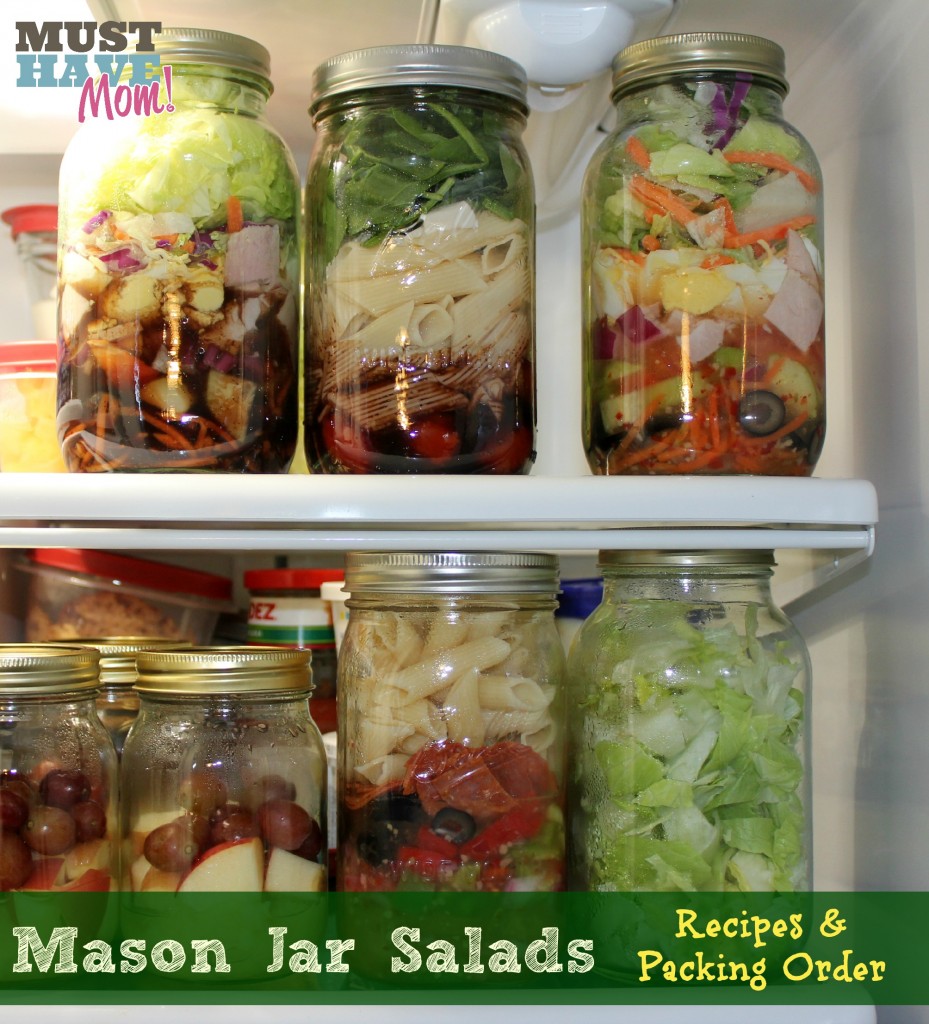 My husband has been trying to eat healthier in order to lower his blood pressure and his cholesterol. High blood pressure and high cholesterol run in the family and even at his age and despite being active, he still has them thanks to genetics. One are he was struggling with was packing healthy lunches for work. He needed "convenience" type foods that he could have made ahead of time and grab when needed. Mason jar salads seemed like the perfect option for him.
We make a week's worth of salads on Sunday night and put them in the fridge for the week. By the end of the week the salads are still just as fresh and sometimes even tastier as the veggies on the bottom of marinated in the dressing. The key is using wide mouth quart jars
and stacking your ingredients properly. These are SO simple and quick to prepare and then you have a quick, easy lunch ready for you every day of the week!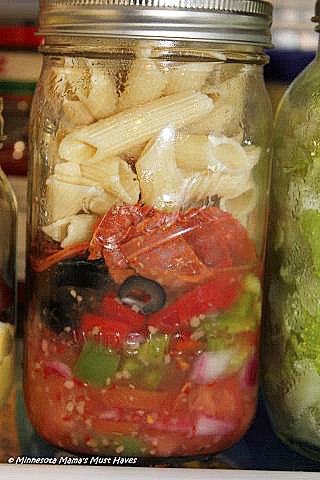 We made a variety of different salads so he wouldn't get sick of eating them. I did a pasta salad which he said was awesome!
You can print off the recipes for each of these or pin them for later!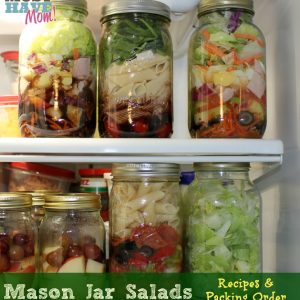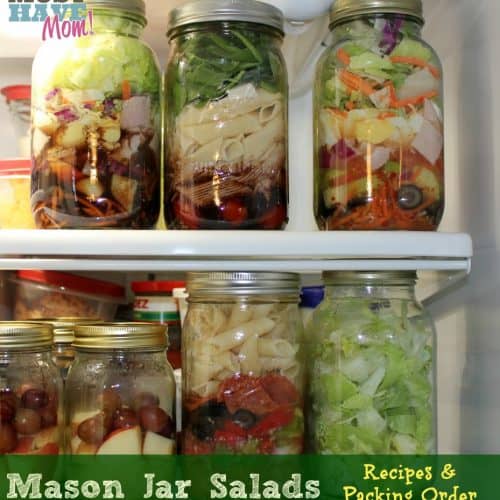 Mason Jar Salad Recipes
Make these salads ahead of time and they will keep for up to a week in the fridge.
Ingredients
Mason Jar Pasta Salad Recipe
2

oz

Italian dressing

1/4

Cup

Onions

chopped

1/2

Green pepper

chopped

1/2

Red pepper

chopped

1/4

Cup

Black Olives

sliced

Pepperoni to your liking

2

oz

Cooked pasta

drained-cook al dente and rinse with cold water after draining.
Caprese Pasta Salad Mason Jar Recipe
4

oz

Balsamic Vinaigrette Dressing

1

Cup

Cherry Tomatoes

1 1/2

Oz

Fresh Mozzarella

cut into bite size pieces

2

oz

cooked penne pasta- cook al dente and rinse in cold water after draining

1/2

C

Spinach Leaves

1/2

C

Fresh basil

chopped
Mason Jar Chef Salad Recipe
4

oz

dressing of your choice

we used Italian

1/2

C

carrot matchsticks

1/4

C

black olives

sliced

1/4

C

diced cucumber

1/4

C

diced tomato

1/4

C

green or red pepper

or both

1/4

C

chopped ham or turkey

or both

1-2

hard boiled eggs

diced

Lettuce

variety of choice (we used an iceberg blend)
Instructions
Mason Jar Pasta Salad Recipe: Put 2 oz Italian dressing on bottom of mason jar. Next add onions, green pepper, red pepper and black olives (in that order). Add pepperoni and top with cooked pasta. Put a lid on the jar and store in fridge for up to 7 days. When ready to eat just shake the jar and enjoy!

Caprese Pasta Salad Mason Jar Recipe: Put dressing on the bottom of the mason jar. Next add cherry tomatoes followed by your penne pasta. Top with fresh mozzarella pieces and then follow with the spinach and basil. Cover and store in the fridge for up to 7 days. Still tastes fresh on day 7! Shake and enjoy when ready to eat.

Mason Jar Chef Salad Recipe: Put dressing on the bottom of the mason jar. Add in this order the following ingredients: carrot matchsticks, black olives, cucumber, tomato, green/red pepper, meat, eggs, lettuce. The amount of ingredients you use depends on your personal preference. You can only fit so much into the jar so if you want lots of lettuce you will need to decrease the amount of other ingredients you add.
A few things we found in the process of making and testing these out:
Mason jars and proper stacking of ingredients is key. Dressing on the bottom, lettuce on top! Hearty vegetables on the bottom. As they sit and marinate in the dressing they get better with time. The carrot matchsticks do best in the dressing and taste great even on day 7.
The salads really DO stay fresh for an entire week. I was definitely skeptical but the verdict was unanimous that they stayed fresh and some even got better by the end of the week.
If you pack your jars too tight it will be tough to shake it and eat out of the jar. Bring a bowl or plate if you plan on packing them tight so you can just dump the salad out and eat it. If you plan to eat out of the jar don't leave too much airspace but don't push down and pack tightly. You want to minimize air space. In order to eat out of the jar use a wide mouth mason jar to make it easier.
If you have lettuce leftover after making your salads, put it in a mason jar. Our lettuce stays fresh so much longer in the glass jars! We always store it that way now.
These aren't only great for work lunches but also for busy stay at home moms. I find that I eat a lot of pizza and macaroni for lunch and having these on hand made it easy for me to eat healthy even when I didn't have time to sit down and eat or prepare a salad for myself. They are the ultimate healthy convenience food!
We also used pint mason jars for fruit cups. We used pineapple, grapes and apples and I added Fruit Fresh to each (find by the canning supplies) so it wouldn't brown. The fruit stayed crisp and fresh and our apples didn't turn brown. My husband wouldn't take time to chop fruit and take it but when it was all prepared for him he ate it everyday!
Like it? Pin it, share it, tweet it 🙂
Have more recipes? Share in the comments below!