15 Pretend Play Ideas With Free Printables!
Imagination is a lost art these days. So many kids are busy running from one activity to the next or glued to a screen, that they miss out on simply being a kid. Grabbing a box and turning it into a spaceship, or using Dad's tools to fix up their play car can be one of the best ways to get their wheels turning. Encourage their imagination to run wild with these 15 pretend play ideas complete with free pretend play printables to easily get your kids started!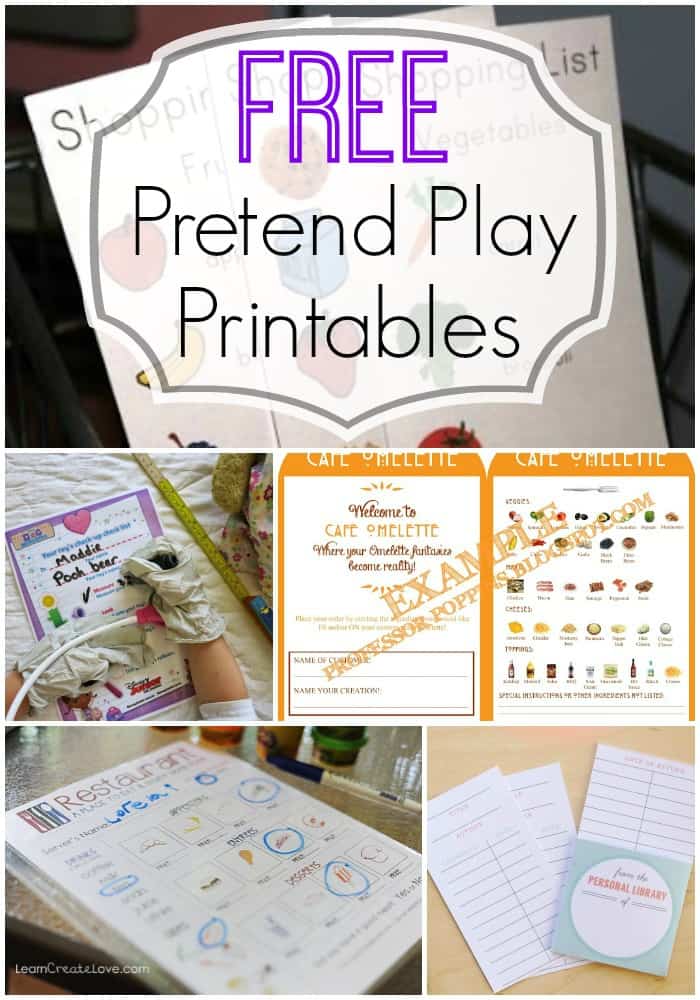 Free Pretend Play Printables
1. Double Sided Omelette Menu from Miss Poppins
2. Printable Library Checkout Cards from Clementine Creative
3. Pet Checkup Form from Mess For Less
4. Zoo Tickets and Animal Feeding Chart from Three Chickadees
5. Doctors Check List from Learn With Play at Home
6. Printable Restaurant Menu from Learn Create Love
7. Airplane Printables from Playdough to Plato
8. Doctor Role Play Prescription Printable from Loveable Learning
9. Shopping Lists from Blooming Brilliant
10. Grocery Store Name Tags from Pre K- Pages
11. Printable Library Card from Or So She Says
12. Play Tickets from Gingham Cherry
13. Childrens Play Xrays from Tried & True
14. Printable Play Credit Cards from The Crazy Craft Lady
15. Dentist Chart from Making Learning Fun
Print off the fun pretend play printables and get your kids playing and using their imagination instead of spending their time glued to a screen!
Save