As a Registered Nurse who worked in Labor & Delivery and a mom to four beautiful babies, I know a thing or two about pregnancy. One thing I really struggled with when I was pregnant was getting the right nutrition for me and baby. The first trimester always consisted of a diet of dry cereal and water. I couldn't eat anything else without feeling nauseas so cereal dinners were on the menu for a good 3 months. Despite how my body felt, I knew I needed to be sure I was getting the right nutrients. I have a couple of tricks that worked for me that I hope will help you get the right nutrition during pregnancy and help fight off that nausea. My ginger tea recipe was great for sipping on and helped alleviate the nausea when it hit.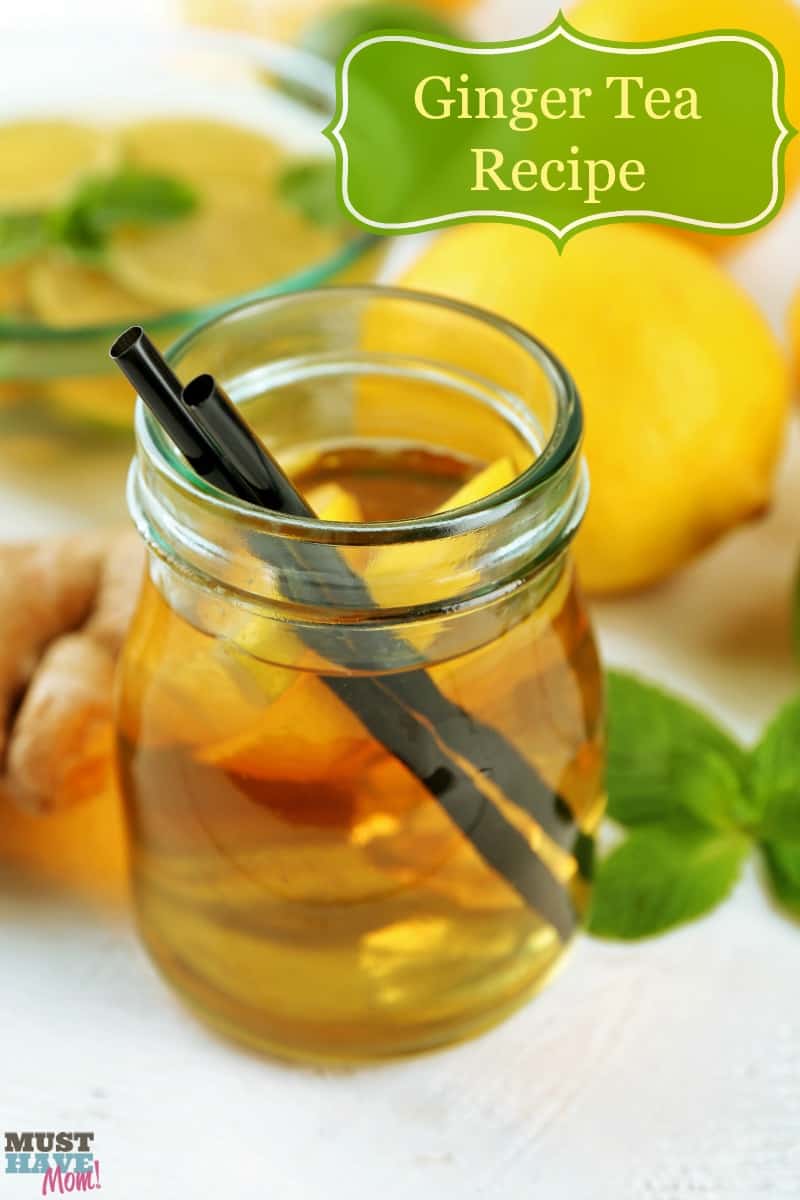 This ginger tea recipe contains ginger root which has numerous benefits including:
Ginger can alleviate nausea and provide relief from morning sickness
Ginger can help relieve achy, sore muscles from pregnancy
Ginger may aid in reducing insulin resistance and help maintain glucose levels
Ginger can aid your body to better absorb the necessary nutrients your body needs during pregnancy
Research indicates that ginger has the ability to prevent oxidative stress and help prevent ovarian cancer
Ginger can help relieve IBS (irritable bowel syndrome) which can be exacerbated by pregnancy
Ginger can help improve circulation and reduce fatigue
Ginger is known to help provide relief from gas
Ginger gives your immune system a boost to help fight off sickness
Ginger can relieve stress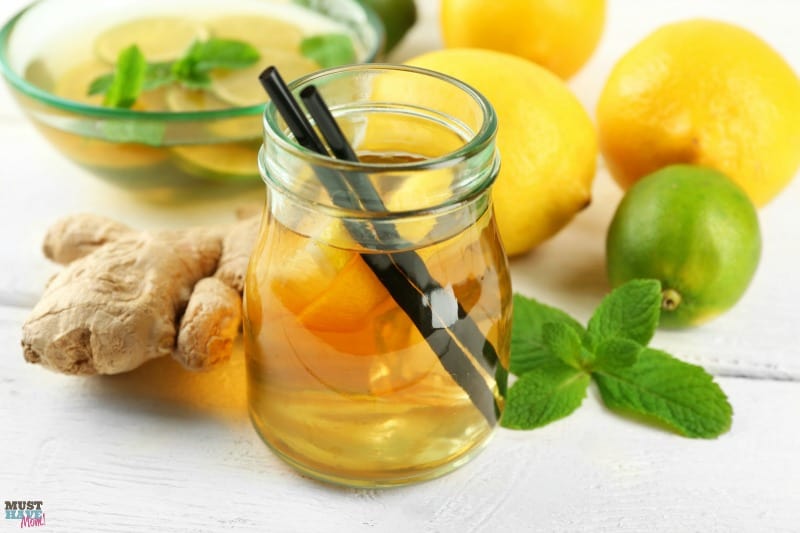 MY LATEST VIDEOS
As you can see the benefits of ginger are numerous! It can help more than just nausea when you are pregnant. It can be an aid to many different body functions. Brew this yummy ginger tea recipe and serve it hot or chilled, whichever you prefer!
You can print this recipe off below or pin this post for easy finding later!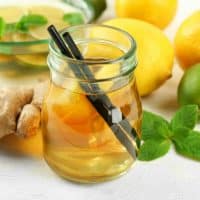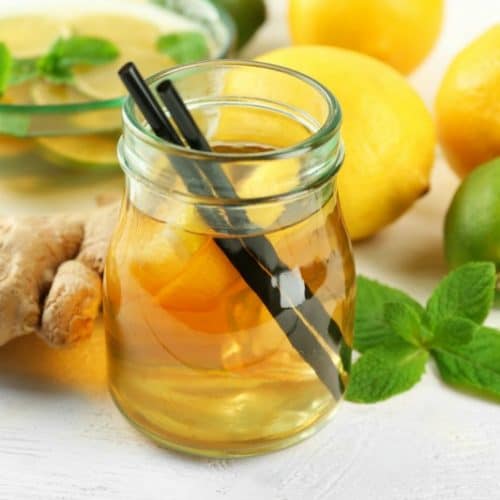 Ginger Tea Recipe For Nausea & Wellness + Getting The Right Nutrition During Pregnancy
Easy ginger tea recipe that helps alleviate nausea and boost wellness.
Ingredients
4

cups

water

1/4

cup

brown sugar or less to taste

1/4

cup

grated ginger root

3

tea bags

2

lemons juiced

3

tablespoons

honey or agave to taste

optional
Instructions
In a saucepan combine water, brown sugar, and grated ginger root and bring to a boil. Reduce heat to medium low and simmer for 20 minutes.

Remove from heat and add tea bags

Remove saucepan from heat and add tea bags. Steep tea to desired strength, about 3 to 5 minutes.

Remove tea bags and discard.

Add lemon juice and honey or agave to taste and stir.

Strain into a pitcher and serve hot or chilled.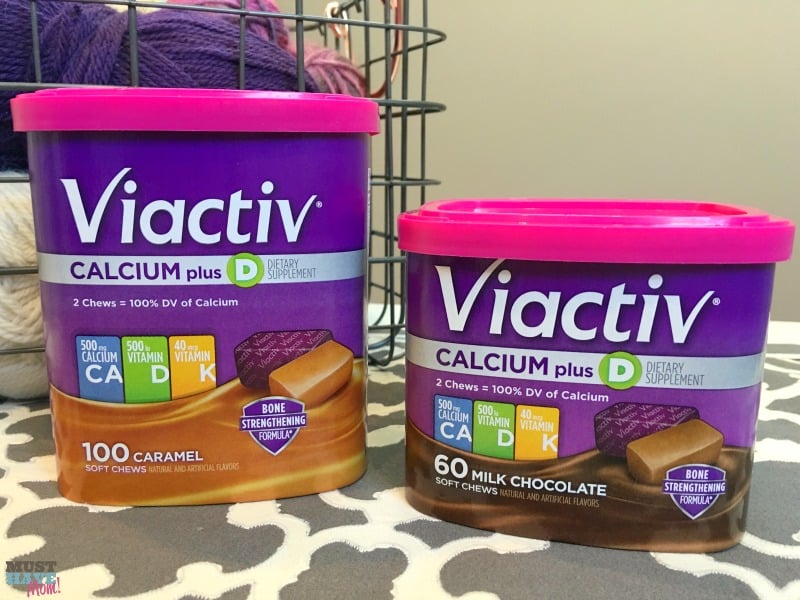 Alleviating the morning sickness that comes with pregnancy is just one important step in ensuring that your body gets the required nutrients it needs to maintain a healthy balance. If you are finding it difficult to get your nutrition through food then it is especially important to make sure you are getting it through dietary supplements. Women need 1000 mg of daily calcium to meet recommended daily requirements. Many prenatal vitamins don't meet this requirement and leaves a gap in your nutritional needs. 
Rather than swallow two big horse pills of calcium every day (yuck!) when pregnant I preferred to get my calcium and vitamin D from Viactiv Calcium Chew. Viactiv Calcium Soft Chews are the #1 doctor-recommended calcium supplement chew and one Viactiv Calcium Soft Chew (500 mg of calcium and 500 IU of Vitamin D) taken twice daily provides 100% of the daily value of calcium for most women plus vitamins D and K.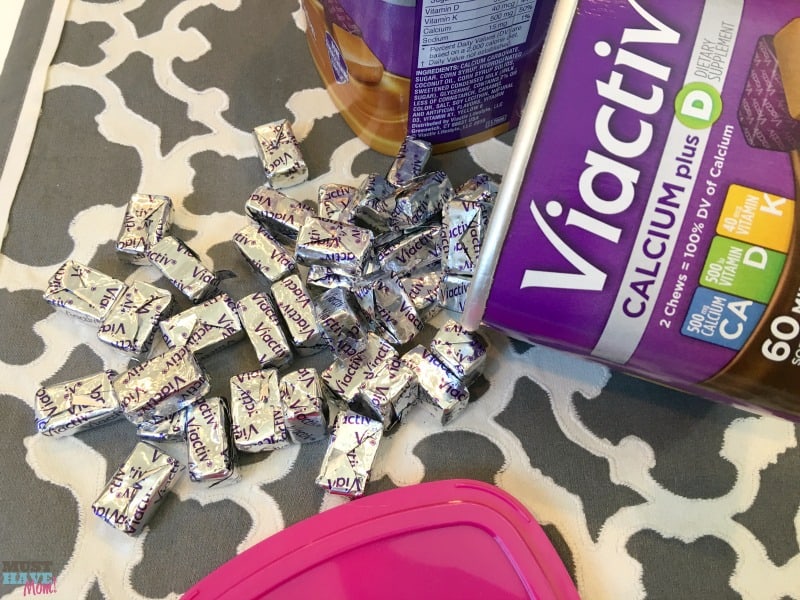 Plus they come individually wrapped so you can toss them in your purse and know you always have them when you are on the go. They taste great too! I like both the caramel and milk chocolate flavors. If I had to pick one I think I'd pick the caramel flavor, but they both taste fantastic. WAY better than swallowing big calcium pills! It feels like you're eating a treat but it's delivering your daily dietary needs for you and baby! Did you know that if your body is not getting enough dietary calcium it begins to take it from your bones? Even when you are not pregnant this happens which decreases bone mineral density which can eventually lead to osteopenia and osteoporosis.
The majority of Americans do not receive the amount of calcium needed daily based on diet alone – around 68% of women are calcium deficient. Calcium isn't manufactured in the body, so it must be introduced by outside sources (diet, supplements).  This is the yummiest way I've found to do it! Don't forget to make sure you are also getting plenty of folic acid, iodine, and vitamin D.
Viactiv Calcium Soft Chews are available in milk chocolate and caramel flavors at major retailers including CVS, Rite Aid, Target, and Walmart, as well as supermarkets nationwide. Print this coupon to save $2 on your next in-store purchase of Viactiv.
Learn more about Viactiv at www.Viactiv.com or visit their Facebook page.
This is a product-provided, sponsored conversation on behalf of Viactiv that contains affiliate links. I received Viactiv products for my own personal use. This post is not intended to address or diagnose any medical conditions. All opinions, text and experiences are my own. These statements have not been evaluated by the Food and Drug Administration. This product is not intended to diagnose, treat, cure or prevent any disease. Please speak with your healthcare provider regarding any medical concerns.
OB/GYN survey data was gathered by BrandPerx on behalf of Viactiv, surveying over 1,000 participating OB/GYN's across the country during the month of July, 2015.