Adorable Easter Bento Box Ideas with Tofu
Looking for a fun twist on lunch that is perfect for Easter? Why not try charaben (aka character bento box). You and the kiddos can create a bunny bento and/or baby chick recipes using House Foods organic tofu that puts a tasty and healthy twist on the typical "meaty" meal. The Easter Bento Box can also easily be made vegan if you prefer.

Chef Mayumi Johnston, creator of Character Bento's and owner of Taste of Japan blog, has teamed up with House Foods to develop this adorable bunny and baby chick recipes for mom and kids to create at home!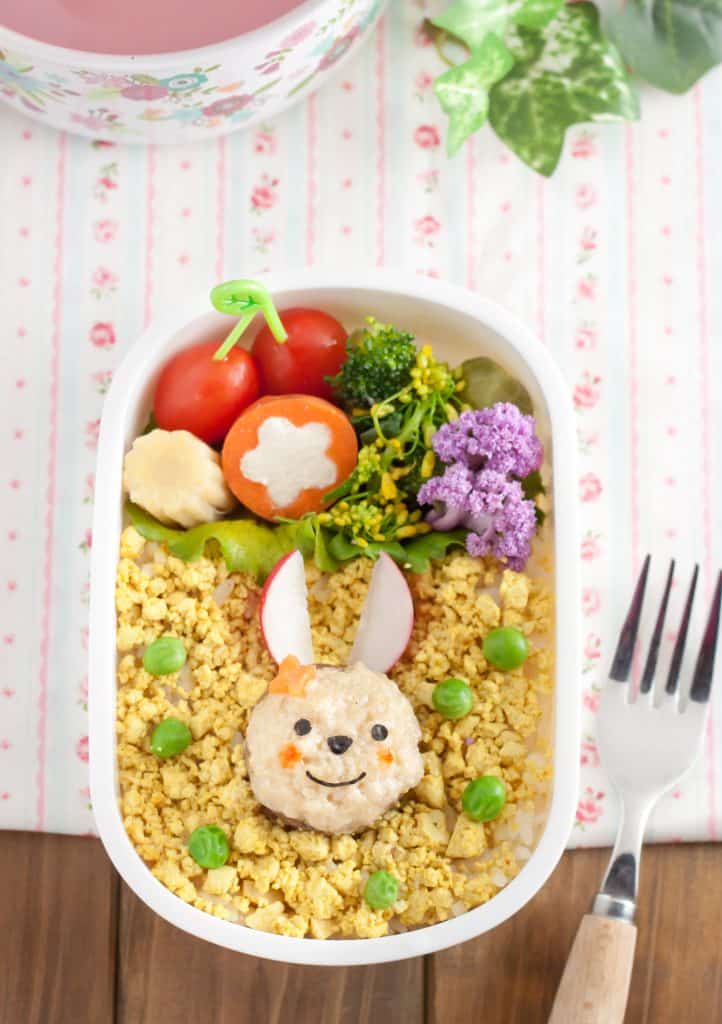 Tofu Charaben Bunny (makes 2)
Ingredients:
300g cooked white rice, separated
For the bunny:
½ pkg House Foods Premium or Organic Tofu Firm or Extra Firm, drained and pressed dry well
½ pkg ground chicken breast
5 small mushrooms
½ Tbsp Potato starch
1/8 tsp soy sauce
salt to taste
Nori seaweed, cut into small circles
Small radish, cut into 1/8th in size
Ketchup
*For vegan, omit ground chicken breast and use the whole package of tofu instead
For the scrambled tofu:
½ pkg House Foods Premium or Organic Tofu Firm or Extra Firm, drained and pressed dry well
1/8 – ¼ tsp Curry powder (optional)
1/8 tsp soy sauce
salt to taste
Garnish:
Choice of Spring vegetables
Tool:
Dry seaweed cutter
Directions to create bunny:
In a large bowl crumble tofu and add in the ground chicken breast, potato starch, soy sauce, and salt. Mix well by hands and form small round balls.
Remove stems from mushrooms and stuff mushrooms with the tofu balls. Steam for about 10 minutes or until softened and cooked through. You need 1 tofu mushroom for 1 bunny. You can save the rest and freeze for later.
Directions for Scrambled Tofu Curry
Crumble the tofu into a large non-stick pan over medium-high heat. Add the curry powder (if using) and soy sauce and stir. Cook until liquid has evaporated and tofu is completely crumbled.
To assemble the Charaben Bunny Bento:
Add the rice to a bento box. Top with the scrambled tofu. Place the bunny face inside the bento box where you'd like to create the bunny. Place two slices of radish above the bunny's face. This will be its ears. Garnish with your choice of spring vegetables. Apply the small pieces of nori to the stuffed mushroom for the bunny's eyes and nose with tweezers. Color its cheeks with a small dab of ketchup and set aside. Repeat to make second bento.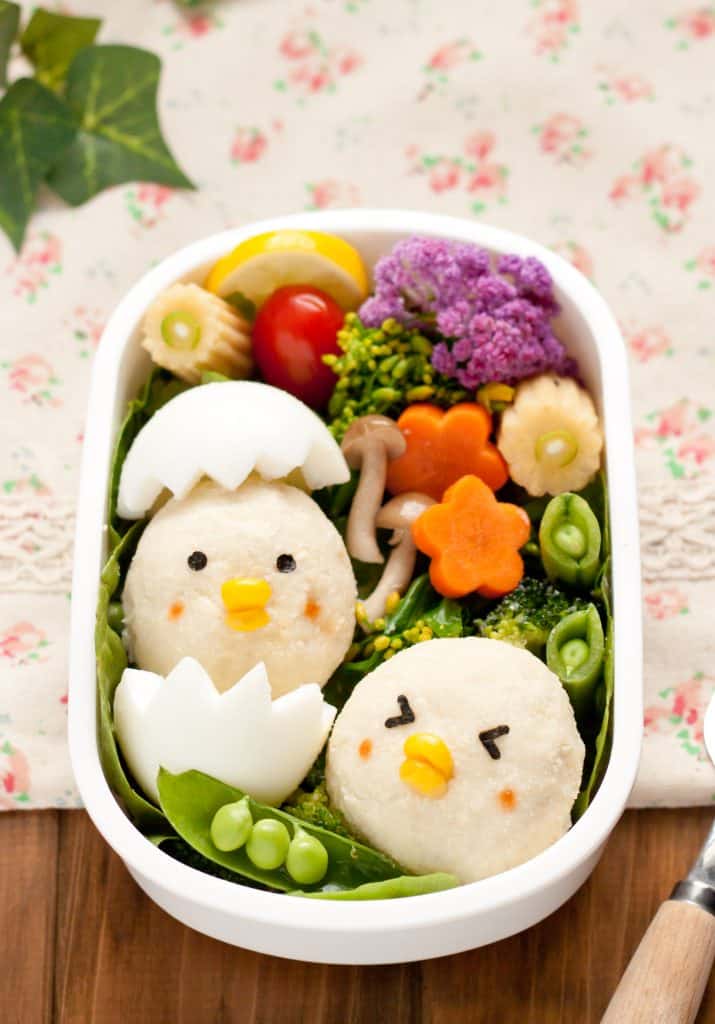 Baby Chick Charaben Bento (makes 2)
Ingredients:
½ pkg (7 oz) Soft Tofu, pat dry
250g russet potatoes, peeled (about 2 medium size)
2 hardboiled eggs
2 Tbsp butter, melted
Salt and garlic powder to taste
Nori seaweed, cut into face-like pieces using the dry seaweed cutter
Corn kernels
Ketchup
Spring vegetables of your choice
Optional: corn, cheese, or vegetable of choice for filling
Tool:
Dry seaweed cutter
Directions:
Peel and cut potatoes into 1- inch pieces. Place them in a microwave-safe bowl and cover with plastic wrap. Cook on high for about 5-7 minutes or until tender. Mash tofu and the potatoes with salt and melted butter.
Form the tofu mashed potatoes into small round balls, adding corn, cheese, or vegetables in the center if using, and set aside.
Cut the hard boiled egg white horizontally in a zig zagged line to create 2 egg shell pieces (discard yolk).
To assemble bento:
Layer lettuce in a bento box. Arrange the tofu mashed potato balls in the box. Place one egg piece above and below the tofu ball. Place the small pieces of nori on the tofu ball to create the eyes, and two kernels of corn to create a beak. Add a dab of ketchup to the cheeks of the baby chick. Repeat for second bento.