6 Bear-y Fun Breakfast Ideas For Kids
These "bear-y" fun breakfast ideas for kids will brighten up their mornings and infuse fun into breakfast! Start their day right with a bear themed breakfast and finish it off with the darling "I'm Going To Give You A Bear Hug" book at bedtime.
*I'm working with Zonderkidz to share this giveaway!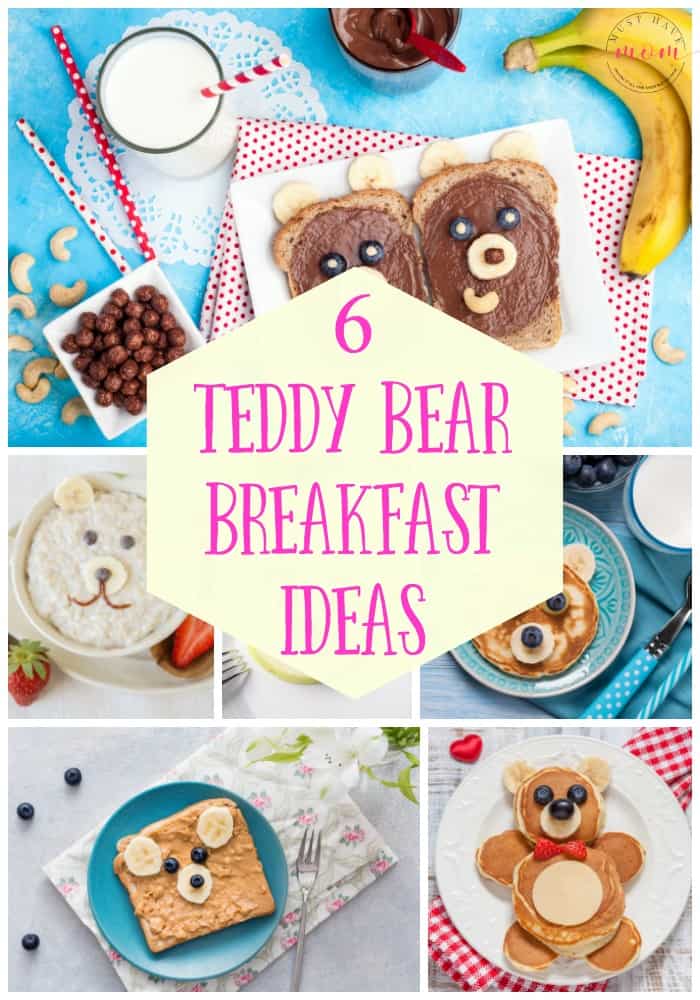 I have 6 fun breakfast ideas for kids that are all bear themed! Anyone that knows me knows that I love doing "themed days". I will pick a theme and create snacks, meals, activities and learning opportunities that center around that theme throughout the day for my kids. Have your own "Bear-y Fun" day with these ideas!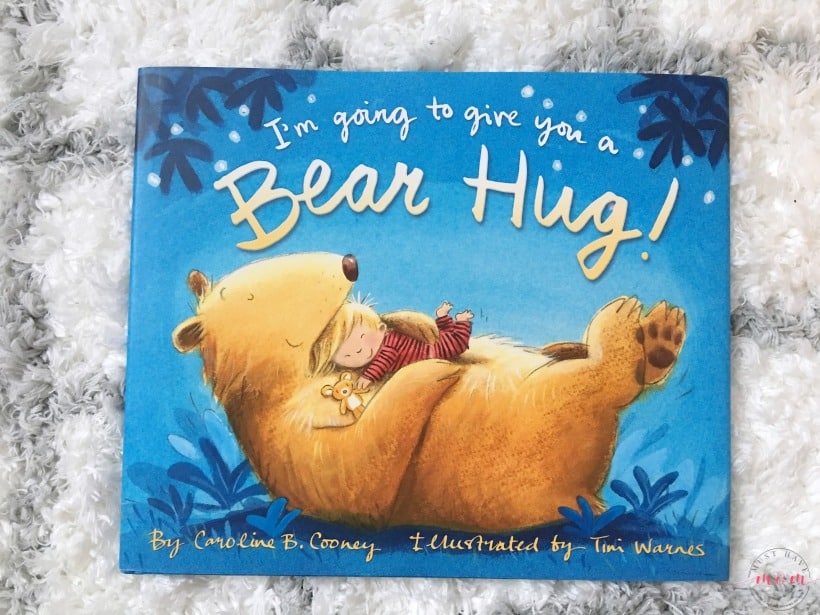 I fell in love with this adorable book, I'm Going To Give You A Bear Hug! and I decided that a fun bear-themed day was in order! I'm Going to Give You a Bear Hug!, written by bestselling author Caroline B. Cooney, is a playful and comforting bedtime book that imagines all the wonderful ways a child might give and receive a hug.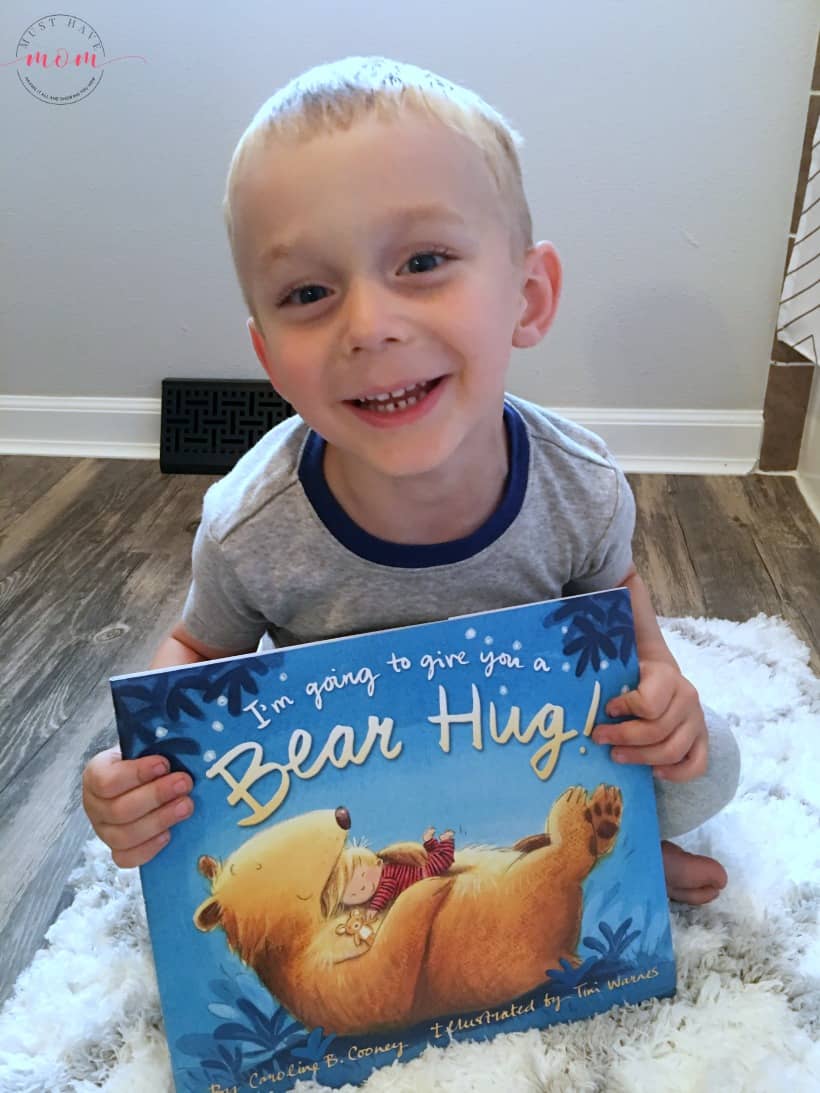 Brady was SO excited when our book showed up (you can order from Barnes & Noble!) He couldn't wait to read it with me.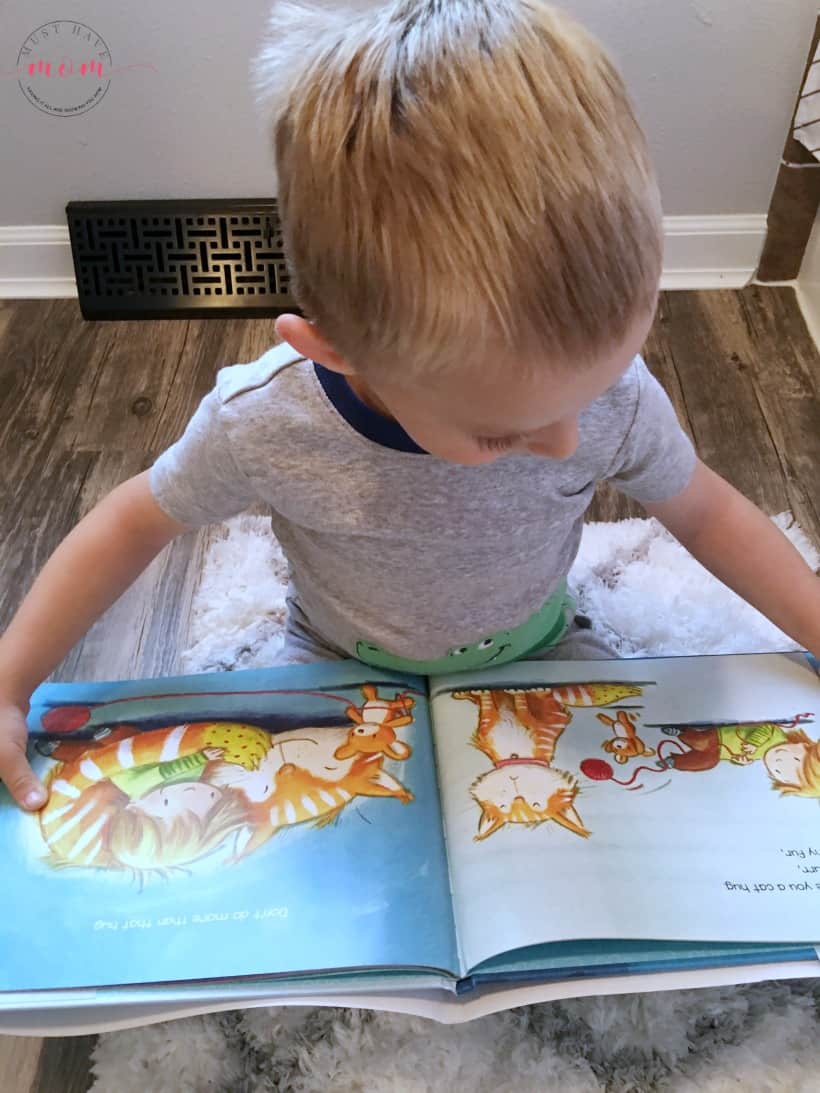 I'm going to give you a bear hug.
A show you how much I care hug.
A good night
Sleep tight
Way beyond compare hug.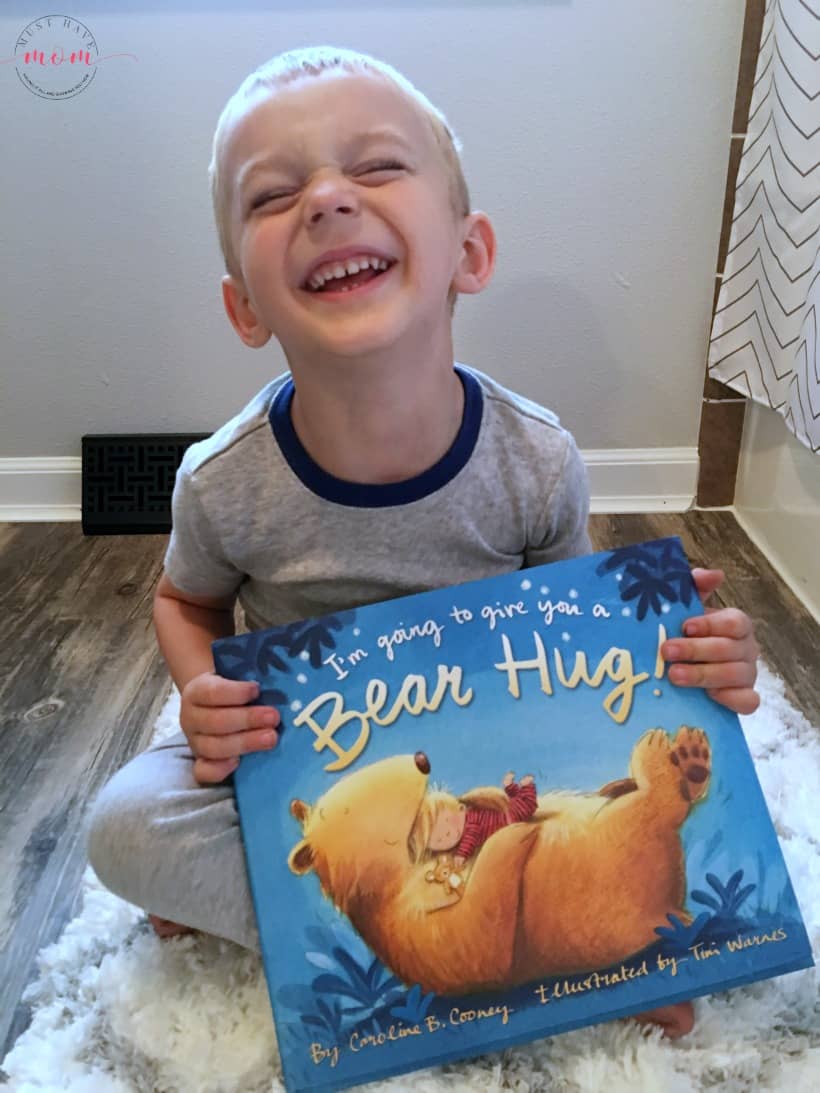 Whether it's a big bear, gasp for air, knock over a chair hug or a wet and drippy, slimy, slippy fish hug, children will giggle their way through all the imaginative examples. We loved all the different ways a hug can be given and received. Brady thought it was so much fun and after some giggling and chatter, he was ready to wind down and drift off to sleep.
Bear-y Fun Breakfast Ideas For Kids
Now be sure to greet your child with a "Bear-y" fun breakfast when they wake up! Here are 6 fun breakfast ideas for kids that are totally bear themed!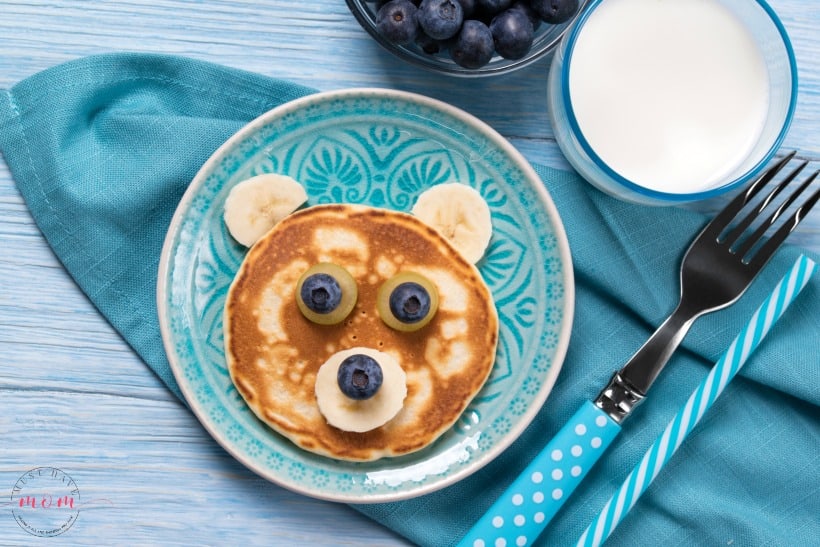 1.) Bear-y Cute Pancake
I love how easy this bear pancake is, and I love that it is made with a single pancake so nothing goes to waste! Simply make pancakes (try this make ahead pancake mix) and place a single pancake on a plate. Add banana slices for the ears and snout. Then add sliced grapes for eyes and top with blueberries. Then add a blueberry to the banana snout to finish it off!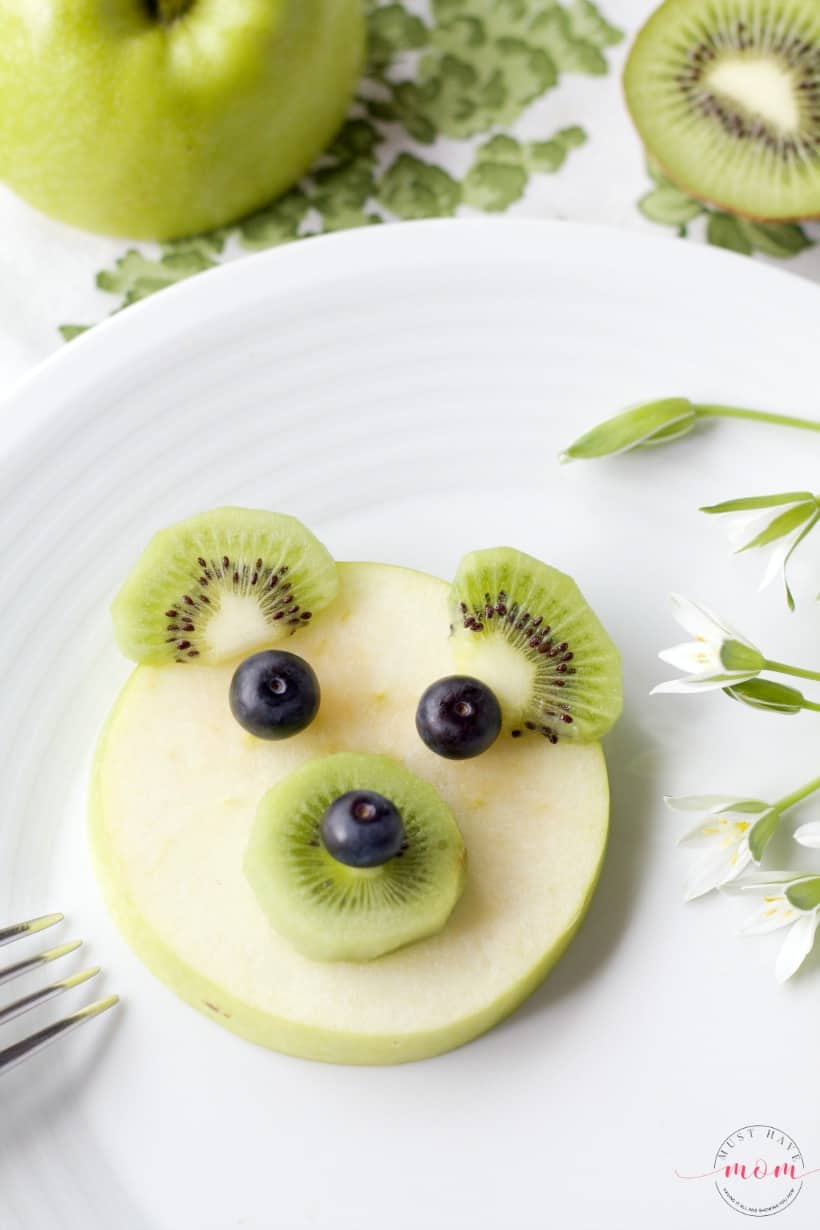 2.) Bear-y Cute Fruit
This cute fruit makes a great snack or addition to any breakfast. Simply cut an apple in large, circular slices. Then, add kiwi ears and a snout. Use blueberries for the eyes and snout.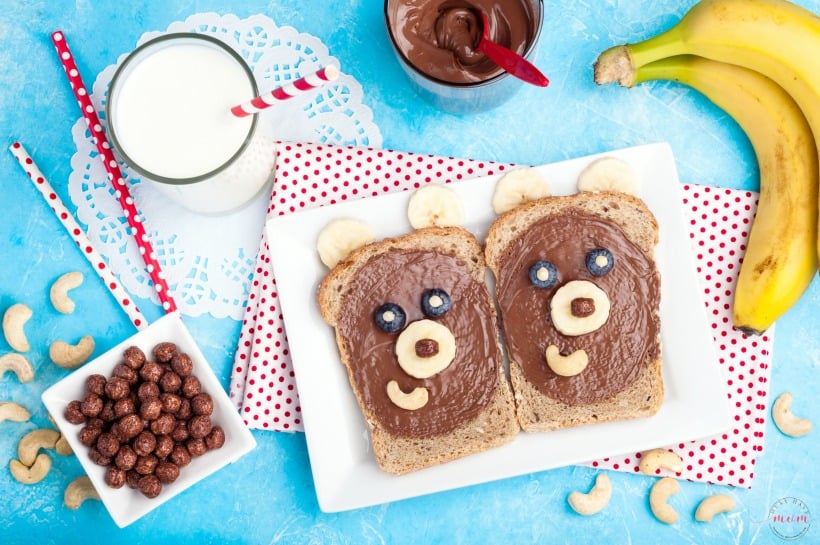 3.) Bear-y Cute Hazelnut Toast
This toast is quick and easy, but utterly adorable! Simply toast 2 slices of whole grain bread and top with chocolate hazelnut spread. Then add blueberry eyes, banana ears and snout, a cashew mouth and top the snout with a piece of chocolate puff cereal.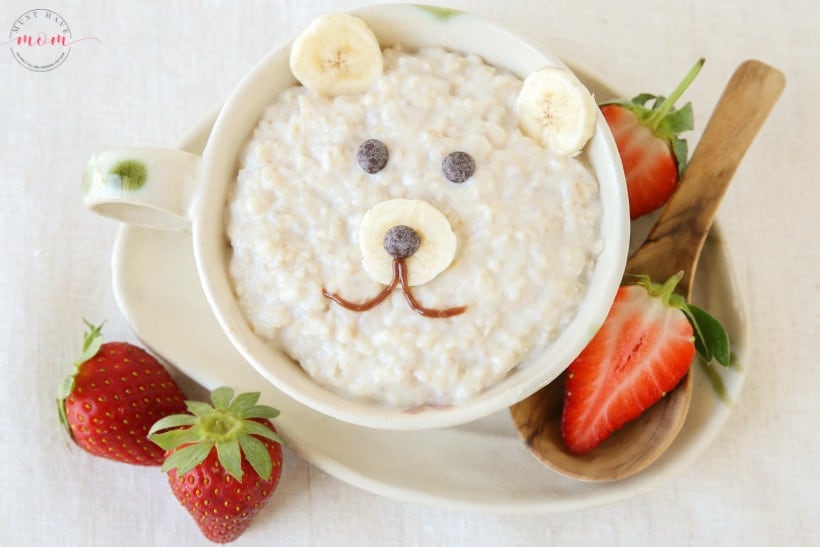 4.) Bear-y Yummy Oatmeal
Top your bowl of oatmeal with banana ears and snout, blueberry eyes and nose, and a chocolate syrup mouth. Yum!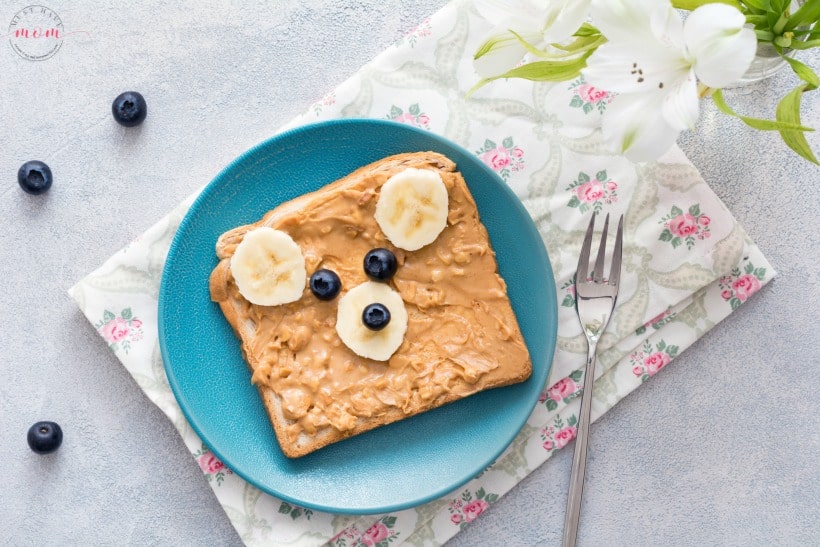 5.) Bear-y Adorable Peanut Butter Toast
This Bear-y adorable peanut butter toast is so easy and is packed with protein to start your child's day off right! Simply toast a piece of bread, top with chunky peanut butter and add banana ears and snout with blueberry eyes and nose.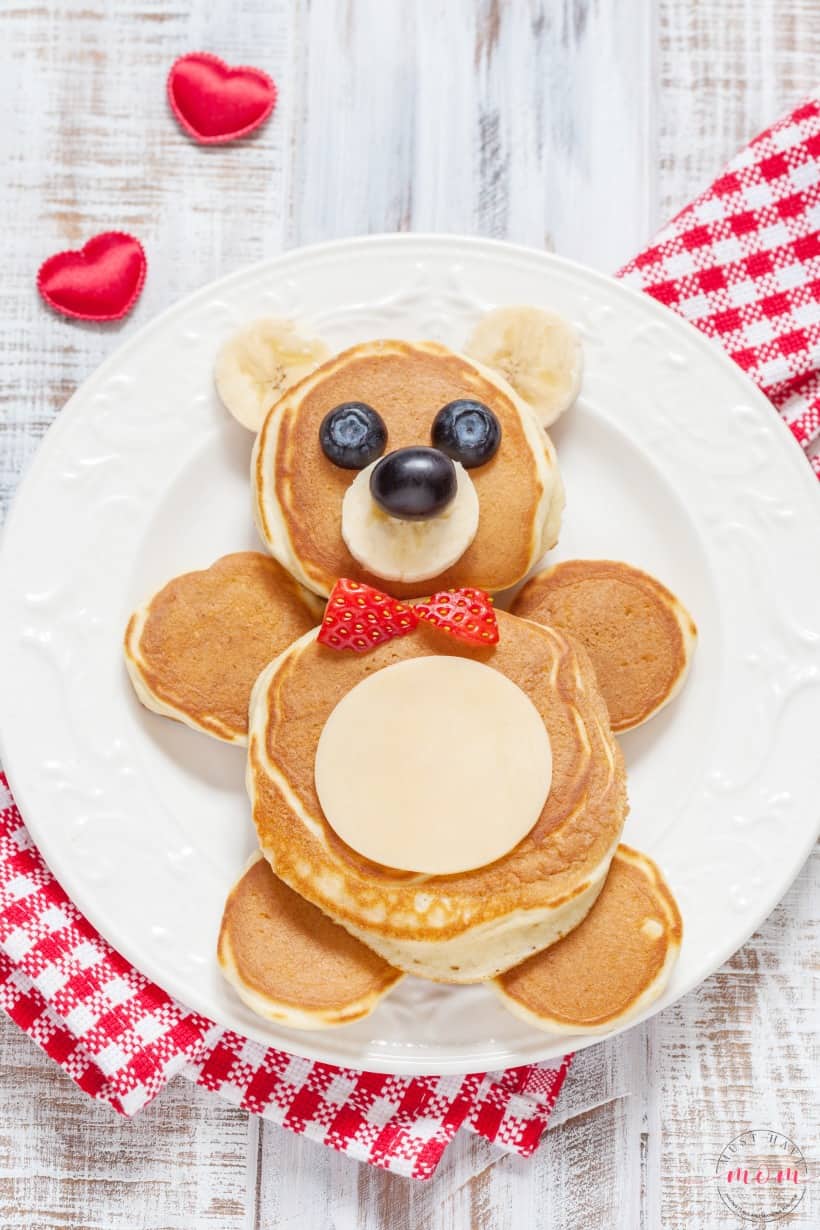 6.) Bear-y Big Bear Hug Pancakes
Start off the day with this bear-y big plate of pancakes! Great for big kids or kids with big appetites, these pancakes will definitely fill them up! Start off with one large pancake for the belly, a medium sized pancake for the head and four small pancakes for the limbs. Add banana ears and snout, blueberry eyes, a grape nose, a strawberry bowtie, and a round slice of cheese for the center of the belly. The combination of fruit and cheese with yummy pancakes is a winner!
Save