Chester Luggage Review + Chester Luggage Discount Code
When traveling you want the best carry on luggage for the easiest experience in the airport. We tested out the Chester carry on luggage and we've put together a comprehensive Chester luggage review for you along with a discount code so you can save on your purchase if you decide Chester luggage is right for you!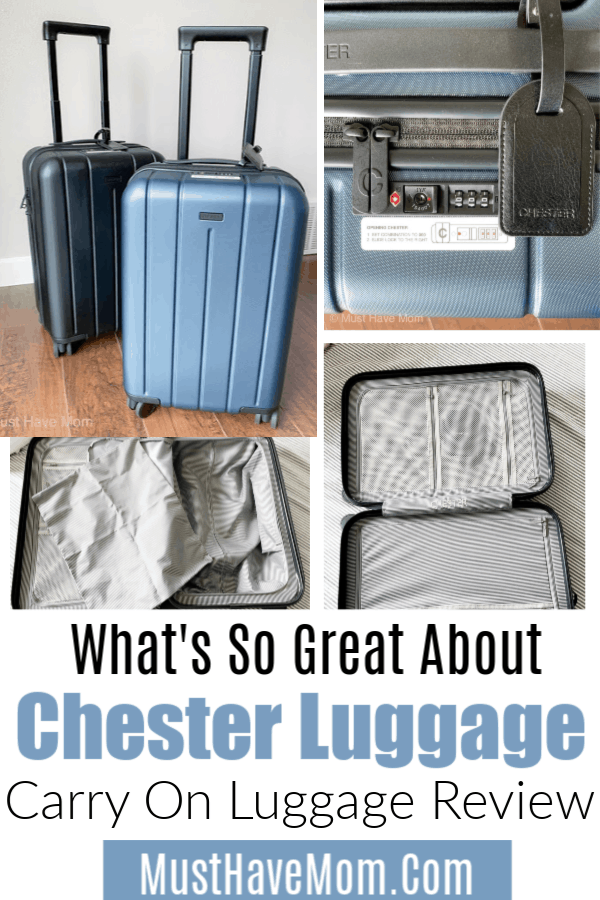 I love traveling! And in all the traveling, packing is my least favorite part of the trip. What to pack, how to pack, when to pack. It's never easy for me.
To keep it the most stress-free, I opt for the best carry-on luggage. It isn't every day that you are going to buy a carry on luggage. So choosing the right carry on luggage is crucial. Something that will last me 10-20 years.
Enter Chester Carry-on Luggage!
Though I haven't been using the Chester luggage for that long, I can easily see it's going to be with us for a long time. It's sturdy, it's functional and so easy to handle.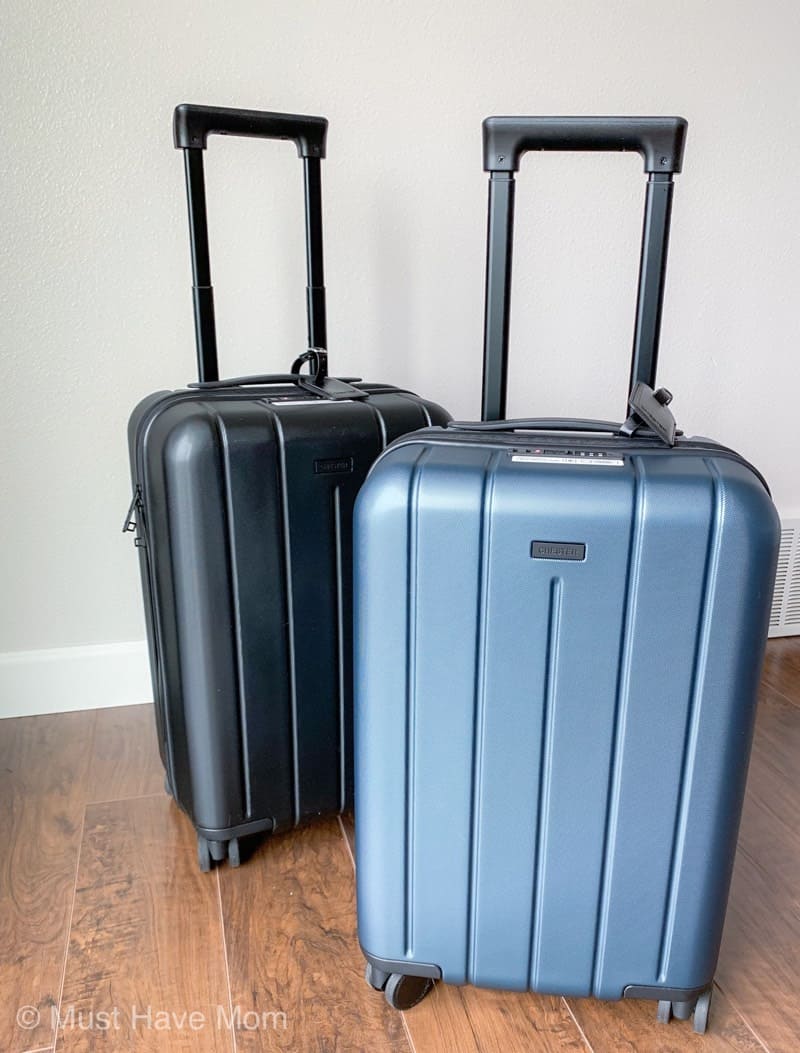 Chester Luggage Review
If you are in the market to get yourself a quality piece of carry-on luggage, I'll tell you why you should put Chester Luggage on the top of your list in this Chester carry on luggage Review.
Note: Keep reading for a 10% discount coupon at the end of this Chester luggage review!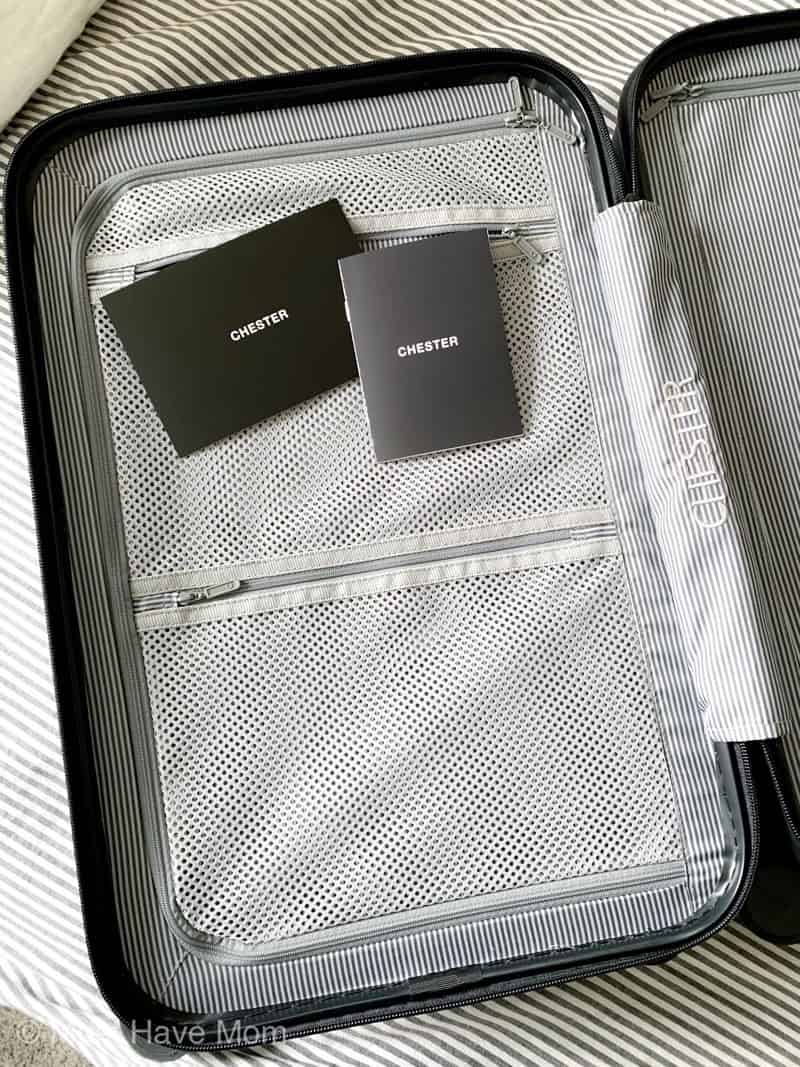 Size
When choosing your carry on luggage, the first thing you should be looking at, is the size. You are allowed one carry-on with you and this should be able to fit in the luggage compartment above your seat.
If the bag is even an inch bigger, your flight attendant will refuse to allow it. You don't want that happening. It's stressful, chaotic and more.
Chester carry-on luggage is just the right size. Its size of 21.5" x 13.5" x 8.5 is TSA and IATA approved. This means that it passes both domestic and the stricter international luggage size requirements. The combination locks on my Chester luggage are also TSA approved. This means improved security and less worry.
Chester carry-on luggage holds around 5 of my casual outfits. You can even fit in more if you follow some of the expert luggage packing hacks!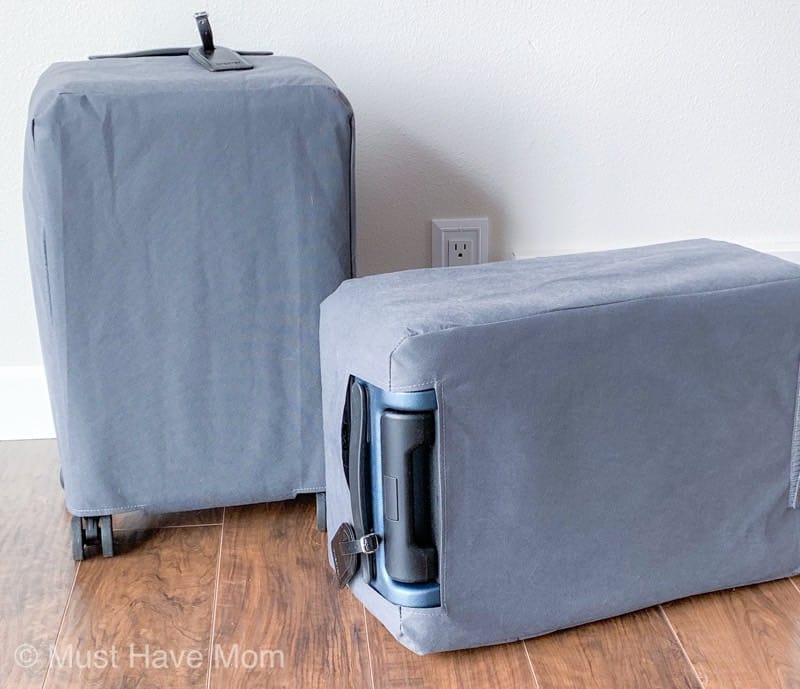 4 Multi-Directional Wheels
This is something I learned a few years back. If you have been using a piece of old luggage, you might have been awed by the newer models that simply glide through airports. That's because they have 4 multi-directional wheels instead of the 2 wheels that you will find in old suitcases.
Chester Carry-on luggage also comes with 4 multi-directional wheels. Even if rough places, these wheels roll smoothly through without requiring too much effort on your part. It turns in any direction with the slightest maneuver, so unlike my kids!
It even includes the dust covers pictured above! This is great for storing the luggage and keeping it like-new.
Light Weight
'Never buy a heavy carry-on suitcase.' That's one of the best pieces of advice my mom gave me. If you don't already know, the weight of your suitcase will be counted as part of your total luggage weight. So, if you opt for a lightweight carry-on, you can fit in more items. Chester luggage weights on 7 lbs. Plus, it also makes it easier to carry.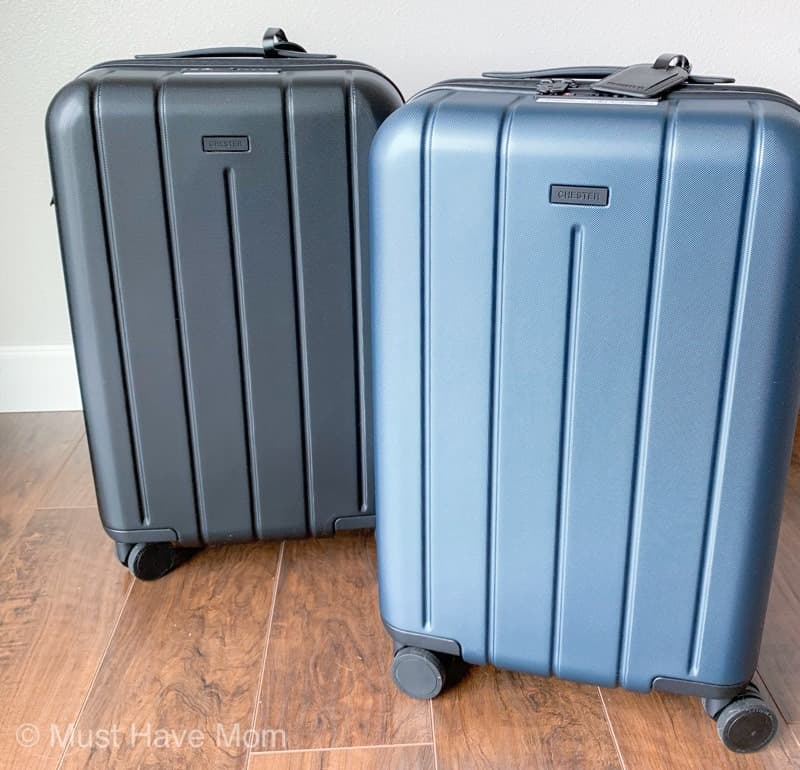 Lovely Exterior
Chester carry on luggage is made of 100% Makrolon polycarbonate hard shell. This means its more durable than the average plastic, but at the same time its lighter than aluminum. Plus it's so easy to clean. Baby wipes to the rescue, again!
Chester luggage is available in 7 neutral colors. I have them in black and ocean blue colors.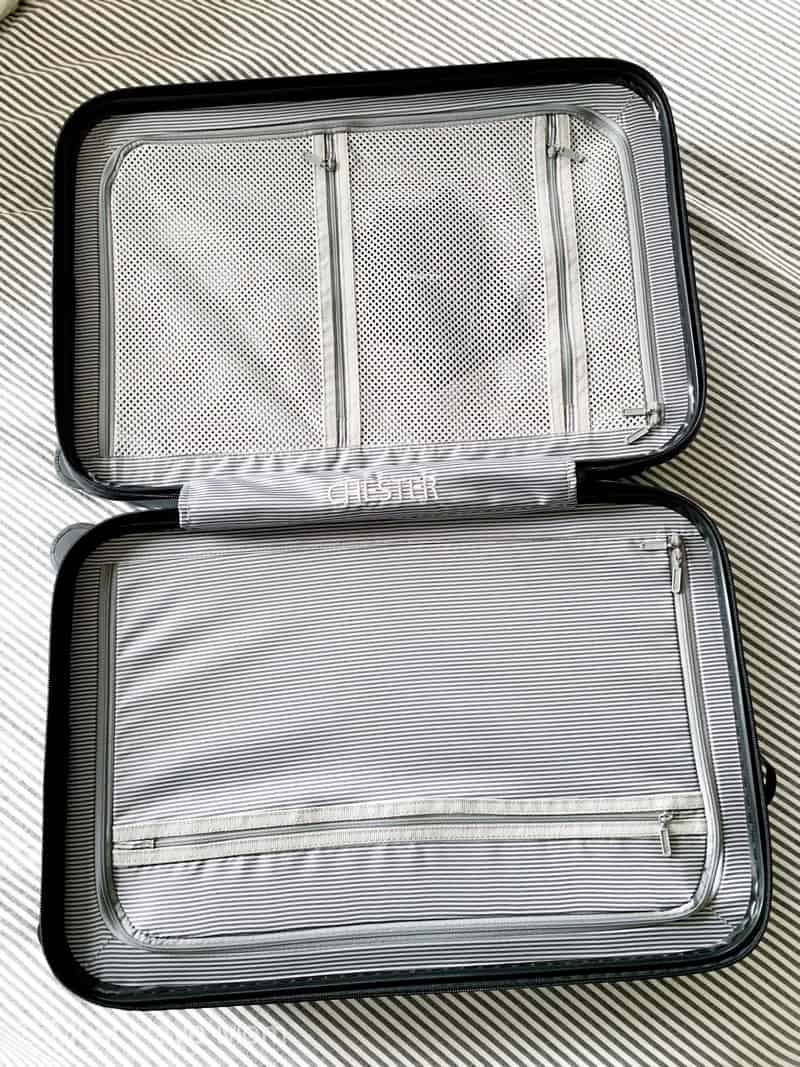 Organized Interior
When it comes to packing, I find that however organized I begin with, I end up cramming my things into the big rectangular interior of my luggage. With this carry on luggage, packing is a little more organized for me.
There are two spacious compartments in a piece of Chester carry on luggage. So, I divide my outfits into two neat piles and put one pile in the top compartment, and one in the bottom.
You also get three interior organizers with the carry-on. I store my cosmetics, undergarments and other accessories in these three. The removable nylon laundry bag is also a lifesaver. Believe me, you don't want your clean and dirty clothes mixed up in one smelly, damp mess. This bag is washable. When I come back from my trip, I just toss it in the washing machine with all the dirty clothes.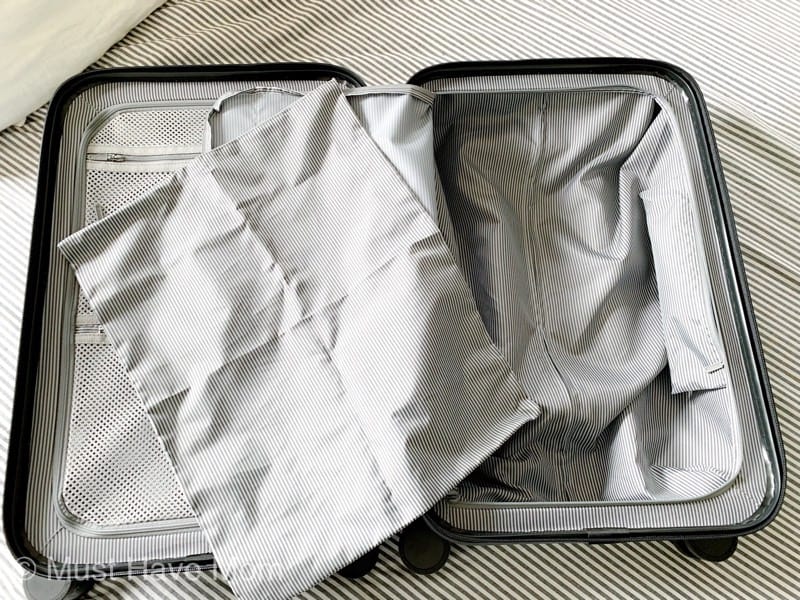 10- Year Guarantee
Buying carry on luggage isn't something we do every year. You want something that will survive the years of abuse from flight attendants and airport personnel. So, because Chester knows the worth of its suitcases, it offers you a 10- year limited warranty and free returns for the first 100 days.
 Great Prices!
One reason I can't stop talking about my Chester carry-on luggage is the price. It's because I got such a good price for a piece of carryon luggage that has all the qualities you should be looking for.  Go to Amazon and compare the prices. With my 10% discount coupon, the price goes down even further.
Chester Luggage Coupon Code
To Apply 10% Discount use promo code:  MUSTHAVEMOM on the Chester website.
You can purchase the Chester carry on luggage on Amazon, Walmart or the Chester website. The coupon code will only work on the Chester website.
Final Thoughts on Chester Luggage Review
The fact that I bought two of these shows that I am happy with the product. If you are looking for something simple, affordable and reliable, then Chester carry on luggage is a great buy.
Pin Chester Luggage Review