Colorful Boho Chic Camper Makeover DIY
This colorful boho chic camper makeover is absolutely gorgeous! It's fun and playful and makes the whole camper feel bright and cheery. Want to do this to your camper? I'll show you how!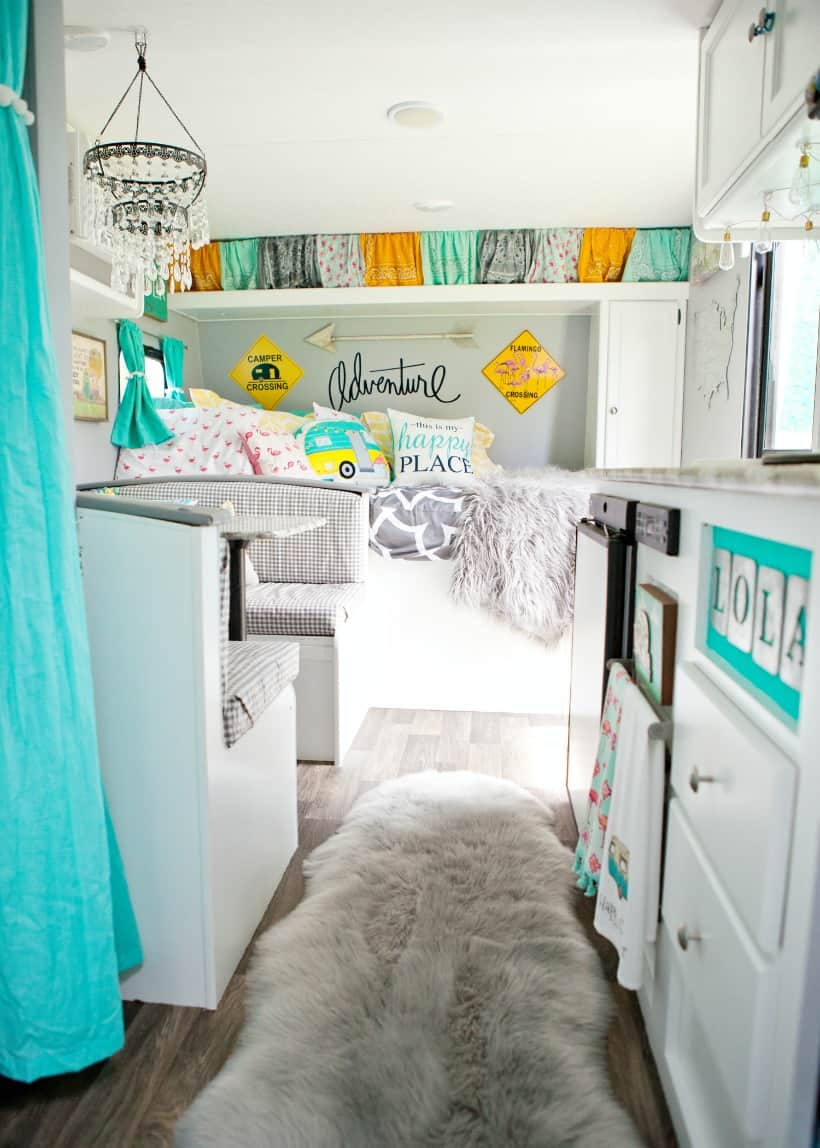 Boho Chic RV Makeover
I came across this stunning camper makeover that was done by Brooke Daniels. She was gracious enough to allow me to share it with you. I knew you would love it just as much as I do! I'll give you all the details so you can create your own camper makeover with this boho-chic style that includes flamingoes and some of my favorite colors.
RV Remodel Before and After
Here is a before photo of the RV remodel. I love seeing the transformation that a little paint and elbow grease can accomplish!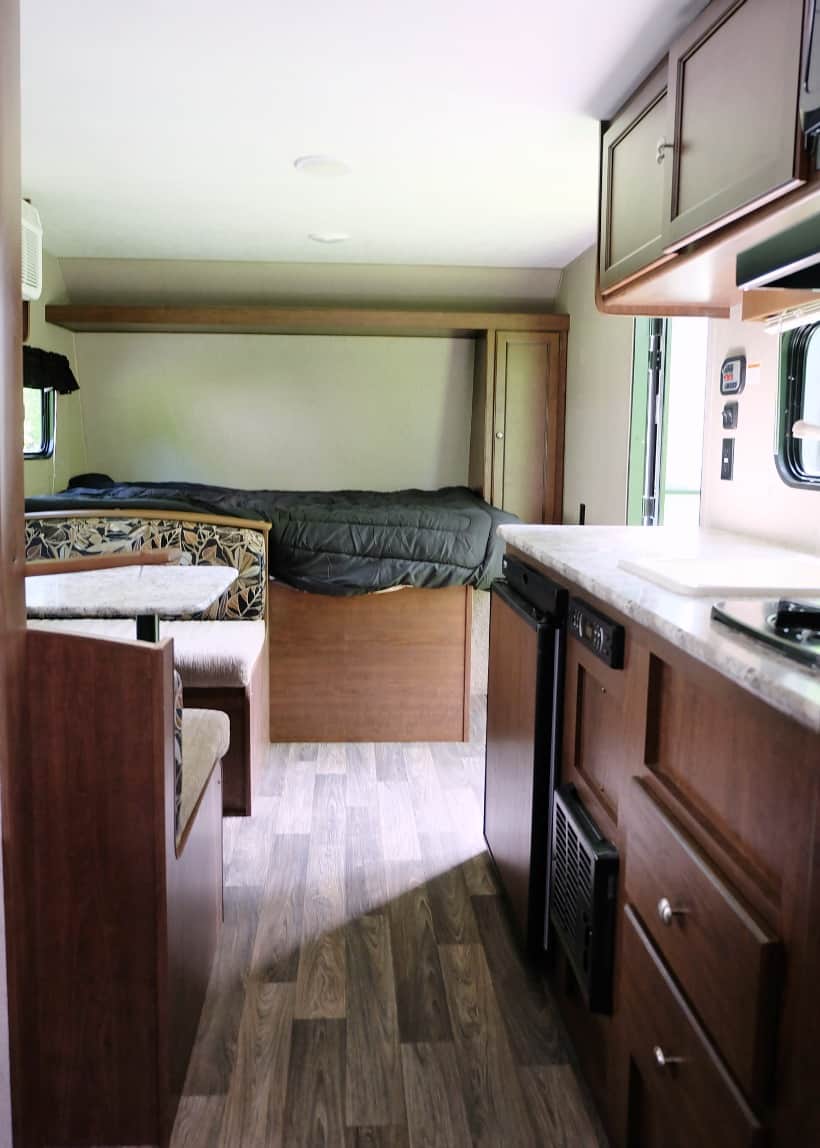 Before the camper makeover this 2017 Keystone Hideout 175LHS Bunkhouse was a bit dark and cave-like. It's definitely not the worse "before" photo I have seen of a camper before but Brooke wanted a vintage feel. She took this new camper and did an amazing makeover on it to get the vintage charm she wanted, but couldn't find in older models.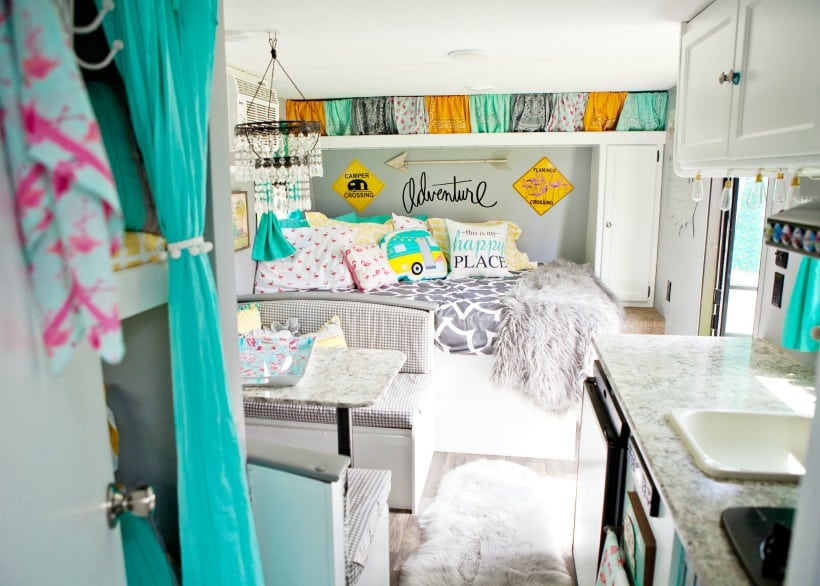 The inside of the camper was transformed by first painting the walls gray and the cabinets and woodwork white. This step alone made her feel fresh and bright and ready for a modern makeover. Brooke named her beautiful camper Lola. For the next month she played around getting Lola decorated and all dolled up to fit a vision that had been floating around in her mind for years.
Before and After of the Dinette/Kitchen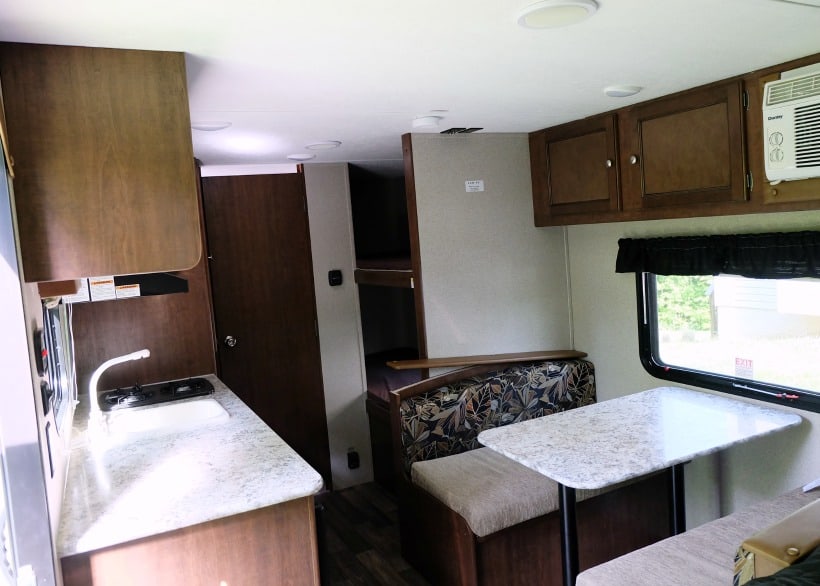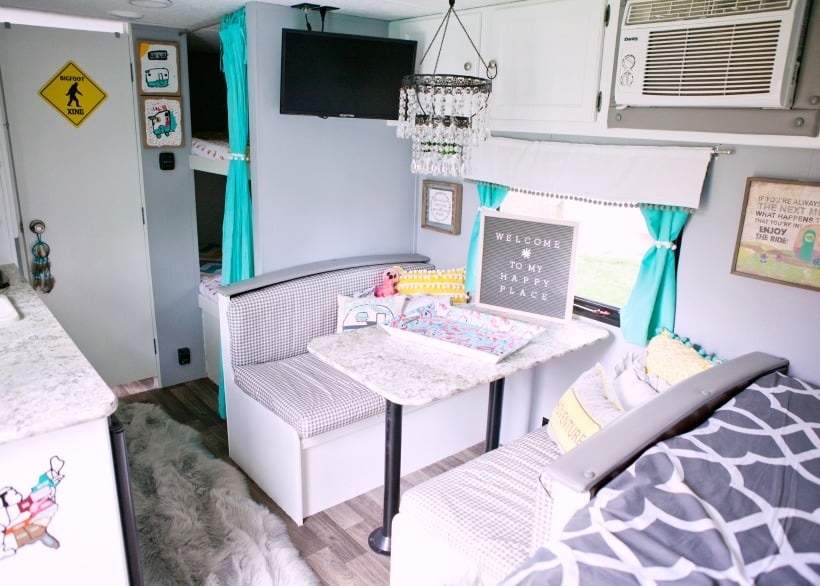 The first accent they added were little canvases that their kiddos painted of Lola to hang next to their bunks (photo below).  They used those colors, turquoise, sunshine yellow, flamingo pink and soft gray to tie into their color palette.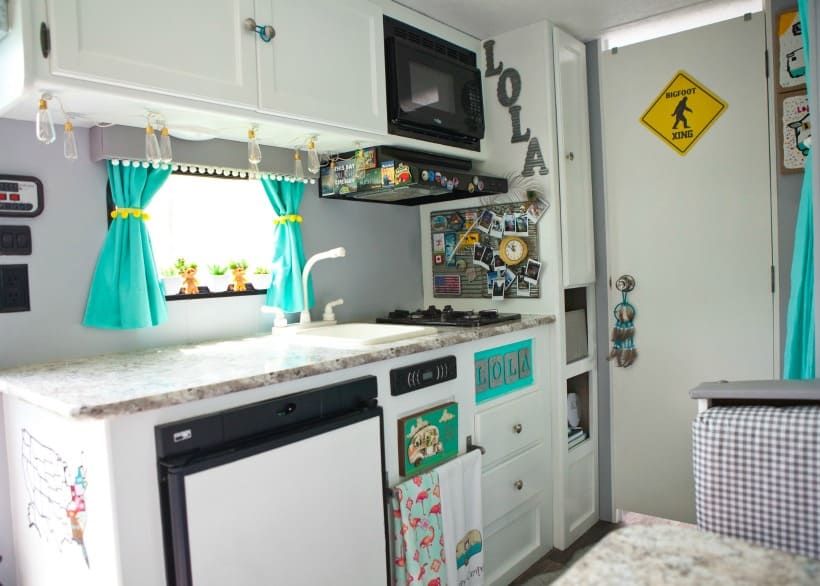 The camper's kitchen features white cabinets and colorful decor to add splashes of color throughout.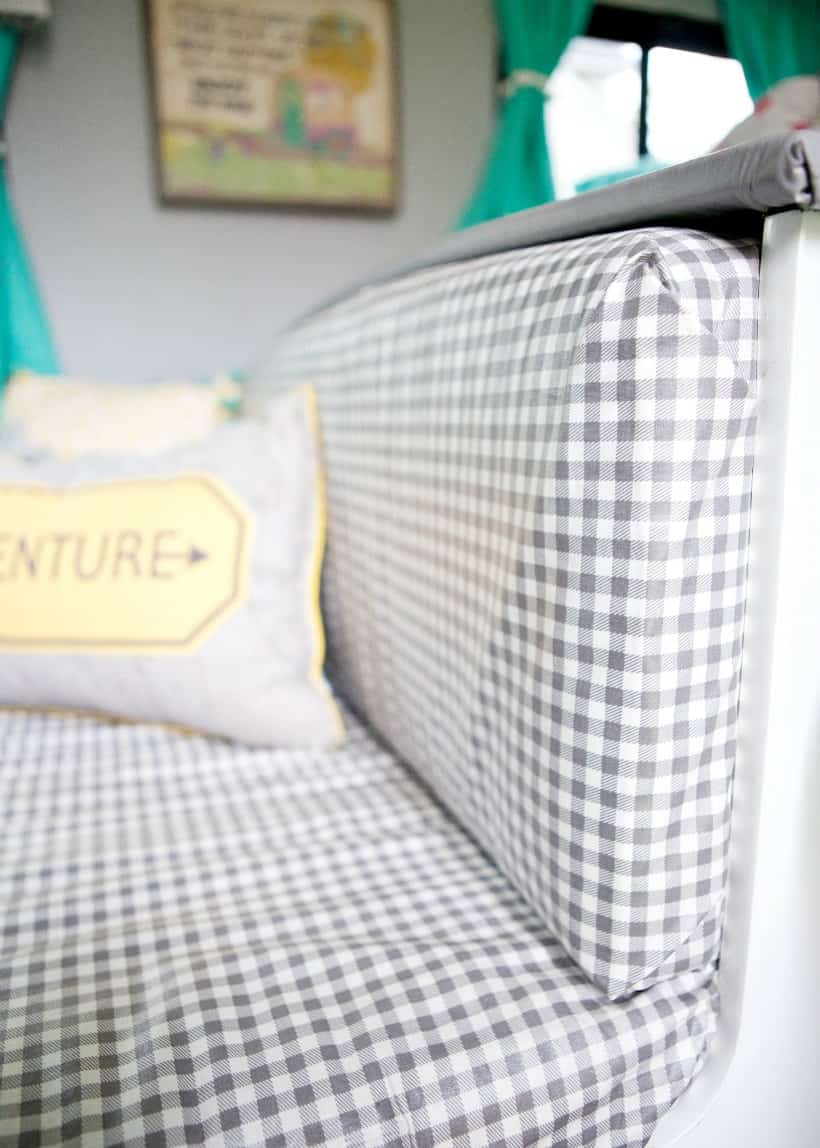 The dinette cushions were recovered in gray and white checkered fabric.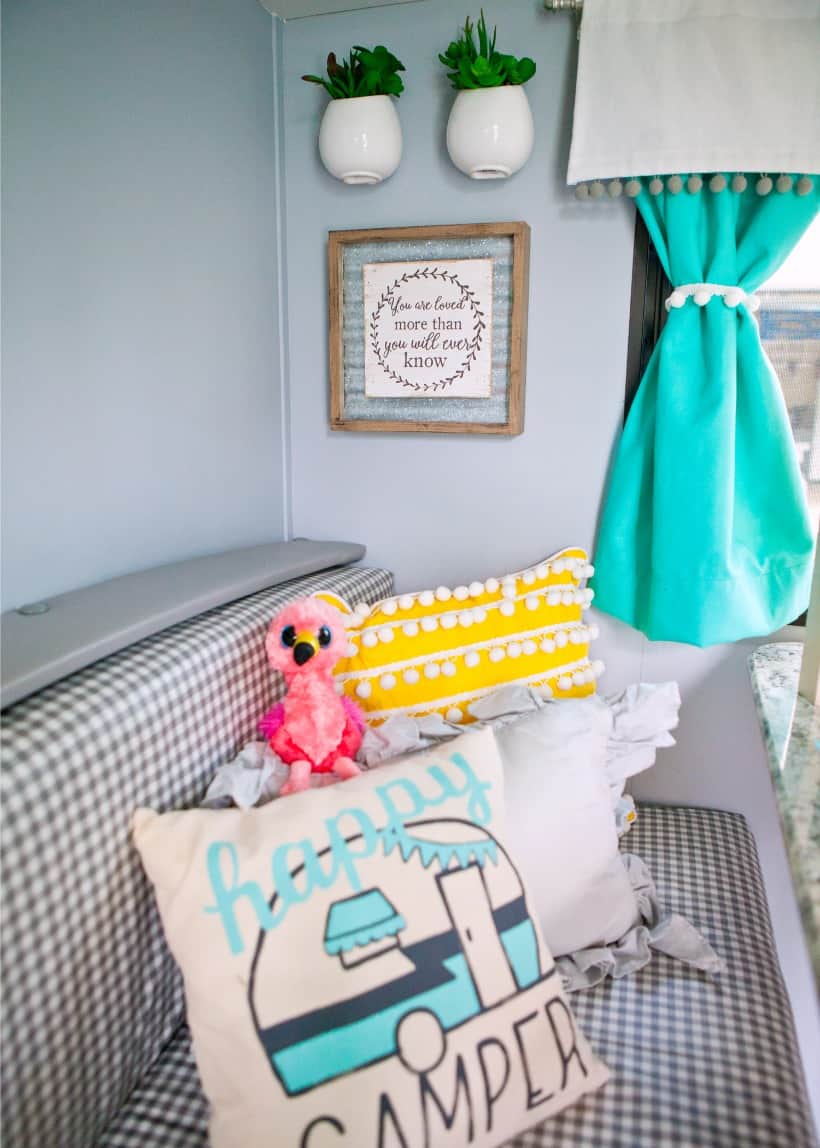 Colorful pillows and wall decor was added to the dinette as well. Don't forget the stuffed flamingo! Succulent planters on the wall complete the decor in the dinette area.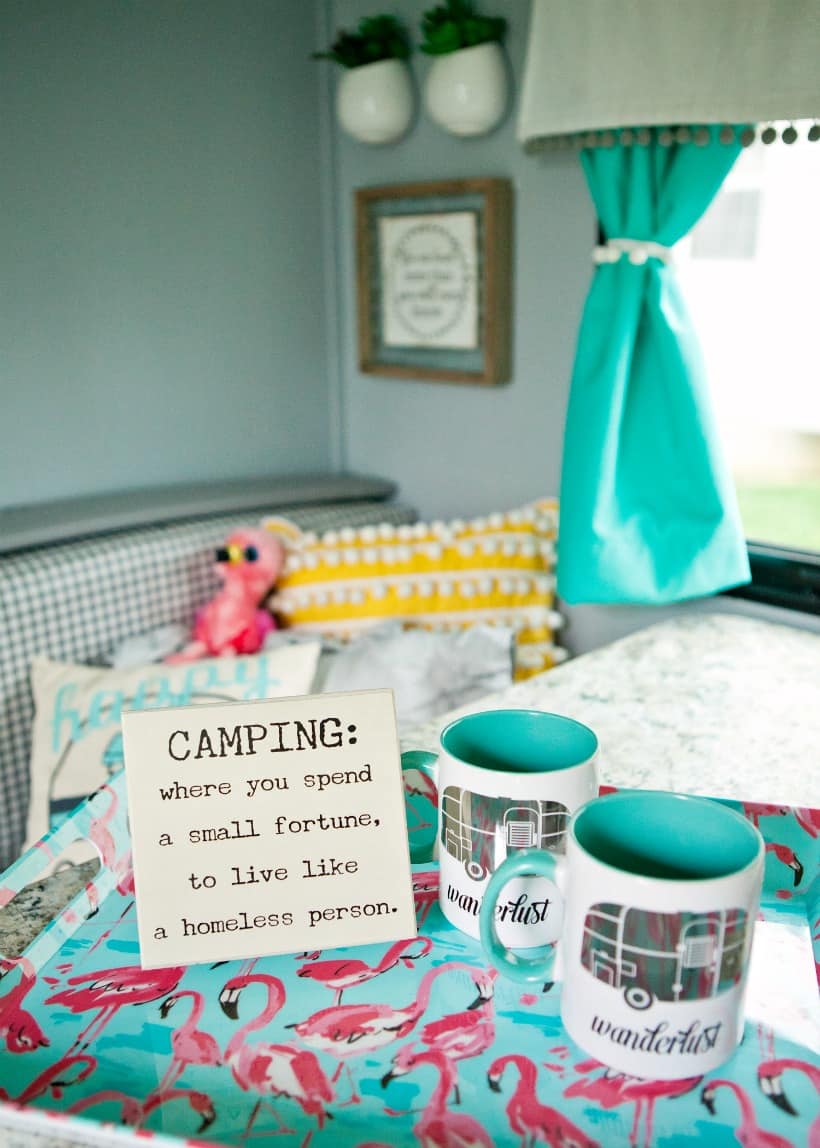 Little touches like these wanderlust coffee cups and hilarious sign on top of a flamingo tray add fun pops of color and charm.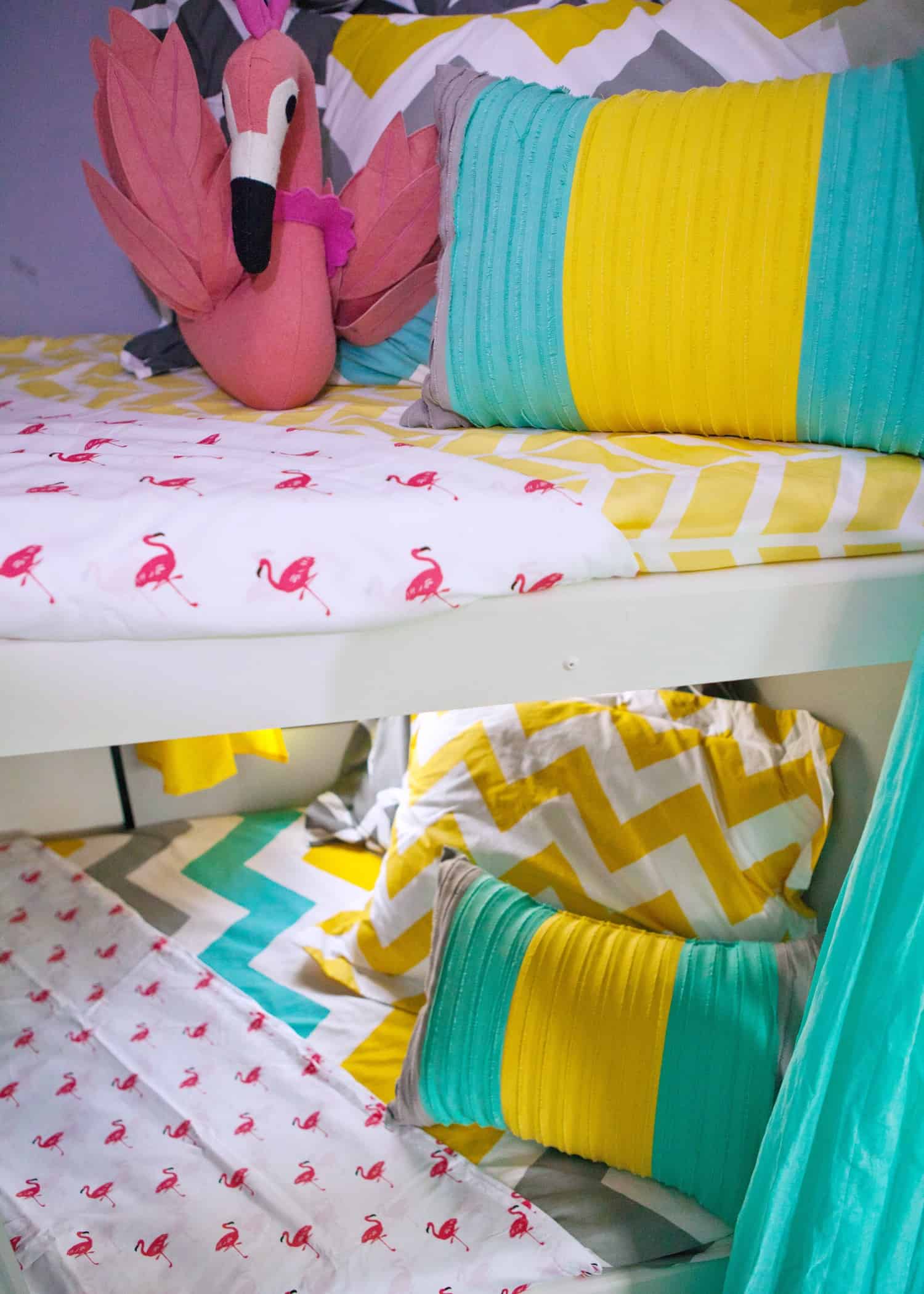 The bunk room features flamingo sheets paired with bold pops of yellow and turquoise. The yellow chevron stripes pair perfectly with the bold colors and patterns.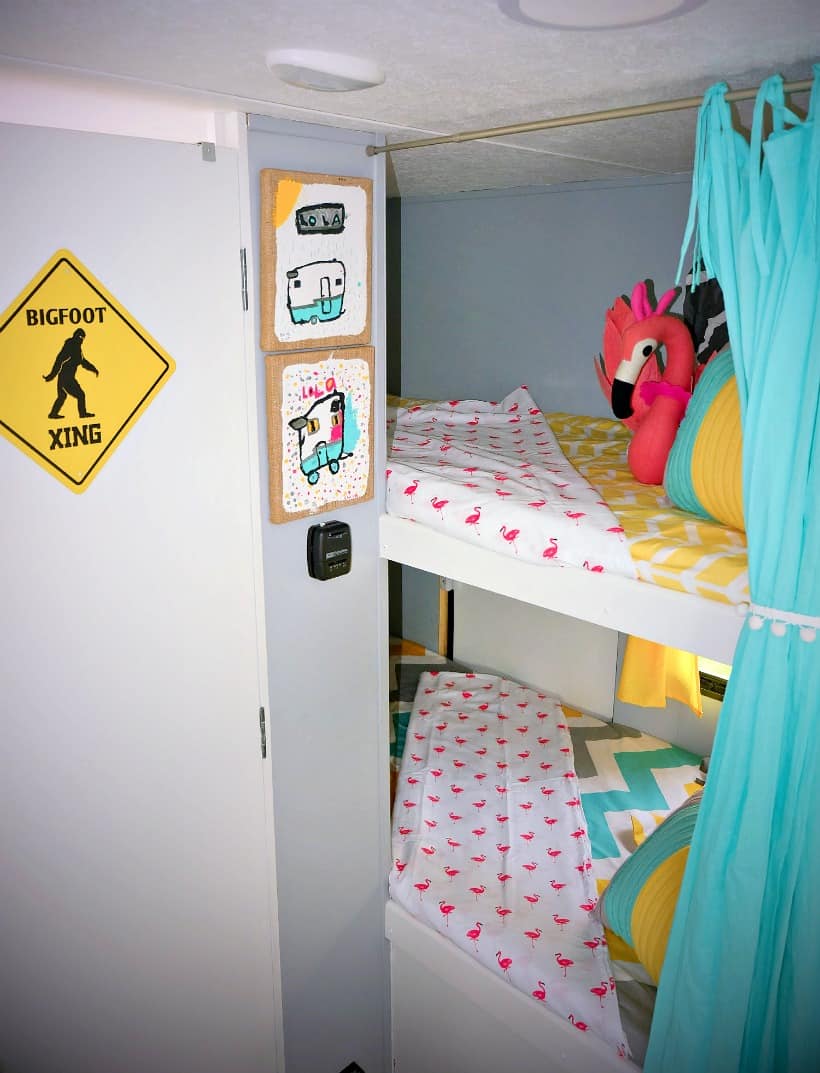 These kid-made signs are what inspired the whole color pattern of the camper. Add a stuffed flamingo and bigfoot crossing sign to complete the look.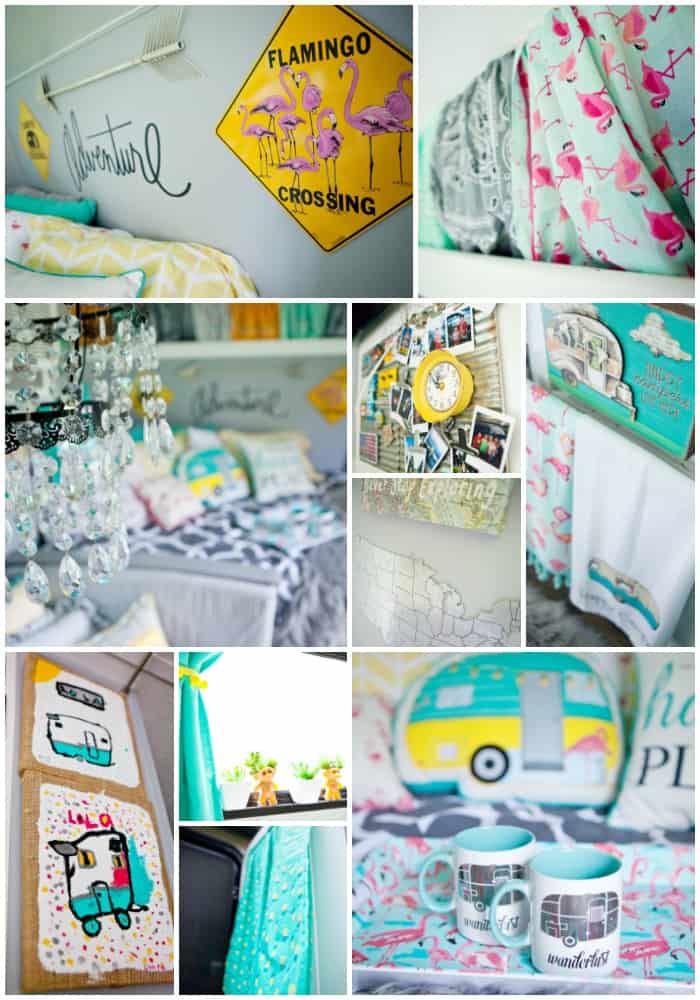 Extra decorative touches throughout the camper, like this flamingo crossing sign, add flair and character to this design.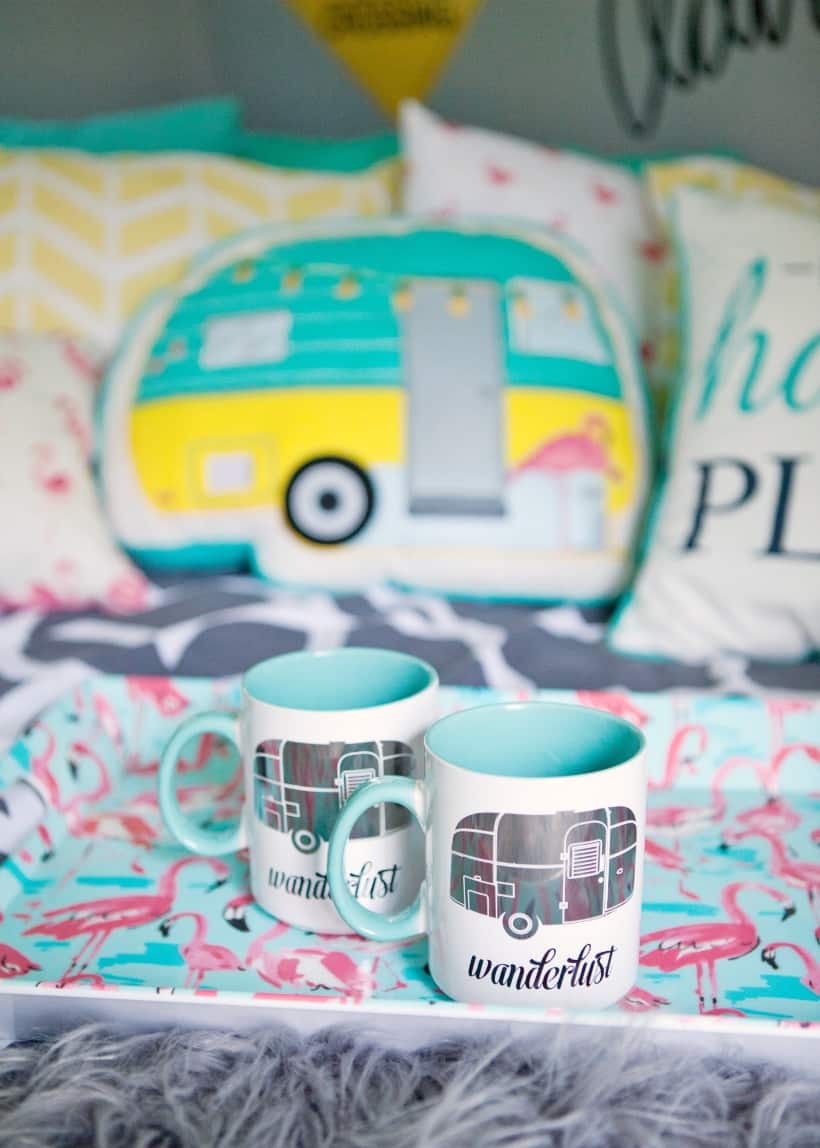 Grab your favorite camper coffee mugs and flamingo tray and pair with massive amounts of pillows.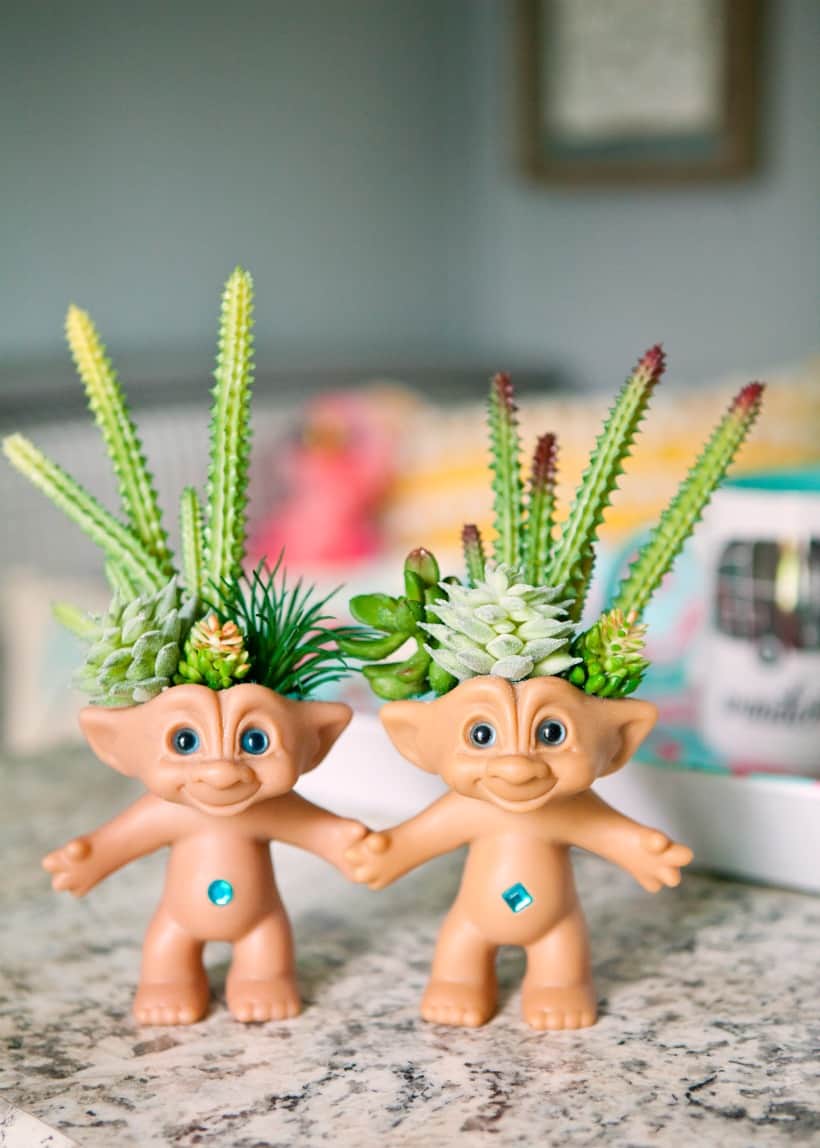 These trolls succulent planters are my favorite.
Brightly colored baskets organize the bathroom.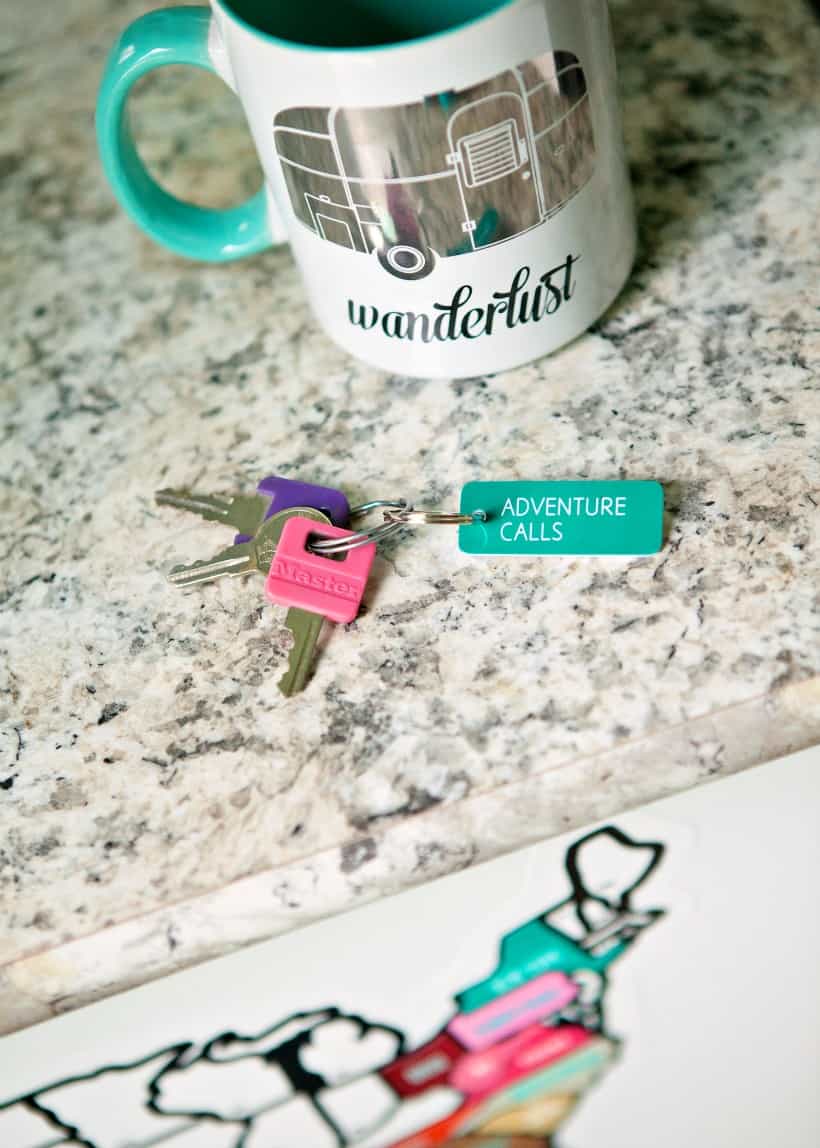 Don't forget to match the keys! A colorful keychain and matching key covers complete the color scheme.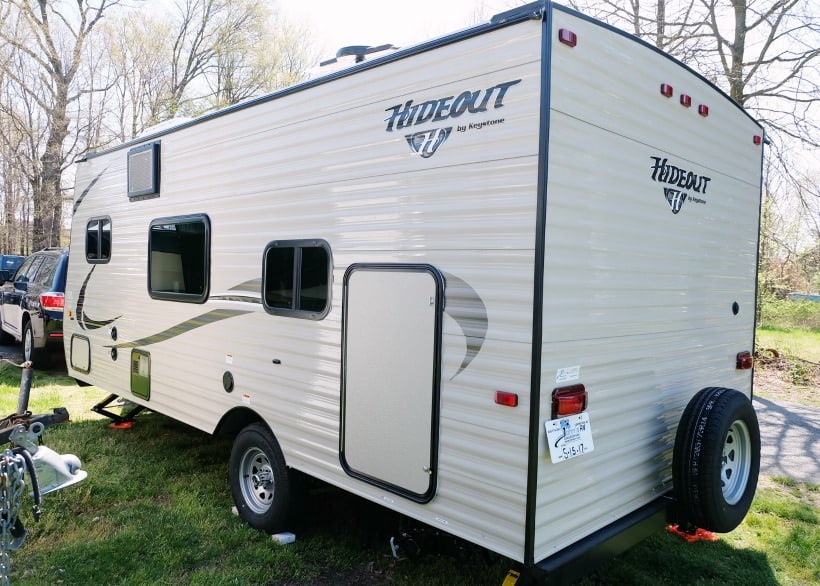 They even updated the exterior. Here is the "before" look.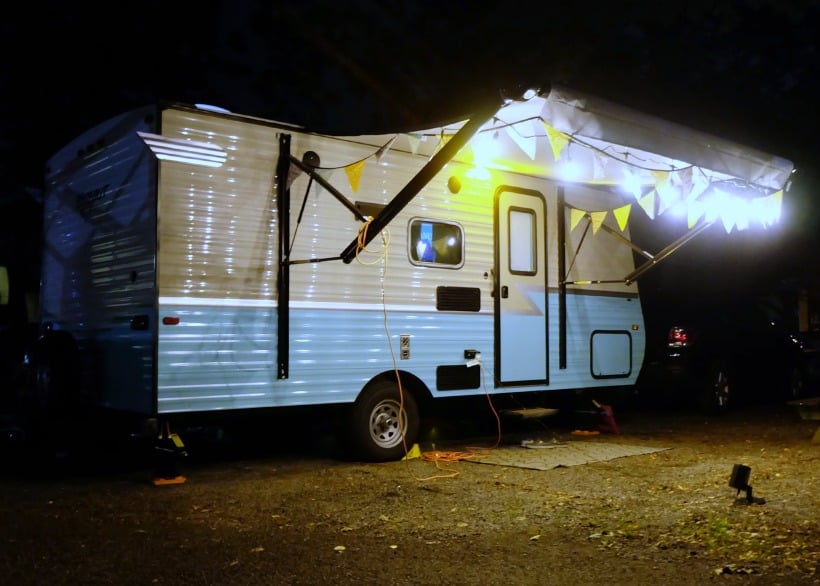 And here is their retro made-over look for the exterior! I love the blue stripe they added which adds all the retro charm this camper needed!
Pin Colorful Boho Chic Camper Makeover

Meet The Woman Behind The Makeover
Brooke Daniels is a portrait photographer in Northern Virginia, specializing in modern high school seniors and offers destination shoots and workshops.  She's a wife and mamma to two little ones. After falling in love with the Glamping lifestyle and being a nomad at heart, she's planning to start her own blog soon, which will include DIY camper decor and renovation tips, campground reviews, must have items, checklists, meal planning recipes and tips, photography tutorials and how to conquer the art of camping solo with just mamma and little ones. Visit her site at 
www.BrookeDanielsPhotography.com
and you can follow her on IG and FB @brookedanielsphotography.