DIY Family Sundae Kit Gift Idea
This DIY family sundae kit gift idea is perfect for neighbors, family members and friends! This kit includes everything but the ice cream and is the perfect family gift idea! I'll show you how to make it extra cute.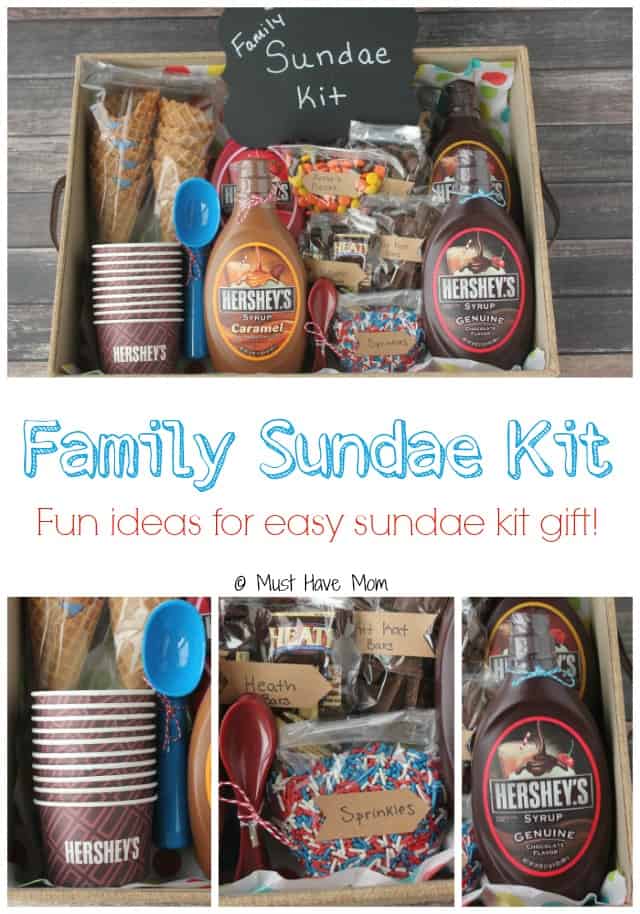 We always aim to plan fun family activities on our weekends and this DIY Family Sundae Kit is the perfect activity for every family! It's fun to make for your own family and it also makes a great neighbor gift, family gift idea or dessert to bring to an outdoor BBQ or even gift as a fun Christmas present.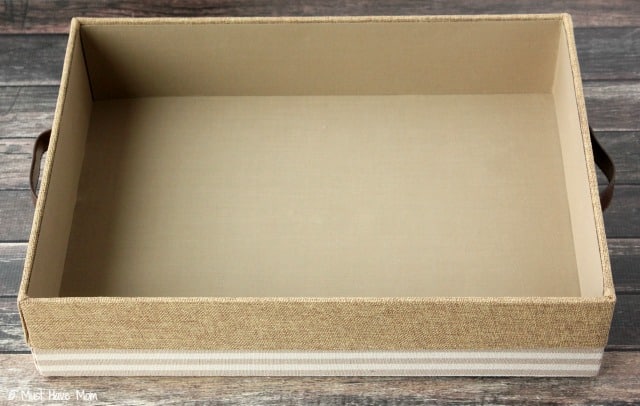 To make your own DIY Family Sundae Kit you'll need a tray
or a box. I opted for this pretty tray but you could easily use a cardboard box too! I like the boxes that have the cover attached that fold into themselves to shut. That would be perfect if you are making this for a gift.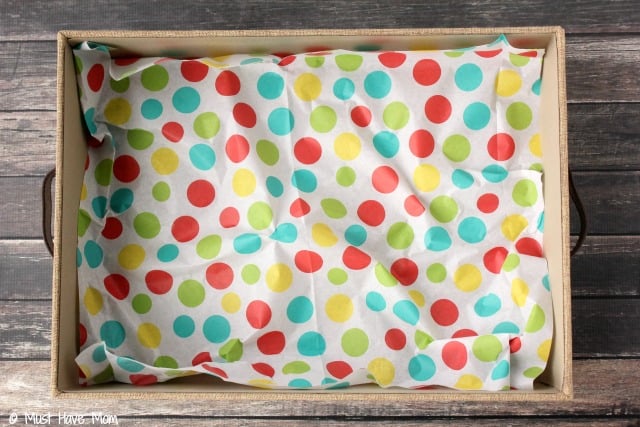 Then get some colorful tissue paper
and line the bottom of your tray with it.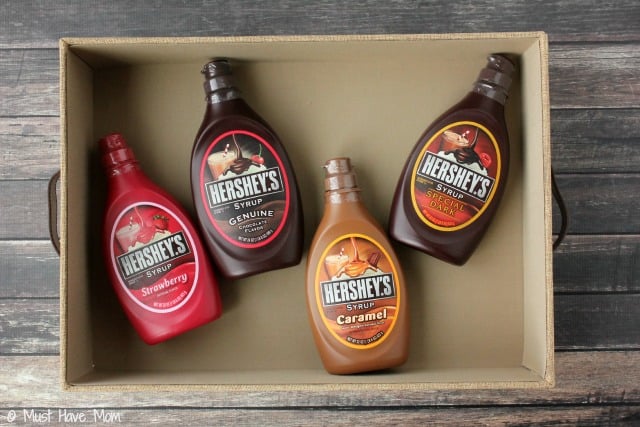 You'll need lots of ice cream toppings! Start out with Hershey's Syrup
in Strawberry, Chocolate, Caramel and Special Dark Chocolate flavors.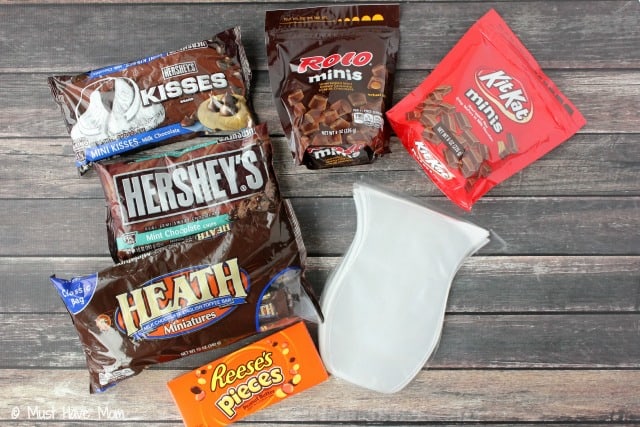 Then add lots of candy toppings
! We picked up Hershey's Mini Kisses, Hershey's Mint Chocolate Chips, HEATH Miniatures, ROLO Minis, KITKAT Minis, Reese's Pieces, and sprinkles. You'll also need small, clear plastic bags
to package the candies in.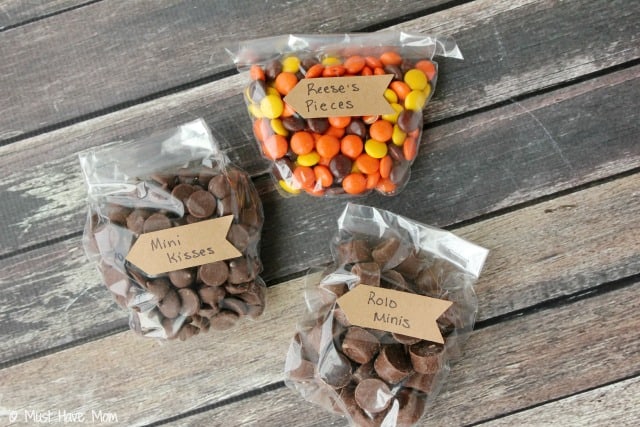 I filled each of the bags and then stapled them shut. I found cute little stickers
that I used to write the name of each candy on and affixed them to the bags of candy.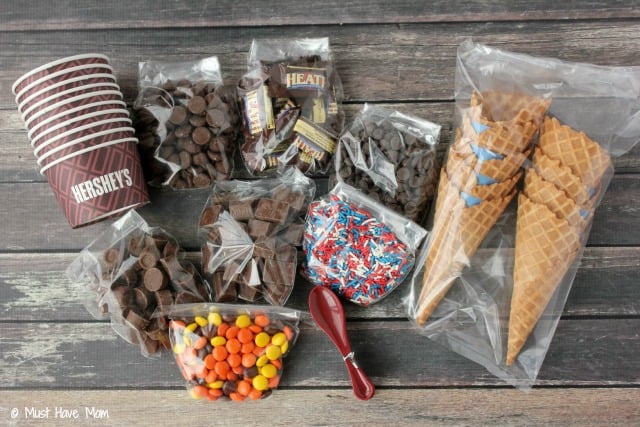 I also included waffle cones
which I packaged in a large clear bag
. I grabbed some Hershey's ice cream sundae cups and mini spoons which I found as part of a kit at Target (or here on amazon
).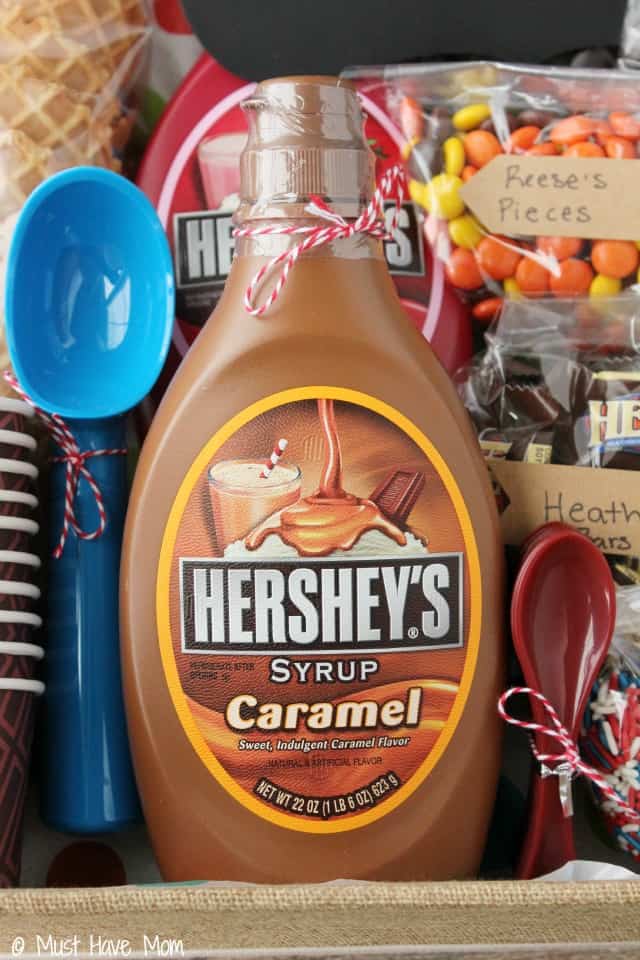 I also included an ice cream scoop
. The only thing your recipient will need to add is ice cream! Next use some baker's twine
to tie around the Hershey's syrups and the spoons to give it a special touch.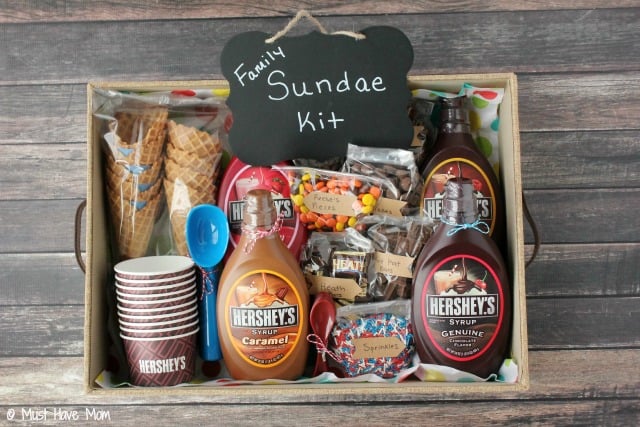 Then assemble it all in your tray. I grabbed a $1 chalkboard sign
in the dollar spot at Target and made a sign for my Family Sundae Kit. Now it's all ready for a fun Sundae get together! Give it as a gift to a neighbor, family or bring it along to your next get together!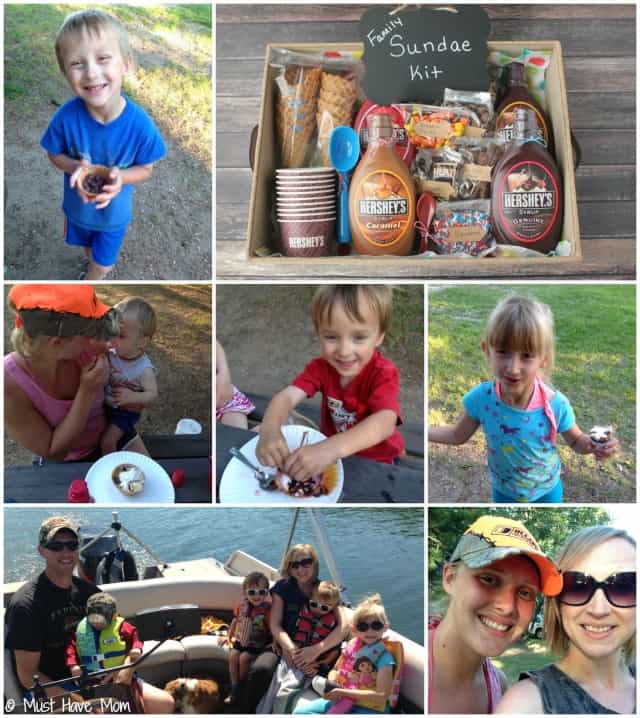 We brought our Family Sundae Kit to the cabin where my husband's family always has big get togethers on Sunday. We went out on our boat and had some amazing, quality family time together. Then we gathered around the picnic table and we all enjoyed our sundaes! Everyone LOVED picking out all their toppings and Hershey's Syrup. It was so much fun putting different concoctions together!
*Sponsored by Hershey's via MomTrends.  The opinions expressed herein are those of the author and are not indicative of the opinions of Hershey's or Momtrends.