Cars 3 Out On Blu-Ray & DVD + Our Favorite Cars Gift Ideas
We have been eagerly anticipating the release of Cars 3 on Blu-Ray and DVD and the day has finally arrived! To celebrate I have some fun Cars 3 activities for the kids and our favorite Cars 3 gift ideas for kids.
Cars 3 On Blu-Ray + DVD NOW!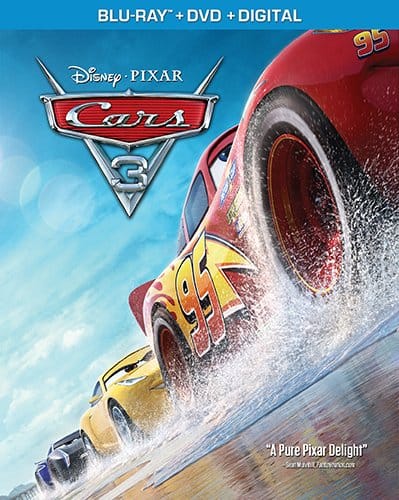 In honor of world-champion racer #95 on his date-sake 9/5, Disney•Pixar is proud to announce the in-home arrival of Disney•Pixar's "Cars 3"! "Cars 3" surged to the front of the pack opening weekend with audiences racing to see the legendary Lightning McQueen (voice of Owen Wilson) and spirited trainer Cruz Ramirez (voice of Cristela Alonzo) team up to beat the new generation of blazing-fast racers. Now, this summer's high-octane hit cruises home—loaded with bonus features like the all new mini-movie starring the demolition derby legend Miss Fritter— Digitally in HD and 4K Ultra HD™ on Oct. 24, and on Blu-ray 4K Ultra HD™ and Blu-ray™ on Nov. 7.
Race fans of all ages are invited to ride along with the "Cars 3" crew for hilarious and heartfelt extras, including an exclusive new mini-movie, "Miss Fritter's Racing Skoool," taught by the queen of the Crazy 8; a feature detailing how real-world race training influenced filmmakers; the journey taken by voice actor Cristela Alonzo and team while shaping tech-savvy trainer Cruz Ramirez; behind-the-scenes access to the story team who crafted Lightning McQueen's third chapter; deleted scenes; and much more.
Favorite Cars 3 Gift Ideas
My kids can't get enough of Cars 3 and we've been in love with Cars since the very first movie released! Here are some of our favorite Cars 3 gift ideas for the Cars-lover on your list!
Cars 3 [Blu-ray]

Disney/Pixar Cars 3 Ultimate Florida Speedway Track Set

Disney Cars 3 Deluxe Figure Play Set

Disney Pixar Cars 3 Travel Time Mack Playset

Cars 3 Little Golden Book (Disney/Pixar Cars 3)

Just Play Cars 3 Transforming McQueen Tool Kit

Ultimate Sticker Book: Disney Pixar Cars 3 (Ultimate Sticker Books)

Disney/Pixar Cars 3 Movie High Tech Blue Twin Reversible Comforter with Lightning McQueen, Jackson Storm & Cruz Ramirez (Offical Disney/Pixar Product)

Cars 3 Little Sound Book Lightning McQueen 9781503715219

Disney Cars 3 PJ PALS Short Set for Boys Size 4

Buy It Now!
Pick up a copy of Cars 3 on Blu-Ray + DVD in stores near you or order it on Amazon now and have it delivered straight to your door!