10 Fun Outdoor Camping Games For Kids And Adults!
Try these fun camping games for kids and adults on your next camping trip! The thing I love about camping is that it gets me away from my to-do list and forces me to relax and bond with my family. These camping games are our favorite ways to bond and have fun while camping!
Fun Camping Games For Kids and Adults
Camping time is a great time to block out the daily distractions of life and really get back to the basics.  Whether you view camping as a vacation or just a way to de-stress from the busy flow of your life, it's a great time to be able to hone in on what centers you, calms you and makes you feel happy and relaxed. 
Each of us may view camping trips differently.  Some want to just stay at a campground, chill out by the fire and unplug from the outside world while others may view camping as a way to be active and busy in nature.  There is no right or wrong way to camp. 
The one constant that seems to be a focus when camping is being able to spend time with those you love.  Camping allows that time, that focus, to be on one another to create new memories.  One of the best parts of camping?  Playing games!  With days and nights open to explore and do what one wants, what better option than to play some fun games together?  Here are a few suggestions for games to play together when camping.
This post contains affiliate links which help power this site at no cost to you.
10 Fun Camping Games You MUST Try!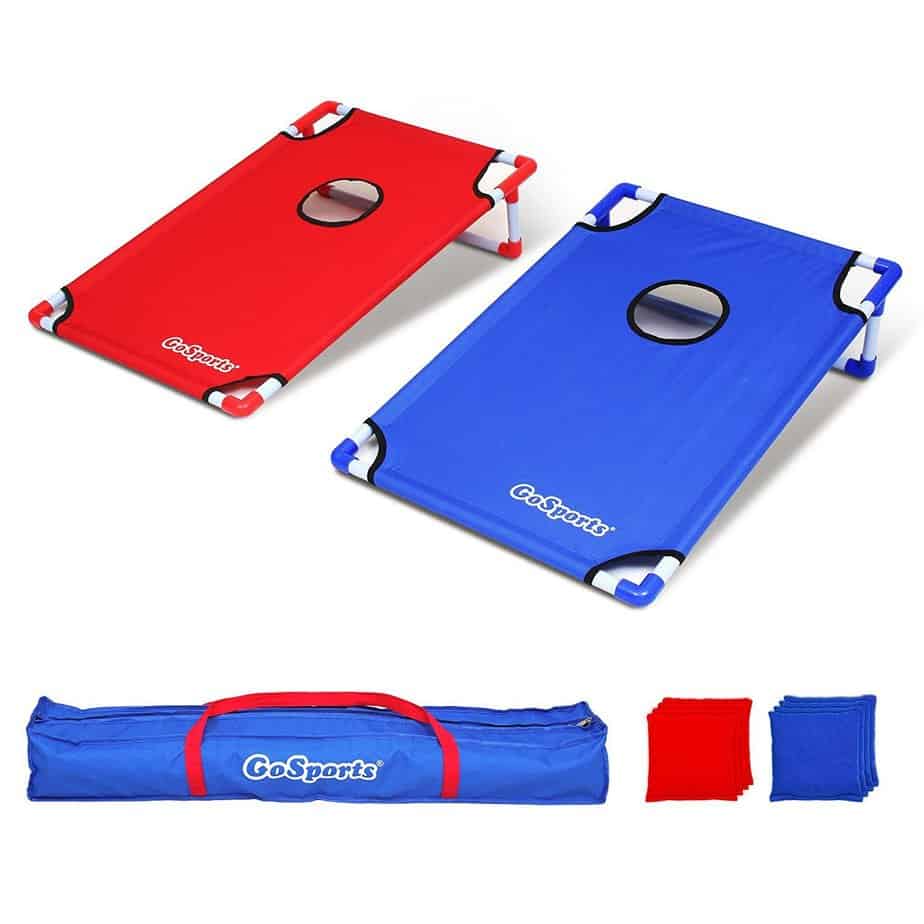 #1 Cornhole
If you've never heard of cornhole (some call it bean bags), you're in for a fun surprise!  This game is super fun and addictive.  Plus, any age can have fun joining in!  It's portable to take with you on those camping trips and extremely easy and quick to set up.  All it takes is a little bit of skill and a lot of luck!  You can play one on one, or as a team against another team.  Keep score or not, it's up to you.  All you need is a flat surface.  Seriously, that's all. This cornhole set is ideal for camping because it folds up small and stores in a carrying case!
#2 Spot It!
Spot It! Gone Camping Card Game is one of our favorites.  A fun scavenger type game sure to bring on the giggles.  Full of cards packed with images so it's easy for all ages to play along.  See who can find the items on the card first. This game is equally fun for kids and adults! My kids often beat me!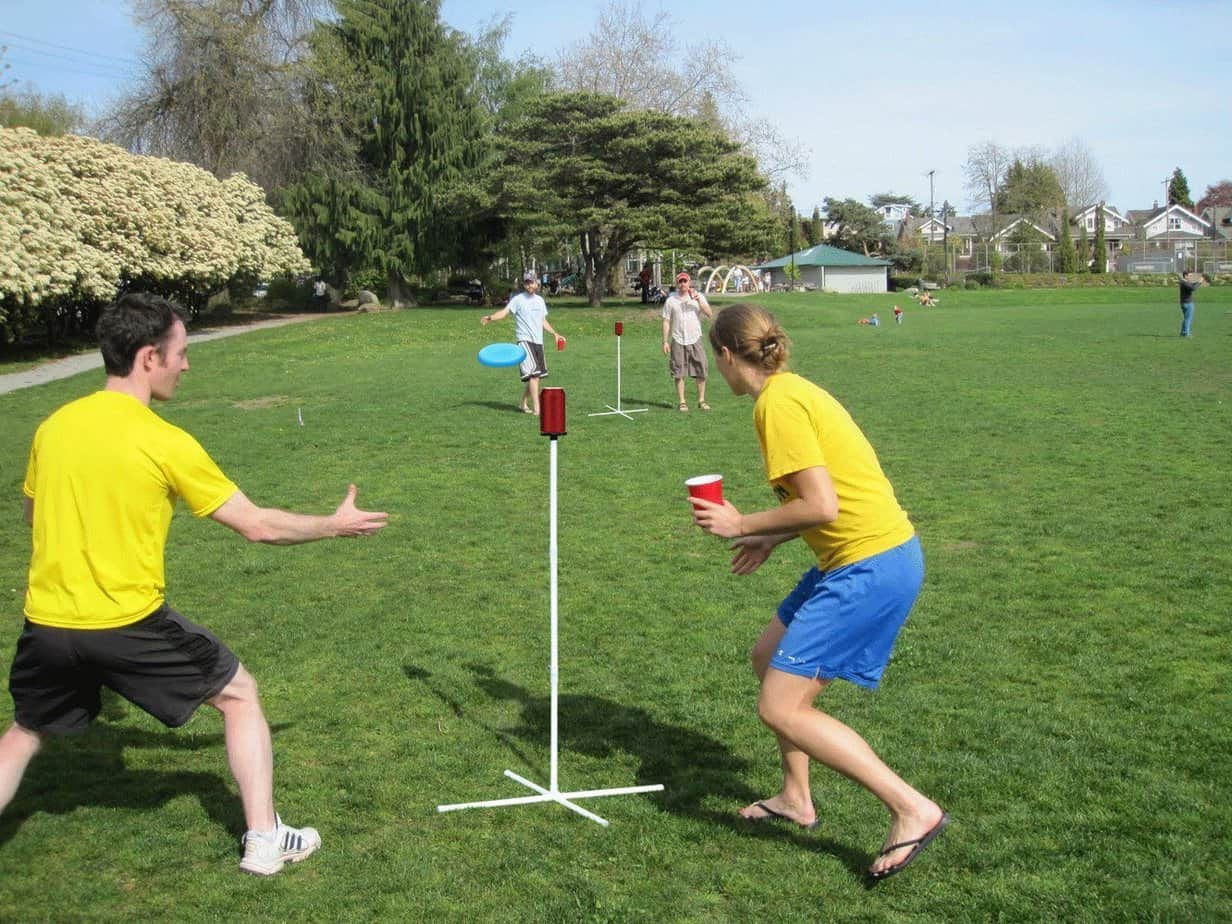 #3 Frisbee Golf
Frisbee Golf combines two fun sports in one.  The power of frisbee, with the rules of golf.  Set up fun targets around the campground and see who can throw the frisbee and get closest to that goal.  You can use actual frisbee golf discs, or improvise with just using a frisbee.  Zone in on your target-hitting skills with this fun game!
#4 Catch
Yep, a good old-fashioned game of catch.  Grab those gloves and ball and work on those throwing skills.  With all the room at the campground, utilize that open space to spend hours fielding grounders or catching those pop flys.  Or grab a football and toss it around! Teach your kids to catch or work on their ability to go long!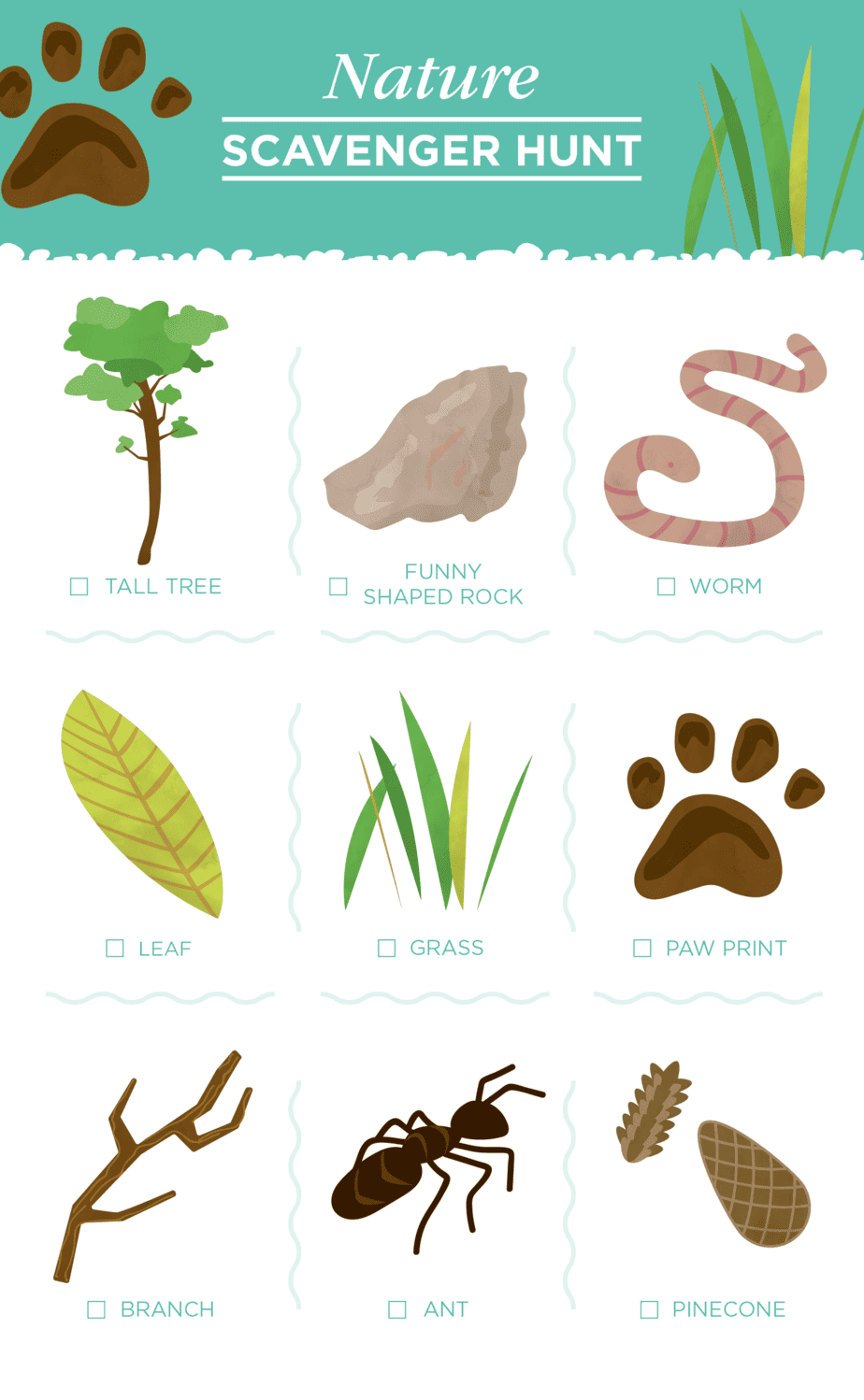 #5 Scavenger Hunt
Have a good old-fashioned scavenger hunt with a twist! Grab one of these 10 free printable scavenger hunts and have a photo scavenger hunt! Each player or team has to find each item and take a photo of it. First one to gather them all wins a prize! This can get super competitive and it's so much fun! Kids and adults will love this game.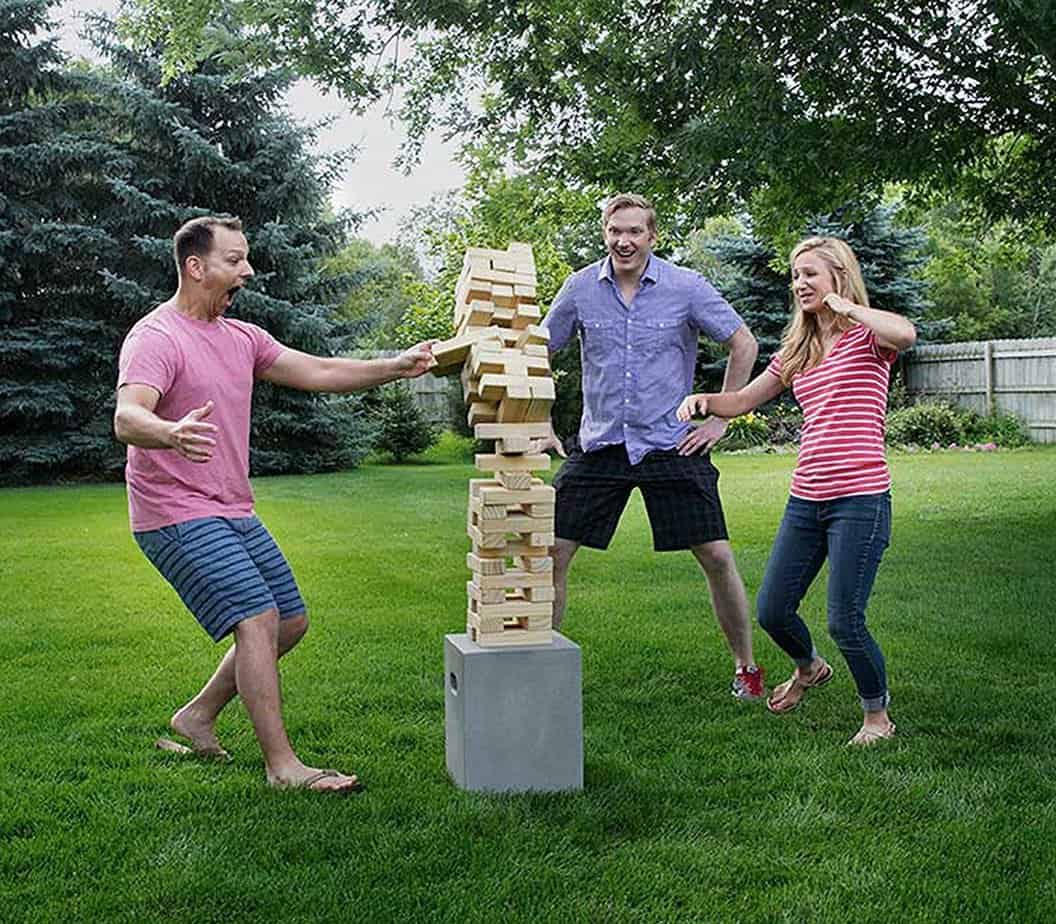 #6 
Giant Tumbling Timbers 
It's like a giant game of Jenga!  Have fun stacking up the blocks and then trying to get someone else to get them to fall.  It's a life-size version sure to make a huge impact on fun for your camping trip.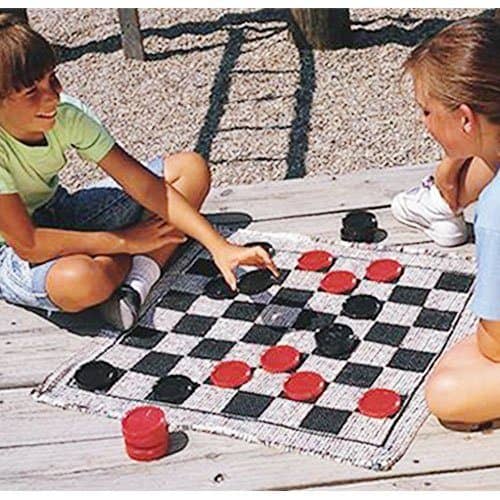 #7 Checkers
Camping time is a great time for a little game of strategy. Some of my fondest memories include playing a strategic game of checkers with my dad! With this fun oversized version of checkers, it's easy to use, play and is inviting for all. There is also tic tac toe on the back and the board is fabric so it rolls up for easy storage that doesn't take up a lot of space!
#8 Ladder Ball
This easy to learn game is designed for 2 to four players and is a breeze to set up and take down. We love this game and play it over and over again. Our kids love it too! Beat your opponent by racking up more points. You'll quickly be perfecting your toss so you can win the game! This ladder ball set has great reviews and comes with a nice carrying case perfect for camping!
#9 Yard Dice
Yard dice is a game with giant dice that you roll on the lawn. It's perfect for camping and one of our favorites! These yard dice also come with TWO different score cards (Two for Yardzee and Two for Farkle) that are laminated so you can use them with a dry erase marker. This gives you twice the fun with two games in one!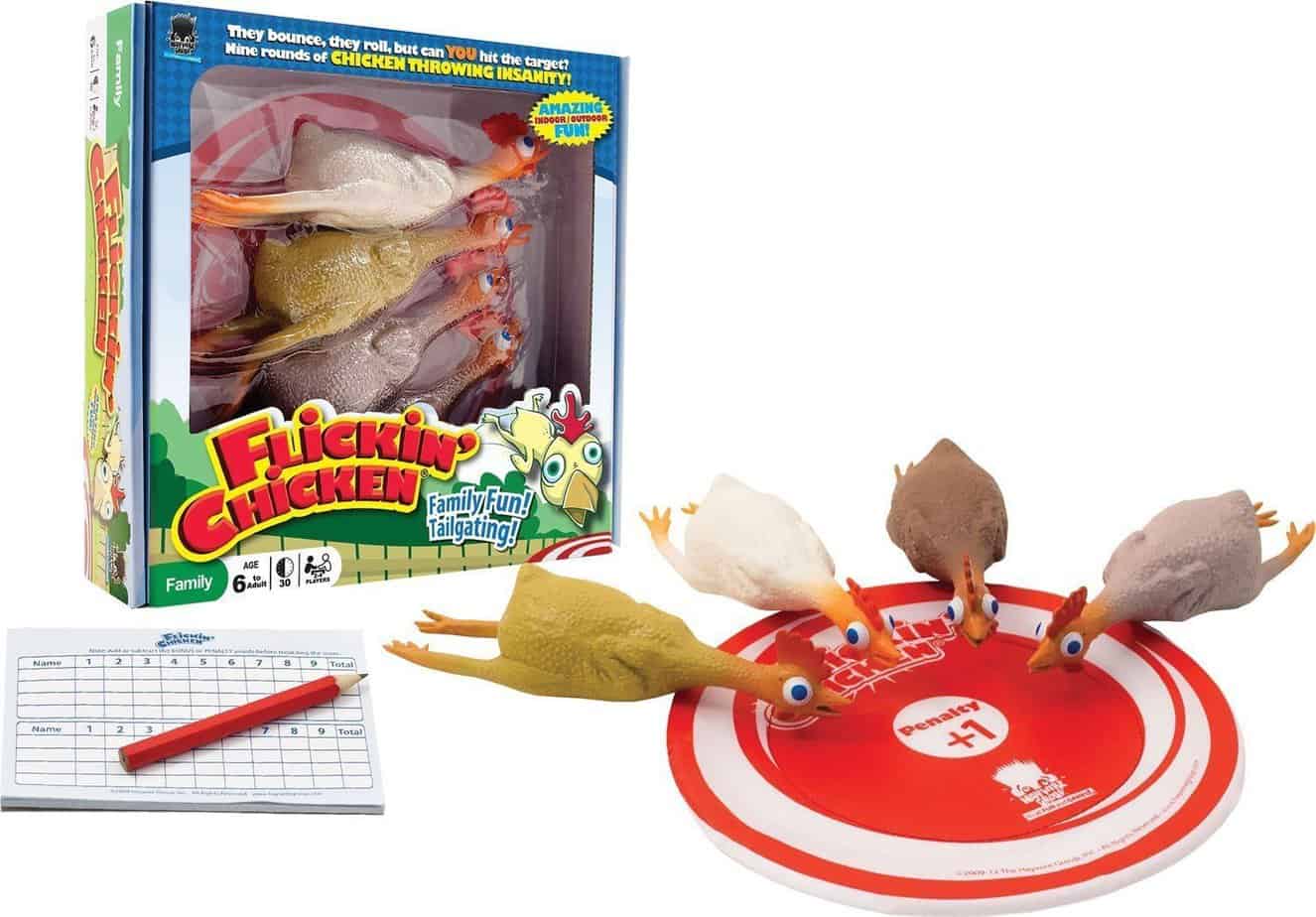 #10 Flicking' Chicken
This game is as silly as its name, but it definitely delivers on fun! Flicking' Chicken is a crazy new yard game played with. rubber chickens! Players toss the target to get started, then take turns flicking' their chicken at the target. After nine rounds, the player with the lowest score wins. Sounds easy enough, but these funky chickens bounce and roll, so hitting the target will test your chicken flicking' skills! Funny and fun for two to four players. Great family game Fun for players of all ages Includes four rubber chickens, a target disc, and score pad For 2-4 players Award winner for ages 6 and up.
Games are essential additions for camping trips.  There are a ton of options out there for games to play, so have fun choosing what works best for you and your family.  Try 'em out and enjoy spending that time together.  If a game doesn't go over so well, no harm no foul!  Remove it from your gaming rotation and try out a new one.  The options are endless for games to try when camping!
Pin Outdoor Camping Games