15 Ocean Themed Books For Kids You Must Read!
We have spent this past week looking at fun ocean crafts. An ocean pollution sensory bin, a frozen ocean sensory bin and clownfish handprint painting. It has been a blast. To finish up the week I went looking for ocean themed books for kids.   These books are sure to delight every young reader.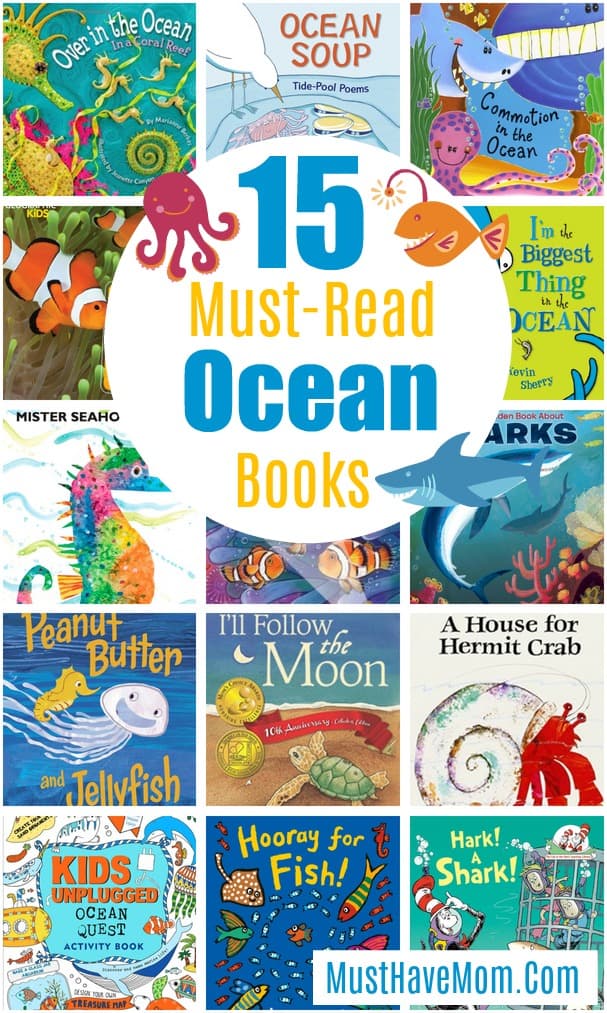 15 Ocean Themed Books For Kids

This book takes the classic song "Over in the Meadow" to bring both a counting element and a musical element to the coral reef habitat. It will engage children while it educates them about marine life. The coral reef is teeming with pufferfish that "puff," gruntfish that "grunt" and seahorses that "flutter." The babies follow the behavior of their mothers – except in a true-to-life twist at the end. Includes plenty of age-appropriate background information about each of the animals.

When the tide goes out, a briny soup is trapped among the rocks. Playful poems introduce readers to ten salty tide-pool creatures–from a self-satisfied anemone that brags about its home to barnacles that perform a rap about their feeding technique.

In this classic story from Eric Carle, the author of The Hungry Catipiller, Hermit Crab grows out of one house after another as he searches for the perfect home. Children who must change schools, move to a new town, or even graduate to a new grade in school will relate to Hermit Crab's situation and take heart as they see that growing up isn't really so scary after all.

Stephanie Lisa Tara and Canadian illustrator Lee Edward Fodi have teamed up to create a lyrical rendition of a green sea turtle's first glimpse of life. Hatched on a moon-washed beach, the baby turtle finds its way by instinct across the expanse of sand to the sea and a rendezvous with its mother.

This fun activity book features:
64 pages for hours of fun.
Plenty of ocean facts make this book educational too (don't tell)!
Puzzles — including word searches, complete-the-pictures, and more.
Drawing and coloring pages.
Ideas for hands-on activities.
Fill-in-the-blank prompted pages to spark their imaginations.

The Cat in the Hat, Sally, and Dick take an undersea voyage aboard the S.S. Undersea Glubber! Traveling down from the Sunny Zone to the Dark Zone to the Trench at the bottom, Captain Cat and his crew get up close and personal with the different life forms found at each level of the ocean. Along the way, they meet sharks, jellyfish, dolphins, manatees, whales, and sea cucumbers, to name just a few!

In this latest installment of the Cat in the Hat's Learning Library, the Cat introduces beginning readers to all kinds of sharks! From the smallest (the dwarf lantern) to the largest (the whale shark), the most notorious (the great white) to the most obscure (the goblin), the Cat explains why sharks have lots of teeth but no bones; how their tough skin helps them swim fast and stay clean; how pores along the sides of their bodies help them sense prey; that they have more to fear from us than we do from them, and much, much more!
Now everyone's favorite squid is just the right size for babies and toddlers. Kevin Sherry's unabashed squid may be the biggest thing in this catalog, but he's not too big for even the littlest kids to love. As the hubristic squid goes about bragging, babies and toddlers will get an eyeful of undersea life from shrimp and jellyfish to turtles and more.

National Geographic Kids First Big Book of the Ocean is an adorable animal reference that includes the sea's high-interest animals, such as dolphins, sharks, sea otters, and penguins, and introduces kids to some of its lesser-known creatures. More than 100 charming animal photos illustrate the profiles, with facts about the creatures' sizes, diets, homes, and more.

What happens in the ocean after dark? Use the magic flashlights on every page to reveal the hidden creatures in the ocean's depths! Each spread appears to be dark, but point the flashlight and watch brilliant aquatic life illustrations magically illuminate.

When Mrs. Seahorse lays her eggs, she does it on Mr. Seahorse's belly! She knows he will take good care of them. While he swims waiting for the eggs to hatch, he meets other underwater fathers caring for their babies.

This delightful collection of poems includes fun rhymes about the creatures who live in and around the ocean. Children will delight in the snappy poems and colorful illustrations about whales, walruses, penguins, polar bears, stingrays, and sharks.

Peanut Butter and Jellyfish are best of friends and swim up, down, around, and through their ocean home.
Crabby is their neighbor. He is not their best friend.  But when Crabby gets in trouble, will Peanut Butter and Jellyfish come to the rescue?

Swim along with Little Fish and meet his many fishy friends in this splashy, splashy riot of color and rhyme under the sea. This eye-popping read-aloud is sure to have buoyant little ones shouting, "Hooray for fish!"

This simple yet informative book brings to life the fascinating world of sharks. Little ones will enjoy bright, bold artwork and lively descriptions of all kinds of sharks, from the fierce great white to the rare goblin. They'll learn that sharks have teeth but no bones, as well as interesting facts about diet, camouflage, and habitat that teach why we must care about sharks.
Which of these ocean themed books for kids would your little one love?